Gluten-Free High Fiber Bread Recipe
Published on Dec 09, 2020
by
Kristina Stosek
Prep Time:

10 minutes
Cook Time:

90 minutes
Serves:

1 loaf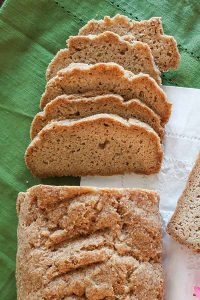 ​This post may contain affiliate links, please see our
privacy policy
for details
This delicious Gluten-Free High Fiber Bread is dairy-free, egg-free, yeast-free and xanthan gum-free. This healthy bread is perfect in every way. A low-allergen bread that is moist, slices beautifully without crumbling, has a rustic light rye flavour, good crust and is super easy to make.
This is a yeast-free High Fiber Bread, and it takes just minutes to make the batter for baking.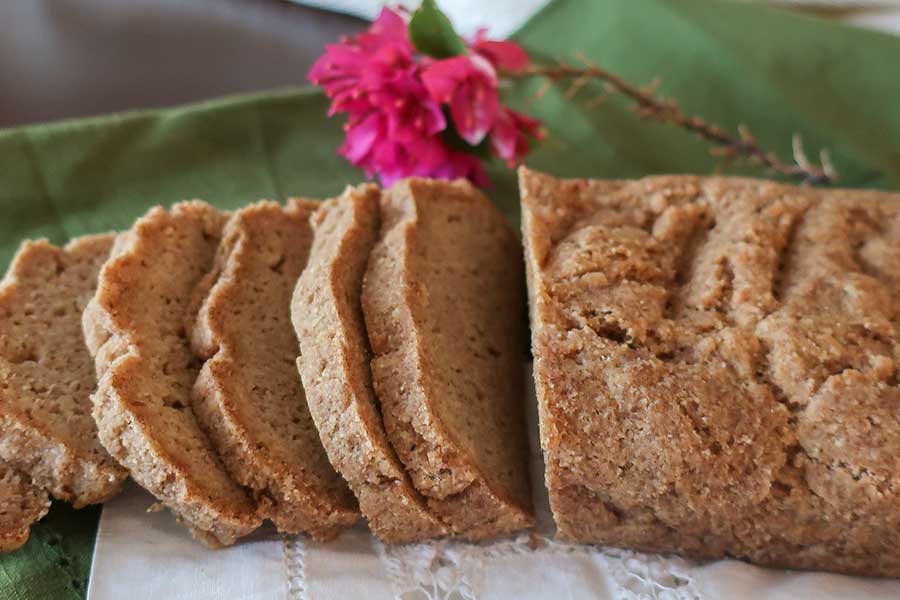 This Gluten-Free High Fiber Bread recipe is all about carefully selected ingredients. The fiber comes from almond flour, flaxseed and psyllium husk. Also, the cassava flour in this recipe is a good source of vitamin C, thiamine, riboflavin, and niacin.
The small amount of rice flour added to this high fiber bread recipe balances the flavours into a good tasting bread.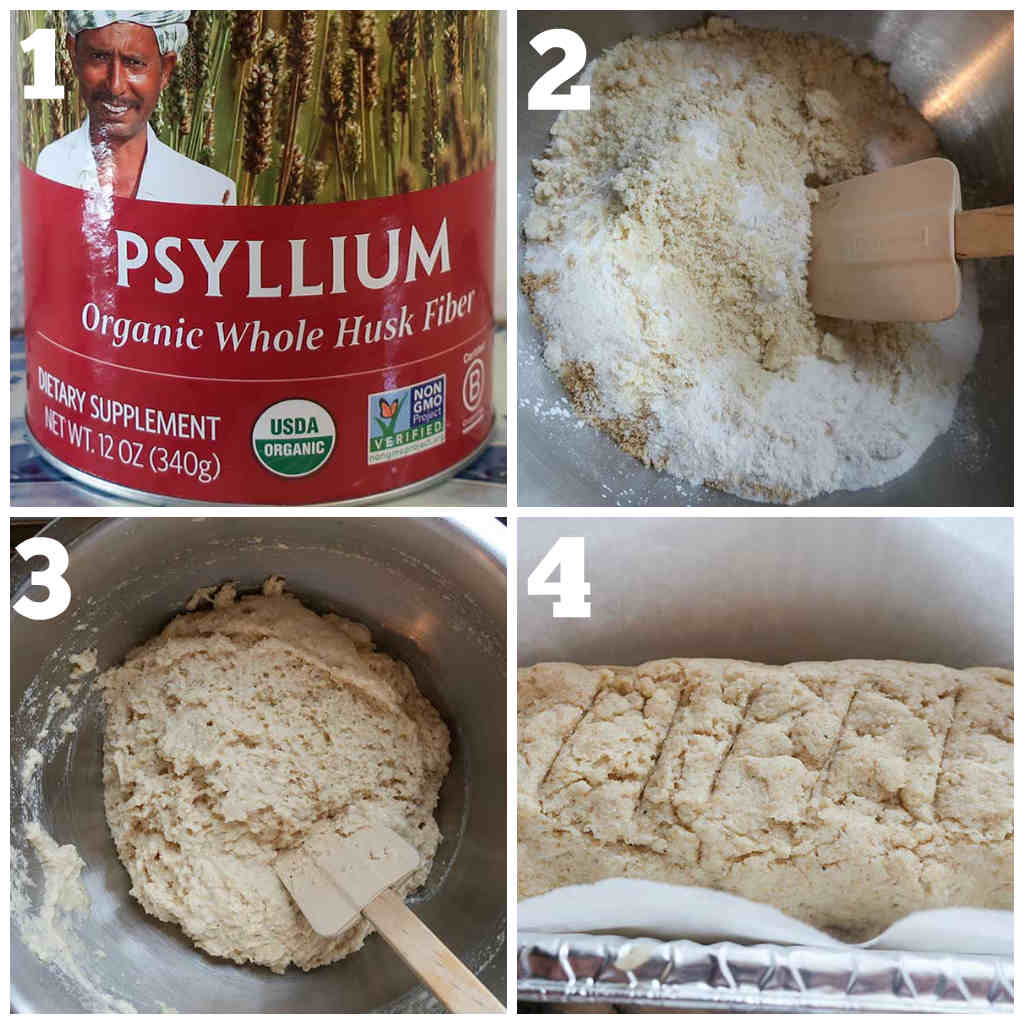 Easy steps to make this High Fiber Bread,
To make this healthy High Fiber Bread couldn't be simpler. First, you whisk the dry ingredients, then combine warm water with olive oil and apple cider vinegar and mix it into the dry ingredients.
Transfer the dough into a parchment paper-lined loaf pan, form into a loaf and bake—no kneading or waiting for the dough to rise, honestly the easiest gluten-free bread recipe ever.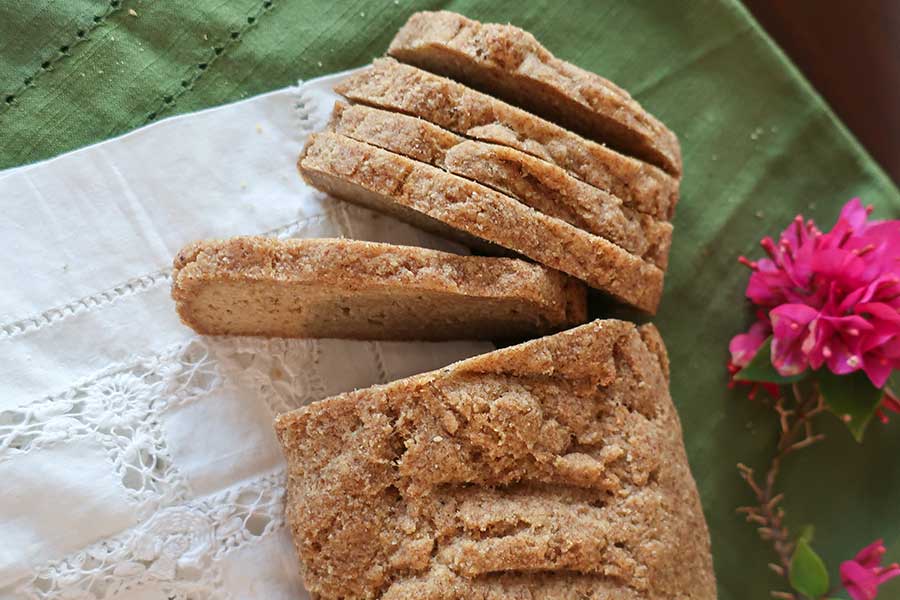 You asked, and I listened!
Many of you have asked me to create a low-allergen bread that is yeast-free, egg-free, dairy-free, xanthan gum-free and nutritionally rich—and keeping the bread tasting good and gluten-free.
I think you will find that this recipe will become one of your favourite low-allergen bread recipes.
And you will love that this healthy bread recipe is super simple to make. The only thing about this Gluten-Free High Fiber Bread Recipe, it takes time to bake – 90 minutes. But well worth the wait.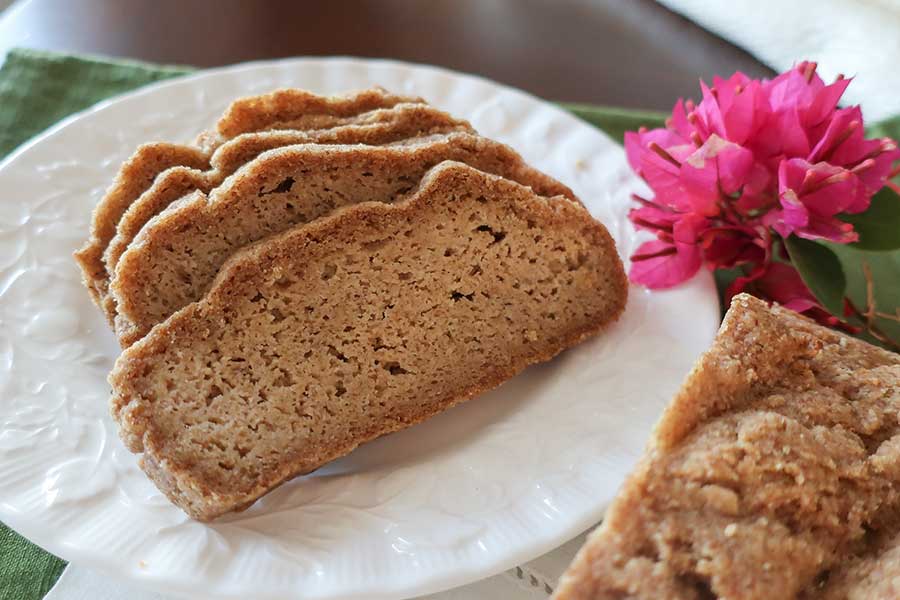 I believe you may also love the idea that this bread is lower in net carbs than most gluten-free bread and higher in protein.
Please give this High Fiber Bread Recipe a try. I think you will be pleasantly surprised because the texture and flavour are perfect. What goes well with delicious healthy bread? Our flavourful gluten-free soups and stews — Enjoy!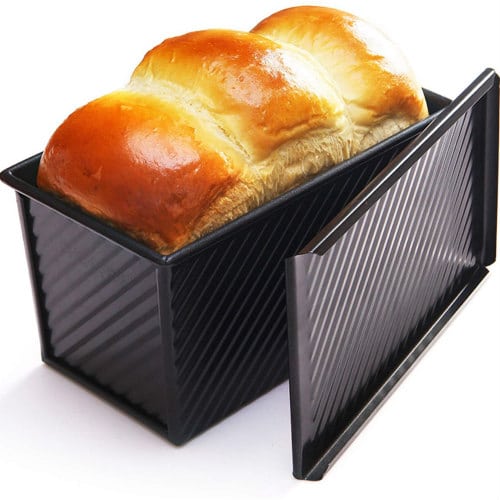 CHEFMADE Loaf Pan with Lid, Non-Stick Bakeware Carbon Steel Bread Toast Mold with Cover for Baking Bread
For the latest recipes and tips, please like us on Facebook or follow us on Pinterest and Instagram.
Gluten-Free High Fiber Bread Recipe
Published on Dec 09, 2020
by
Kristina Stosek
Instructions
1.

Preheat oven to 400 F and line a loaf pan with parchment paper

2.

Using a large bowl, mix dry ingredients

3.

In a small bowl, whisk together water, olive oil and apple cider vinegar and pour into dry ingredients

4.

Using a spatula, mix to combine until you form a ball of dough. Do not over mix. Set the batter aside for 20 minutes, the moisture will be absorbed by the dry ingredients

5.

Transfer batter into the prepared loaf pan shaping the dough into a bread loaf with a round top. Do not flatten the top of the loaf, or it will become dense

6.

Bake for 55 minutes, then loosely cover with foil paper reduce oven temperature to 375 F and continue baking for 35 more minutes

7.

Lift the loaf from the pan using the parchment paper and place on a cooling rack to cool fully before slicing. This takes 2 - 3 hours. Enjoy
Leave a Comment
Kristina
sorry Nancy, we do not. There are number of apps out there that can help you with the macro information and fiber content. Sorry we couldn't help.
Hello! Just found this recipe and am excited to try it. Do you macro information and the amount of fiber in this bread. I am prediabetic qq well as being highly sensitive to gluten. Thanks!!
Kristina
Maria I used US cups for measurements. Here is cups to grams converter link https://www.thecalculatorsite.com/cooking/cups-grams.php I hope this helps
Is it possible to have the measurements in grams. All cup measurements vary, depending on the cup ysed. Thanks
Kristina
thats great Joan, thank you for sharing
I just finished baking this bread, it turned out beautifully. I waited for 20 minutes before I put it in the oven. Thank you
Kristina
Hi Penny, I have made this recipe using only almond flour. You can try to use gluten-free all purpose-flour, however I don't know how well it will work. Almond flour gives the bread moisture, so by using all-purpose flour the bread may be dryer. If you do try the recipe with this flour please please let us know how the bread turned out. thank you,
Not exactly a review but I want to try this recipe and my daughter cannot have almond flour so what alternative would you recommend (still gluten free)
Kristina
I made a small revision to the recipe. Once you mix the dry ingredients with the wet mixture, let the batter sit for about 20 minutes. This should solve the problem. The liquids will be absorbed by the dry ingredients and the bread will bake up nicely.
I had the same issue. It seems there is too much water in it. This did not form a ball, it was like muffin batter and I poured it into the loaf pan. After the initial cooking time, I covered it and it fell. I cooked it another 30 mins and it still is gummy inside and flat. It will probably dry out if I freeze it and reheat it in the toaster oven. With it being wet, maybe it overleavened and fell? The flavor of it was great! Almost a hint of bacon flavor.
Kristina
I am sorry, we always triple test our recipes and this bread cooked perfectly. The convection oven may have made a difference. Did you use exactly the same ingredients, no substitutions? Sometimes the oven times differ by 5 to 10 minutes, depending on the oven.
We just made this for the first time. It tasted great but the outside cooked perfectly and the inside was still wet. Our oven temp is correct and we have never had this issue before. We cooked it in a convection oven in an Emile Henry break baker. We cooked it longer than required and still had to cut it in half and cook the sides for an additional 15 minutes. It does taste fantastic though...not sure what to do with it other than use for a thick pizza crust.