Gluten-Free Basic White Sandwich Bread
Prep Time
10 Minutes
Difficulty
Easy
Cook Time
50 Minutes
Serves
1 loaf
Average Rating: 4.5 | Rated By: 19 users
If you're new to the gluten-free diet, you may be wondering, will I ever be able to have a soft gluten-free white sandwich bread? 
So, where do you start? 
Bread is often one of the first things people give up when they go gluten-free. But it doesn't have to be that way! 
With this easy recipe for gluten-free basic white sandwich bread, you can enjoy the taste and texture of real bread without all the gluten.
This recipe is surprisingly easy to make, even for novice cooks – and is perfect for any sandwich filling you can dream up.
If you didn't already know, you would never believe this white sandwich bread is gluten-free. The bread is soft and pillowy, just as you remember a sandwich bread should taste like, except without gluten. 
sandwich bread recipe details
Since I wanted to make this recipe as simple as possible, I used only one flour—an all-purpose gluten-free blend. I added eggs, butter and almond flour to have that soft texture. These ingredients will keep the bread moist and stop it from crumbling. 
Another good reason to use Almond flour is that this flour is packed with protein and fiber.
To keep the gluten-free bread light, I added yeast. And the best part is, there is no kneading needed. How wonderful is that! 
Once you proof the yeast, mix wet ingredients with dry ones, and super sticky dough will form. The dough is then placed into a loaf pan to rise.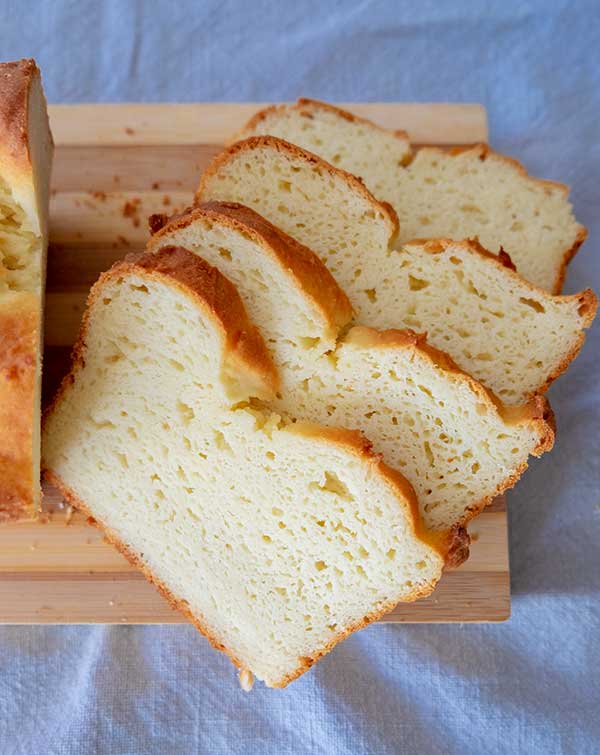 What is the secret to making good gluten-free sandwich bread?
There are a few secrets to making gluten-free soft sandwich bread. 
First, you need to use the right gluten-free flour blend. One with a good balance of flour and starch and will give the bread a good texture.
Second, you need to add xanthan gum to the flour blend if the blend doesn't contain it. This helps to bind the ingredients together and gives the bread a more traditional texture.
Third, you need to use an egg in the recipe. This helps to make the bread moister and gives it a light texture.
Fourth, you must bake the bread in a preheated oven until it is golden brown. This ensures that the bread is cooked through and has a good crust.
Finally, let the bread cool completely before slicing it. This will help to prevent it from crumbling when you slice it. 
best sandwich fillings
When it comes to sandwich fillings, the sky is the limit. But if you're looking for a classic sandwich filling, these are our top picks.
1. Peanut Butter and Jelly: A classic combo that never gets old.
2. Ham and cheese: A perennial favorite for a reason – it's delicious!
3. Turkey and avocado: A flavorful and healthier option.
4. Chicken salad: A classic lunchtime staple.
5. Salmon salad: Another healthier option for a tasty and satisfying sandwich.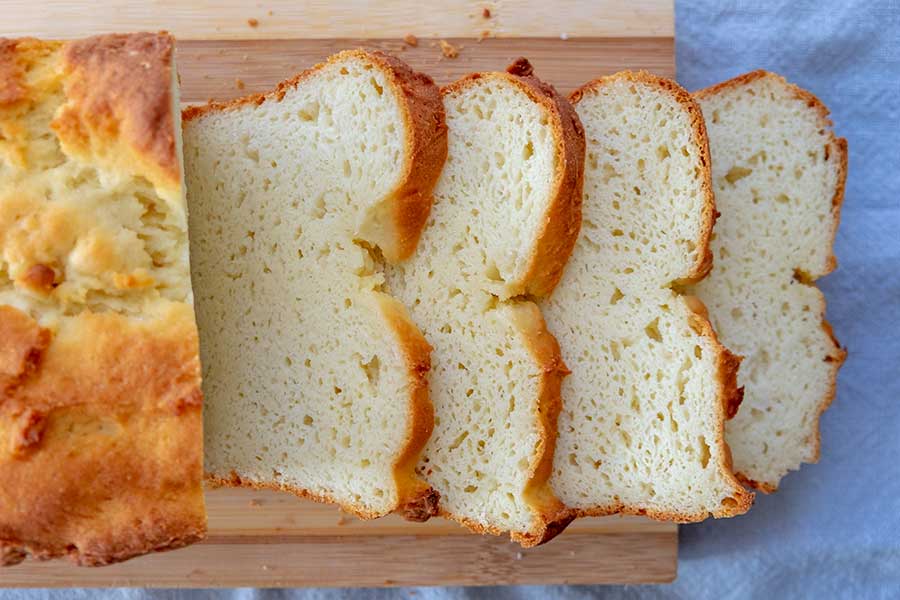 storing gluten-free bread
If you plan on storing the bread, there are a few things to keep in mind:
Make sure to store it in a cool, dry place. If the bread is stored in a warm or humid environment, it will mold faster because it does not have preservatives.

If you have cut into the loaf, be sure to wrap it tightly in plastic wrap. This will help to keep the bread from drying out.

 This bread is also freezer-friendly, so you can make a big batch and freeze it for later. Just be sure to wrap it well before freezing.
best knife to slice sandwich bread
The right knife is key to slicing sandwich bread. You want a sharp knife that will give you a clean cut. A serrated knife is the best option for slicing sandwich bread because it has sharp teeth that can easily slice the bread without squishing it.
If you don't have a serrated knife, you can use a chef's or utility knife. Make sure the blade is sharp to get nice, even slices of bread.
4 of my favorite gluten-free flour blends for sandwich bread
These blends are perfect for making your sandwich bread at home without fail.
1. Bob's Red Mill Gluten-Free 1-to-1 Baking Flour: This flour is a great all-purpose option for gluten-free baking. It can be used as a 1-to-1 replacement for all-purpose flour in most recipes.
2. Cup4Cup Multipurpose Flour: This flour blend has a good balance of flour and starch.
3. King Arthur Measure for Measure All-Purpose Gluten-Free Flour: This is another all-purpose gluten-free flour that can be used in place of regular all-purpose flour in most recipes.
4. Better Batter Original Blend: This flour is excellent for gluten-free baking.
Do you have to use yeast in a gluten-free sandwich bread recipe?
No, you don't have to use yeast, but it does help the bread to rise and gives it a more traditional bread-like texture. 
If you're avoiding yeast, try baking powder or baking soda instead. However, the bread will be flatter, heavier and dryer.
How to make gluten-free white sandwich bread healthier?
If you are looking for ways to make the white sandwich bread recipe healthier, there are a few things you can do. 
Add chia, flax, or pumpkin seeds if you wish. I would add about 1/2 cup per loaf. 
Or, consider adding fruit or nuts. This will add even more nutrients and fiber to your sandwich bread. You may enjoy the healthy  Gluten-Free Healthy Millet Bread.
summary
This gluten-free basic white sandwich bread is an excellent alternative for those seeking a gluten-free option. 
This bread is soft, fluffy, and ideal for making sandwiches or garlic bread. The recipe doesn't require any unique ingredients or equipment. Just mix, bake, and enjoy!
If you try this recipe please share your thoughts in the comments below. I would love to hear from you. You can find more gluten-free bread recipes here
Let's Connect!
Be sure to FOLLOW US on FACEBOOK and PINTEREST.
Many thanks!
Kristina xx
Ingredients
1 3/4 cups lukewarm milk (about 100°F)
1 Tbsp. sugar (I used coconut sugar)
2 1/2 tsp. (I packet) active dry yeast
2 tsp. xanthan gum (omit if your blend already contains it)
2 tsp. Himalayan salt
1/4 cup unsalted butter, melted and at room temperature
2 eggs, at room temperature, whisked
1 tsp. apple cider vinegar
Oil for brushing
*As an Amazon Associate and member of other affiliate programs, I earn from qualifying purchases. Please check out my sponsorship and disclosure policy page for more details
Instructions
Grease a 9 x 5-inch loaf pan and set aside
In a glass bowl stir milk with sugar and yeast. Set aside for 10 minutes to proof the yeast
In a large bowl combine flour, xanthan gum and salt. Add yeast mixture, butter, eggs and vinegar. Using a spatula mix to combine. The dough should be smooth and thick
Transfer the dough into prepared loaf pan and lightly brush with oil. Using your fingers smooth the top of the dough. Cover the loaf pan loosely with plastic wrap and allow to rise in a draft-free warm place for 1 hour. The dough should rise by about half its size. If the room is colder it may take longer
Preheat oven to 350 F
Remove plastic wrap and using a sharp knife slice the center of the dough about 1/2-inch deep
Bake for 50 minutes. Halfway through baking time, loosely cover the loaf with foil so that the crust doesn't brown too much. Cool in the pan for 10 minutes then transfer onto a rack to cool completely
Similar Recipes
Best Gluten-Free Artisan Bread
Finding a gluten-free artisan bread recipe that is simple to make and tastes this good is not easy. Before I decided to make the bread, I tried various combinations of flours and seeds until finally, I got that perfect gluten-free artisan bread. This is a rustic bread packed with seeds and gluten-free grains. The bread […] Read More
Prep Time
10 Minutes
Difficulty
Easy
Cook Time
40 Minutes
Serves
1 loaf
Gluten-Free Keto Multi-Seed Bread
This Gluten-Free Keto Multi-Seed Bread is absolutely divine. This protein-packed, low-carb seeded quick bread is loaded with vitamins, minerals and fiber. For those who cannot tolerate yeasted bread, this gluten-free keto multi-seed bread is a great replacement. If you hadn't baked it yourself, you would never believe it was gluten-free and low-carb.     The […] Read More
Prep Time
10 Minutes
Difficulty
Beginner
Cook Time
50 Minutes
Serves
14 slices
Cassava Bread (Grain-Free, Nut-Free)
Today I am sharing with you this Cassava Bread because many of you have asked me to create bread without grains and nut flour. So here it is a grain-free and nut-free bread. The cassava bread is a little denser than typical sandwich bread. It has a texture more of German rye bread. For extra […] Read More
Prep Time
15 + Minutes
Difficulty
Easy
Cook Time
35 Minutes
Serves
1 loaf