Gluten-Free Basic White Sandwich Bread
Prep Time
10 Minutes
Difficulty
Easy
Cook Time
50 Minutes
Serves
1 loaf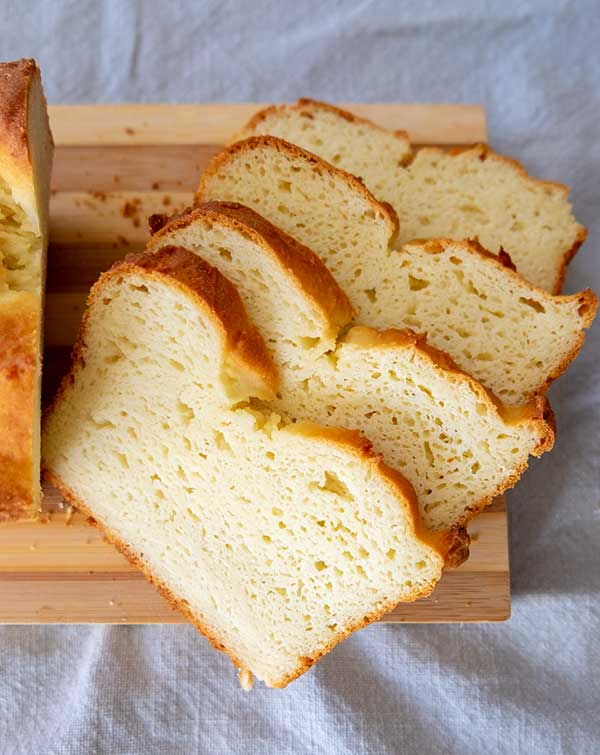 Average Rating: 4.5 | Rated By: 14 users
I am so excited to share this Gluten-Free Basic White Sandwich Bread recipe with you. The bread is absolutely divine. If you didn't already know, you would never believe it was gluten-free. The bread is soft and pillowy just the way you remember a sandwich bread should taste like except without gluten. 
♥

Easiest gluten-free sandwich bread with the simplest ingredients recipe.
Because I wanted to make this recipe as simple as possible I used an all-purpose gluten-free flour blend. I also added eggs, butter and almond flour, keeping the bread moist and stopping it from crumbling. The almond flour also adds protein and fiber. To keep it light, I added yeast, but there is no kneading needed. How wonderful is that! Once you proof the yeast, mix wet ingredients with dry. This forms into a sticky dough which is placed into a loaf pan to rise. Once the dough is ready for baking, pop it into the oven and bake. Nothing to this recipe with exceptional results. 
In my opinion, this gluten-free sandwich bread is superb. The bread has everything you are looking for in white sandwich bread. It's tasty and has a texture of true sandwich bread. This is a basic gluten-free bread recipe, so feel free to add some chia seeds, flax seeds, or pumpkin seeds if you wish. I would add about 1/2 cup per loaf. If you try this recipe please share your thoughts in the comments below. I would love to hear from you. You can find more gluten-free bread recipes here
Ingredients
1 3/4 cups lukewarm milk (about 100°F)
1 Tbsp. sugar (I used coconut sugar)
2 1/2 tsp. (I packet) active dry yeast
2 tsp. xanthan gum (omit if your blend already contains it)
2 tsp. Himalayan salt
1/4 cup unsalted butter, melted and at room temperature
2 eggs, at room temperature, whisked
1 tsp. apple cider vinegar
Oil for brushing
*As an Amazon Associate and member of other affiliate programs, I earn from qualifying purchases. Please check out my sponsorship and disclosure policy page for more details
Instructions
Grease a 9 x 5-inch loaf pan and set aside
In a glass bowl stir milk with sugar and yeast. Set aside for 10 minutes to proof the yeast
In a large bowl combine flour, xanthan gum and salt. Add yeast mixture, butter, eggs and vinegar. Using a spatula mix to combine. The dough should be smooth and thick
Transfer the dough into prepared loaf pan and lightly brush with oil. Using your fingers smooth the top of the dough. Cover the loaf pan loosely with plastic wrap and allow to rise in a draft-free warm place for 1 hour. The dough should rise by about half its size. If the room is colder it may take longer
Preheat oven to 350 F
Remove plastic wrap and using a sharp knife slice the center of the dough about 1/2-inch deep
Bake for 50 minutes. Halfway through baking time, loosely cover the loaf with foil so that the crust doesn't brown too much. Cool in the pan for 10 minutes then transfer onto a rack to cool completely
Similar Recipes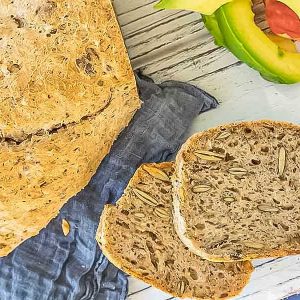 Best Gluten-Free Artisan Bread
Finding a gluten-free artisan bread recipe that is simple to make and tastes this good is not easy. Before I decided to make the bread, I tried various combinations of flours and seeds until finally, I got that perfect gluten-free artisan bread. This is a rustic bread packed with seeds and grains. The bread has […] Read More
Prep Time
10 Minutes
Difficulty
Easy
Cook Time
40 Minutes
Serves
1 loaf
Best Gluten-Free Rustic Bread Recipe
Bread has always been the staple in our home. This Gluten-Free Rustic Bread reminds me of the delicious German rye bread I grew up with. Crispy crust, soft and chewy with the tasty rye flavour. This gluten-free rustic bread recipe is made with chia seeds, buckwheat flour and a gluten-free flour blend. The bread recipe […] Read More
Prep Time
15 Minutes
Difficulty
Easy
Cook Time
45 Minutes
Serves
1 loaf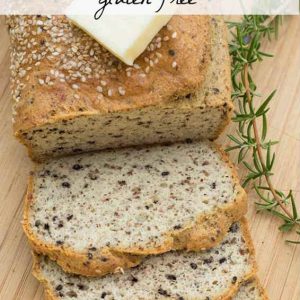 Gluten-Free Keto Multi-Seed Bread
This Gluten-Free Keto Multi-Seed Bread is absolutely divine. This protein-packed, low-carb seeded quick bread is loaded with vitamins, minerals and fiber. For those who cannot tolerate yeasted bread, this gluten-free keto multi-seed bread is a great replacement. If you hadn't baked it yourself, you would never believe it was gluten-free and low-carb. The keto bread […] Read More
Prep Time
10 Minutes
Difficulty
Beginner
Cook Time
50 Minutes
Serves
14 slices