Simple Potatoes With Parsley and Garlic
Prep Time
5 Minutes
Difficulty
Beginner
Cook Time
10 -12 Minutes
Serves
4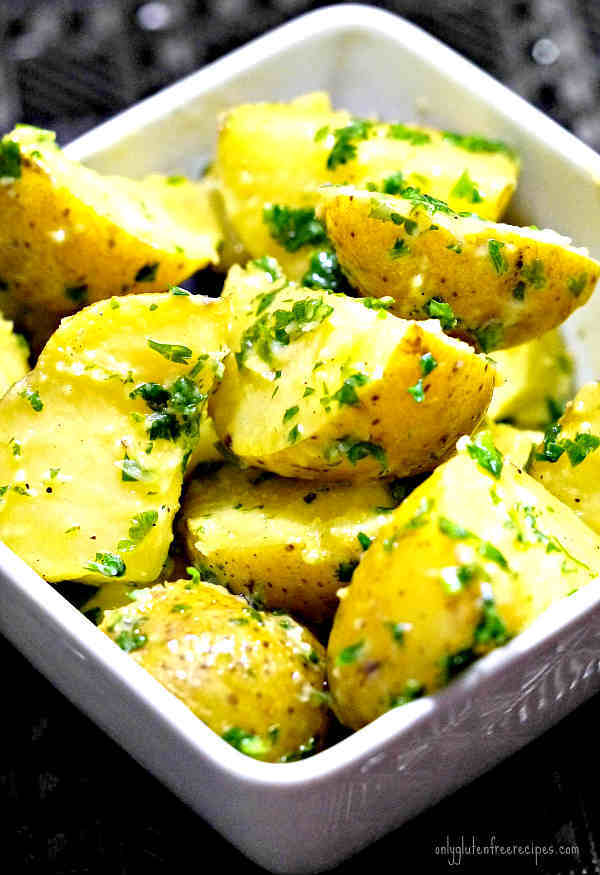 Average Rating: 5 | Rated By: 9 users
Here is a potato recipe that is super easy to make and tastes explosively delicious. Sometimes we forget that potatoes are low in calories, about 110 calories for a medium potato and contain significant amounts of vitamin C, potassium, B-6, iron and fiber. A single potato also contains small amounts of folate, calcium, magnesium, zinc and 7.5 g of protein.
This trio of simple ingredients is rich in many vital vitamins, and will keep your immune system strong, help heal your nervous system and because parsley helps flush out excess fluid from the body it will support kidney function.
Ingredients
1 lb. Yukon gold potatoes washed and quartered
½ cup chopped fresh parsley
3 garlic cloves, finely chopped
¼ cup extra virgin olive oil or melted butter
Sea salt and GF ground black pepper to taste
*As an Amazon Associate and member of other affiliate programs, I earn from qualifying purchases. Please check out my sponsorship and disclosure policy page for more details
Instructions
Place potatoes in salted water and cook until just tender, about 10 -12 minutes
Drain the water from the potatoes and cover
Combine parsley, garlic and olive oil/melted butter and pour over the hot potatoes. Cover with a lid and roughly toss. Season with salt and pepper to taste
Serve hot…YUM!!
Similar Recipes
German Potatoes with Parsley Recipe
German potatoes in Germany are called bratkartoffeln. This favourite potato side dish is often served with schnitzel, pork or just about anything. If you are looking for another way to serve potatoes this recipe is for you These ever so tasty potatoes are slightly crispy on the outside and soft on the inside seasoned with […] Read More
Prep Time
10 Minutes
Difficulty
Beginner
Cook Time
20 Minutes
Serves
4 - 6
Low Carb Cheesy Potato Pie
This Low Carb Cheesy Potato Pie is creamy, cheesy with a bite of garlic flavour. Are you looking for life-changing potatoes? You will love this easy Cheesy Potato Pie recipe. The recipe is super easy to whip up, and each serving has only about 23 net carbs. grain-free low carb potato pie This savoury, cheesy […] Read More
Prep Time
15 Minutes
Difficulty
Easy
Cook Time
85 Minutes
Serves
6