German Potatoes with Parsley Recipe
Published on Oct 23, 2016
by
Kristina Stosek
Prep Time:

10 minutes
Cook Time:

20 minutes
Serves:

4 - 6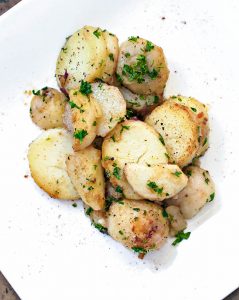 ​This post may contain affiliate links, please see our
privacy policy
for details
Are you ready to take your potato game to the next level? Try these German Potatoes with Parsley. They are a tasty side dish with almost any main.
German potatoes in Germany are called bratkartoffeln. This favourite potato side dish is often served with schnitzel, pork, or anything that needs a side of veggies.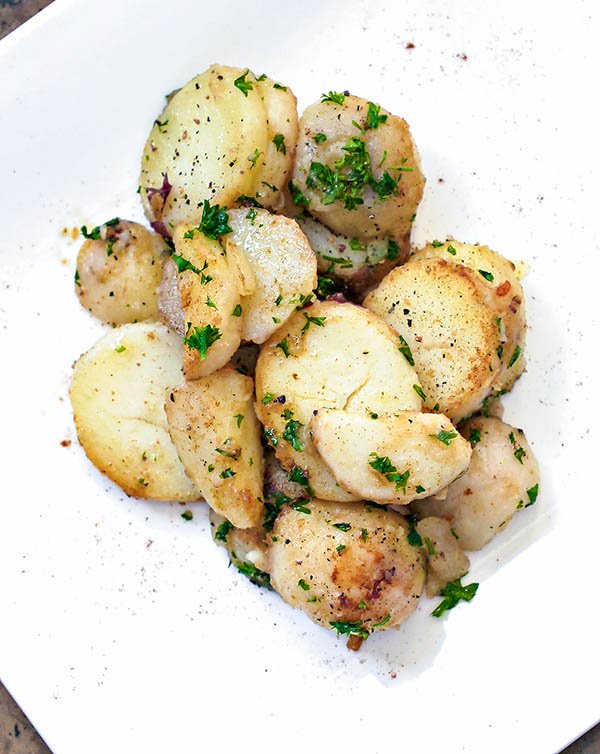 What are German potatoes with parsley?
These potatoes are slightly crispy on the outside and tender on the inside, seasoned with an onion parsley butter sauce. Traditionally the potatoes are fried in butter or oil, absorbing a lot of fat.
In this healthier version, the potatoes are boiled first and then cooked in the sauce. Cooking them this way will reduce fat absorption and keep the same flavour. You can also add caraway seeds, marjoram or cooked bacon chunks for a variation of these German Potatoes.
What to serve with German potatoes with parsley?
There are a few things that go great with German potatoes and parsley. They are always a big hit with grilled chicken or gluten free sausage.
Or pair them with a simple green salad or a Tuscan White Bean Salad for a vegetarian meal.
And, of course, every German meal is incomplete with a side of potatoes with their famous schnitzel and Stewed Red Cabbage With Apples. You can also keep the meal vegetarian and serve the potatoes with Gluten-Free Vegan Schnitzel, and German Cucumber Salad.
Are German potatoes with parsley healthy?
Yes, German potatoes with parsley are healthy. They are a good source of fiber, vitamins A and C, and magnesium. They also contain potassium which is essential for maintaining healthy blood pressure levels. Additionally, potatoes contain vitamins C and B6, which are important for a healthy immune system.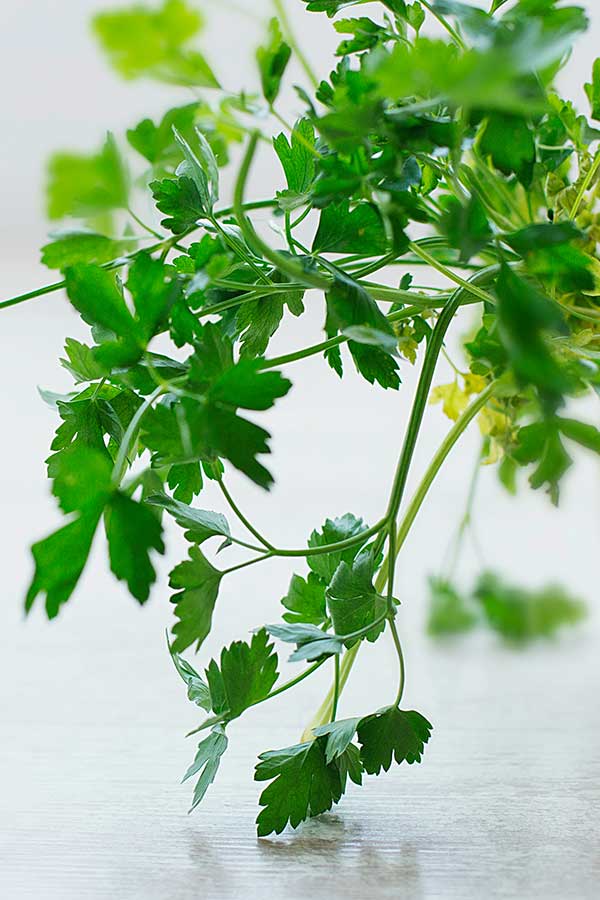 Health benefts of fresh parsley
Parsley is a source of many nutrients, including vitamins A, C, and K, as well as folate and iron. It also contains antioxidants and phytochemicals that may have health benefits.
In addition to its possible health benefits, parsley is a low-calorie food that can add flavor and freshness. It can be used fresh or dried in various recipes.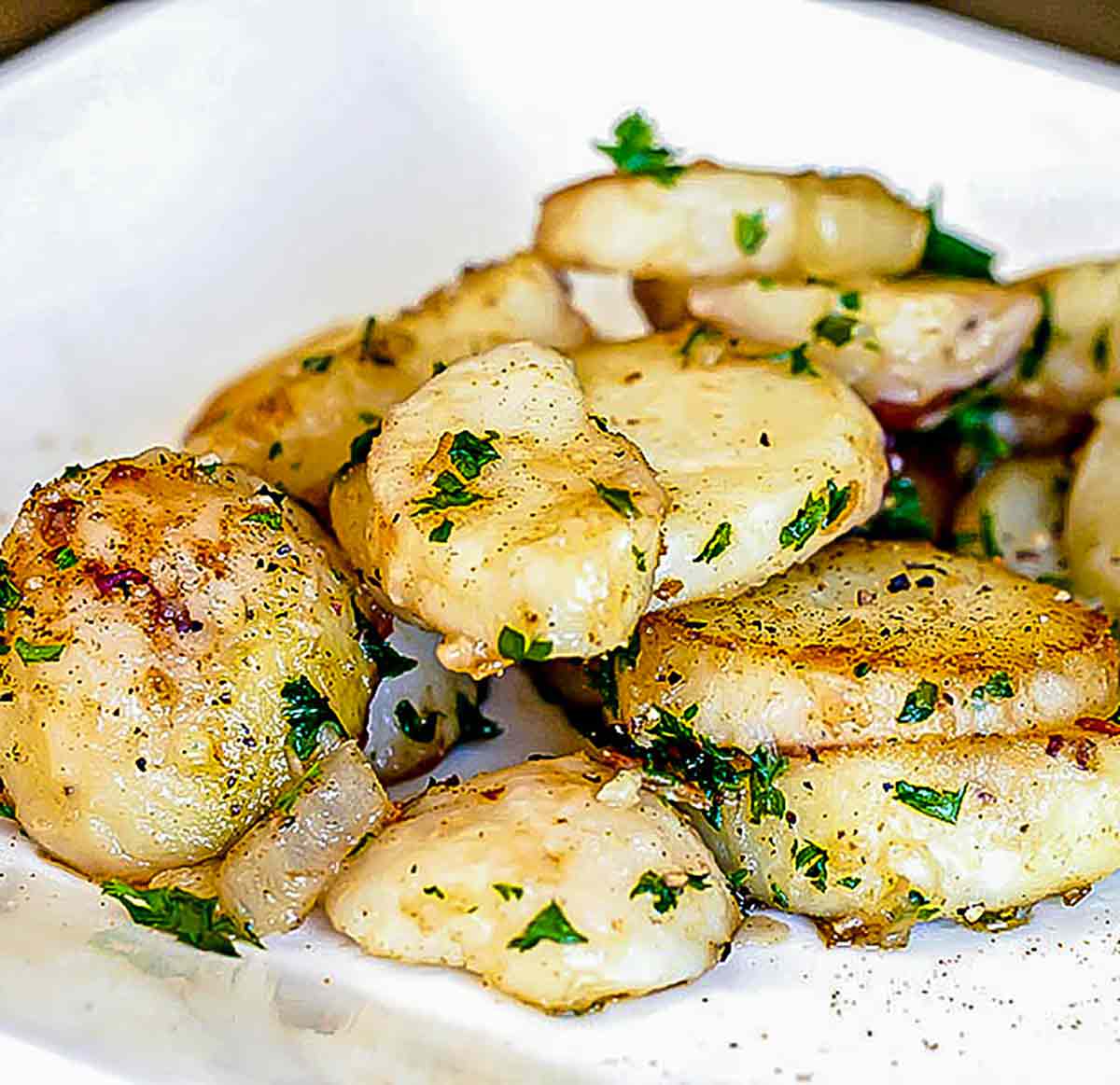 storing cooked potatoes
Cooked potatoes must be stored in the fridge. Per the Idaho potato commission, cooked starch foods like potatoes can grow germs if not kept either refrigerated and cold or hot over 140º F.
summary
This recipe for German potatoes with parsley is a delicious and easy way to get your daily dose of vegetables. The potatoes are boiled until tender and then coated with a flavorful parsley and onion sauce. This side dish makes a healthy addition to lunch or dinner.
If you are searching for gluten free German dishes, check out or complete list of gluten free German recipes.
German Potatoes with Parsley Recipe
Published on Oct 23, 2016
by
Kristina Stosek
Instructions
1.

Cook potatoes in water with 1 tsp. of salt until just tender. About 8 – 10 minutes (do not overcook the potatoes)

2.

Drain potatoes and shake until roughed up on the outside. Set aside

3.

In a large skillet over medium-low heat, heat butter and olive oil. Add onions and sauté until soft. About 5 minutes. Add parsley and cook one more minute

4.

Increase heat to medium-high and add cooked potatoes. While stirring cook the potatoes for 5 more minutes, until the potatoes are slightly brown and are covered with onion and parsley. Season with salt and pepper. Cover and keep warm until ready to serve