Tuscan White Bean Salad Recipe
Published on Aug 31, 2017
by
Kristina Stosek
Prep Time:

10 minutes
Cook Time:

5 minutes
Serves:

4-6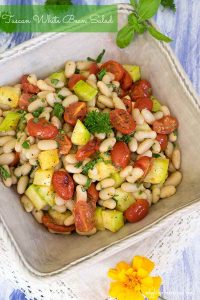 ​This post may contain affiliate links, please see our
privacy policy
for details
This classic Tuscan White Bean Salad is a beautiful combination of textures and flavours. Anyone who has vacationed in Italy would have enjoyed a version of this country-style salad.
The roasted cherry tomatoes, roasted zucchini and cannellini beans soak up the sweet, tangy blend of apple cider vinegar, extra virgin olive oil, garlic and basil, making this Italian salad exceptionally tasty.
To prepare this flavourful vegan dish, you can do it two ways—the easy way is by using canned beans. Or, start with dry beans by soaking them overnight and then cook them fresh the next day—our preference.
Which beans to use for a salad dry or canned?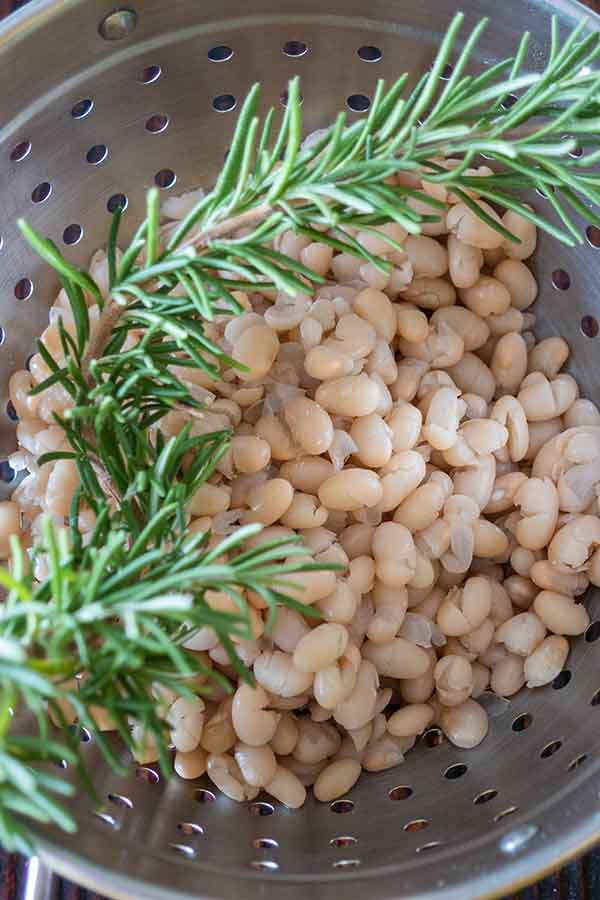 We feel that starting with dry beans gives the beans a better texture and flavour. However, I know we don't always have time to cook beans. This is when Instant pot comes in handy.
Most beans cooked in an instant pot take about 35 – 40 minutes without soaking and are well worth the extra time. The beans taste so much better because they are freshly cooked, have a much better texture, and you control the salt and other unwanted additives.
Why are canned beans unhealthy?
Most canned beans are ladened with salt. Many cans of beans contain more than 1,000 milligrams of sodium per cup. The body needs only a small amount of sodium to function.
As per Centers for Disease Control and Prevention, high sodium consumption can raise blood pressure, which is a major risk factor for heart disease and stroke. Most of the sodium we consume is in the form of salt
If you use canned beans, try to get low sodium and always give them a good rinse. Even if you rinse canned beans, you're still left with about 700 milligrams of sodium per cup, which is about half what we should consume for the entire day.
Many of you have tried my instant pot warm white bean salad and loved it. However, I wanted to change things up and make a bean salad with a Tuscan flavour.
What is a Tuscan White Bean Salad?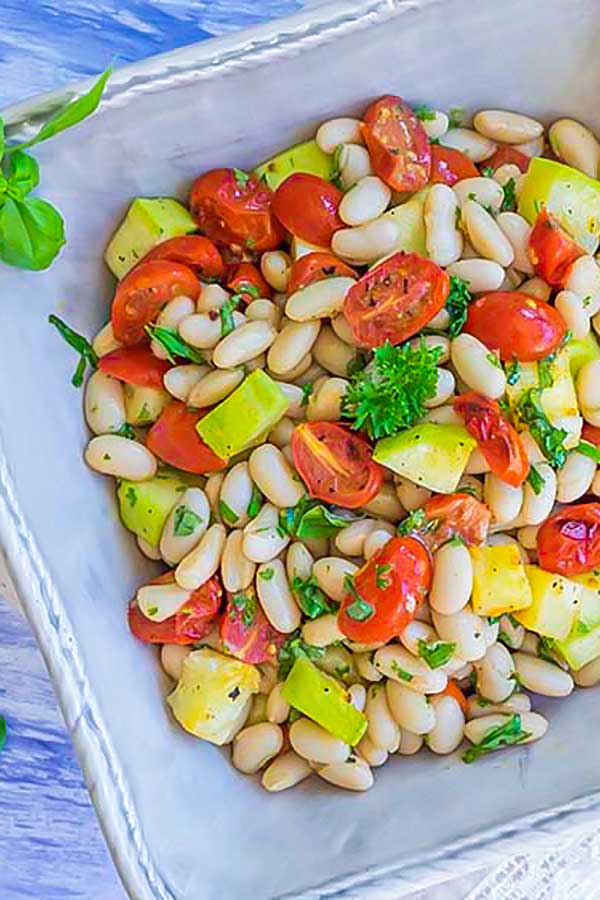 To add an Italian twist to the salad, I briefly roasted cherry tomatoes and zucchini in olive oil, garlic and seasoning. Then I added them to the beans, including the juices from roasting.
The flavours from the roasted veggies made this salad come to life with a rustic Tuscan flare.
This Tuscan salad is not a typical bean salad. The juices from the roasted veggies, fresh basil, parsley and the various textures make this bean salad a winner.
I recommend making this salad a day in advance to allow the flavours to develop.
This Italian bean salad goes exceptionally well with chicken parmesan or your favourite fish dishes. Enjoy!
Let's Connect!
Be sure to FOLLOW US on FACEBOOK and PINTEREST.
Many thanks!
Kristina xx
Tuscan White Bean Salad Recipe
Published on Aug 31, 2017
by
Kristina Stosek
Instructions
1.

Preheat oven to broil and line a baking pan with foil paper. Using a bowl combine, tomatoes, zucchini, 1 tablespoon of olive oil, one minced garlic and ½ tsp. of black pepper. Scatter vegetables on the baking pan and broil the veggies for 5 minutes. Then set aside to cool

2.

In a large bowl, combine beans, apple cider vinegar, one tablespoon olive oil, one minced garlic, basil, parsley, salt, black pepper and paprika

3.

Add cooled roasted veggies with the juice and gently combine. Set aside for 1 hour at room temperature for the flavours to be absorbed. Then refrigerate for 4 hours or overnight

4.

Serve at room temperature