Gluten-Free Baked Chicken Parmesan
Published on Mar 03, 2014
by
Kristina Stosek
Prep Time:

20 minutes
Cook Time:

20 minutes
Serves:

4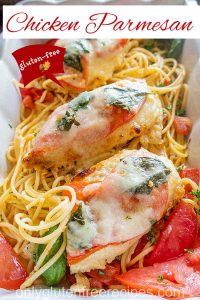 ​This post may contain affiliate links, please see our
privacy policy
for details
This Gluten-Free Baked Chicken Parmesan is a healthier version of the classic Italian chicken parmesan dish, sometimes called chicken parmigiana. The tender chicken is seasoned with oregano and garlic and crusted with parmesan cheese. To finish this Italian dish, the tender chicken is topped with fresh tomato slices, fresh basil and creamy bocconcini cheese. Honestly, this Italian chicken parmesan dish is so so good!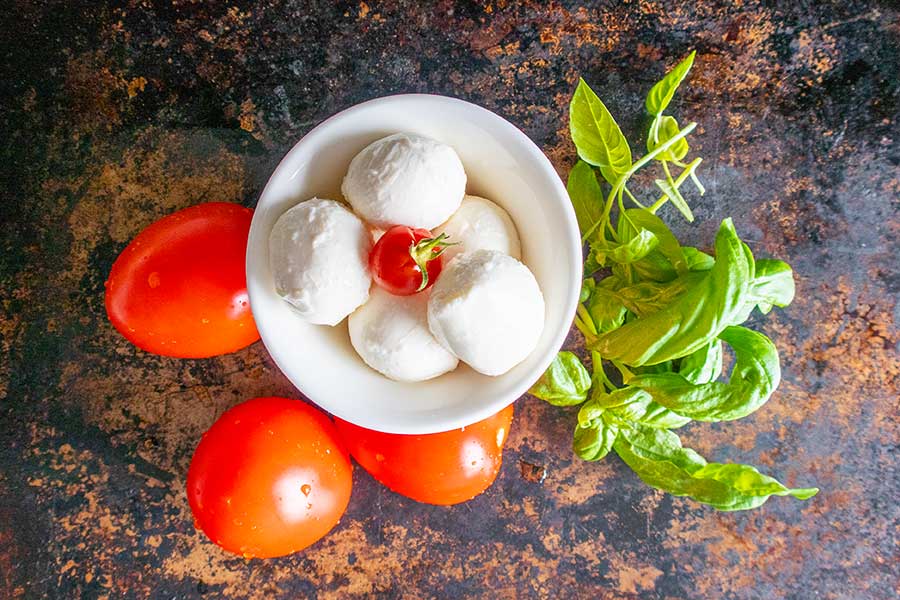 what is chicken parmesan?
It's basically chicken coated with a crispy crust and topped with tomatoes, basil and melted cheese. Typically chicken parmesan is coated with flour, egg and bread crumbs. Then, the chicken is deep-fried and then baked with the tomato sauce, basil and cheese. However, I wanted to keep this chicken dish gluten-free, healthier, simpler and with minimal cleanup. So, I simplified the recipe and still kept the classic chicken parmesan flavours only I made a parmesan crust.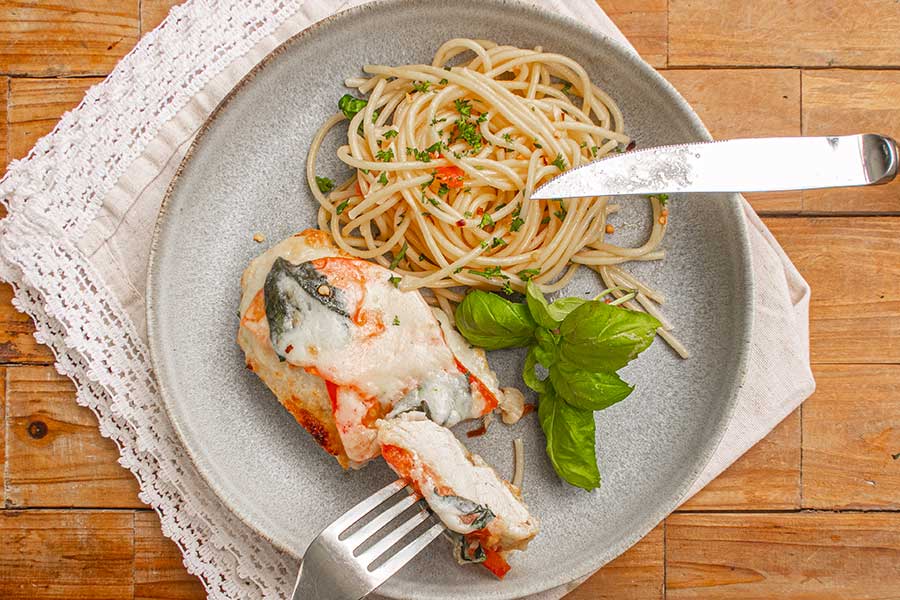 for the details,
I needed to give the chicken a tasty coating, but I did not want to use the flour, eggs, and bread crumbs, and I certainly did not want to fry the chicken. So, I first marinated the chicken in yogurt, garlic, oregano and seasoned it with salt and pepper. The chicken should marinate for about two hours while it is kept cool in the refrigerator.
For the next step, shake off some of the marinade and coat the chicken with grated parmesan cheese. The cheese is what will give the chicken a delicious cheesy crust. Once the chicken is coated with the parmesan cheese, it is baked. 
For the finale, just before the chicken is done cooking, the toppings are added. I used fresh tomato slices instead of tomato sauce. The tomatoes add freshness and flavour. Once the toppings are added, the chicken is baked for a brief three to five minutes, just long enough for the cheese to start bubbling. And there you have it, a stunningly delicious, gluten-free and healthier version of the classic chicken parmesan dish.
I want to note that I used good quality bocconcini in this chicken parmesan recipe, which tends to be pricier than typical mozzarella cheese. Although having said that, it is creamier and well worth it. If your budget doesn't allow for it, you can substitute grated mozzarella for the bocconcini cheese. The results will be almost the same but without the extra creaminess.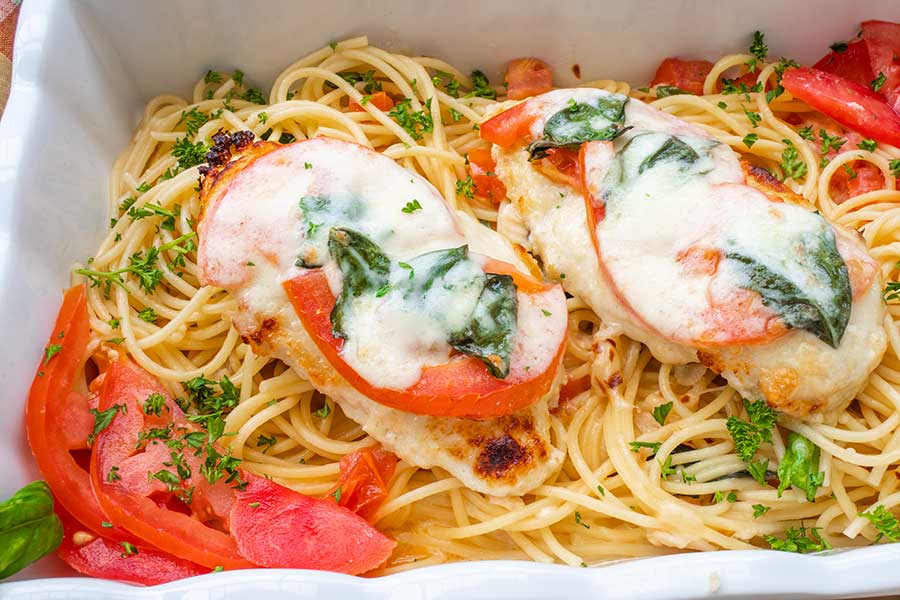 to summarize,
So, there is no deep-frying and unwanted fats in this chicken parmesan dish. Also, this gluten-free baked chicken parmesan is a lot less work and a less mess to clean up. Making this a favourite chicken parmesan recipe in my kitchen. This gluten-free Italian recipe is one that I would highly recommend. Enjoy!
Do you feel like Italian tonight? Then you should try this healthier version of the gluten-free chicken parmesan dish. To serve, add gluten-free Italian pasta salad or gluten-free pasta.
Love Italian food? Why not check out our complete list of gluten-free Italian recipes? From soups to desserts, you will find something delicious for everyone! 
Gluten-Free Baked Chicken Parmesan
Published on Mar 03, 2014
by
Kristina Stosek
Instructions
1.

2.

In a large bowl whisk yogurt, garlic, oregano, salt and pepper. Add chicken pieces and marinate for 2 hours in the refrigerator

3.

Shake off most of the sauce and generously coat the chicken with parmesan cheese. Place chicken on a baking tray lined with parchment paper and bake for 15 minutes or until the chicken is cooked through

4.

Top with tomato slices, fresh basil and bocconcini. Return the chicken to the oven and bake until cheese has melted, about 3 -5 minutes. Serve hot