Lemon Pasta with Asparagus – Gluten Free
Published on Jun 24, 2022
by
Kristina Stosek
Prep Time:

5 minutes
Cook Time:

15 minutes
Serves:

4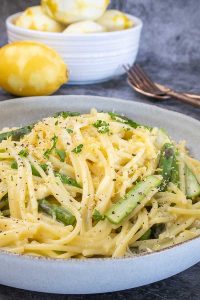 ​This post may contain affiliate links, please see our
privacy policy
for details
Luscious, creamy, delectable Lemon Pasta with Asparagus. This vegetarian, gluten-free pasta dish is based on the classic lemon pasta or pasta al limone recipe but with an added twist of asparagus and a hint of garlic.
With pasta being the world's favourite food, you can never have enough delicious pasta recipes in your recipe box. This 20-minute gluten-free lemon pasta dish is a version of simple light summer pasta.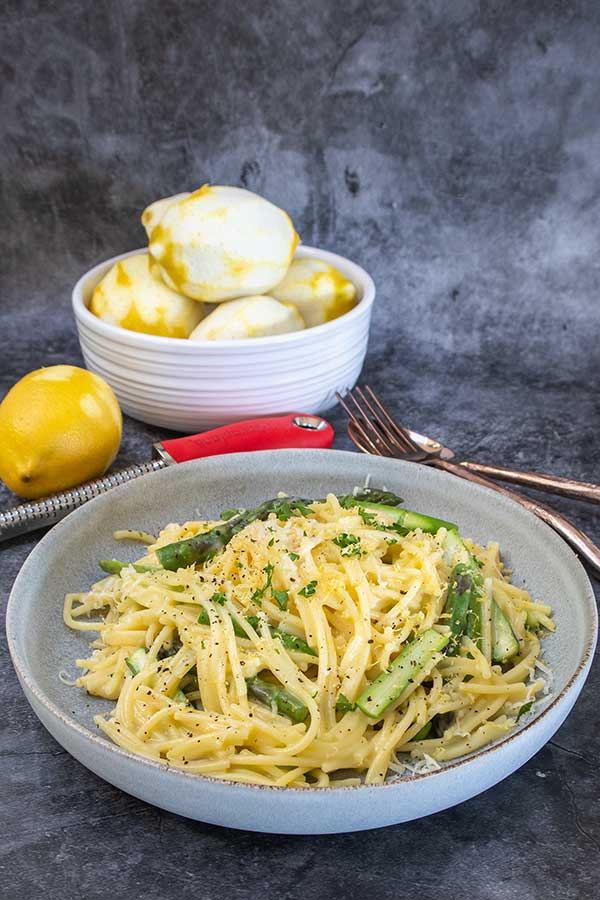 What is lemon pasta (pasta al limone)
The classic lemon pasta recipe typically has only 5 ingredients. Adding fresh asparagus and garlic to this classic makes the pasta healthier and transports the flavour to another level of deliciousness.
This creamy lemon pasta recipe is about the emulsion of the lemon-infused pasta water with provolone cheese. And, the pasta is cooked in shallow lemon-infused water over medium heat.
It is best to use pasta tweezers to stir the pasta gently while cooking. In addition, shaking the pan from side to side will help the pasta not stick together.
To execute the creamy sauce to perfection, add the provolone cheese slowly, whisking vigorously as it melts and incorporates into the lemon sauce.
The starch from the pasta is like glue and also breaks down the cheese protein creating a creamy sauce. Add more lemon water if needed to keep the pasta saucy.
How to make lemon-infused water?
You will need 6 cups of lemon water for this pasta recipe. Begin with boiling the water, add the zest of 5 lemons and if you have some lemon leaves. Turn the stove off, cover the pot and steep for a minimum of 2 hours or, for best results, overnight.
How to zest a lemon for lemon-infused water?
There are two ways you can zest the lemons. Using a microplane zester is probably the easier way for most people. The other is by using a sharp vegetable peeler. Carefully peel the zest off the lemons. The important thing to know is not to use the white part of the lemon peel. If you do, the lemon-infused water will be bitter, and so will the pasta.
Is the wax on citrus fruit safe to eat?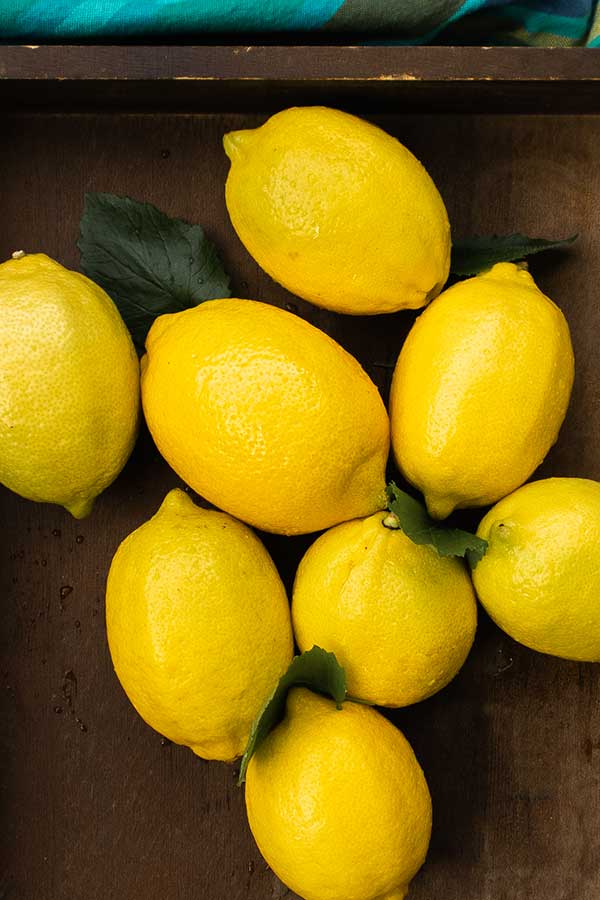 Lemons are often coated with wax to keep the peel fresh and glossy and extend shelf life. This wax is considered safe to eat; however, if you use the zest of the lemon, I recommend de-waxing the lemons.
What is citrus fruit wax made of?
Some are made from beeswax, other wax coating used is based on polyethylene, a type of plastic, or some are shellac.
Are organic lemons waxed?
Waxing is a component of citrus processing, even for organic lemons. The difference is that organic lemons typically use a harmless beeswax coating.
How do you dewax a lemon?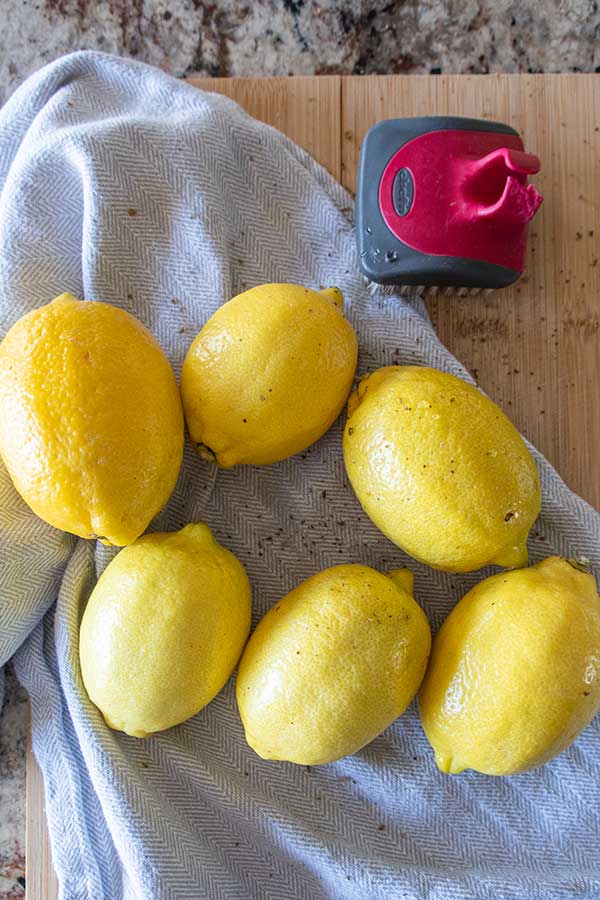 Place lemons in a colander without them touching and pour boiling water over the lemons. Immediately scrub the lemons with a vegetable brush, then rinse and dry with a towel. Store dry lemons in the refrigerator
Why is asparagus so good for us?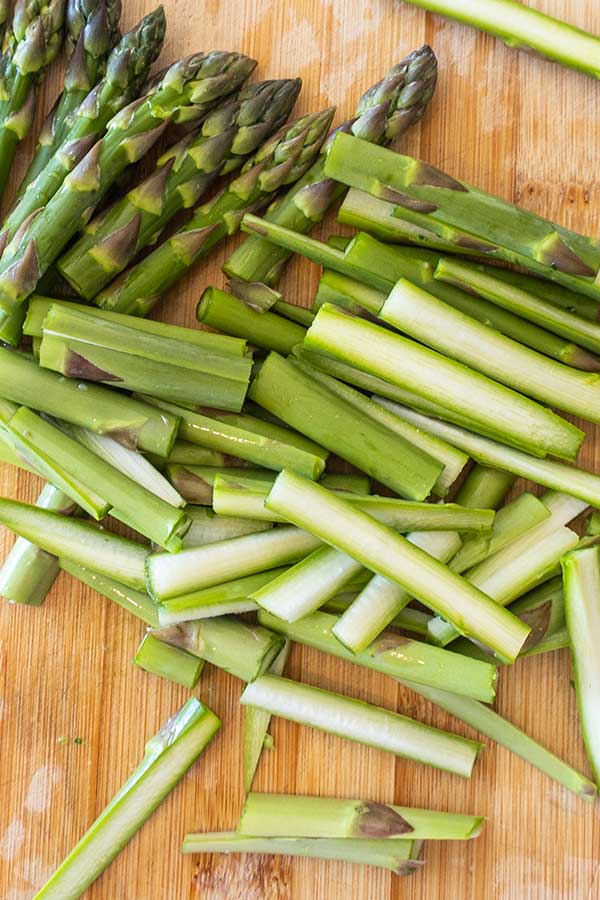 I used asparagus in this lemon pasta recipe because it is in season, and you can't beat fresh produce. Asparagus is low in calories and is a high-fiber vegetable. This nutrient-dense vegetable is an excellent source of essential vitamins and minerals, especially folate and vitamins A, C and K.
How to plate lemon pasta?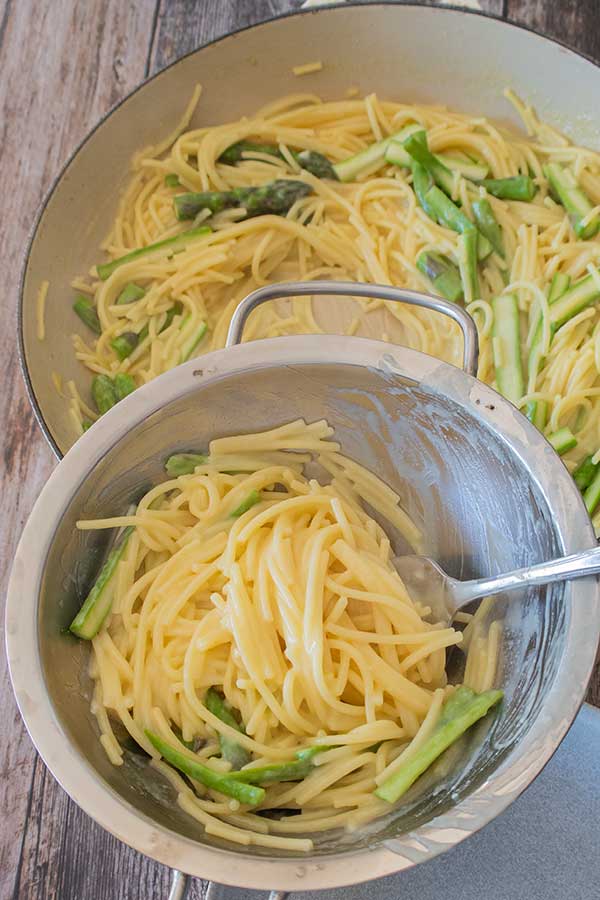 The easiest way to plate pasta is by using a large fork and a large ladle. First, scoop a serving amount of pasta using the large fork into the ladle, swirl the pasta with the fork, and then carefully slide it into a bowl or on a plate.
Substitutions and tips
Asparagus; you can use spinach, arugula, zucchini or kale
Provolone cheese; you can use parmesan or asiago
Olive oil; you can use butter for extra creaminess
Garlic; substitute fresh garlic for a pinch of gluten-free ground nutmeg
Lemons; do not use bottled lemon juice, fresh lemons are a must!
Parsley; use only fresh parsley to give the pasta a fresh herb taste. You can substitute fresh basil for parsley
Spaghetti; use any long gluten-free pasta such as spaghettini or fettuccini
Salt; add the salt after you add the pasta. If you add the salt before the pasta, the salt will sink to the bottom of the pot
Cooking the pasta; cook the pasta al dente. You'll be tossing it with the sauce for a couple of minutes, so it will continue to cook. If you overcook gluten-free pasta, it will become mushy.
Freezing pasta; divide the pasta into portions and place on a baking sheet. Transfer frozen pasta into freezer bags and place in the freezer. Bring to room temperature before reheating.
Reheat leftovers; to reheat, use a microwave. Gluten-free pasta best holds its texture when reheated in a microwave. You may want to add a tablespoon or two of water or milk to loosen the sauce back up when you reheat.
How to make lemon pasta – pasta al limone in 3 steps
Make the lemon-infused water by zesting lemons and adding them to boiling water. Then allow for the lemon to steep, giving the water a delicious lemon flavour.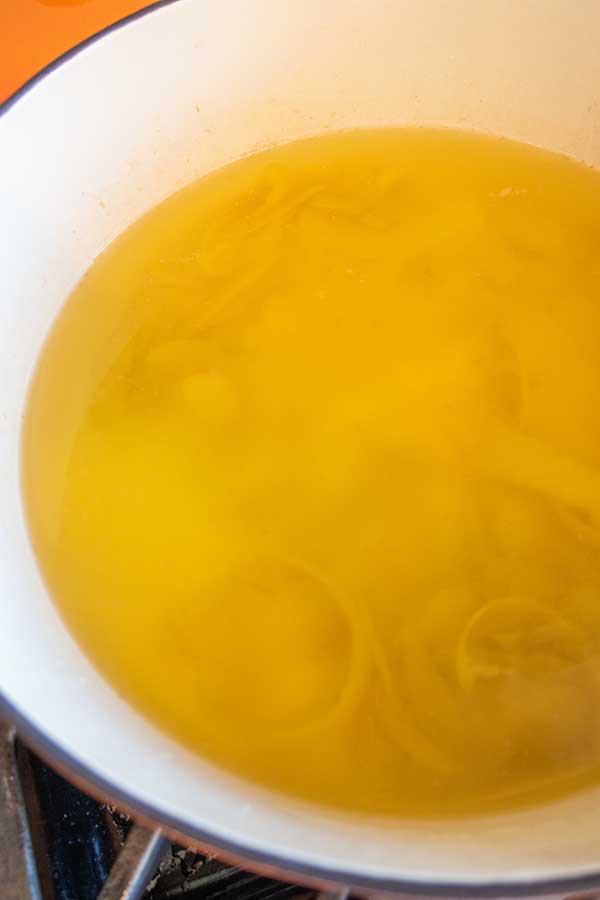 Next, cook the pasta in lemon-infused water with olive oil and salt in a shallow dish until al dente.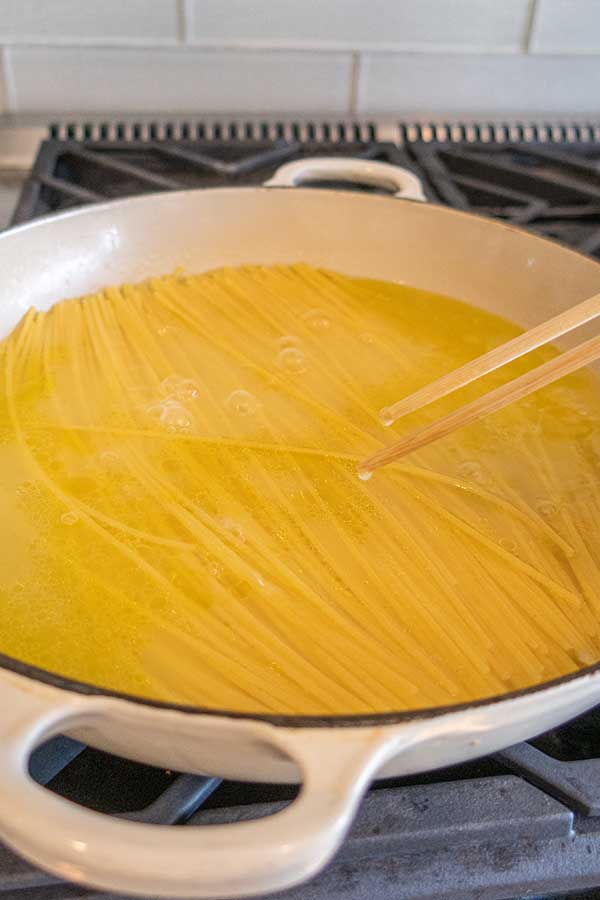 To finish, add the asparagus, garlic and lemon juice and slowly start adding the cheese while you are whisking the pasta until the cheese melts and the sauce becomes creamy. You may need to add more hot lemon-infused water to get the desired consistency of the sauce. Done!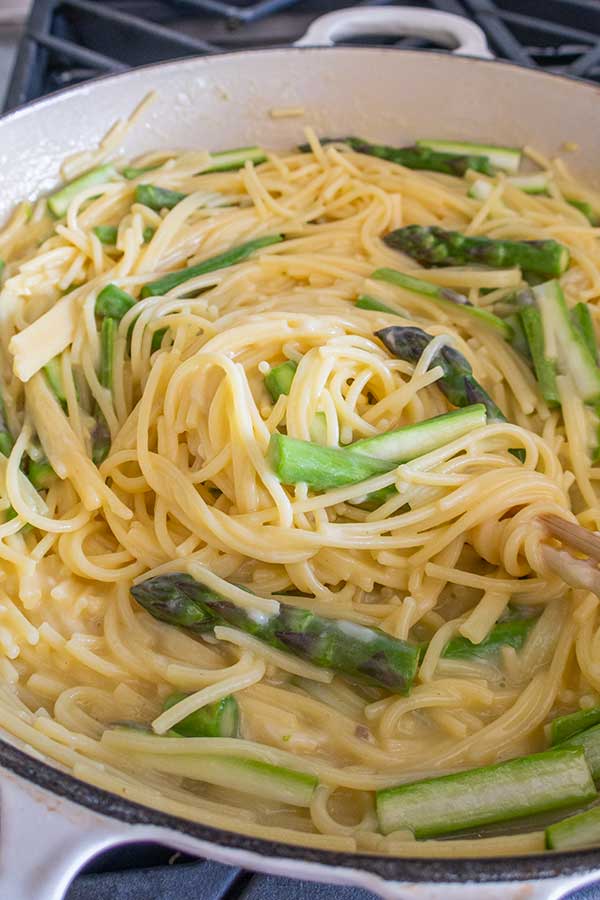 Plate the pasta and top with lemon zest, more cheese and fresh parsley if you wish, and serve hot.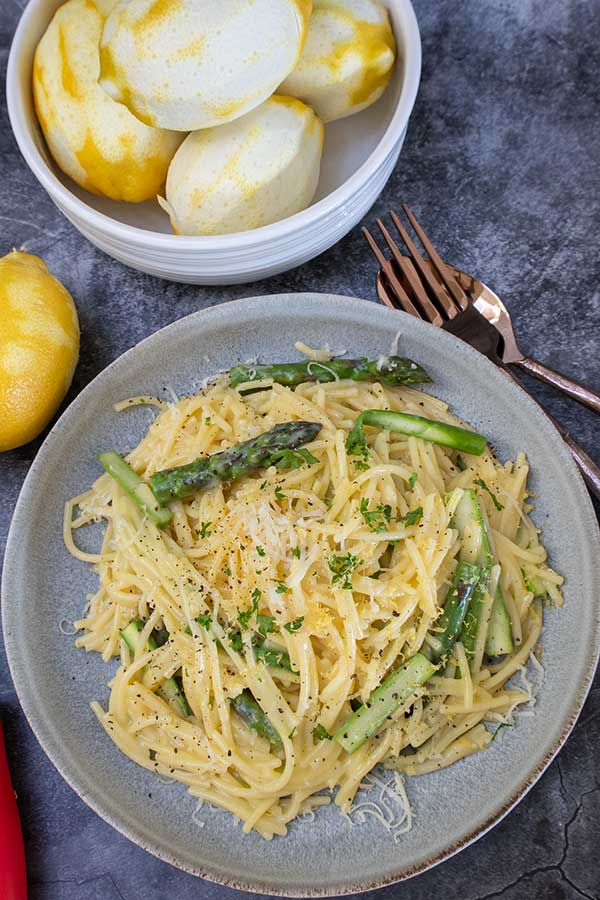 What to serve with gluten-free lemon pasta?
My favourite side with lemon pasta is gluten-free garlic cheese monkey bread. A couple of other sides I would recommend are Italian chargrilled peppers, green salad or pair it with your favourite protein like this tender stuffed pork tenderloin.
Let's Connect!
Be sure to FOLLOW US on FACEBOOK and PINTEREST.
Many thanks!
Kristina xx
Lemon Pasta with Asparagus – Gluten Free
Published on Jun 24, 2022
by
Kristina Stosek
Instructions
1.

2.

Bring 6 cups of water to a boil. Remove from the heat, add lemon zest and 2 - 3 lemon leaves if you have them. Cover and set aside to steep for a minimum of 2 hours or overnight

3.

4.

Bring 3 cups of lemon-infused water to a boil using a wide enough pot to hold the pasta. In a separate pot, heat the remaining lemon-infused water

5.

Add olive oil, pasta and 1 1/2 teaspoons of salt to the large pot and cook pasta over medium heat until al dente. If you need to thin the sauce, add small amounts of lemon-infused water as needed

6.

Add the asparagus, garlic and juice of 1/2 a lemon and vigorously stir the pasta. Remove the pan from the heat and slowly start adding the cheese, whisking until the cheese melts. Add small amounts of lemon-infused water if the pasta seems too dry

7.

To serve, divide pasta among bowls and garnish with lemon zest, grated cheese and a sprinkle of fresh parsley. Serve hot.