Italian Chargrilled Peppers Recipe
Published on Apr 10, 2018
by
Kristina Stosek
Prep Time:

15 minutes
Cook Time:

25 minutes
Serves:

8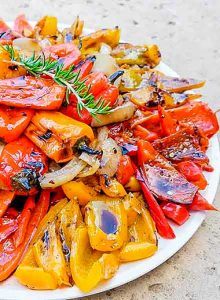 ​This post may contain affiliate links, please see our
privacy policy
for details
These Italian Chargrilled Peppers are a healthy vegetarian dish often served in Italy on an antipasto platter.
Italian food is based on freshness, herbs, spices and plenty of extra virgin olive. Chargrilled peppers are another one of those classic Italian dishes served on an antipasto platter or in pasta, rice and warm salads.
This Italian Grilled Peppers Recipe is the perfect way to enjoy peppers! The peppers are chargrilled to perfection and then topped with good olive oil and balsamic garlic vinaigrette.
What are chargrilled peppers?
Chargrilled peppers are bell peppers grilled over an open flame. This gives the peppers a smoky flavor and a slightly charred appearance.
You can use grilled peppers in various recipes, including topping for pizzas and salads or as an ingredient in pasta or rice dishes.
FAQ about peppers
Here are some frequently asked questions about peppers:
1. What kind of peppers can I use for this recipe?
Bell peppers or poblano peppers are best for grilling
2. How do I chargrill the peppers?
To get that nice charred flavour, spray the peppers with olive or coconut oil before grilling
3. What do I do with the peppers once they're chargrilled?
Place them in a large bowl and cover for 15 minutes. This will soften them to perfection.
If you're looking for an easy and tasty pepper recipe to try out, give these Italian chargrilled peppers a go! You won't be disappointed.
Why is antipasto prevalent in Italy?
There are a few reasons why antipasto is so popular in Italy.
First, it is a great way to start a meal and get everyone's appetite going.
Second, it is a great way to sample a variety of Italian dishes since most antipasto platters include a variety of meats, cheeses, and vegetables like these charred peppers.
Lastly, it is a great way to drink wine! Antipasto platters are typically served with a glass of red wine, which is the perfect pairing for all the rich meats and cheeses' rich flavours.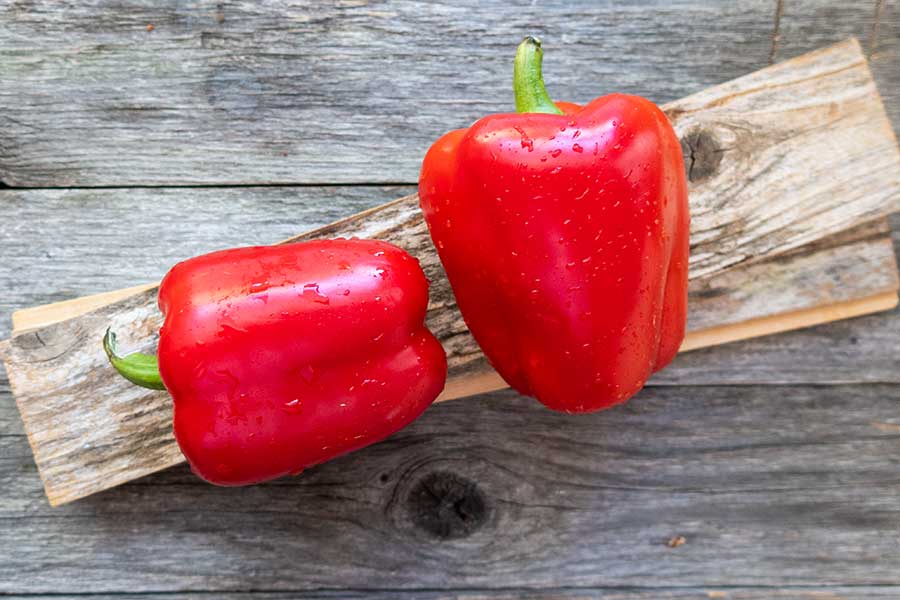 best peppers for grilling,
For this Italian dish, you will need two varieties of peppers. Red and yellow bell peppers and mini sweet peppers. The only other vegetable you need to add is Spanish onions.
next,
The peppers and onions are lightly sprayed with cooking oil, then grilled on a barbecue or in a pan. The peppers will have a tasty charred flavour which takes only a few minutes to do.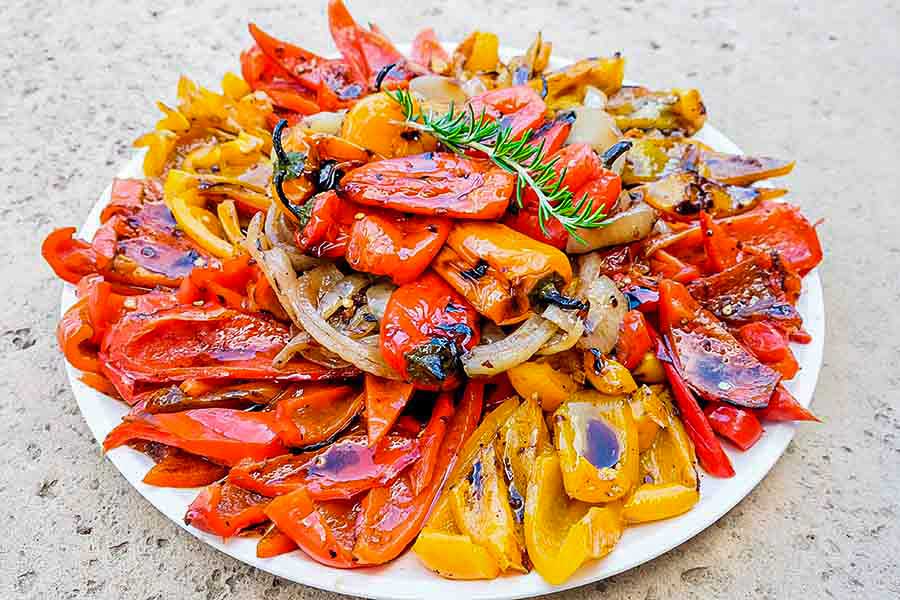 soften the chargrilled peppers,
Once the peppers and onions are lightly charred, place the hot peppers in a bowl. Cover the bowl and allow them to steam for about 15 minutes. The pepper and onions will soften to perfection.
the marinade,
Once the veggies are softened, prepare the marinade. The marinade is made with good quality extra virgin olive oil, balsamic vinegar, garlic, salt and pepper.
Pour the marinade over the charred peppers and onions and marinate the veggies overnight. The peppers will absorb the flavours from the marinade, making them extra tasty.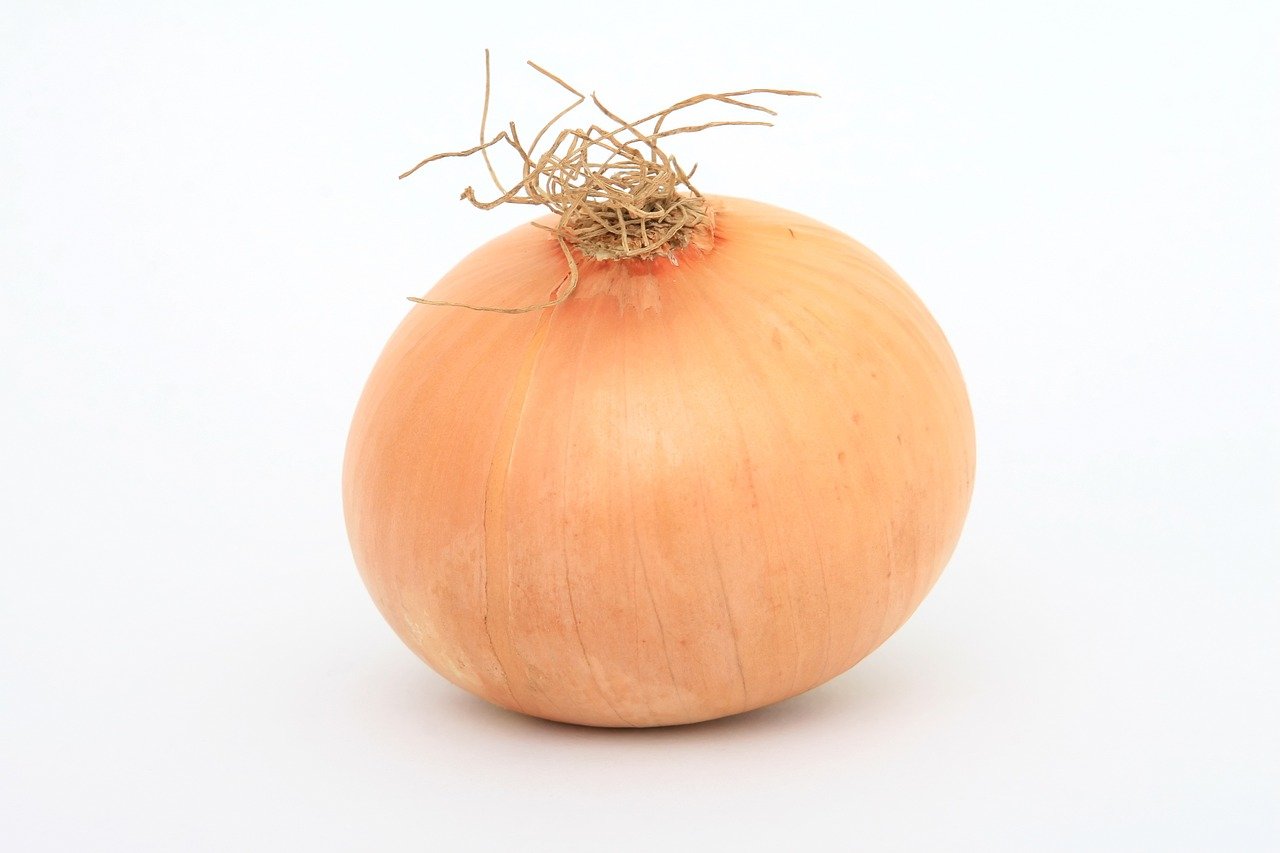 What is a Spanish onion?
Spanish onion is milder than yellow onions, and they look very similar to yellow onions. Many supermarkets display Spanish onions as yellow onions. These delicious onions are excellent when grilled or raw in salads because of their milder flavour..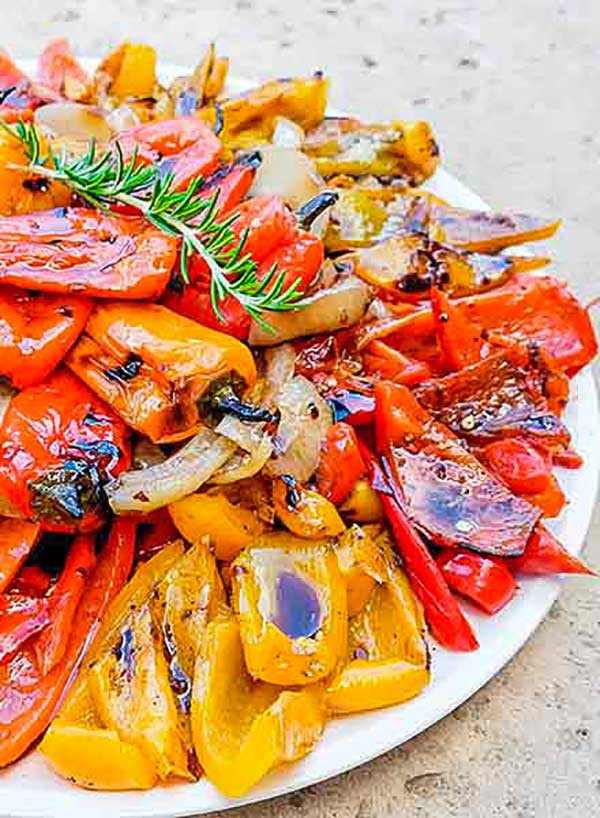 best uses for chargrilled peppers
If you love grilled peppers' taste, you'll want to check out this Italian Chargrilled Peppers recipe! Grilled peppers are a great addition to any meal and a healthy and low-calorie option.
This recipe uses simple ingredients that you probably already have in your kitchen and is easy to make. First, grill the peppers until they're slightly charred, then add them to your favorite pasta dish or antipasto platter.
You can also use grilled peppers as a topping for pizzas or sandwiches.
One of my favourite ways to use Italian chargrilled peppers is in gluten-free pasta dishes, especially in Italian pasta salads. The peppers add exceptional flavour, changing a simple pasta to a delicious Italian meal. So next time you fire up the grill, try out this recipe!
I hope you will enjoy these tasty chargrilled peppers marinated in olive oil, garlic, herbs, onions and balsamic vinegar in your favourite dishes.
Let's Connect!
Be sure to FOLLOW US on FACEBOOK and PINTEREST.
Many thanks!
Kristina xx
Italian Chargrilled Peppers Recipe
Published on Apr 10, 2018
by
Kristina Stosek
Instructions
1.

Preheat barbecue or chargrill pan to medium temperature

2.

Spray all peppers and onions with coconut oil on both sides. Place on a barbecue or chargrill pan and cook for about 5 minutes per side. They should be slightly charred

3.

Place charred peppers and onions in a large bowl and cover for 15 minutes. This allows them to slightly soften. Cut bell peppers into 2-inch wide strips

4.

While the veggies are softening, whisk together olive oil, balsamic vinegar, garlic, rosemary, salt and black pepper. Pour over peppers and onions and gently toss. Cover and marinate for 1 hour. Gently toss once more and marinate for another hour or overnight. These peppers will keep up to a month when refrigerated in glass jars

5.

Bring to room temperature before serving