Garlic Cheese Monkey Bread – Gluten Free
Prep Time
15 Minutes
Difficulty
Easy
Cook Time
30 Minutes
Serves
8
Average Rating: 5 | Rated By: 20 users
What's better than fresh, warm monkey bread straight from the oven? Garlic cheese monkey bread, of course! This gluten-free version is just as delicious as the original because you can't tell the monkey bread is gluten-free.
The gluten-free garlic cheese monkey bread is made entirely from scratch. The bread is soft with cheese and garlic flavour throughout. You will love it, and tthe best part is that it is simple to make.
What is monkey bread?
Monkey bread is a soft bread with a tender light crumb coated in butter. This dough is typically rolled into balls and baked into a loaf.
Now for the question, why is it called monkey bread? There are many reasons, but the simplest one is that you pick apart the bread as a monkey would.
the savory gluten-free version
This recipe for garlic cheese monkey bread is a savory twist on the classic monkey bread recipe. The dough is made with gluten-free ingredients, and for simplicity, is baked in a bundt pan.
 The topping is made with melted butter, herbs, and a good dose of cheddar and parmesan cheese. That's it! No kneading or anything complicated. This flavourful bread is especially delicious when it is still slightly warm.
After baking, the monkey bread can be pulled apart and eaten like garlic bread.
best herbs for gluten-free monkey bread recipe
A few different herbs can be used in this recipe to give it a unique flavor. Some of the best options include:
• Basil – This herb has a strong, pungent flavor that goes well with the garlic and cheese in this dish.
• Oregano – This herb has a more subtle flavor than basil, and it complements the other ingredients nicely.
• Thyme – This herb has a delicate flavor that will complement the other flavors in this bread. Use it sparingly if you want to enjoy the thyme flavor.
Whichever herbs you choose to flavor the monkey bread, you can use fresh or dried herbs. 
Can you make it a sweet bread with cinnamon?
You can make this garlic cheese monkey bread a sweet bread by adding cinnamon to the dough. First, add one teaspoon of ground cinnamon to the dry ingredients before mixing in the wet ingredients. Then, brush the tops of the rolls with a mixture of melted butter and brown sugar before baking.
What to serve with gluten-free monkey bread?
This part is easy. My favorite way to serve the bread is with spaghetti Bolognese YUM! However, the rich flavorful gluten-free bread goes well with soups, stews, ribs, and casseroles. Or with a hot pizza dip for football parties or large gatherings.
For something simpler, pair it with some scrambled eggs or bacon and serve it for a special brunch. 
Why do we love garlic cheese monkey bread?
The garlic and cheese flavors are a perfect match. The bread goes with just about anything savory. And who doesn't love garlic bread?
It's a great snack or appetizer for parties and get-togethers. And it's always a hit with kids and adults alike. Leftovers (if there are any!) reheat in the oven, and they taste just as good as freshly baked bread.
Give it a try next time you're looking for an easy version of a gluten-free garlic bread recipe.
Looking for more bread recipes? Check out our complete list of sweet and savoury gluten-free bread recipes 🙂
Ingredients
2 1/2 cups GF flour blend
1 packet GF quick rise instant yeast (must be quick rise instant)
1 Tbsp. GF baking powder
1 1/2 tsp. Xanthan gum (if your flour blend does not include xanthan gum use 2 1/2 tsp.)
1 tsp. Pure sea salt
1 1/4 cup warm water (not hot or cold)
1/4 cup extra virgin olive oil
2 Tbsp. Pure maple syrup
2 tsp. apple cider vinegar
2 large eggs, at room temperature
TOPPING:
2 Tbsp. Melted butter
2 garlic cloves, minced
1/4 tsp. GF ground black pepper
1 cup grated cheddar cheese
1/2 cup grated parmesan cheese
1/2 tsp. GF dried basil or thyme
*As an Amazon Associate and member of other affiliate programs, I earn from qualifying purchases. Please check out my sponsorship and disclosure policy page for more details
Instructions
Butter and dust with GF flour a 9-inch bundt pan
In a large bowl whisk together flour, yeast, baking powder xanthan gum and salt
In a small bowl mix water, olive oil, maple syrup apple cider vinegar and eggs
Using an electric mixer at medium speed, slowly add wet mixture to dry ingredients until a dough forms. Scraping sides as needed. About a minute.The dough will be sticky
Using a large ice cream scoop, scoop 8 heaping full scoops of dough and place in the prepared bundt pan. Leaving about 1/4-inch space in between each scoop
Mix melted butter, garlic and black pepper and evenly pour over the dough. Cover the pan with plastic wrap and let rise at room temperature for 2 hours. or place in the fridge overnight, then bring to room temperature before baking
Mix cheddar and parmesan cheese with basil and sprinkle over the dough
Bake at 375 F for 25 - 30 minutes until the top is golden brown
Remove from the oven and cool in the pan for 10 minutes. Using a knife loosen the edges and remove the bread. Serve as is or with your favourite dipping sauce
Note: the bread is best when eaten the same day. For leftovers reheat in the oven at 375 for about 7 - 10 minutes
Similar Recipes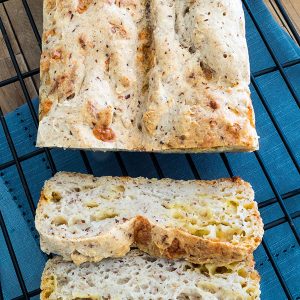 Gluten-Free Olive Oil Cheese Bread
You would never know that this Olive Oil Cheese Bread is gluten-free. The bread texture is soft on the inside, not crumbling and has a perfectly crispy crust. Nothing beats a homemade freshly baked bread, especially when it is healthy and tastes this good!     What make this a good Olive Oil Cheese Bread? […] Read More
Prep Time
15 + Minutes
Difficulty
Easy
Cook Time
60 Minutes
Serves
2 small loaves
4 – Ingredient Gluten-Free Cheese Buns
4 – Ingredient Gluten-Free Cheese Buns – who said gluten-free baking has to be complicated? These buns have a sourdough texture and are slightly crusty on the outside. The best part, this gluten-free bun recipe is easy enough for even novice bakers. ways to serve cheese buns These gluten-free cheese buns make a tasty addition […] Read More
Prep Time
10 Minutes
Difficulty
Easy
Cook Time
35 Minutes
Serves
6
Best Gluten-Free Pull-Apart Soft Rolls
Best Gluten-Free Pull-Apart Soft Rolls – soft, pillowy, and most addictive rolls you will find. They are that good! At my house, when it comes to holidays such as Thanksgiving or Easter, rolls are one thing that is a must-have on our dinner table. easiest gluten-free and dairy-free recipe for soft rolls In this pull-apart […] Read More
Prep Time
10 Minutes
Difficulty
Easy
Cook Time
25 Minutes
Serves
9 rolls