Hot Pizza Dip – (Gluten-Free, Keto)
Published on Nov 11, 2018
by
Kristina Stosek
Prep Time:

10 minutes
Cook Time:

30 minutes
Serves:

6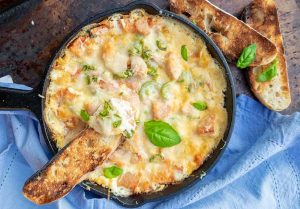 ​This post may contain affiliate links, please see our
privacy policy
for details
There is pizza, and there is a hot pizza dip! Hot pizza dip is a pizza without the crust. The is all about delicious melted cheese with your favourite toppings that you get on a regular pizza except without the bread.
What makes this hot pizza dip so delicious!
In this Hot Pizza Dip recipe, I used three types of cheese, fresh tomatoes, basil, some garlic, and ham or pepperoni. I have also added jalapeño pepper, which is optional, but I love spicy dips, so adding some heat kicks it up a notch.
Doesn't this sound so good? This gluten-free recipe is one of those fail-proof appetizers that everyone will love. Who doesn't love a pizza, especially without the carbs?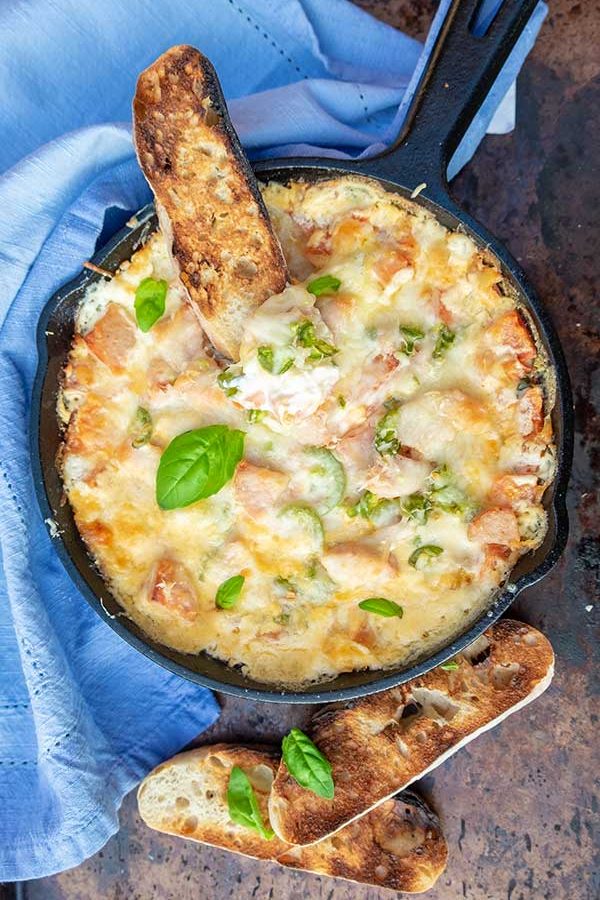 Don't know what to bring to a party? Bring this dip and pop it in the oven when ready. It's that simple. I like to serve this hot dip with gluten-free ciabatta bread. But for those who follow a low-carb diet, add fresh veggies like celery, broccoli or cauliflower for dipping.
The most popular way to serve hot pizza dip.
Gluten-Free corn chips are also a big hit with this hot gooey cheesy appetizer. Grab a spoon…top your chips and enjoy! You can also serve this hot appetizer during sports events. YUM!
With the holidays coming up, having a hot gluten-free appetizer this simple to make is a must. You will not be disappointed. I promise!
After all, who doesn't love a pizza? Think of this appetizer as only the hot topping from a pizza, the best part, right? I would double the recipe if I were you. It goes very quickly.
Make ahead gluten-free hot pizza dip!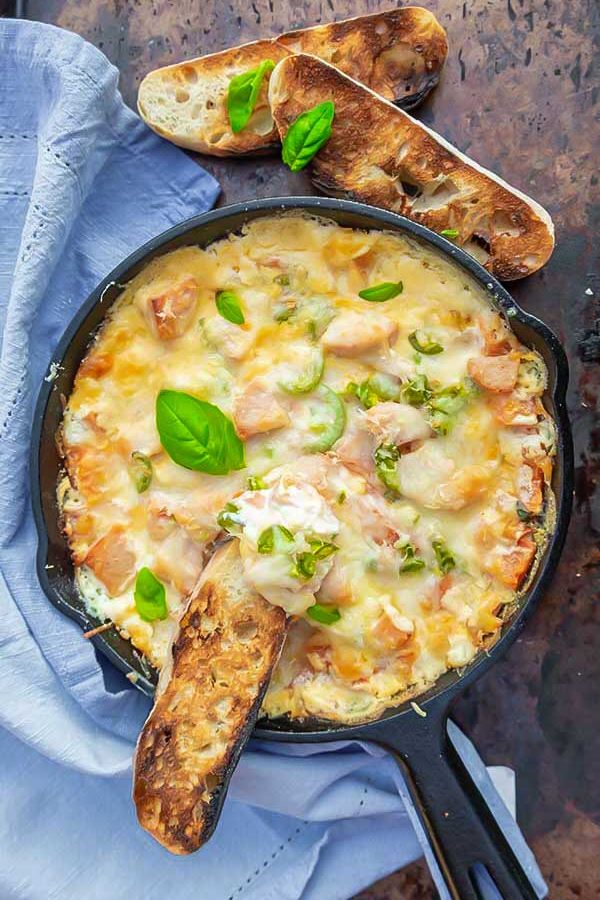 The best part about this hot pizza dip is that you can prepare it a day in advance and bake it when you are ready.
This will reduce your stress level and cut back on cleaning up when you are busy entertaining!
I know how crazy it can get during the holiday season or entertaining large family gatherings! However, having a delicious gluten-free hot appetizer that is this simple to make is a must in your recipe repertoire.
Hot Pizza Dip – (Gluten-Free, Keto)
Published on Nov 11, 2018
by
Kristina Stosek
Instructions
1.

2.

In a medium bowl mix the cream cheese, sour cream, mayonnaise, and 3/4 cup mozzarella cheese

3.

Spread the mixture across the bottom of a 9-inch round baking dish. I used a cast iron pan

4.

In a small bowl combine tomatoes, basil, garlic and salt and spread over the cheese mixture

5.

Sprinkle with pepperoni/ham, jalapeno, remaining mozzarella and Parmesan

6.

Bake for 25 - 30 minutes, until the sides are bubbling and the top turns golden brown. Top with fresh basil
Leave a Comment
Kristina
the mushrooms sound like a great idea Ronald, thanks for sharing
delicious pizza dip, I also added a few mushrooms.