Rotisserie Chicken Enchilada Casserole (Gluten-Free)
Published on Feb 28, 2020
by
Kristina Stosek
Prep Time:

15 minutes
Cook Time:

45 minutes
Serves:

6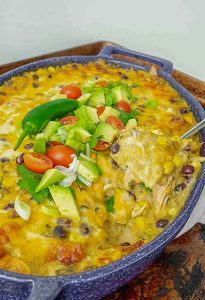 ​This post may contain affiliate links, please see our
privacy policy
for details
If you get Mexican food cravings, look to our Rotisserie Chicken Enchilada Casserole. This simple-to-make gluten-free casserole is made with Rotisserie chicken or leftover turkey, black beans, corn, homemade enchilada sauce, tortillas, sour cream, green onions, and spiced with chilli powder, cumin, oregano and garlic.
Everything in this Mexican casserole dish is layered with cheese and then baked until all the flavours are melded together. So much flavour and deliciousness in just minutes!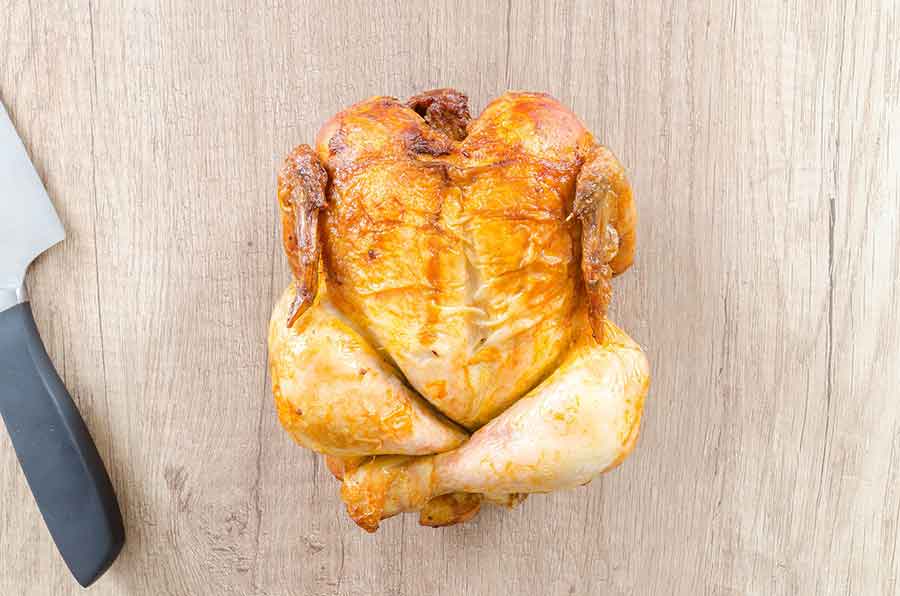 Chicken enchilada casserole is a great way to use up leftovers!
What I love about this recipe, this Mexican enchilada casserole is a wonderful way to spruce up leftover chicken, turkey, pork or beef. But for this recipe, I used a rotisserie chicken for my layers in this casserole dish.
The chicken has plenty of flavour from the enchilada sauce and spices. To make the chicken extra creamy, I also added sour cream. The tortillas are used the same way as you would use pasta for lasagna.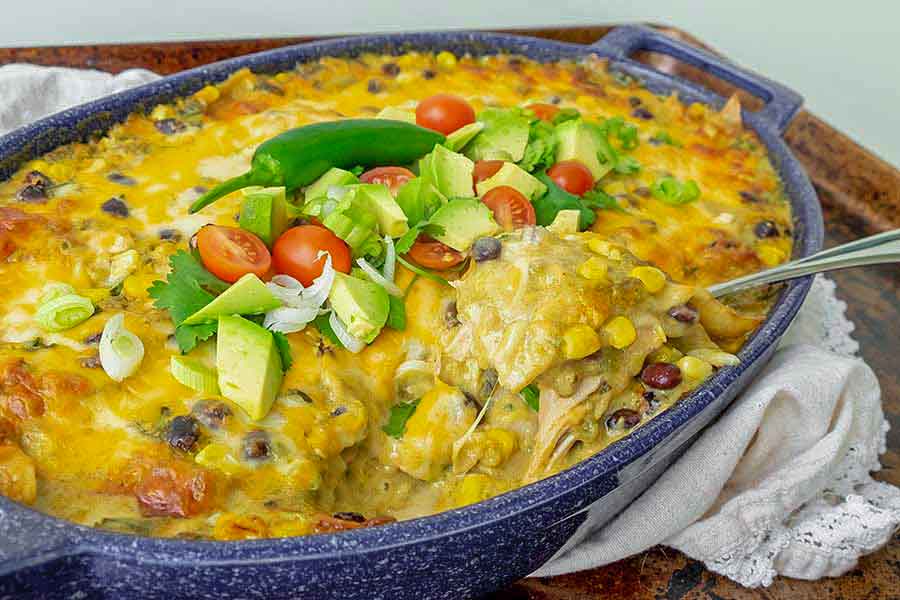 And of course, plenty of cheese, you can't have a Mexican dish without the cheese. This chicken enchilada casserole is for one of those nights when you are looking for something warm, comforting with a little spice.
Easiest homemade red enchilada sauce (makes 2 cups)
1 cup tomato sauce
1 cup GF vegetable or chicken broth
2 garlic cloves, minced
2 Tbsp. Tapioca flour/starch
1 Tbsp. GF chilli powder
1 tsp. GF dried oregano
1 tsp. GF ground cumin
1/8 tsp. GF ground cinnamon
2 tsp. Sweetener (I used pure maple syrup)
1 tsp. Apple cider vinegar
1/4 tsp. Sea salt
–> Add everything into a medium saucepan and whisk until blended. Cook over medium-high heat stirring frequently until the sauce starts to boil and thickens. About 5 minutes. Adjust salt if needed. Cover and set aside until ready to use.
Thinking of having a Mexican theme night? Here are some of our favourite dishes that will go exceptionally well with this rotisserie chicken enchilada casserole.
GLUTEN-FREE CHEESY MEXICAN CORNBREAD |
ROASTED STUFFED POBLANO PEPPER |
BEST AUTHENTIC SPICY GUACAMOLE |
Rotisserie Chicken Enchilada Casserole (Gluten-Free)
Published on Feb 28, 2020
by
Kristina Stosek
Instructions
1.

2.

Place chicken, black beans, corn, cumin, chilli powder, oregano, garlic powder and broth into a large saucepan. Cover and cook over medium heat for 5 minutes. Remove from the stove and stir in sour cream, green onions and season with salt if needed

3.

To assemble; spread 1/2 cup of enchilada sauce on the bottom of an 11x 9-inch casserole dish, Top with two tortillas, 1/3 of chicken mixture, 1/2 cup of enchilada sauce and 3/4 cup of cheese. Repeat steps to create two more layers

4.

Finish with two tortillas, then top with remaining enchilada sauce and cheese. Cover with foil paper and bake for 30 minutes. Remove foil and bake for 10 more minutes until the cheese has melted. Rest for 10 minutes before serving
Leave a Comment
Kristina
sorry Adrian, I am not sure how this was missed in the ingredients list. We have corrected the error. Thank you for pointing this out!
I see beans and corn in your picture but no beans or corn in your recipe ingredients. The picture does not match the recipe. What's up with that?