Roasted Stuffed Poblano Peppers
Published on May 20, 2016
by
Kristina Stosek
Prep Time:

15 minutes
Cook Time:

20 minutes
Serves:

6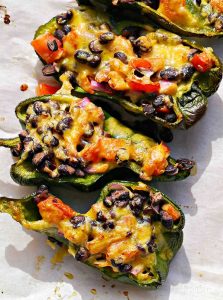 ​This post may contain affiliate links, please see our
privacy policy
for details
Roasted Stuffed Poblano Pepper – I can't tell you how delicious these roasted peppers are. A classic Mexican recipe, poblano peppers stuffed with black beans, tomatoes, red onions, cilantro and a splash of fresh lime juice baked. All this deliciousness is baked together and topped with goey cheese.
To keep these vegetarian Mexican-inspired roasted poblano peppers extra tasty, some garlic, cumin, cayenne pepper and plenty of fresh cilantro. OMG, these roasted stuffed peppers are insanely good!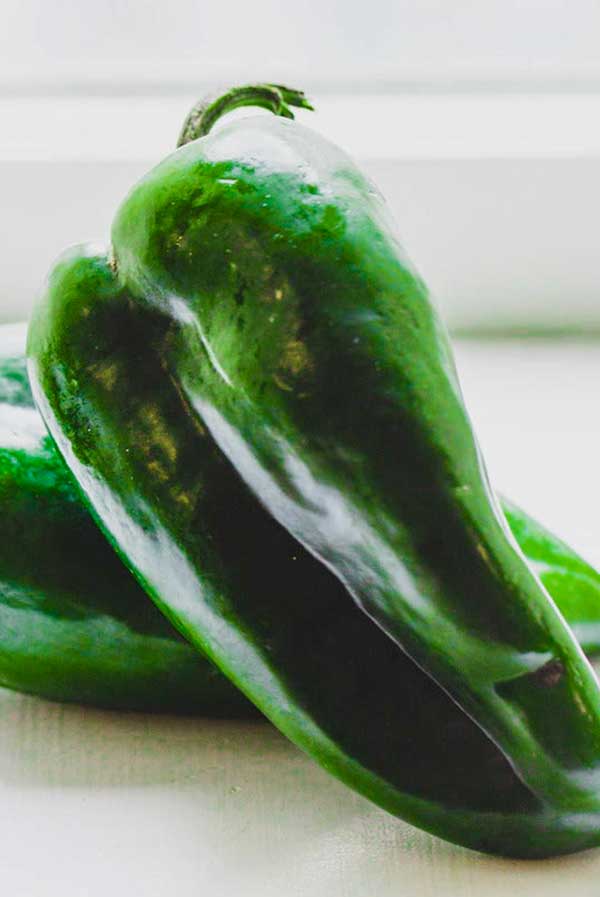 What is a poblano pepper?
The poblano pepper is a variety of chilli pepper typically green in colour. The peppers are native to Mexico and are often used in Mexican cuisine, such as in this roasted stuffed poblano peppers dish.
Poblano peppers can also be dried and smoked, which gives them a dark brown or black colour. They are generally mild but can vary in heat depending on their growing conditions, making them a great option for those who do not like spicy food.
Are poblano peppers healthy?
Poblano peppers are a good source of vitamins A and C and fiber. They also contain capsaicin, which has been shown to have health benefits, including pain relief and anti-inflammatory properties.
If you're looking for the best recipes for poblano peppers, look no further! Here are some of our favourites:
Southwest Chicken Stuffed Poblano Peppers
One Skillet Cheesy Brazilian Chicken Rice Bake
What does poblano pepper taste like?
When eaten raw, poblano peppers have a slightly sweet flavour with hints of bitterness. However, when these peppers are roasted, they take on a more smoky flavour.
If you're looking for a chilli pepper with a milder flavour, give poblano peppers a try. You can use these versatile Mexican peppers in various dishes, both cooked and raw.
Can you eat poblano peppers raw?
While most poblano peppers are used cooked, you may wonder if you can eat them raw. The answer is yes – poblano peppers can be eaten raw.
However, their flavour will be different from when they are cooked. Raw poblano peppers are much milder than cooked peppers, and their taste is more vegetal. Therefore, if you want to use raw poblano peppers in a dish, they may be best suited for salsa.
roasted stuffed poblano pepper – the recipe!
Let me share with you how super easy this roasted poblano recipe is. Once the peppers are cleaned, deseeded and halved, they are ready to be filled with some deliciousness.
Here is how this recipe works!
First, prepare the peppers,
To start, cut the peppers in half and remove the seeds. Next, brush the peppers with olive oil and season with cumin and salt. The peppers are now ready for filling.
the filling,
Combine black beans, tomatoes, onions, cilantro, garlic, spices and fresh lime juice. Fill each half of pepper and top with the cheese.
Bake for about twenty minutes and enjoy hot. Nothing to it! Honestly, this roasted poblano pepper recipe couldn't be easier.
Nothing beats a roasted stuffed poblano pepper when your appetite calls for Mexican food because it's a classic!
You can enjoy this naturally gluten-free vegetarian Mexican dish as a snack or make it into a full-on hearty meal. Just add saffron rice and a simple green salad.
Are you thinking of having a Mexican theme night…great! Check out these healthy gluten-free Mexican recipes to complete your party! Disfruta!
Let's Connect!
Be sure to FOLLOW US on FACEBOOK and PINTEREST.
Many thanks!
Kristina xx
Roasted Stuffed Poblano Peppers
Published on May 20, 2016
by
Kristina Stosek
Instructions
1.

Preheat oven to 400 F and line a baking sheet with parchment paper

2.

Mix olive oil with a pinch of cumin and salt. Using a pastry brush, brush inside of the peppers with the seasoning

3.

Combine beans, tomatoes, red onion, garlic, lime juice, cayenne, remaining cumin, cilantro and salt. Fill each pepper with the stuffing. Top with cheese

4.

Place on a prepared baking sheet and bake for 20 minutes or until the cheese is bubbling. Serve hot
Leave a Comment
very easy recipe, and the flavour and texture is excellent. This is my go to light dinner when I am short on time
My favorite pepper. I added some left-over cooked rice. Thanks for posting this Just what I needed.
Kristina
thank you Joyce, I am pleased you like them.
absolutely delicious and super easy recipe. Thank you!