One Skillet Cheesy Brazilian Chicken Rice Bake
Published on Jun 08, 2020
by
Kristina Stosek
Prep Time:

15 minutes
Cook Time:

30 minutes
Serves:

4 - 6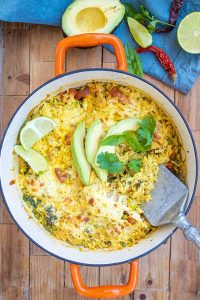 ​This post may contain affiliate links, please see our
privacy policy
for details
The easiest, mildly spicy weeknight style dinner One Skillet Cheesy Brazilian Chicken Rice Bake. To make this chicken dinner, use rice, classic Brazillian spices, poblano peppers, tomatoes, limes and plenty of fresh cilantro.
For the topping, use a mild good melting cheese. For the spices, I used a mix of cumin, turmeric, cinnamon, black pepper and hot chili pepper flakes for added heat.
The aromatic naturally gluten-free chicken rice bake is easy, cheesy and takes just over thirty minutes to make. In Brazil, this dish is called Galinhada. It is a typical Brazilian dish prepared with rice, chicken, vegetables and turmeric or saffron.
How to make Cheesy Brazilian Chicken Rice Bake?
This chicken rice bake is probably one of the easiest chicken dinner recipes to make, and the total cooking time is about thirty minutes. First, you marinate the chicken in fresh lime juice, parsley, cilantro and some salt. I usually do this first thing in the morning – that way, it is ready when I need it.
A sizeable cast-iron pot works best for this recipe, or you can use a large skillet with a lid.
First, sauté the onions with garlic. Add the chicken with the marinade and spices and give it a good stir. The chicken will start to brown and become flavourful.
Add in the rice, boiling water, peppers, tomatoes and peas. Cover and cook for ten minutes.
By this time, most of the liquid will be absorbed by the rice. At this point, stir in the fresh cilantro, sprinkle the rice with cheese and bake it for about ten more minutes. The cheese should be melting and bubbly.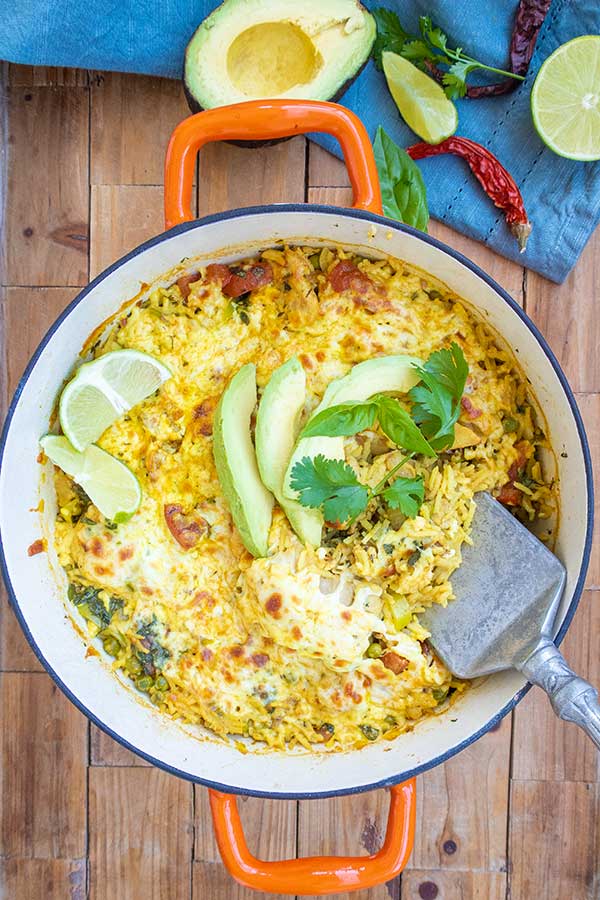 Fresh toppings are a must for this Brazilian Chicken Rice Bake!
The fresh toppings are a must! Once your chicken rice bake dish is ready, serve it family style. Place the cast iron pot or skillet on the table with small bowls of various toppings.
My favourites are, sliced avocados, diced tomatoes, fresh cilantro, lime wedges and sometimes I add sliced green onions. This chicken dinner is a naturally gluten-free recipe because of the fresh, wholesome ingredients.
The cheesy Brazilian chicken rice dish is a fun way to have dinner with family or friends. The various fresh toppings personalize each serving and the best part, everyone chooses what they like.
This chicken rice dish is an all-around delicious weeknight meal prepared quickly and easily. The flavours are outstanding, with the rice drenched in a deliciously spiced sauce, and the toppings add freshness. This meal is beyond delicious!
If you like chicken dinner bakes, check out my three favourites:
→ Moroccan Chicken Rice Dinner.
→ Chilli Lime Chicken with Chorizo Rice.
→ 30-Minute One Pot Cheesy Chicken Taco Rice.
One Skillet Cheesy Brazilian Chicken Rice Bake
Published on Jun 08, 2020
by
Kristina Stosek
Instructions
1.

Combine chicken with lime juice, parsley and 1 tablespoon of cilantro. Season with salt and pepper and marinate for 1 hour

2.

3.

In a large oven-proof skillet or pot, heat olive oil over medium heat. Add onions and garlic and cook until the onions are translucent about 5 minutes. Stir in chicken with the marinade, cumin, cinnamon, turmeric and chili pepper flakes. Cook until the chicken starts to brown, about 5 minutes. Stirring as needed

4.

Stir in rice until combined. Add 3 cups of boiling water, poblano pepper, tomatoes, peas and season with salt and pepper. Bring to boil, reduce heat to medium-low and cover. Cook for 10 minutes Remove from the heat, stir in remaining cilantro and sprinkle with cheese. Transfer to the oven and bake without the lid for 10 minutes until the cheese has melted

5.

Serve immediately with desired toppings