30-Minute One Pot Cheesy Chicken Taco Rice
Prep Time
10 Minutes
Difficulty
Easy
Cook Time
20 Minutes
Serves
4-6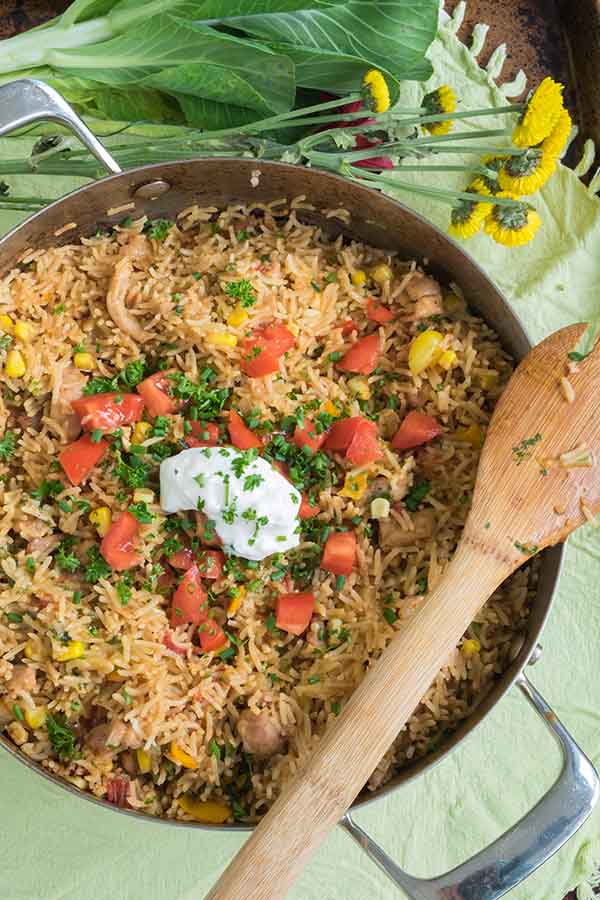 Average Rating: 5 | Rated By: 2 users
Delicious weeknight comfort food in 30 minutes not to be missed. Enjoy a bowl of cheesy chicken taco rice with your favourite toppings and maybe a light salad. Cheesy chicken taco rice is a gluten-free meal that your entire family will love!
Ingredients
2 Tbsp. coconut oil or grapeseed oil
6 boneless, skinless chicken thighs, thinly sliced
1 medium onion, chopped
3 garlic cloves, minced
1 red or yellow bell pepper, chopped
1 ¾ cups GF long grain rice (I used basmati rice)
1 Tbsp. GF chili powder
1 ½ tsp. GF ground cumin
1 tsp. GF dried oregano
1 tsp. sea salt
1 large ripe tomato, chopped
1 cup frozen corn
3 ¼ cups GF chicken stock
1 Tbsp. apple cider vinegar
½ cup chopped fresh parsley or cilantro
1 ½ cups shredded cheddar cheese
Toppings; chopped tomatoes, green onions, thinly sliced lettuce, sour cream, fresh cilantro (all optional)
Instructions
Heat oil over medium-high heat and add chicken. Brown on all sides about 2 minutes
Reduce heat to medium-low and add onion and cook for about a minute
Add garlic and bell pepper and cook while stirring for 3 more minutes
Add rice and spices and stir to combine
Add chopped tomato, corn, and chicken stock. Bring to boil, cover and reduce heat to low. Cook for 15 minutes
Stir in parsley/cilantro and cheese, cover and remove from the heat. Top with your favourite toppings. Enjoy!
Similar Recipes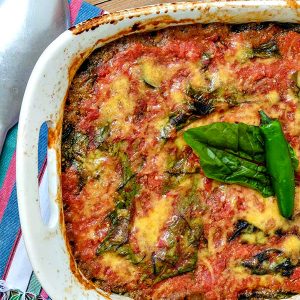 Grain-Free Beef Burrito Casserole
Now here is a burrito that will impress those who love Mexican food. Imagine a burrito without rice and tortilla. In this grain-free beef burrito casserole, the flavours come from deliciously spiced beef, beans, cauliflower rice and cheese. Instead of using tortillas the burrito filling is layered between red chard leaves and topped with sauce […] Read More
Prep Time
20 Minutes
Difficulty
Easy
Cook Time
60 Minutes
Serves
6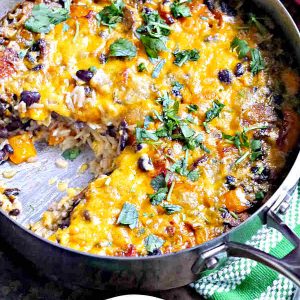 Gluten Free Burrito in a Skillet – Vegetarian
This gluten-free vegetarian dish has all the delicious ingredients of a vegetarian burrito without the tortilla. At the end of the day having a hearty nutritious meal that takes only minutes to prepare is always welcome. For this delish, Mexican recipe all you need is one large skillet and an oven. What a nice relaxing […] Read More
Prep Time
10 Minutes
Difficulty
Beginner
Cook Time
45 Minutes
Serves
6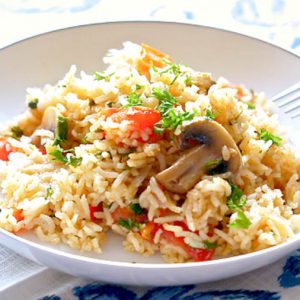 Spanish Rice Recipe – (vegan, gluten-free)
This Spanish rice recipe I discovered while I was travelling in Spain. Honestly, all I need is this rice and nothing else, it is so good! Rice is one of those ingredients that you can flavour with just about anything. In this recipe I used fresh veggies such as bell peppers, tomatoes, mushrooms, garlic and […] Read More
Prep Time
10 Minutes
Difficulty
Easy
Cook Time
25 Minutes
Serves
4