30-Minute One Pot Cheesy Chicken Taco Rice
Published on Oct 11, 2017
by
Kristina Stosek
Prep Time:

10 minutes
Cook Time:

20 minutes
Serves:

4-6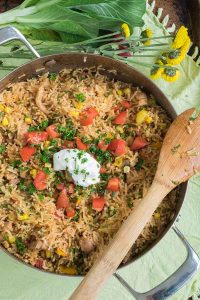 ​This post may contain affiliate links, please see our
privacy policy
for details
30-Minute One Pot Cheesy Chicken Taco Rice is a must have recipe — the rich, full bodied flavours and cheesy rice with chicken is a deeply satisfying dish. I used basmati rice for this recipe because it has the best texture, but any long grain rice will work well in this one pot gluten-free chicken taco rice meal.
What makes this cheesy chicken taco rice so delicious?
Everything in this chicken dinner dish has so much flavour. The rice is infused with onions, garlic, chilli pepper, oregano and cumin. The veggies such as bell peppers and tomatoes keep the rice moist and add more flavour.
However, the key ingredient is the cheese, it makes everything rich and creamy. The fresh cilantro which is added at the end, adds freshness and an exceptional zing to this one pot chicken taco rice.
FAQs about rice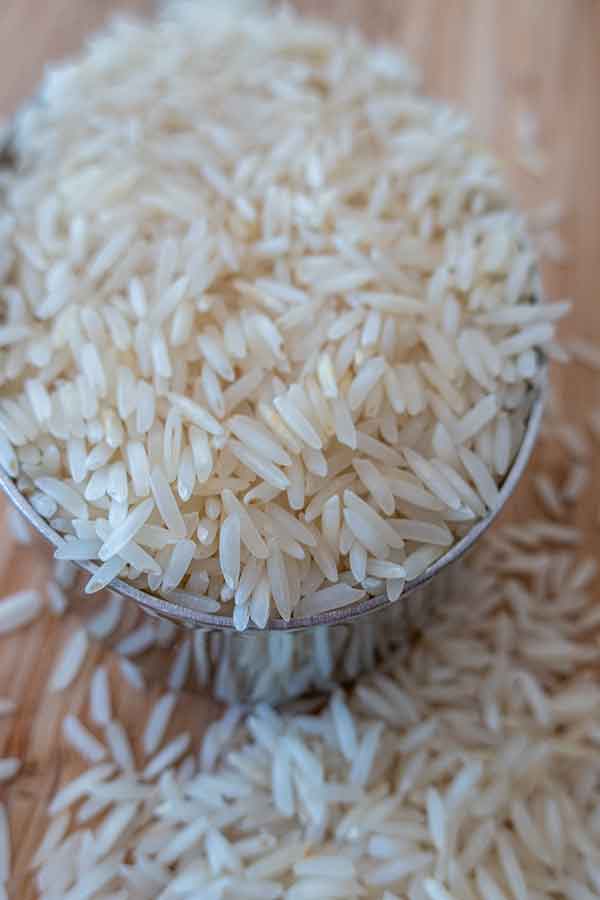 Rice is a staple in diets worldwide, but there are still many questions people have about this grain.
rice varieties
There are many varieties of rice, each with its unique flavor and texture. Here are some of the most popular types of rice:
Basmati rice is a long grain, aromatic rice that originates from India. It has a nutty flavor and is often used in Indian and Middle Eastern dishes, such as Indian Lemon Rice with Corn.
Jasmine rice is a long grain, fragrant rice that originates from Thailand. It has a slightly sweet flavor and is often used in Thai and Chinese dishes. One that comes to mind is the Honey Garlic Chicken with Coconut Rice.
Arborio rice is a short grain, starchy rice that originates from Italy. It has a creamy texture and is primarily used in risotto dishes, like this Instant Pot Creamy Mushroom & Asparagus Risotto.
Sushi rice is a short grain, sticky rice that originates from Japan. It has a mild flavor and is used in sushi rolls.
the best rice for chicken taco rice
There are many different types of rice out there, and it can be tough to decide which is best for taco rice. Here are a few things to keep in mind when choosing the right rice for one pot cheesy chicken taco rice dish.
The type of rice you use will affect the texture of your chicken taco rice. If you want softer, moist rice, go for a long grain rice like Basmati or jasmine. Use short grain rice like brown rice if you prefer firmer, drier chicken taco rice.
The flavor of the rice will also come through in the final dish, so choose a variety you enjoy eating on its own. For example, Basmati and jasmine rice have a light, delicate flavor that pairs well with many different ingredients.
Short grain brown rice has a nutty flavor and that can be overwhelming if used in large quantities. It is also firmer rice.
Sushi and arborio rice is fairly neutral in taste and takes on the flavors of whatever it is cooked with.
nutrients in rice
The many nutrients in rice make it healthy food to eat. Rice is a good source of carbohydrates, which is essential for energy. It also contains vitamins and minerals, including vitamin B1, iron, and magnesium.
budget-friendly chicken taco rice recipe
Are you looking for a budget-friendly rice recipe that will feed a crowd? This 30-Minute One Pot Cheesy Chicken Taco Rice is one to try.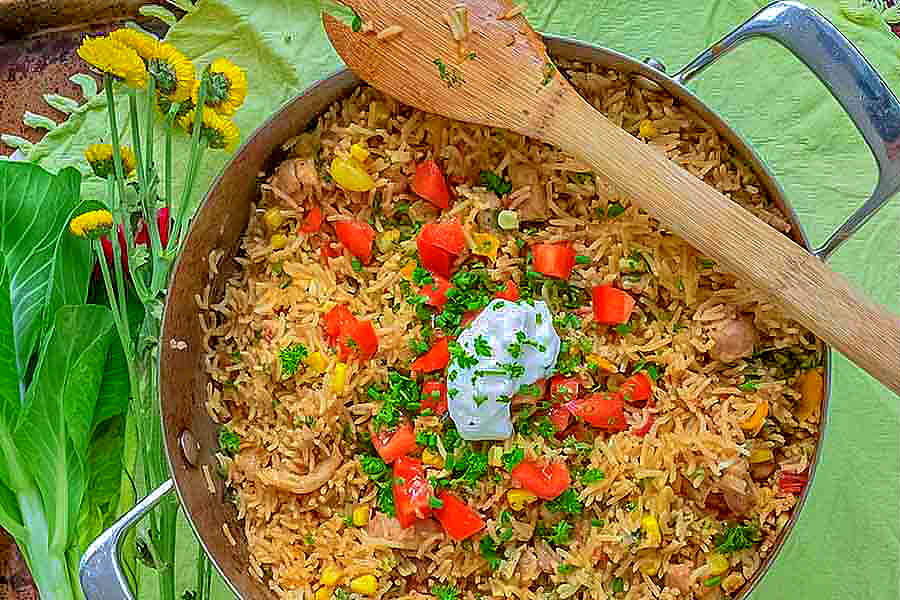 This colourful and flavourful dish is wonderful served alongside a light salad. Or, you can enjoy it as an entrée with added toppings such as chopped tomatoes, green onions, thinly sliced lettuce, sour cream, fresh cilantro and extra cheese.
This insanely tasty rice and chicken dish is made in 30 minutes, and is not to be missed. Gluten-Free cheesy chicken taco rice is a gluten-free meal that your entire family will love!
Need more quick and easy meals for your family? Check out our selection of most popular easy gluten-free meals
Let's Connect!
Be sure to FOLLOW US on FACEBOOK and PINTEREST.
Many thanks!
Kristina xx
30-Minute One Pot Cheesy Chicken Taco Rice
Published on Oct 11, 2017
by
Kristina Stosek
Instructions
1.

Heat oil over medium-high heat and add chicken. Brown on all sides about 2 minutes

2.

Reduce heat to medium-low and add onion and cook for about a minute

3.

Add garlic and bell pepper and cook while stirring for 3 more minutes

4.

Add rice and spices and stir to combine

5.

Add chopped tomato, corn, and chicken stock. Bring to boil, cover and reduce heat to low. Cook for 15 minutes or until the rice is tender.

6.

Stir in parsley/cilantro and cheese, cover and remove from the heat. To serve, top with your favourite toppings. Enjoy!