Honey Garlic Chicken with Coconut Rice
Published on Jun 30, 2020
by
Kristina Stosek
Prep Time:

10 minutes
Cook Time:

45 minutes
Serves:

4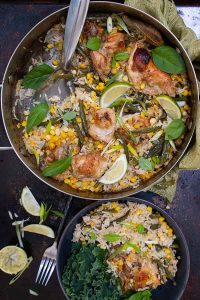 ​This post may contain affiliate links, please see our
privacy policy
for details
Today I am sharing one of my favourite weeknight dinners, Honey Garlic Chicken with Coconut Rice. Garlicky, gingery and a little sweet and spicy pan seared chicken baked with creamy coconut rice. For added flavours and textures, some green beans and fresh corn off the Cobb.
This Honey Garlic Chicken with Coconut Rice is perfect for busy weeknights when you are looking for something quick, flavourful and a little more special than a simple chicken dinner.
This chicken dish has a mix of Thai flavours, the rice has a lovely coconut flavour, and all the ingredients are naturally gluten-free.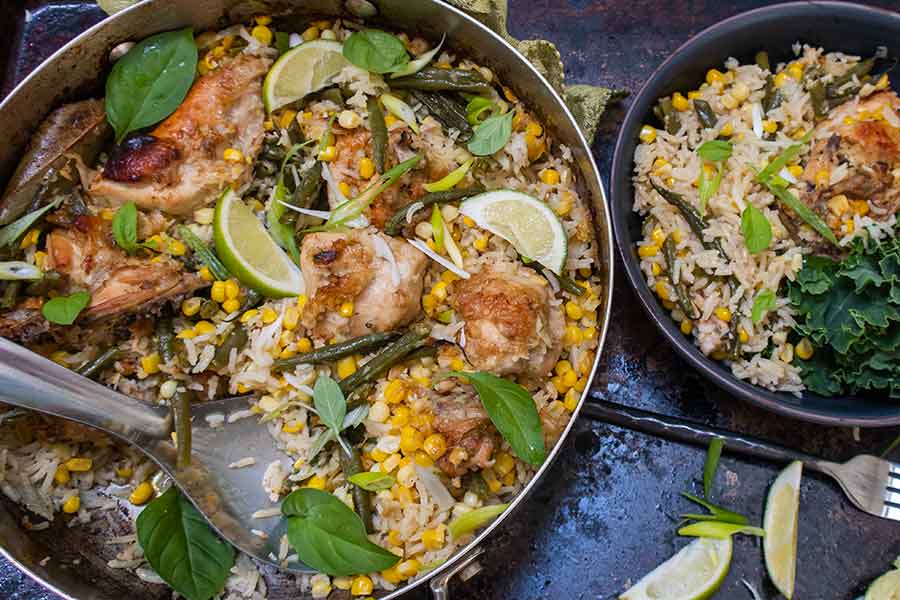 The honey garlic chicken recipe details.
First, you will need only one skillet…isn't that great! The chicken is briefly marinated with olive, oil, garlic, honey, ginger and chopped jalapenos. While the chicken is developing flavours prepare the veggies.
To start, sear the chicken in a little butter, then add the veggies coconut milk and fish sauce. The fish sauce is what gives this dish saltiness and extra flavour.
Briefly cook the chicken with veggies in coconut milk, then add the lime juice, lime zest, shredded coconut and rice. The dish is ready for the oven. See how easy this honey garlic chicken with coconut rice recipe is! I like to bring parts of the chicken pieces to the top of the rice, so they crisp up beautifully.
When I serve this chicken dinner, I like to add extra flavours → so fresh basil, green onions and more fresh lime juice. Making it an all round delicious meal and the best part, this meal is super easy to put together.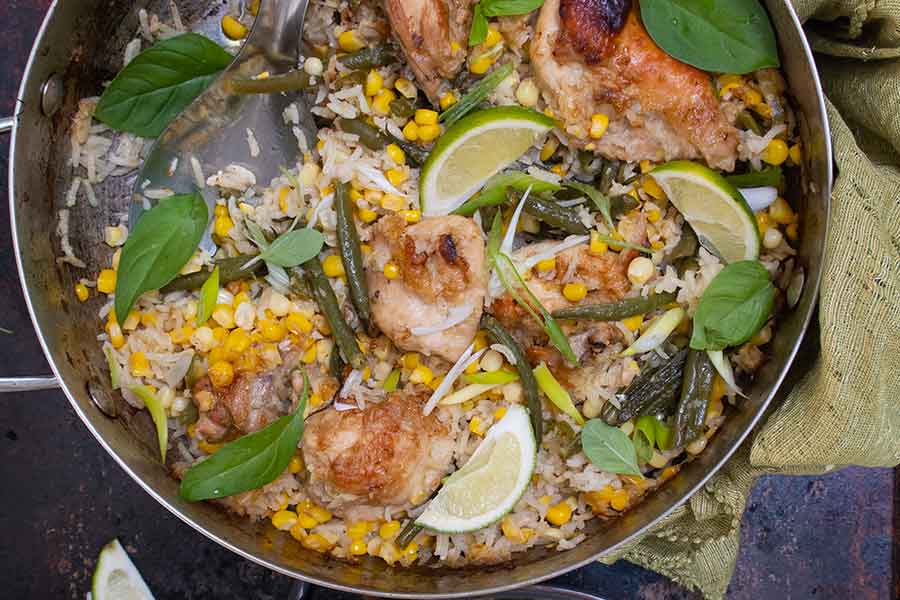 Substitutions.
What I love about making this chicken dinner you can change up some of the ingredients. For the veggies, I used fresh in season young tender green beans and freshly picked corn.
However, you can use just about anything you like. Carrots, bell peppers, mushrooms, squash, broccoli, kale…should I keep going?
I would recommend that you do not add more than two veggies. Otherwise, it will take away from the creamy coconut taste.
I always use bone in chicken for one skillet dinners. The bone-in chicken makes the sauce more flavourful, so you don't have to add chicken broth. But if you like, you can use boneless, skinless chicken thighs or breasts, and change the water to broth.
I also added some shredded coconut, if you don't have any, no problem. But the shredded coconut does make this chicken meal extra special.
If you like Thai food, have a look at our gluten-free Thai recipes. I especially love the Easy Thai Cashew Chicken Ramen 🙂
If you make this Honey Garlic Chicken with Coconut Rice, please give it a rating or a comment. And don't forget to tag me on Instagram! I love looking through the photos of recipes you all have made:-) or join me on my Facebook page for the latest updates.
Honey Garlic Chicken with Coconut Rice
Published on Jun 30, 2020
by
Kristina Stosek
Instructions
1.

2.

Using a large bowl, combine chicken, olive oil, honey, garlic, ginger, jalapenos and salt. In a large ovenproof skillet, heat butter over medium-high heat. Add chicken shaking of the marinade and brown on both sides. About 3 minutes per side

3.

Add coconut milk, leftover marinade from the chicken, water, fish sauce, corn, green beans and bay leaf. Bring to boil, cover and reduce heat to low. Cook for 10 minutes

4.

Add lime juice with zest, rice and shredded coconut. Mix to combine. Try and keep parts of the chicken on top of the rice, this will give them crispness. Bring to boil and place in the oven; do not cover the skillet. Bake for 30 minutes until the rice is tender

5.

Serve topped with fresh basil, green onions and lime wedges