Easy Thai Cashew Chicken Ramen (Gluten-Free)
Published on Sep 28, 2018
by
Kristina Stosek
Prep Time:

15 minutes
Cook Time:

25 minutes
Serves:

4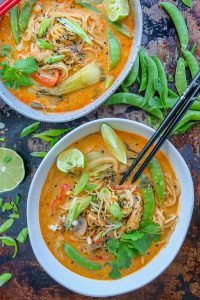 ​This post may contain affiliate links, please see our
privacy policy
for details
A flavourful creamy Thai-Style Cashew Chicken Ramen is a hot, hearty meal cooked under 30 minutes. This gluten-free soup recipe is based on a Japanese noodle dish called ramen with added Thai flavours. The entire meal is made in one pot using nutrient-packed ingredients.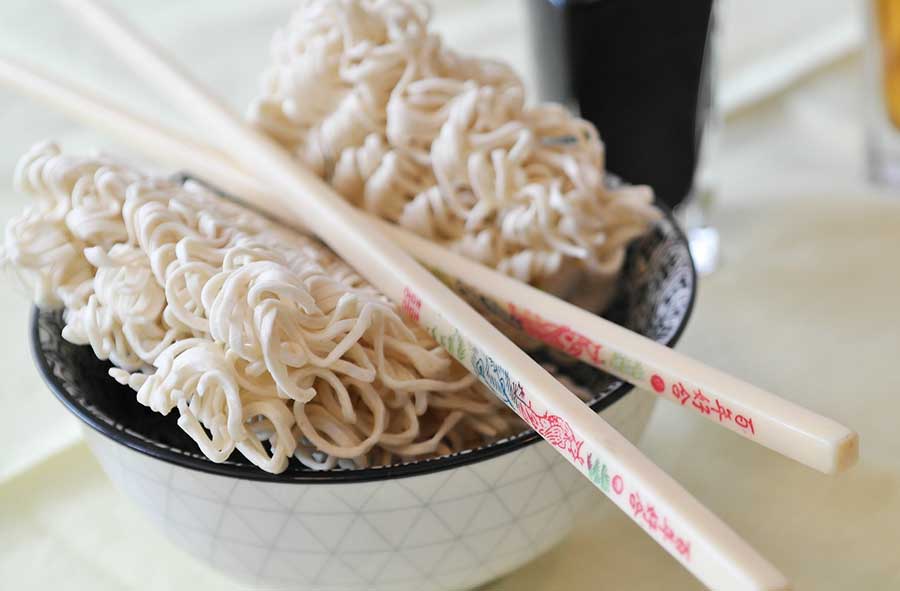 The soup is packed with fresh veggies briefly cooked in a creamy, lightly spiced broth, chicken and gluten-free ramen noodles.
the toppings that make the cashew chicken ramen extra special
To finish this Thai dish, top the soup with cilantro, basil, sliced green onions, sesame oil, sesame seeds, chopped cashews, and fresh lime juice. Use as little or as many of these toppings or just the ones you have on hand.
replacing peanuts
Traditionally Thai recipes are made with peanuts. However, many people have allergies to peanuts, so I replaced them with cashew butter. The nut butter adds creaminess and extra protein. In addition, the nut butter made the broth extra rich and super flavourful.
simple steps to the best chicken ramen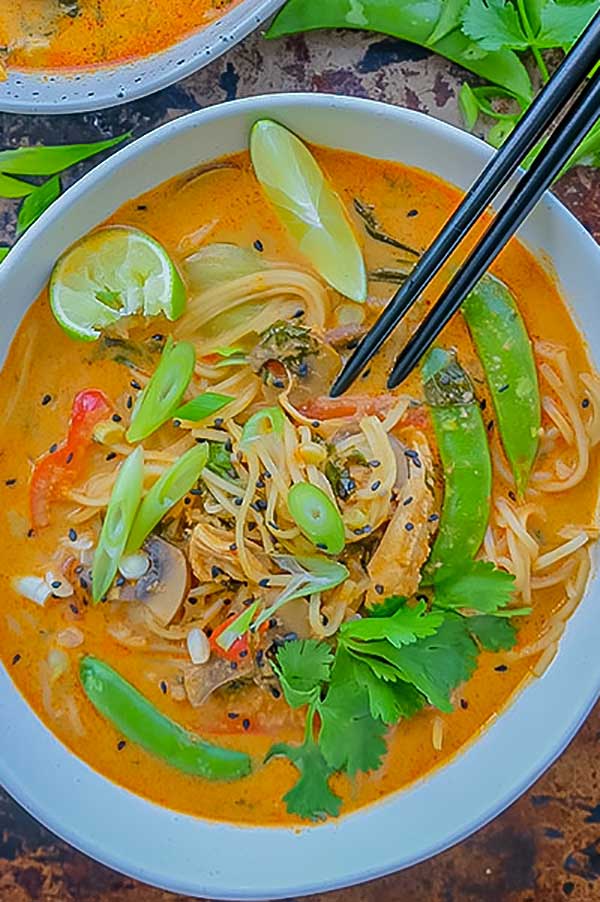 First, you need a large pot. Add the broth, cashew butter, chicken, veggies and seasoning. Simmer until the chicken is tender.
Next, add the remaining ingredients, bring to a boil, then set aside for five minutes. The noodles and the additional veggies will soften to perfection.
To serve, ladle the soup into bowls and top with your favourite toppings. I especially love sesame oil and cilantro. They bring the entire dish to life.
to summarize
The entire dish is made with the most flavourful creamy broth, packed with fresh nutrient-rich veggies, coconut milk, gluten-free ramen and lean chicken.
If you can't find gluten-free ramen noodles, you can use Vietnamese rice stick noodles or saifun noodles, also known as glass noodles. Both are naturally gluten-free.
Follow with your favourite toppings. The more, the better. With this Thai cashew chicken ramen, you only need a good book and a cozy blanket.
My favourite way to spend a gloomy cold evening –> enjoy!
If you like Thai food, these gluten-free Thai recipes are made simply without sacrificing flavour.
Let's Connect!
Be sure to FOLLOW US on FACEBOOK and PINTEREST.
Many thanks!
Kristina xx
Easy Thai Cashew Chicken Ramen (Gluten-Free)
Published on Sep 28, 2018
by
Kristina Stosek
Instructions
1.

Place first 11 ingredients (chicken broth to garlic) in a large soup pot and bring to boil. Cover, then reduce heat to low and simmer for 20 minutes. Then shred the chicken

2.

Add Coconut milk, lime juice, sriracha and bring to boil. Stir in bok choy, peas, cilantro and noodles. Remove from the heat, cover and rest for 5 minutes until the noodles are softened

3.

Divide soup into 4 bowls and top with your favourite toppings. It's that easy, enjoy!
Leave a Comment
Kristina
this chicken ramen is fabulous!
Kristina