Instant Pot Creamy Mushroom & Asparagus Risotto
Published on Feb 16, 2019
by
Kristina Stosek
Prep Time:

5 minutes
Cook Time:

15 minutes
Serves:

4 - 6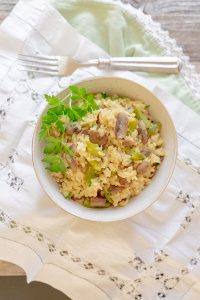 ​This post may contain affiliate links, please see our
privacy policy
for details
A stunning Creamy Mushroom & Asparagus Risotto, vegan and gluten-free. And this stunning rice dish is ready in twenty minutes from the start to the table. This risotto is creamy without using dairy in the recipe.
Using an instant pot to make the risotto the work is minimal, making this an easy weeknight meal. If you are following a plant-based diet, this mushroom and asparagus risotto will be one of your favourite Italian recipes. Because this rice dish is that good!
risotto under under 20 minutes,
I love risotto, but the idea of standing by the stove for 45 minutes, stirring the rice until it is cooked, does not appeal to me. So this is why I thought, why not make risotto in my new Instant Pot.
The creamy risotto turned out perfect. Risotto is an Italian rice dish cooked in milk, cream or broth until it becomes creamy. And is one of the most popular ways of cooking rice in Italy.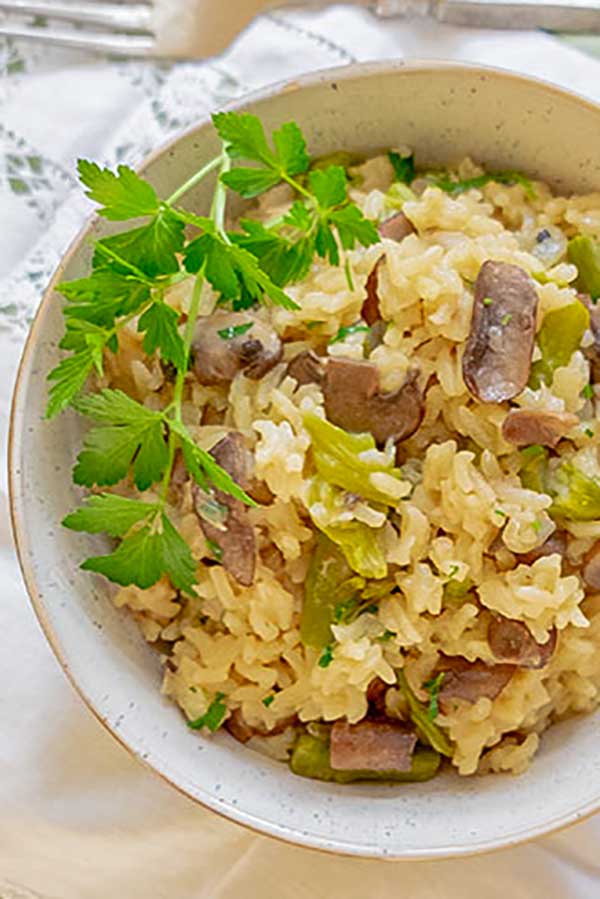 To keep the mushroom and asparagus risotto dairy-free, I cooked the rice in mushroom broth. This broth adds extra flavour without adding cream. For extra creaminess, I used vegan butter, and I substituted nutritional yeast for cheese.
The key ingredients were asparagus and mushrooms, and for seasoning, I used a dash of nutmeg, fresh parsley and lemon zest.
Another way to add richness is using white wine for some of the broth. The wine adds depth and flavour.
And for best results, always use arborio rice because of its high starch content. In addition, the arborio rice makes the risotto much creamier, and the rice is cooked to perfection every time. I used carnaroli rice with an even higher starch content, but this rice is sometimes hard to find.
Why use an Instant pot to make risotto?
Using an Instant pot, you save a lot of time standing by the stove, stirring the rice while the rice is cooking. So if you love risotto but don't have the time to cook it the traditional way, Instant pot is the answer.
As with all risottos, they are best when served immediately.
Short on time to make hearty dinner? Check out our Instant pot recipe collection for easy weeknight meals.
Instant Pot Creamy Mushroom & Asparagus Risotto
Published on Feb 16, 2019
by
Kristina Stosek
Instructions
1.

Set the Instant Pot to sauté. Heat butter until melted. Add onion sauté until onions are translucent, about 3 minutes. Stir in mushrooms and add a sprinkle of salt. Cook for 1 minute. Add rice and stir to combine.

2.

Add 3 cups of broth and lock the lid. Set to rice or manual feature with steam release handle in sealing position. Cook for 10 minutes.

3.

After 10 minutes do a quick release to release the steam. Add remaining 1 cup of broth, asparagus, nutritional yeast, nutmeg, parsley, lemon zest and season with salt and pepper to taste. Give it a good stir, lock the lid and cook for 2 more minutes with the steam release handle in sealing position. When the time is up, allow the pressure release naturally for 5 minutes, then release any additional pressure and unlock the lid. Serve immediately
Leave a Comment
Kristina
Hi Kim, star rating is optional and often missed
This recipe has been published for 3 months, but no reviews? Hard to give a star rating when followers only want to ask a question.