Instant Pot Creamy Mushroom & Asparagus Risotto {Vegan, Gluten-Free}
Prep Time
5 Minutes
Difficulty
Easy
Cook Time
15 Minutes
Serves
4 - 6
Be the first to rate this recipe.
I love risotto, but the idea of standing by the stove for 45 minutes stirring the rice until it is cooked does not appeal to me. This is why I thought why not make risotto in my new Instant Pot. Risotto a northern Italian rice dish is cooked in broth until it becomes creamy and is one of the most popular ways of cooking rice in Italy. In this gluten-free vegan risotto, I added mushrooms and asparagus, and I cooked the rice in mushroom broth, making it extra flavourful. For that cheesy flavour, I added nutritional yeast and my personal favourite a hint of nutmeg. If you love risotto but don't have the time to cook it the traditional way, try this Instant Pot version. For best results serve immediately
Ingredients
1 medium onion, finely chopped
1 cup thinly sliced mushrooms
6 asparagus spears, cut into 1-inch pieces
1/4 tsp. GF ground nutmeg (optional)
6 asparagus spears, cut into 1-inch pieces
1/4 chopped fresh parsley
1 tsp. Lemon zest
Himalayan salt and GF ground white pepper
Note; for added flavour, you can substitute 1/2 cup of white wine for 1/2 cup of mushroom broth
Instructions
Set the Instant Pot to sauté. Heat butter until melted. Add onion sauté until onions are translucent, about 3 minutes. Stir in mushrooms and add a sprinkle of salt. Cook for 1 minute. Add rice and stir to combine.
Add 3 cups of broth and lock the lid. Set to rice or manual feature with steam release handle in sealing position. Cook for 10 minutes.
After 10 minutes do a quick release to release the steam. Add remaining 1 cup of broth, asparagus, nutritional yeast, nutmeg, parsley, lemon zest and season with salt and pepper to taste. Give it a good stir, lock the lid and cook for 2 more minutes with the steam release handle in sealing position. When the time is up, allow the pressure release naturally for 5 minutes, then release any additional pressure and unlock the lid. Serve immediately
Similar Recipes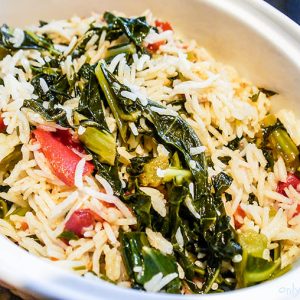 Collard Greens Tomato and Garlic Rice
Stay on top of tasty rice delights with healthy collard greens, tomatoes, and garlic. This vegetarian side is loaded with super nutrients such as vitamin A, K, C, Calcium and is also high in fiber. Collard greens make a nice change to kale or cabbage Read More
Prep Time
10 Minutes
Difficulty
Easy
Cook Time
25 Minutes
Serves
4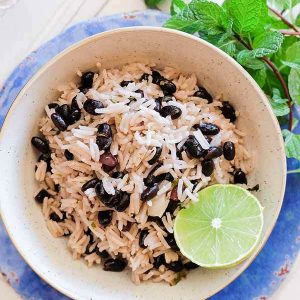 Creole Rice And Beans
This rice and beans dish is seasoned with delicious creole spices and cooked in coconut milk. Serve with fresh mint and a squeeze of fresh lime juice or just as is. Beans are high in fiber and when combined with rice they are a complete protein. Black beans are also a great source of folic […] Read More
Prep Time
10 Minutes
Difficulty
Easy
Cook Time
35 Minutes
Serves
6-8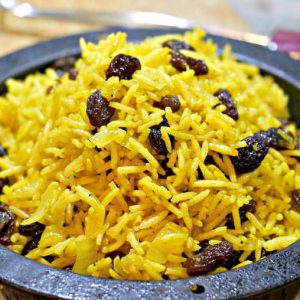 Gluten-Free 5-Spice Rice With Raisins
Most flavourful gluten-free 5 spice rice with raisins. This delicious rice dish is flavoured with Asian spices and sweetened with raisins. If you are looking to add flavour to your entree, try this gluten-free 5 spice rice with raisins recipe, you will not be disappointed Read More
Prep Time
15 Minutes
Difficulty
Easy
Cook Time
30 Minutes
Serves
4