Indian Lemon Rice with Corn Recipe
Published on Mar 22, 2017
by
Kristina Stosek
Prep Time:

5 minutes
Cook Time:

20 minutes
Serves:

4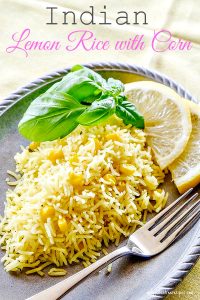 ​This post may contain affiliate links, please see our
privacy policy
for details
This golden Indian Lemon Rice with Corn is an aromatic basmati rice side. An undeniably stunning rice dish flavoured with spices such as ginger, cumin, turmeric and basil and cooked in a chicken or vegetable stock with fresh lemon juice and corn. This is one of the best Indian rice dishes I know.
The success of perfectly cooked rice.
First, the rice should be washed twice to remove extra starch. Then soak the rice for about 20 minutes. The rice will expand by about 25 percent. The exact quantity of water or stock to be used depends on the variety of rice.
For basmati, a rough estimate is 1 1/3 to 1 1/2 times the quantity of rice. Allow the rice to cook in its own steam. As soon as all the water is absorbed, remove the rice from the heat.
At this point, keep the lid on for an extra 10 minutes. After 10 minutes, remove the lid and gently stir with a fork, allowing the rice to dry and giving you perfectly cooked rice with separated grains.
What to serve with Indian lemon rice.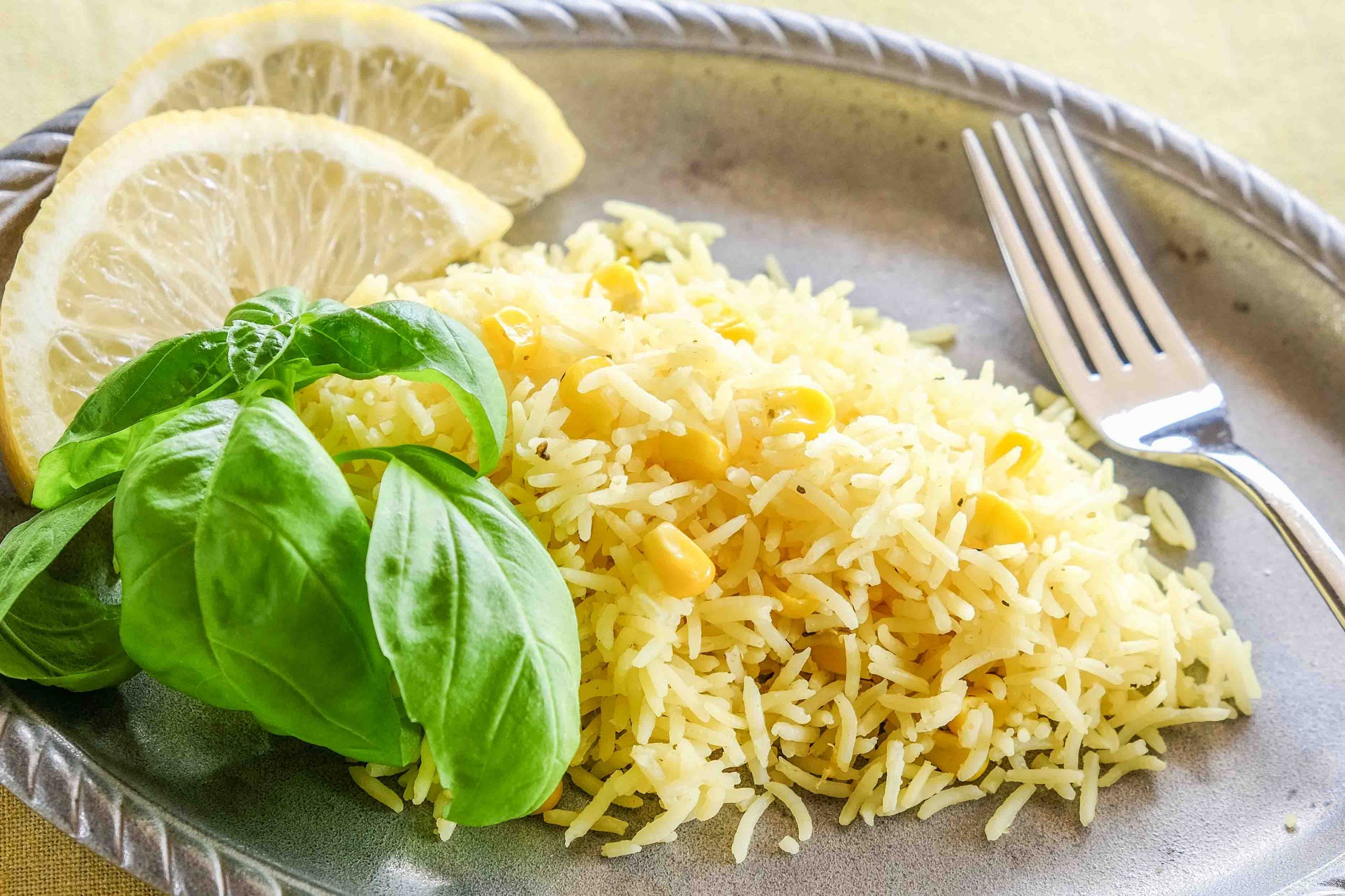 I always serve Indian rice with Indian food. Two of my favourites are Low-Fat Indian Butter Chicken and Sweet Potato, Savoy Cabbage and Chicken in Light Curry Sauce. The Indian lemon rice goes exceptionally well with these two curry dishes.
But I don't stop there, because this rice is so flavourful it goes well with chicken and pork dishes. After all, why have plain rice when you can indulge in the most flavourful Indian lemon rice.
Is basmati rice healthy?
Basmati rice is long grain rice that comes from India. It is aromatic and has a distinct flavour. It is also lower in calories than regular long-grain rice.
Basmati rice contains an array of vitamins and minerals, protein and fiber, and has a lower glycemic index than regular rice. Making basmati rice more suitable for people with diabetes.
Let's Connect!
Be sure to FOLLOW US on FACEBOOK and PINTEREST.
Many thanks!
Kristina xx
Indian Lemon Rice with Corn Recipe
Published on Mar 22, 2017
by
Kristina Stosek
Instructions
1.

Place all ingredients except lemon juice in a large saucepan

2.

Bring to boil, cover and reduce to low heat

3.

Cook for 10 minutes. Remove from the heat leaving it covered for 10 minutes

4.

Add lemon juice and toss with a fork