Gluten-Free Low-Fat Indian Butter Chicken
Prep Time
15 Minutes
Difficulty
Easy
Cook Time
35 Minutes
Serves
6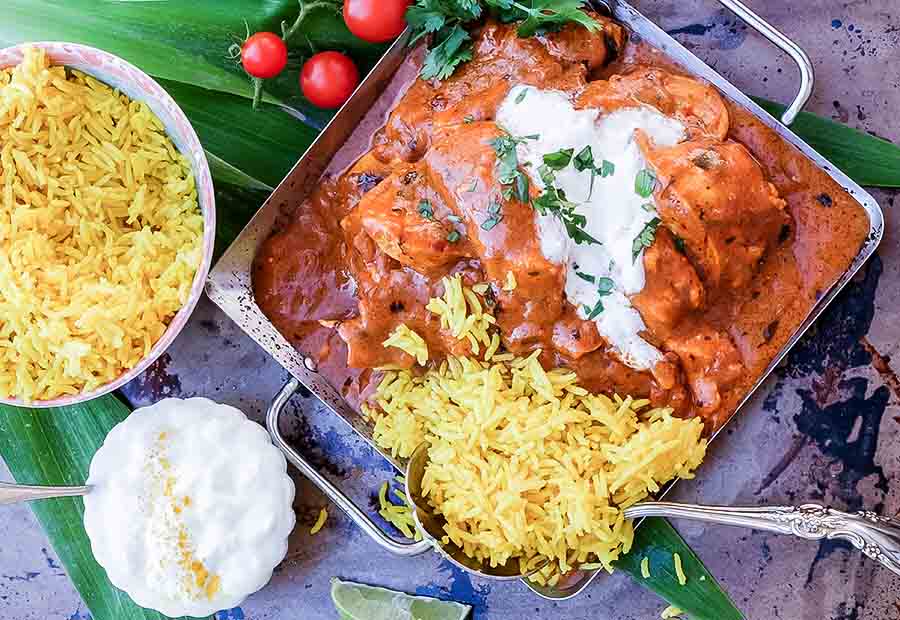 Average Rating: 5 | Rated By: 9 users
Gluten-Free Low-Fat Indian Butter Chicken – This is the most popular dish in Indian restaurants. Since the dish is so popular, many home cooks have recreated the butter chicken at home. I am sharing a simplified low-fat version of this incredibly delicious Indian chicken dish.
Indian food is well known for its many exotic spices. However, the focus should be matching the right spices with the type of food you are cooking to enhance the flavour of the dish. This recipe is made simply using traditional Indian spices such as garam masala, paprika and curry powder. By using curry powder a blend of Indian spices, I simplified the list of ingredients that we would normally be added to this aromatic chicken dish. Authentic butter chicken is made with butter and cream, making the sauce very rich. Because I wanted to cut back on fats in this recipe, I substituted coconut milk for the butter and cream. The coconut milk makes the sauce just as creamy even without using butter and cream.
♥ A brief history of butter chicken.
Butter chicken (murgh makhani) in Delhi originated in the 1950s at the Moti Mahal restaurant in Delhi where they made the sauce by adding butter and tomato to the leftover chicken juices in the marinade trays from which they used to sell hundreds of portions of Tandoori Chicken every day. This dish is essentially a restaurant and not a home-cooked dish because there are no tandoors in most kitchens at home. The authentic chicken dish consists of tandoor-cooked chicken in a sauce.
Serve with one of our delicious rice dishes or a light salad.
Ingredients
For the marinade • 2 cups plain full fat yogurt (Greek is a good option) | 6 garlic cloves, minced | 1 Tbsp. fresh minced ginger | 1 Tbsp. GF garam masala | 1tbsp. fresh lime juice | 1 Tbsp. GF curry powder | 2 tsp. GF ground paprika | 2 tsp. GF ground coriander •2 tsp. GF ground cumin | 1 tsp. sea salt
6 boneless skinless chicken breasts, cut to large bite size pieces
2 tbsp. coconut oil (for keto use 1/4 cup butter)
1 sweet onion, finely chopped
1 tbsp. GF garam masala
2 tsp. GF ground paprika
2 tsp. GF curry powder
1 (13.5 oz.) can of pure crushed tomatoes
1 (13.5 oz.) can full fat coconut milk
2 tbsp. freshly lime juice
Pinch of cayenne (optional)
1 cup fresh chopped cilantro
Instructions
In a large bowl combine all marinade ingredients, add chicken and coat well. Refrigerate overnight turning couple of times
Add coconut oil and onions into a large pot, sauté onions until soft. Add garam masala, paprika, and curry powder and cook over low heat until fragrant (about 1 minute)
Add tomatoes, coconut milk, lime juice and chicken with the marinade. Cover and cook over medium-low heat for 30 minutes or until the chicken is tender
Add cilantro and serve with one of our delicious rice recipes
Similar Recipes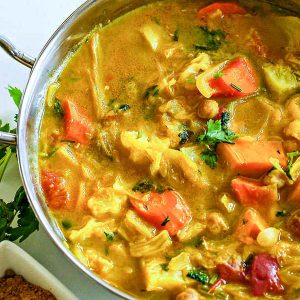 Gluten Free Vegetarian Light Curry Soup
This is a naturally gluten-free veggie-forward recipe with a light curry flavour. Herbs, spices and fresh vegetables simmered in a delicate coconut broth give this vegetarian soup a delicious mild curry flavour Read More
Prep Time
15 Minutes
Difficulty
Beginner
Cook Time
30 Minutes
Serves
6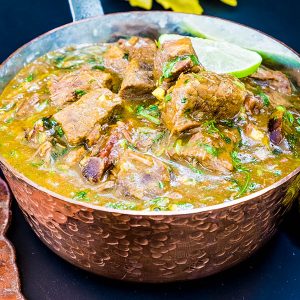 Indian Spiced Beef And Dates Ragout
Indian spices developed a dubious reputation in modern cuisine. In this recipe, the carefully selected spices bring the beef to another level. The seasoned beef is slowly simmered with dates in lime juice creating a sensational rich flavour This recipe is an easy gluten free one-pot dish for those nights when you crave something more […] Read More
Prep Time
10 Minutes
Difficulty
Easy
Cook Time
120 Minutes
Serves
4
Pahadi Chicken – Gluten Free
This Pahadi Chicken dish is an aromatic Indian chicken dish. This is a modern version sometimes called Pahari chicken simplified, but still keeping the stunning flavours. The term pahadi originates from pahad meaning mountain. Food in India is made with many spices and varies depending on the region. This chicken recipe is truly outstanding, not […] Read More
Prep Time
15 Minutes
Difficulty
Easy
Cook Time
20 Minutes
Serves
4