Gluten-Free Low-Fat Indian Butter Chicken
Published on Mar 03, 2014
by
Kristina Stosek
Prep Time:

15 minutes
Cook Time:

35 minutes
Serves:

6
​This post may contain affiliate links, please see our
privacy policy
for details
Gluten-Free Low-Fat Indian Butter Chicken – This is the most popular dish in Indian restaurants. Since the recipe is so popular, many home cooks have recreated the butter chicken at home. I am sharing a simplified low-fat version of this incredibly delicious Indian chicken dish.
Indian food is well known for its many exotic spices. However, the focus should be matching the right spices with the type of food you are cooking to enhance the dish's flavour.
spices for butter chicken,
This recipe is made simply using traditional Indian spices such as garam masala, paprika and curry powder. Using gluten-free curry powder -> a blend of Indian spices, I simplified the ingredients that we would typically add to this aromatic chicken dish.
Authentic butter chicken is made with butter and cream, making the sauce very rich. Because I wanted to cut back on fats in this recipe, I substituted coconut milk for the butter and cream. The coconut milk makes the sauce just as creamy even without using butter and cream.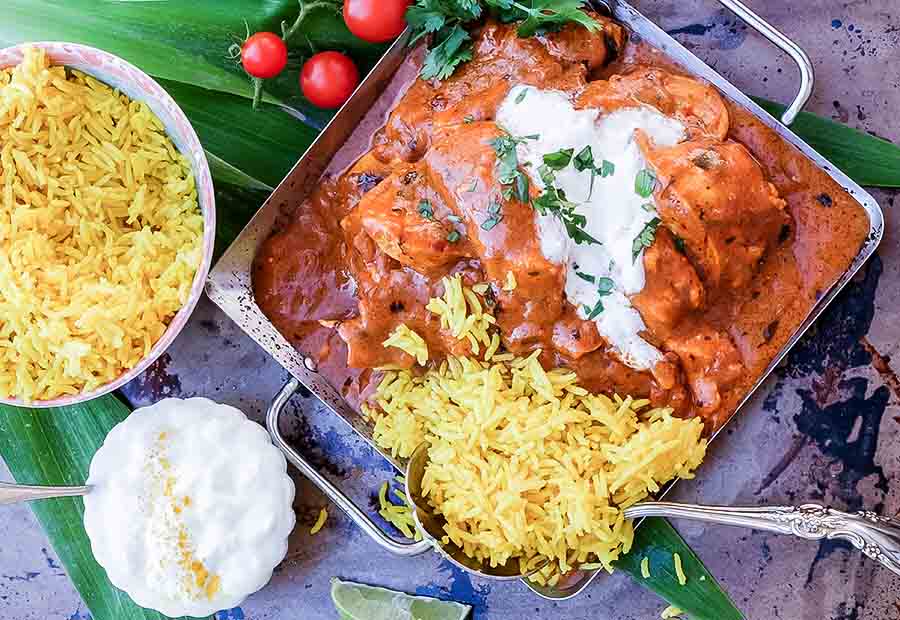 A brief history of Indian butter chicken.
Butter chicken (murgh makhani) originated in Dehli, in the 1950s at the Moti Mahal restaurant. The sauce was created by adding butter and tomato to the leftover chicken juices in the marinade trays from which they used to sell hundreds of portions of Tandoori Chicken every day.
This dish is essentially a restaurant dish because there are no tandoors in most kitchens at home. The authentic chicken dish consists of tandoor-cooked chicken in a sauce.
This Gluten-Free low-fat chicken dish pairs beautifully with one of our delicious rice dishes or a light salad.
Gluten-Free Low-Fat Indian Butter Chicken
Published on Mar 03, 2014
by
Kristina Stosek
Instructions
1.

In a large bowl combine all marinade ingredients, add chicken and coat well. Refrigerate overnight turning couple of times

2.

Add coconut oil and onions into a large pot, sauté onions until soft. Add garam masala, paprika, and curry powder and cook over low heat until fragrant (about 1 minute)

3.

Add tomatoes, coconut milk, lime juice and chicken with the marinade. Cover and cook over medium-low heat for 30 minutes or until the chicken is tender

4.

Add cilantro and serve with one of our delicious rice recipes