Baked Yams Stuffed with Roasted Spiced Veggies
Published on Apr 03, 2017
by
Kristina Stosek
Prep Time:

15 minutes
Cook Time:

60 minutes
Serves:

2 - 4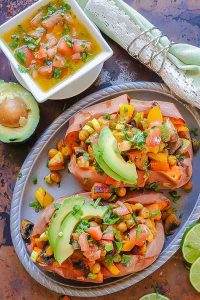 ​This post may contain affiliate links, please see our
privacy policy
for details
Baked Yams Stuffed with Roasted Spiced Veggies topped with a fresh classic salsa is a vegetarian-forward recipe with blended flavours, nutritionally packed, and super easy to make.
baked stuffed yams recipe details
The delicious yams are first baked and then filled with roasted veggies such as chickpeas, squash, mushrooms and bell peppers.
The veggies are mildly flavoured with olive oil and curry powder and topped with freshly made classic Mexican salsa.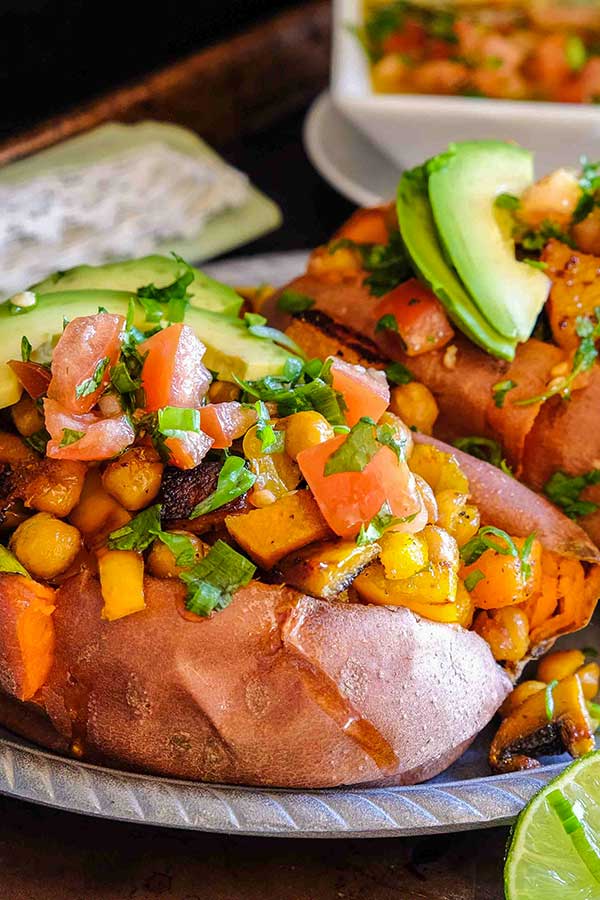 Yams vs Sweet Potatoes
When deciding between yams and sweet potatoes, it depends on what you're looking for. If you want something a little sweeter and more dessert-like, go for the sweet potatoes. But if you want something savory, yams are the way to go.
We use yams in this recipe because they pair so well with the roasted veggies stuffing. But feel free to use sweet potatoes if that's what you have on hand or prefer. Just keep in mind that the cooking time may need to be adjusted.
Can you eat the skin of a yam?
Yes, you can eat the skin of a yam. Yam skins are an excellent source of dietary fiber packed with nutrients like vitamins C and B6, potassium, and manganese.
Yam skins are also rich in antioxidants and have anti-inflammatory properties. However, you should always wash yam skins thoroughly before consuming them.
How long does it take to bake yam?
It takes about 45 minutes to bake medium whole yam.
Baked stuffed yams with roasted veggies are a healthy and delicious way to enjoy yams. This dish is packed with nutrients and flavor. Roasting the veggies brings out their natural sweetness, and the yams provide a hearty and satisfying base.
Why are yams good to stuff?
The sky is the limit when deciding what to stuff your yams with. Any combination of veggies, grains, and protein will work well. However, there are a few reasons why certain ingredients pair especially well with yams.
For one, yams are relatively bland, so they take on the flavors of whatever you mix with them. This makes them the perfect vessel for savory or spicy stuffing.
Secondly, yams are naturally sweet, balancing out earthier or more bitter ingredients.
Finally, you can find yams year-round in most supermarkets, and they have more nutrients than potatoes.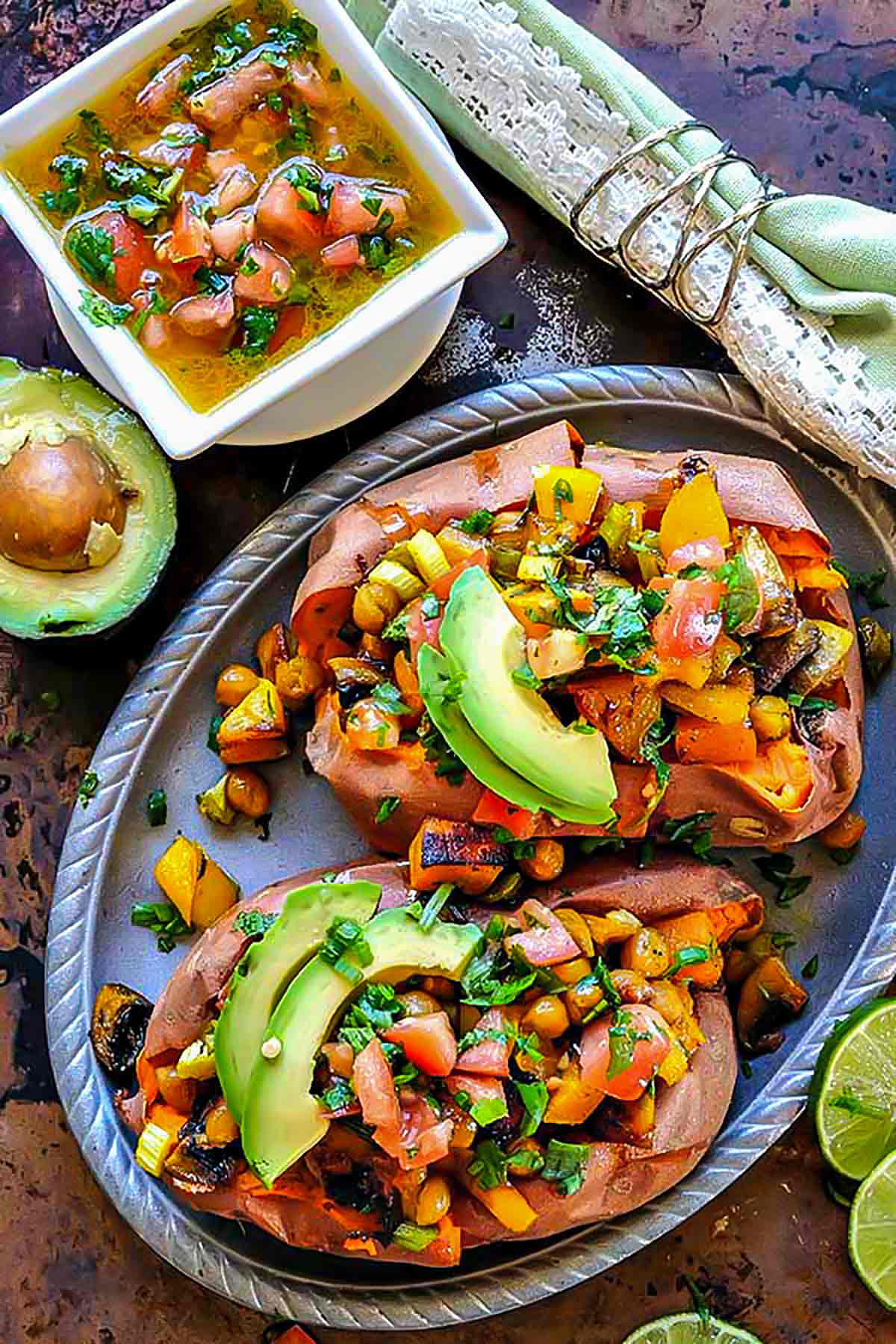 sides to stuffed yams
These stuffed baked yams with veggies are delicious just as is. However, if you are feeding hungry appetites, add a light green salad or a flavorful rice side dish such as Spanish Rice.
Varieties of yams
There are many varieties of yams that vary in size, shape, and color. The most common type in the United States is the white yam. Other common varieties include red yam, purple yam, and yellow yam.
Yams are a starchy vegetable that is often mistaken for sweet potatoes. While they are similar in appearance and taste, yams are a different plant species. Yams are native to Africa and Asia, while sweet potatoes originated in South America.
Are yams healthy?
Yams comprise complex carbs and fiber, making them a low glycemic food. The antioxidants in yams are outstanding, and yams are a good source of vitamins A and C. Both help fight viruses such as the flu and help with healthy immune function.
How long will baked yams keep?
Assuming they're stored properly, baked yams should keep for about three days in the fridge.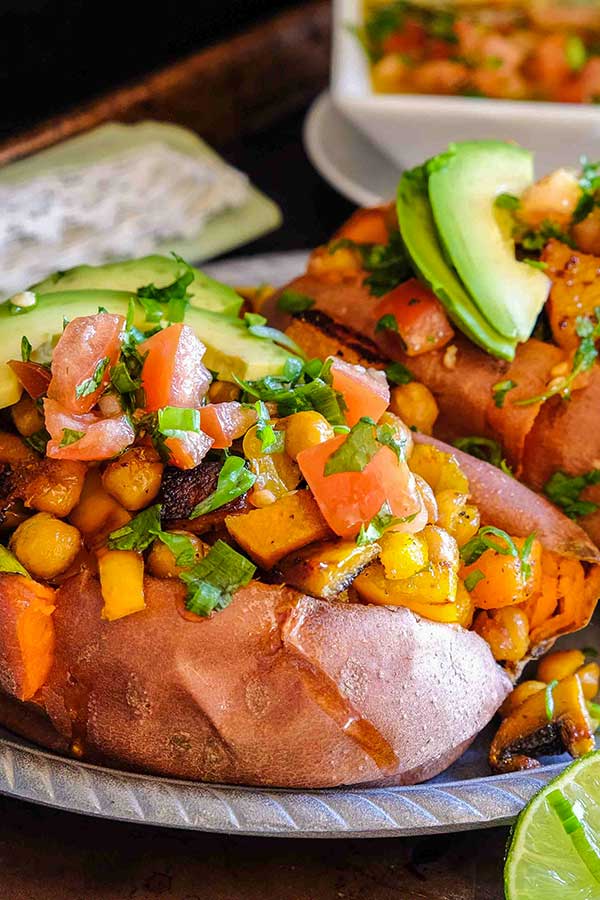 conclusion
In conclusion, this dish is healthy, flavorful, and easy to make. It's a great option for a weeknight meal or entertaining guests. The roasted veggies add a nice touch of color and flavor to the yams, the salsa adds freshness, and the whole dish comes together in under an hour.
For a meatless dinner, these yams are exceptional! This simple-to-prepare vegan meal is hearty, delicious and healthy!
Baked Yams Stuffed with Roasted Spiced Veggies
Published on Apr 03, 2017
by
Kristina Stosek
Instructions
1.

2.

Wash and scrub the yams, then pat dry and prick with a sharp knife couple of times. Bake for 50 - 60 minutes until tender

3.

While the yams are baking prepare the veggies. Combine the veggies with 1 tablespoon of olive oil curry powder and season with salt and pepper

4.

Place seasoned veggies on a baking sheet lined with parchment paper. Roast on the lower rack in the oven while the yams are baking for 15 minutes or until tender.

5.

For the salsa, mix the ingredients with olive oil and season with salt and pepper. Set aside

6.

To serve, cut each yam criss-cross and press the flesh upward. Top with roasted veggies and salsa. Garnish with fresh avocado