Spanish Rice Recipe – Vegan
Published on Aug 08, 2022
by
Kristina Stosek
Prep Time:

10 minutes
Cook Time:

20 minutes
Serves:

4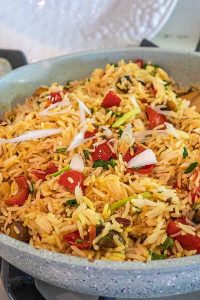 ​This post may contain affiliate links, please see our
privacy policy
for details
This Spanish rice recipe is vegan, gluten-free, and perfect for a healthy weeknight meal. It's packed with flavor, bell peppers, mushrooms and tomatoes and can be made in under 30 minutes! This tasty dish is perfect for those looking for a healthier rice option that doesn't sacrifice flavor.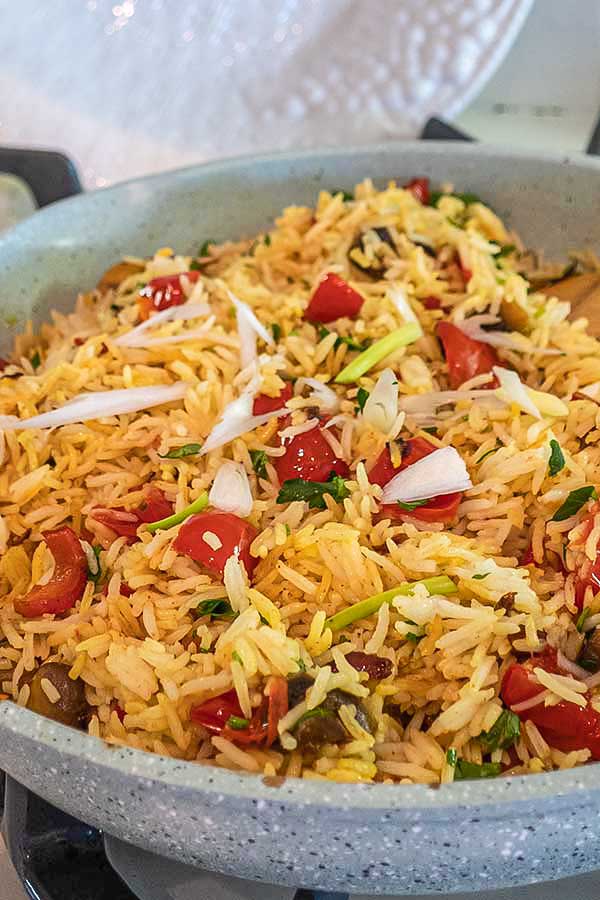 Which variety of rice is best for the Spanish rice recipe?
Nuutrient-packed long grain white rice is best for this recipe. If you choose to use brown rice, you will need to add more liquid and cook the rice longer.
vegetables in Spanish rice dish
In this rice recipe, I added fresh vegetables such as bell peppers, tomatoes, mushrooms, garlic and red onions. And for the authentic Spanish flavour, cumin, paprika, and plenty of fresh parsley.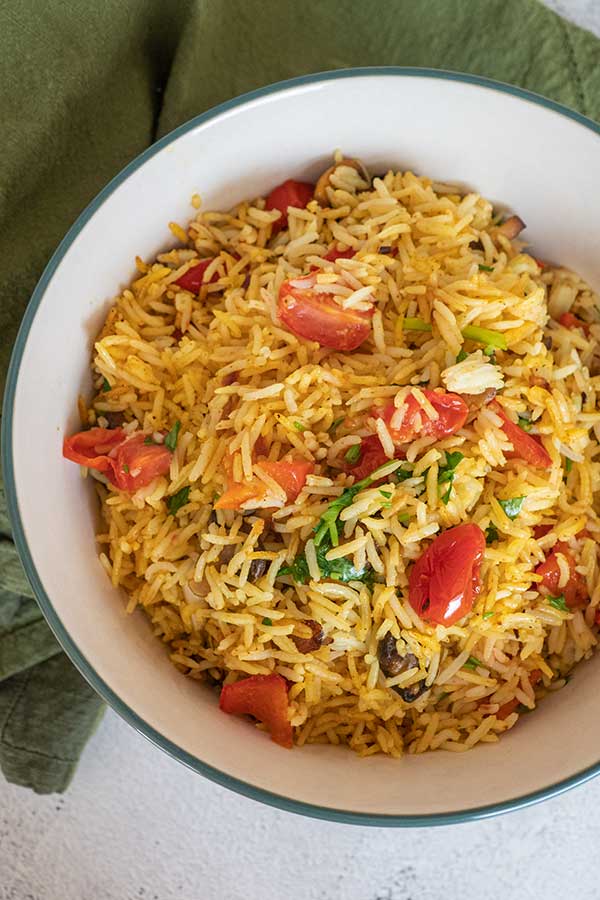 Why is it called Spanish rice?
The name "Spanish rice" is a misnomer – the dish is not of Spanish origin but was rather created in the United States by Mexican immigrants.
The dish is typically made with white rice, tomatoes, onions, garlic, and spices, and it is often served as a side dish or as a main with a simple green salad.
While there are many variations on the basic recipe, the result is always a delicious and hearty dish we love so much.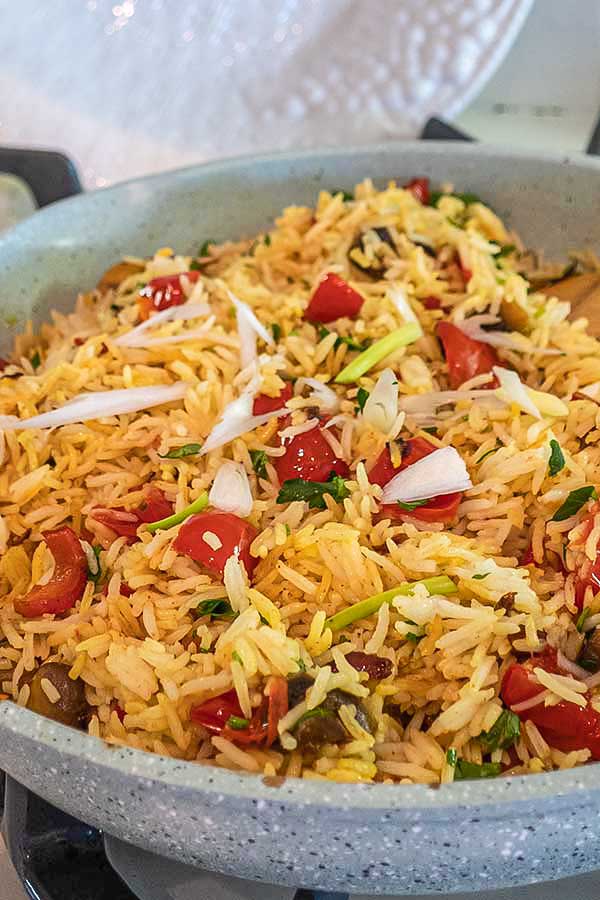 FAQs about Spanish rice
1. What is Spanish rice?
Spanish rice is a type of rice that is typically cooked with tomatoes, garlic, and onions. It is a popular dish in Spanish cuisine and can be served as a healthy side dish or main course.
2. How do you make Spanish rice?
There are many different ways to make Spanish rice, but a basic recipe would include cooking the rice in broth or water with garlic, onions, and tomatoes.
Some recipes may also call for additional seasonings such as paprika, cumin, or chili powder.
3. Toppings for Spanish rice.
You can use various toppings on Spanish rice. Some popular options include beans, vegetables, salsa, cheese, and sour cream.
4. Is Spanish rice gluten-free?
Spanish rice is naturally gluten-free since it is made with rice instead of grains containing gluten.
5. Is Spanish rice vegan?
Spanish rice is vegan-friendly since it does not contain meat or dairy products.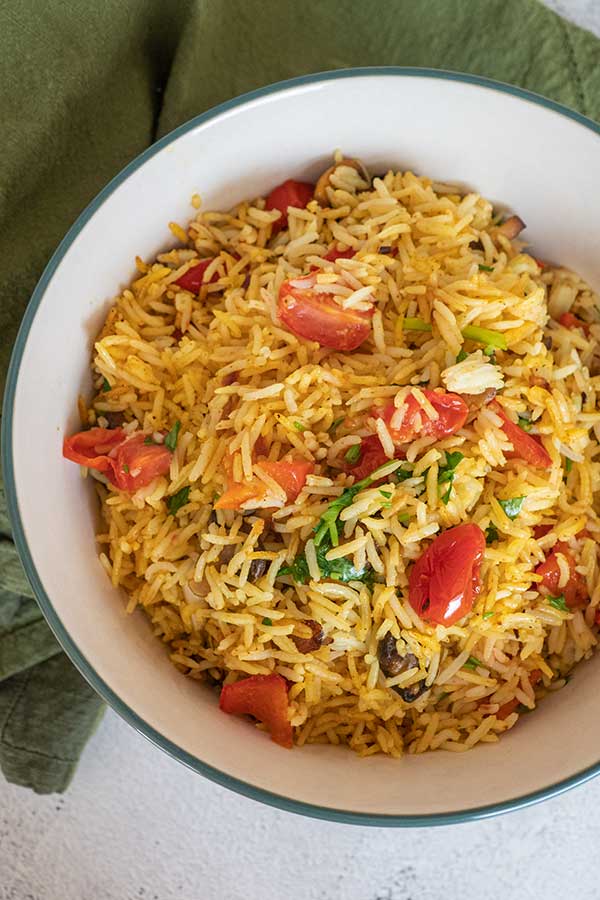 Why is Spanish rice popular?
Spanish rice is popular because it is a relatively simple dish to make, and it is very versatile. You can use various vegetables and keep the recipe plant-based and gluten-free.
best sides to rice
So many delicious sides go well with rice, making it the perfect versatile dish for any meal. Here are some of our favorite sides to rice:
1. Beans: Black beans, pinto beans, or any other type of bean dish pairs perfectly with rice. Plus, beans are a great source of protein and fiber, making them a nutritious addition to any meal.
2. Vegetables: Just about any vegetable goes well with rice. For a healthy and flavorful side dish, try sautéed greens such as the Hearty Cabbage with Collard Greens, roasted vegetables, or a light salad.
3. Fruit: Fresh fruit is always a great addition to rice. Try adding diced mango, pineapple, or bananas for a sweet and tropical twist.
4. Nuts and seeds: Nuts and seeds add a nice crunch to rice dishes. Try topping your rice with chopped almonds, sunflower seeds, or pumpkin seeds for a satisfying plant-based meal.
5. Sauces and dressings: A simple sauce or dressing can elevate a rice dish. Try serving your rice with a flavorful salsa, walnut pesto, or even a drizzle of olive oil and vinegar.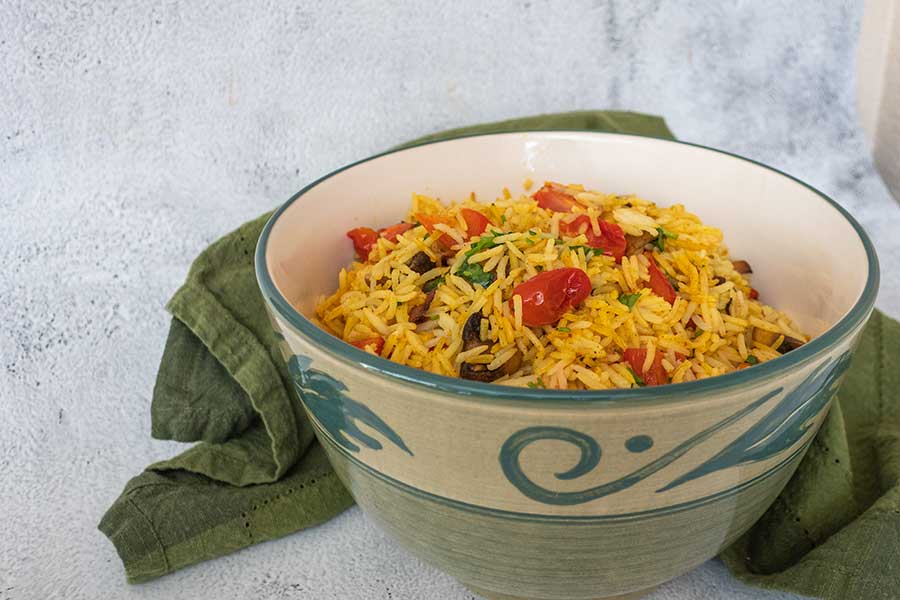 substitutions
Rice is one of those gluten-free grains you can flavour with just about anything, making it extra tasty!
If you follow a vegan or gluten-free diet, you may think you have to give up some of your favorite dishes. But with a few simple substitutions, you can enjoy all of your old favorites without compromising your dietary restrictions.
For this Spanish rice recipe, you can substitute traditional rice for quinoa, which is both vegan and gluten-free. Quinoa is a nutritious grain packed with protein, making it a perfect choice for those on a vegan or gluten-free diet.
We've also used vegetable broth instead of chicken broth to keep this dish vegan.
You can also change up the veggies by replacing the peppers and mushrooms with zucchini, carrots and or peas.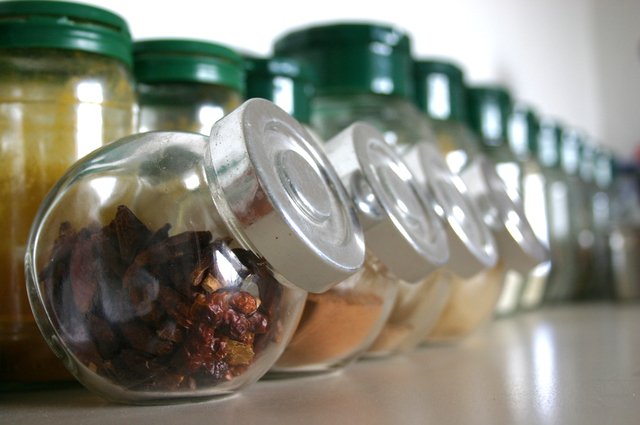 spices used in Spanish rice recipe
When it comes to Spanish rice, a few key spices help to make the dish authentic. One of the essential spices is paprika. If you have smoked paprika, even better.
This gives the rice a nice smoky flavor that helps to bring out the other flavors in the dish. Another key spice is cumin. Cumin adds depth to the dish and gives it that authentic flavour.
Finally, turmeric is often used as well. This spice provides a bit of sweetness and creates a beautiful yellow color in the rice.
We hope you enjoyed this Spanish Rice Recipe! If you're looking for more vegan and gluten-free recipes, check out our gluten-free, vegan recipes. We have a ton of great dishes that are perfect for any occasion.
Let's Connect!
Be sure to FOLLOW US on FACEBOOK and PINTEREST.
Many thanks!
Kristina xx
Spanish Rice Recipe – Vegan
Published on Aug 08, 2022
by
Kristina Stosek
Instructions
1.

Using a large saucepan heat olive over medium heat. Add onions and cook for 3 minutes. Stir in 
garlic, peppers, mushrooms and cook until the peppers start to soften. About 2 minutes

2.

Stir in cumin, paprika/chili powder, turmeric and rice. While stirring, cook 2 more minutes to coat the rice with the spices and vegetables and give the rice a toasty flavour. Add tomatoes and stir to combine

3.

Add broth and salt, bring to a boil and cover. Reduce the heat to low and cook for 10 - 15 minutes until the rice absorbs all the broth. Fluff with a fork and cover to steam for 5 additional minutes

4.

Stir in parsley and cover until ready to serve
Leave a Comment
delicious and very flavorful!