Moroccan Chickpea Rice Salad
Prep Time
15 Minutes
Difficulty
Beginner
Serves
6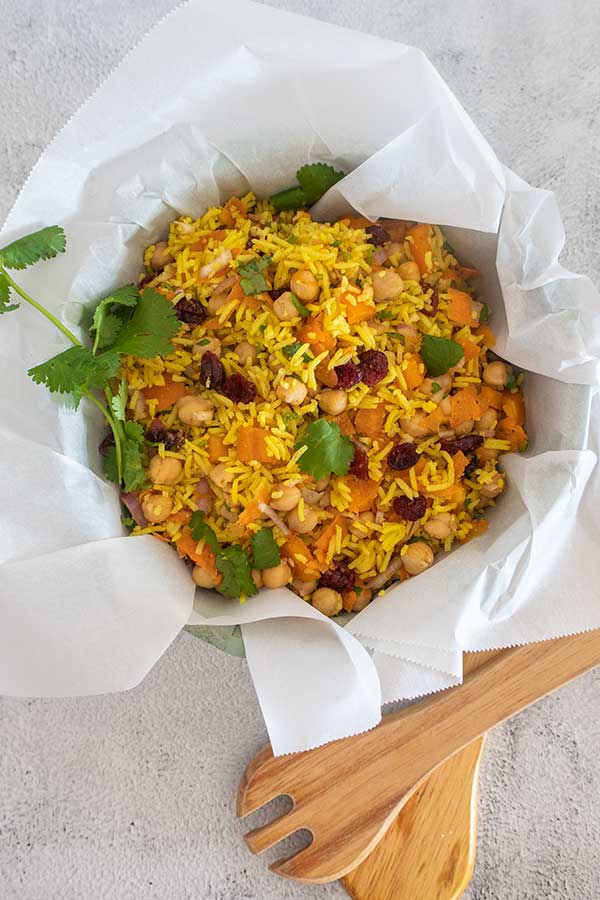 Average Rating: 5 | Rated By: 26 users
Moroccan Chickpea and Rice Salad…is the salad for family and friends get togethers. When in need of a hearty salad…this insanely tasty salad is a must to try.
healthy rice salad made simply,
A mix of rice and chickpeas, fresh veggies, raisins, plenty of fresh lemon juice with a splash of olive oil, and some fresh cilantro to balance out the earthy chickpeas. So much healthiness!
This simple to prepare Moroccan rice salad isn't a weekday salad, but an exotic "company's coming" salad. The rice and chickpea salad is hands down one of my favourite rice chickpea salad.
The Moroccan spices such as cumin, coriander, turmeric, cinnamon and fresh ginger give this rice and chickpea salad real authentic Moroccan flavours. This epic rice chickpea salad is nutritionally dense, vegan and naturally gluten-free.
the Moroccan rice salad recipe details,
This Moroccan rice salad is probably one of the simplest salads to make. To make the salad, you will need three cups of cooked long-grain rice, such as basmati rice.
Once the rice is cooled, all you do is mix in the remaining ingredients and set the salad aside to develop flavours.
I've made this salad three times this month so far. I just love the combination of rice and chickpea salad, and so does my family. The zesty lemon combined with spices, garlic, ginger and fresh cilantro infuses the rice and chickpeas with so much flavour and freshness.
The Moroccan salad is fresh flavourful and with so many textures.
a little less time in the kitchen,
There is so much going on in this rice and chickpea salad that it is anything but boring. And the leftovers make for an incredibly tasty lunch the next day.
In the summer, I try not to spend too much time in a hot kitchen. This is when rice salads come in handy. You can make the salad well in advance and have it ready when you need it.
Rice and chickpea salad…the ingredients
I know that this rice and chickpea salad recipe has a long list of ingredients. However, they are mostly spices. The two main ingredients are rice and chickpeas.
The salad takes only minutes to put together, but it has to sit for at least thirty minutes for the flavours to develop. And yes it is totally vegan 🙂
I especially love this Moroccan rice salad because it keeps up to seven days when refrigerated and tastes even more delicious with each day as the flavours intensify.
The best part, you can bring the chickpea and rice salad to summer barbecues, and you don't have to worry about keeping the salad chilled. This rice chickpea salad should be served at room temperature. Enjoy!
If you like the flavours of Moroccan cuisine, check out this Lamb Stew with Saffron Ginger and Green Beans Recipe
Ingredients
1/2 cup raisins
1 large carrot, grated
1 yellow bell pepper, diced
1/4 red onion, finely chopped
14 oz. can chickpeas, drain and rinse well
2 tsp. minced ginger
1 garlic clove, minced
1 tsp. GF ground cumin
1 tsp. GF ground coriander
1/2 tsp. GF turmeric powder (sometimes I add it to the water with rice while the rice is cooking)
1/4 tsp. GF ground cinnamon
1/2 tsp. Himalayan salt
2 Tbsp. Fresh lemon juice
2 Tbsp. Extra virgin olive oil
1/4 cup chopped fresh cilantro
*As an Amazon Associate and member of other affiliate programs, I earn from qualifying purchases. Please check out my sponsorship and disclosure policy page for more details
Instructions
Place all the ingredients in the same order as listed in a large bowl
Mix together, cover and set aside for 30 minutes or refrigerate overnight
Mix just before serving and serve at room temperature
Similar Recipes
Broccoli and Chickpea Quinoa Salad
This broccoli and chickpea quinoa salad is a healthy and filling meal that is perfect for any time of day. It is packed with nutrients and flavor, leaving you feeling satisfied and energized. This quinoa salad is also plant-based and gluten-free, making it a great option for those with dietary restrictions. Why add quinoa to […] Read More
Prep Time
15 Minutes
Difficulty
Easy
Cook Time
10 Minutes
Serves
4
Gluten Free Curried Rice Salad Recipe
One of our favourite side dishes for an outdoor cookout or a large dinner party is this gluten-free curried rice salad. The rice salad is packed with fresh veggies, grapes, fresh cilantro and seasoned with a delicious exotic spiced dressing. Summer salads, whether they are rice salads or pasta salads, are always a huge hit. You can […] Read More
Prep Time
15 Minutes
Difficulty
Easy
Cook Time
20 Minutes
Serves
6 - 8
Mediterranean Brown Rice Salad Recipe
You will love this Mediterranean Brown Rice Salad. The hearty rice salad has it all! Cucumbers, sun dried tomatoes, creamy feta cheese, olives, chickpeas and brown rice. The brown rice is richly flavoured with garlic, fresh basil, red onions, lemon juice, good olive oil and plenty of fresh parsley. This brown rice salad has the […] Read More
Prep Time
15 Minutes
Difficulty
Easy
Cook Time
15 Minutes
Serves
4