Salmon Burgers with Water Chestnuts
Published on Sep 03, 2021
by
Kristina Stosek
Prep Time:

10 minutes
Cook Time:

10 minutes
Serves:

6 - 12 patties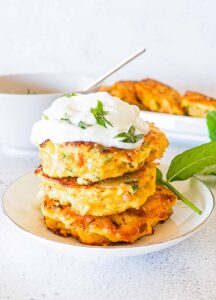 ​This post may contain affiliate links, please see our
privacy policy
for details
These Salmon Burgers with Water Chestnuts are light and moist with added crunchiness from the water chestnuts and tasty sesame seeds. The low-carb, keto-friendly salmon burgers are super easy to whip up and are beyond delicious.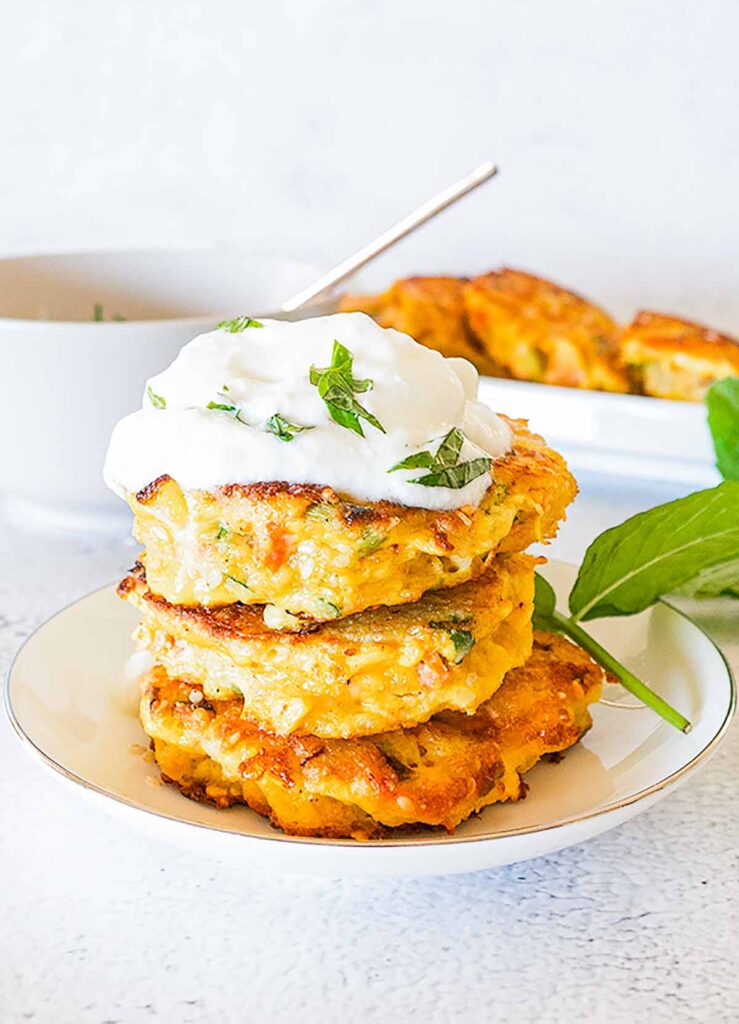 What makes this salmon burger so delicious?
The fresh salmon is first marinated for added flavour and is made with high protein and high fiber blanched almond flour and tasty sesame seeds.
In addition, this gluten-free, keto-friendly salmon burger recipe is made with water chestnuts adding a crunchy texture to the salmon burger and making them insanely delicious!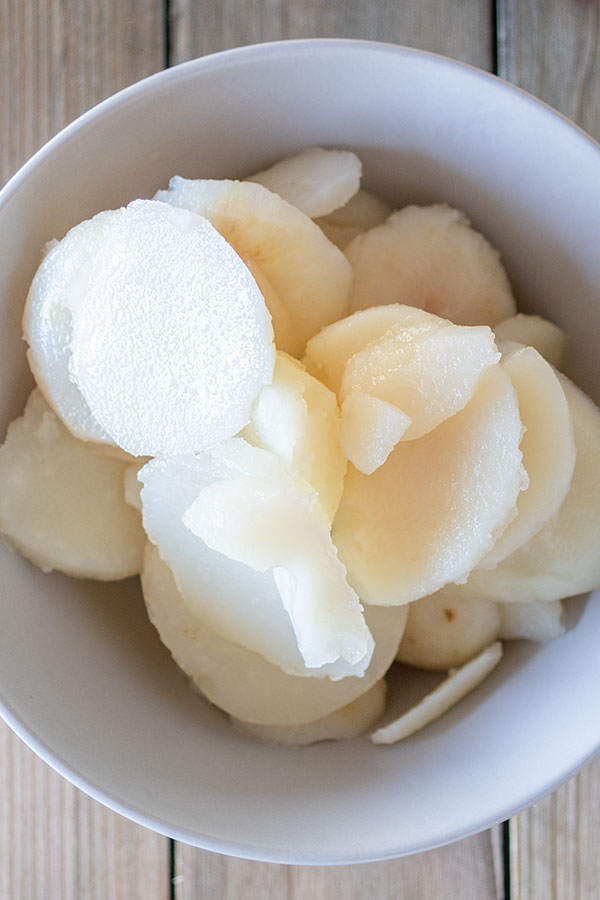 What is a water chestnut?
Water chestnut is a crispy aquatic vegetable, not a nut. It grows in marshes underwater, in the mud. Nevertheless, this small vegetable is very impressive with numerous health benefits.
Despite being low calorie, water chestnut contains several nutrients such as fiber, protein, copper, potassium, magnesium, riboflavin and vitamin B-6.
Water chestnuts are an excellent source of antioxidants. One antioxidant called ferulic acid shows some evidence that it can help reduce or slow the growth of cancer cells, as per Medical News Today.
the salmon burger recipe
To start, the salmon is first marinated with so much awesomeness; Green onions, ginger, fish sauce, fresh lime juice and a little mayo are mixed with the salmon. The mayo makes the fish burgers juicier.
The fresh salmon is marinated for about an hour, or you can marinate it overnight.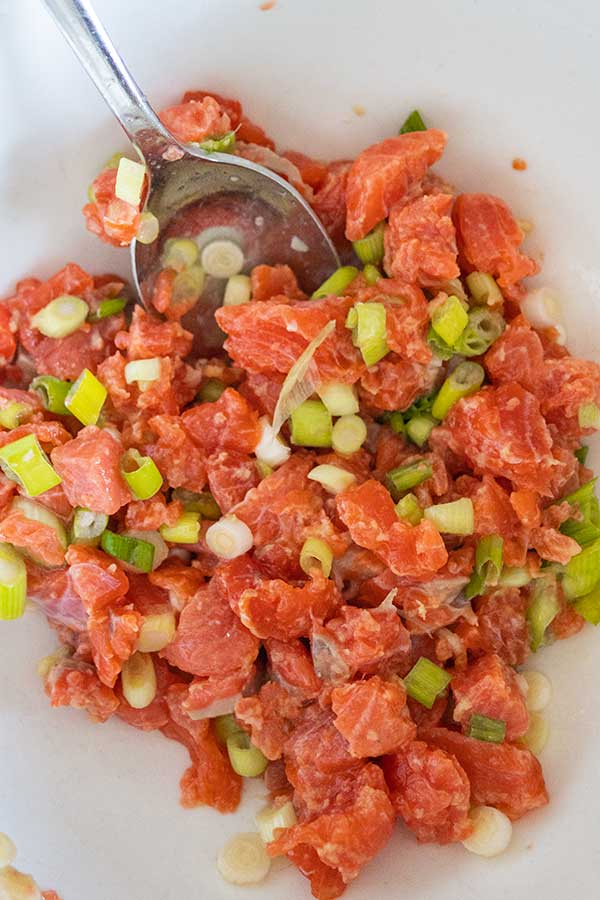 Then add the remaining ingredients such as almond flour, sesame seeds, water chestnuts, eggs, herbs and seasoning. The sesame seeds add extra flavour, a bit of crunch and healthiness.
healthy way to cook salmon burgers
These burgers are fried in a small amount of coconut oil or olive oil. I assure you the burgers are not greasy. Instead, they are moist and do not fall apart.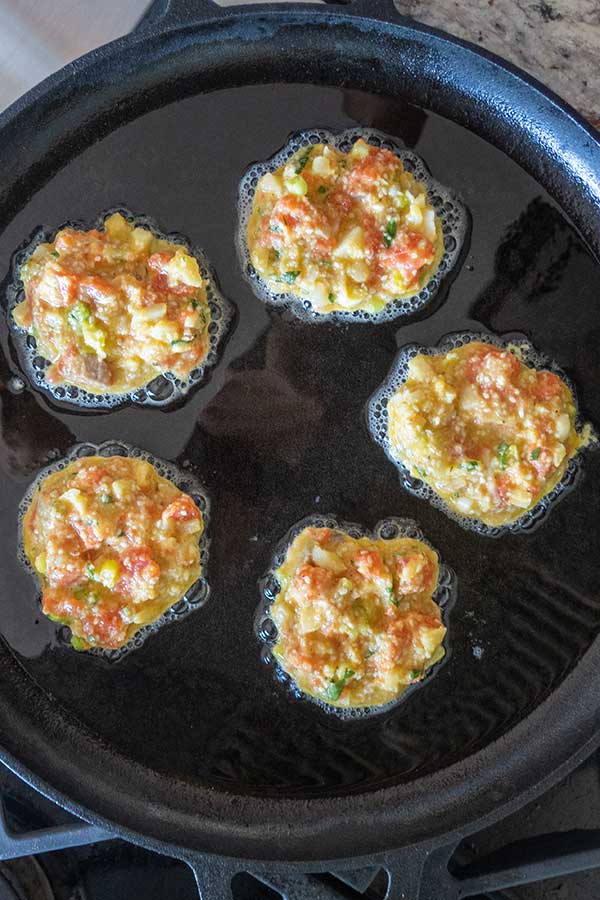 You will need very little oil, just enough to cover the skillet. I used my cast iron pizza pan. I found it perfect because it is large and I could cook most of the fish burgers in one batch. I use this pizza pan for so many recipes, like our favourite gluten-free cast iron pizza with butter chicken.
mint yogurt for salmon burgers
These keto salmon burgers can be served over a lettuce leaf, in gluten-free buns, or as appetizers. Whether you make them appetizers or burgers, adding a flavourful mint yogurt makes the salmon burgers exceptionally tasty.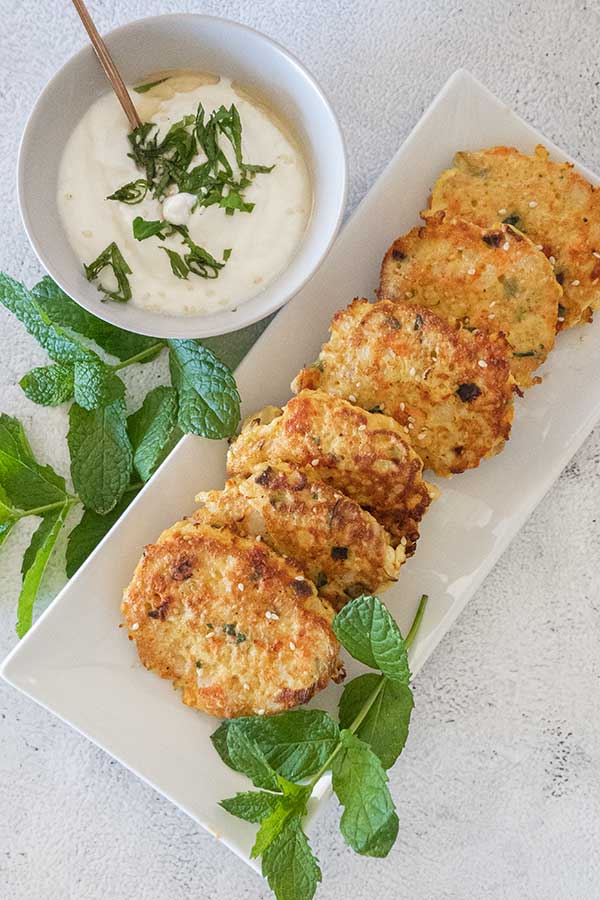 The mint yogurt is zesty with a light mint flavour and is super easy to make. You will need a full-fat thick plain Greek yogurt, fresh mint, lemon juice, and I like to add some toasted sesame oil. However, sesame oil is optional. The dip is a perfect addition to this salmon burger.
some of our favourite sides for fish burgers
If you want to keep this fish meal light, add a salad such as this classic Thai Celery and Fennel salad. For a juicy fish burger, serve it in a gluten-free bun with your favourite fresh toppings, or try our cabbage and fennel citrus salad. And a good dollop of mint yogurt.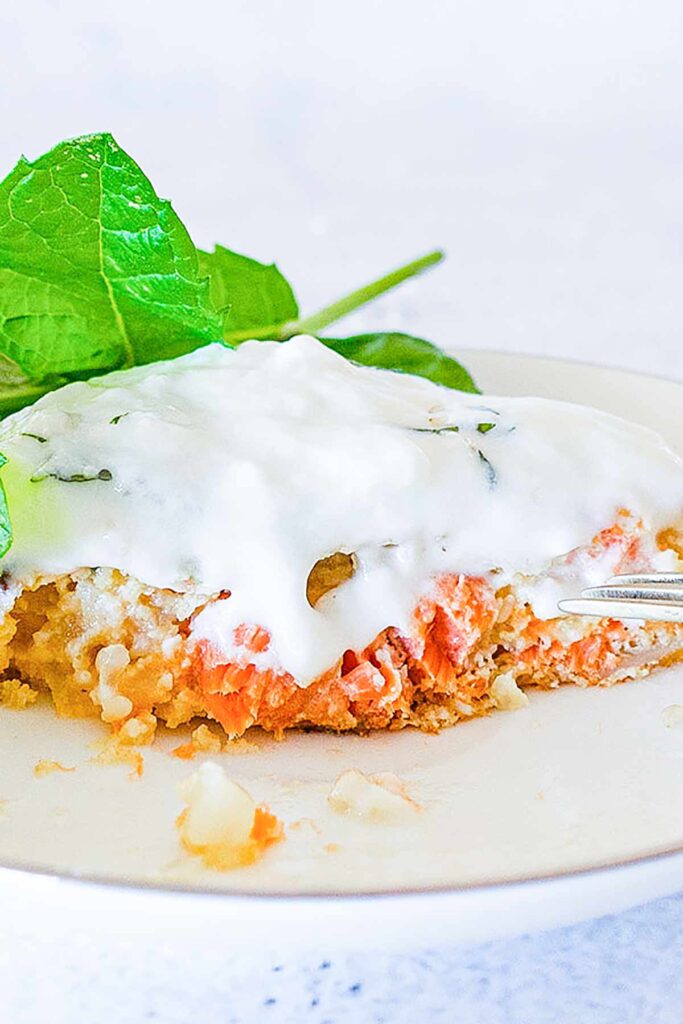 Why we love salmon burgers?
This keto-friendly salmon burger is a healthy addition to low-carb and keto diets. This recipe is naturally gluten-free and is packed with protein, healthy fats, fiber, antioxidants and healthy nutrients.
The fresh fish burger can be served as an appetizer or as a burger. For leftovers, toss them with a fresh salad for a healthy lunch. Enjoy!
Let's connect!
Be sure to FOLLOW US on FACEBOOK and PINTEREST.
Many thanks!
Kristina xx
Salmon Burgers with Water Chestnuts
Published on Sep 03, 2021
by
Kristina Stosek
Instructions
1.

Combine salmon, green onions, ginger, lime juice, mayonnaise, and fish oil in a medium bowl. Marinate for an hour or overnight in the refrigerator

2.

When ready, add remaining ingredients and mix to combine

3.

Heat about 1/4 cup of oil in a large skillet over medium heat. For smaller burgers, use a large cookie scoop to drop the batter 1-inch apart in the skillet. For larger burgers, use 2 scoops. Do not flatten the patties, once you flip them over they will slightly flatten

4.

Cook about 4 - 5 minutes per side until golden brown. You will have to do this in batches

5.

6.

Mix all the ingredients and refrigerate until you are ready to serve

7.

Serve salmon burgers over lettuce leaves, gluten-free buns or just as they are as an appetizer with a dollop of mint yogurt.
Leave a Comment
perfect for Father's day, yum! I made these before they are so good, I especially love the water chestnuts for the crunch, and the flavour is just right.
Kristina