Cast Iron Pizza With Butter Chicken – Gluten Free
Published on Feb 04, 2021
by
Kristina Stosek
Prep Time:

20 minutes
Cook Time:

35 minutes
Serves:

14-inch pizza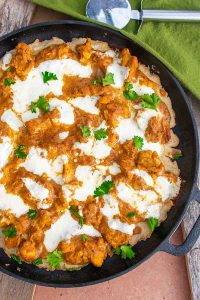 ​This post may contain affiliate links, please see our
privacy policy
for details
This cast iron pizza with butter chicken has the crispiest, crunchiest crust, just as if you made it in a pizza oven. The topping is made with the creamiest butter chicken and buffalo mozzarella cheese.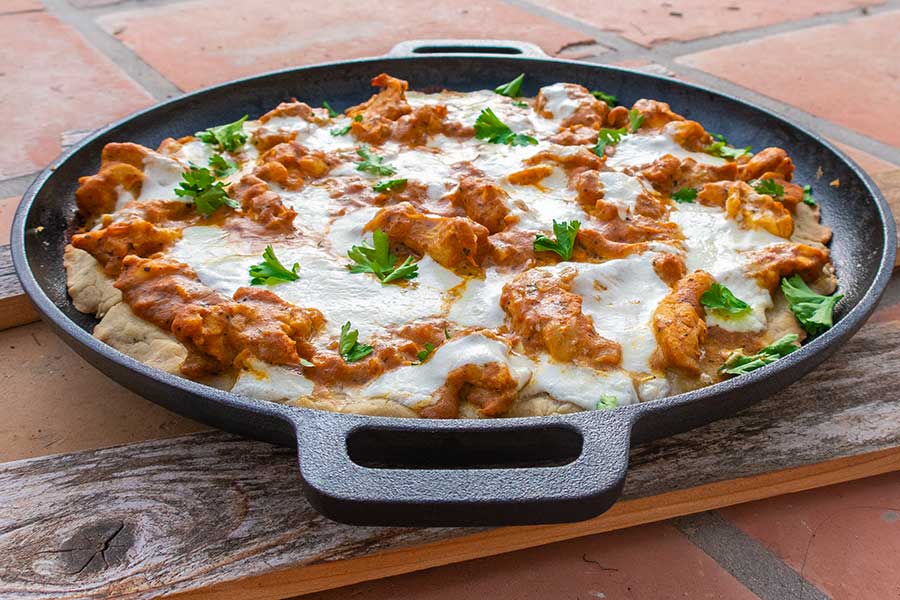 The tender chicken is smothered in an Indian inspired sauce that sets this cast iron pizza apart from most. The buffalo mozzarella adds an extra creaminess that goes deliciously well with the butter chicken.
I don't know where to start here! This cast iron pizza recipe is not your typical pizza. I combined Indian flavours with a classic crispy pizza crust. A little different, I know, but believe me, it is sooo good!
If you love authentic food such as Indian, this pizza will satisfy both the pizza and the Indian cravings.
Cast Iron Pizza With Butter Chicken Recipe Details
Today I wanted to share something different. I was getting tired of the same old classics. Indian food such as butter chicken is often served with naan bread, so why not butter chicken on a pizza?
To keep the sauce extra creamy, I topped the pizza with buffalo mozzarella. Yes, you could use mozzarella cheese, but it will not give you the creaminess. I feel that the cheese made this pizza extra special.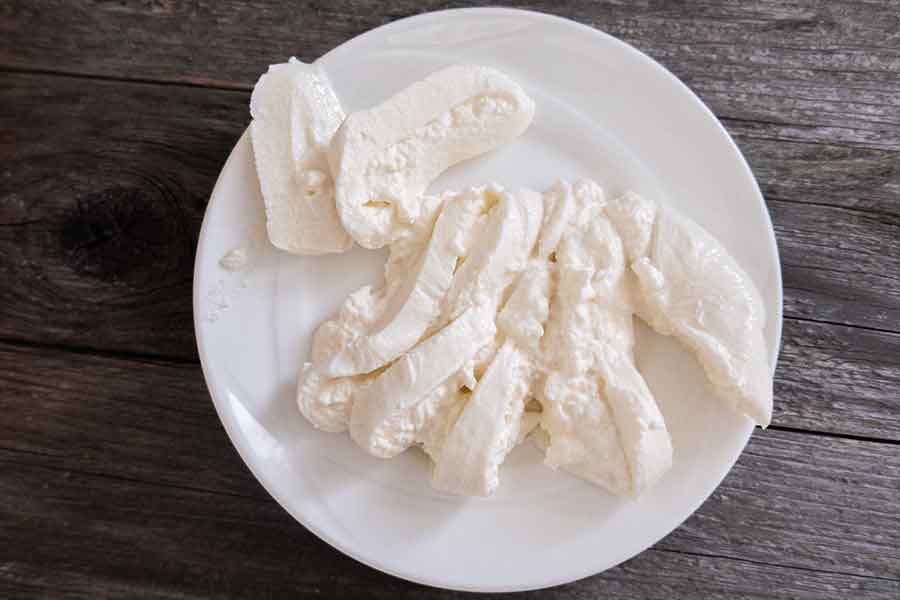 Difference between mozzarella and buffalo mozzarella?
Mozzarella cheese is firmer and is mostly made from cow's milk. On the other hand, buffalo mozzarella is softer, creamier and a lot more flavourful and is made from water buffalo milk.
Water buffalos milk has nearly twice the fat content of cows milk making buffalo mozzarella superior to mozzarella made from cows milk.
Let's talk about cast iron pan for pizza
To date, I have not found a better way to make gluten-free pizza crust than the one I made today on a cast iron pizza pan. When it comes to gluten-free pizza, because the dough doesn't have gluten, which is vital in making pizza, the pizza will not crisp up as beautifully as if you were making a pizza crust with gluten.
This is where the cast iron pizza pan comes in.
Cast iron pizza pan comes with a thicker base for excellent heat retention and an even heat distribution to create that crispy restaurant-style crust you could only get if the pizza is made in a pizza oven.
The cast-iron pan fortifies food with iron, which helps in your iron intake an essential mineral that our body needs.
When the cast iron pan is properly seasoned, it forms a non-stick surface allowing you to cook with less fat. And the best part about this cast iron pizza pan is that you can use it to make tortillas, quesadillas, and eggs.
The cast iron pan is also excellent for searing, grilling, broiling, roasting, BBQ grills and even open campfire. I wish I got mine earlier because there are so many uses for this easy to clean and maintain cast iron pan.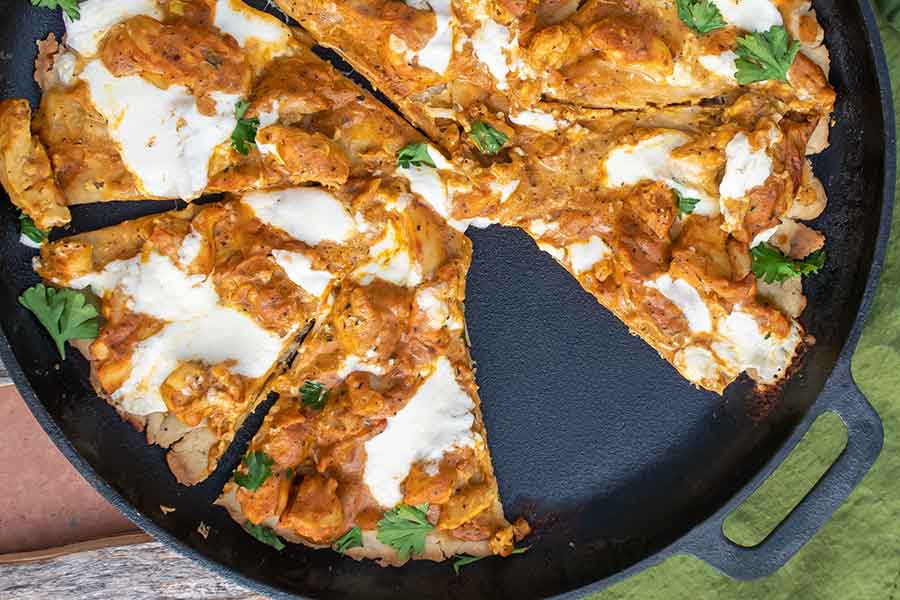 What if you don't have a cast iron pizza pan?
I would recommend using a pizza pan with a perforated surface, pizza stone or cast-iron skillet. But I can honestly say this cast iron pizza pan has become my favourite kitchen essential.
Gluten free yeast free pizza dough
I used my easy go to gluten-free, yeast free pizza dough in this butter chicken pizza recipe. I like using a simple pizza dough when the topping is rich and flavourful. Plus, the dough is super easy to whip up, virtually five minutes.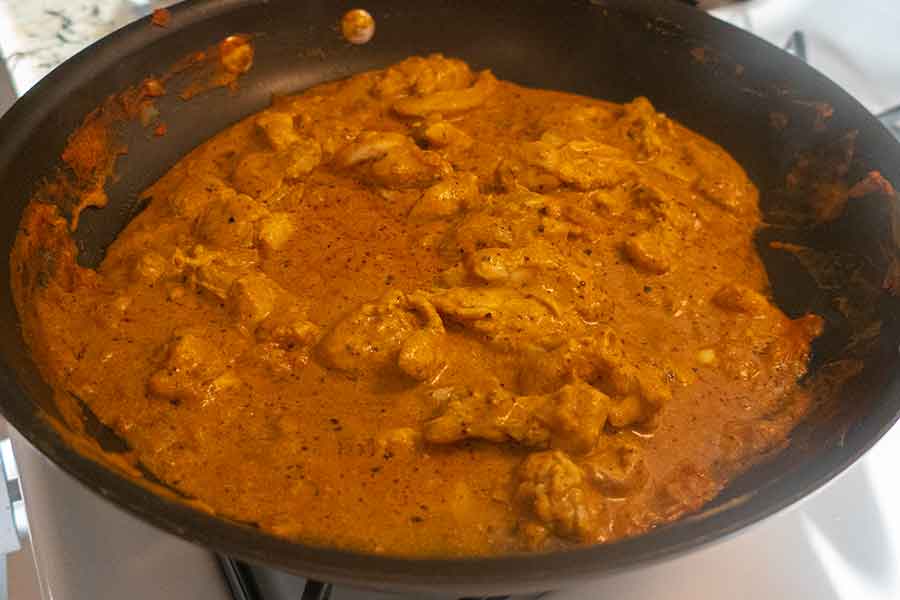 Butter chicken pizza topping
As I mentioned earlier, this is not your typical pizza – it is better! To make the butter chicken topping is super easy. First, you marinate the chicken in an Indian spiced yogurt marinade.
While the chicken is marinating, make the sauce by sauteing onions, then add spices, tomatoes, coconut milk and lime juice. Once the sauce starts to simmer, transfer the chicken with the marinade into the sauce and cook for 10 minutes. Done.
I pre-bake the pizza crust for 10 minutes before I add the topping. The reason I did this, it kept the crust deliciously crunchy without becoming soggy.
Then the final topping, my favourite buffalo mozzarella, makes everything creamier and super flavourful. It is like adding cream to the butter chicken. It doesn't get any better than this!
Cast Iron Pizza With Butter Chicken – Gluten Free
Published on Feb 04, 2021
by
Kristina Stosek
Instructions
1.

To start, marinate the chicken. Whisk together yogurt, spices, garlic, lime juice and salt. Add the chicken pieces and coat well with the sauce. Refrigerate for 30 minutes

2.

3.

4.

Saute onions in butter/coconut oil until soft. Add spices and stir to combine

5.

Whisk in tomatoes, coconut milk and lime juice, and bring the sauce to a simmer

6.

Stir in chicken pieces with the marinade, cover and cook over medium-low heat for 10 minutes. Taste and season with salt if needed. Set aside

7.

8.

9.

Roll out the pizza dough between two sheets of parchment paper to a 13-inch circle. Using one side of the parchment paper, carefully flip the pizza dough into the pan. Using your fingers, press the dough up to the edges. Bake on the middle rack of the oven for 10 minutes

10.

Remove the pan from the oven and top with butter chicken all the way to the edges. Scatter buffalo mozzarella slices over the top and bake 8 - 12 more minutes until the crust is golden brown.

11.

Cool the pizza for about 5 minutes, then run a spatula or a table knife between the edge of the pizza and the side of the pan and very carefully slide the pizza onto a cutting board. Be careful, the pan is very hot. Using kitchen scissors or a pizza cutter, cut the pizza into wedges and top with fresh herbs
Leave a Comment
Kristina
1 pound thinly sliced skinless chicken breast or a thigh Ruth
How much chicken does this require?