Gluten-Free Naan Bread Recipe
Published on Dec 07, 2016
by
Kristina Stosek
Prep Time:

30 minutes
Cook Time:

30+2hrrising minutes
Serves: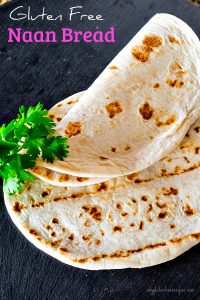 ​This post may contain affiliate links, please see our
privacy policy
for details
This recipe is a gluten-free version of Naan bread. Naan bread is an Indian-style flatbread that is soft and served with Indian curry dishes and dips.
This gluten-free naan bread is relatively easy to make, but you need to allow time for the dough to rise.
Is naan bread gluten-free?
Naan bread is a popular bread in India. However, the traditional version of this bread is not gluten-free. To make this naan bread gluten-free, I used gluten-free flour, rice flour and tapioca flour, sometimes called starch.
The naan dough is leavened with yeast and is cooked in a dry pan such as a cast iron skillet or a non-stick pan. The bread is cooked until it puffs up and then turned over and cooked until you see charred patches.
how to serve naan bread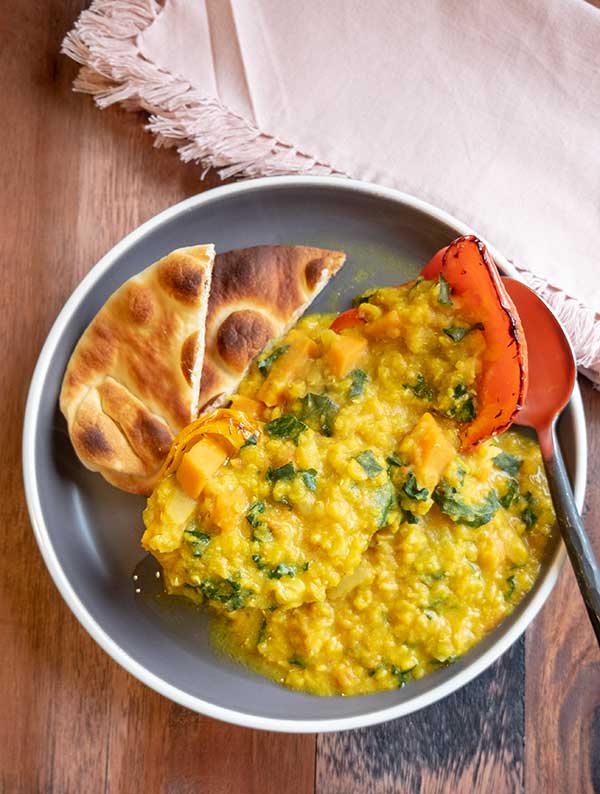 This Indian staple is served with curry dishes or their popular dips, such as this Low-Carb Eggplant Dip.
I love incorporating gluten-free naan bread with hearty soups or stews; the bread is exceptional for soaking up sauces.
Can you make a pizza from gluten-free naan?
You will love replacing pizza crust with naan bread. The naan is light and a perfect size for an individual pizza.
My favourite toppings are fresh tomatoes, basil with a drizzle of olive oil and topped with buffalo mozzarella slices. Just bake in a preheated oven at 400 F for 10 minutes or until the cheese bubbles. YUM!
storing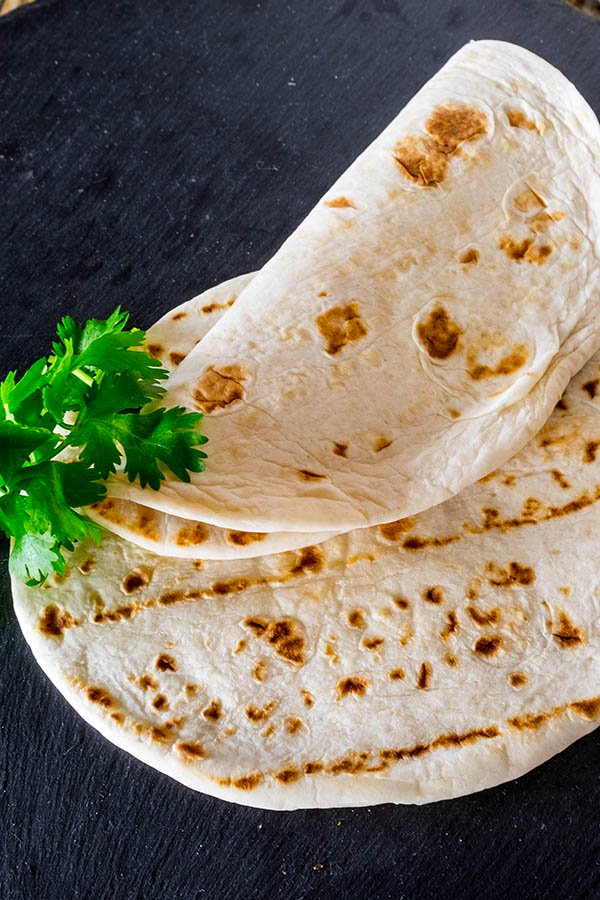 Naan bread keeps well stored in an airtight container and refrigerated. It will keep up to five days.
freezing
Yes, this Indian version of bread freezes exceptionally well for up to three months. To freeze it, wrap the naan in plastic wrap and then place it in a freezer bag.
This recipe is perfect if you're looking for delicious, gluten-free naan bread or a light individual pizza crust. The recipe is easy to make, and the naan bread texture always comes out perfectly. Plus, it makes a tasty replacement for bread. Enjoy!
Gluten-Free Naan Bread Recipe
Published on Dec 07, 2016
by
Kristina Stosek
Instructions
1.

Combine warm water, maple syrup and yeast. Set aside for 15 minutes, the yeast should be frothy

2.

In a large bowl combine dry ingredients. Add olive oil, eggs and yeast mixture. Mix until the dough comes together. Rest for 15 minutes

3.

Lightly oil a large bowl. Transfer the dough into prepared bowl and cover with damp towel. Rest the dough in a warm place for 2 – 3 hours or until it has doubled in size

4.

Dust a work surface with potato starch and transfer the dough on top. Sprinkle with potato starch and shape the dough into 6 equal balls

5.

Heat a large cast iron skillet or a non-stick pan over medium-high heat. Using a rolling pin roll each dough into about 1/8-inch thickness. Place the dough in the dry skillet and cook until the bottom is golden and blackened in few spots, about 3 – 4 minutes. Flip the naan over and cook about 1 more minute. Remove on a warm plate and brush with melted butter. Cover with a tea towel until ready to serve.

6.

Tip: After you cook the first naan you may have to lower the heat slightly

7.

Note: to reheat cooked naan bread, wrap in the bread in foil and heat in a 350 F oven until warm