Gluten-Free, Yeast-Free Pizza Dough
Prep Time
15 Minutes
Difficulty
Easy
Cook Time
15 Minutes
Serves
12-inch pizza
Be the first to rate this recipe.
This Gluten-Free, Yeast Free Pizza Dough is perfect for last minute pizza cravings without ordering takeout. Just imagine a gluten-free pizza dough ready to go in the oven in 15 minutes. That's right, no waiting for the pizza dough to rise because there is no added yeast and no endless kneading.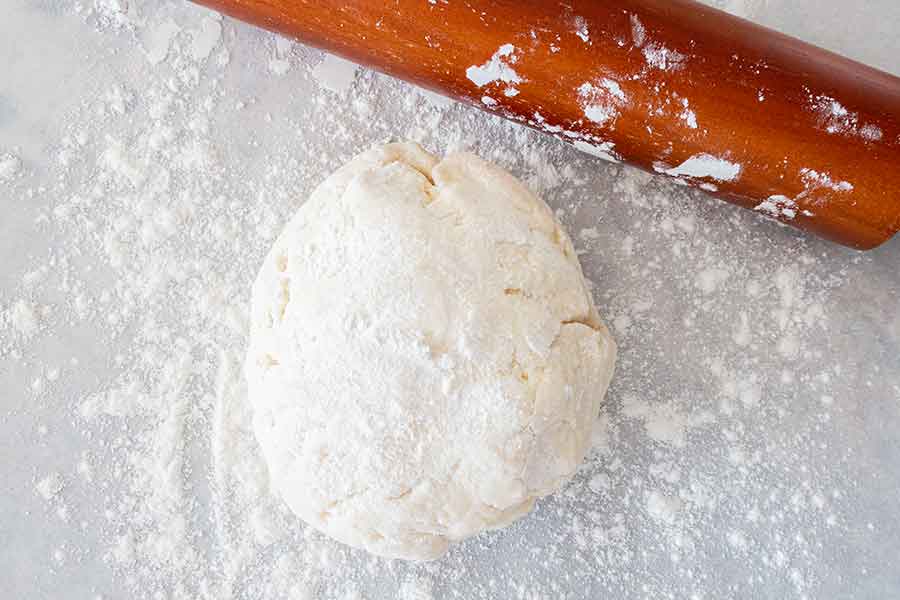 yeast-free pizza dough – the details,
To make the dough, all you do is mix dry ingredients with wet, combine well and roll out to the desired shape. I often make my pizza's oval, but you can create the traditional round shape or even a rectangle. Now, all you do is add your favourite pizza toppings and bake YEY!
gluten-free pizza crust that doesn't need pre-baking!
There is no need to pre-bake the pizza crust, isn't that great! The best part, the pizza crust turns out perfectly every time! Now you can enjoy a made from scratch gluten-free pizza any day of the week because all it takes is 30 minutes from start to finish. How does this sound? If you are looking for something different, try one of our award winning gluten-free pizza recipes
Ingredients
2 tsp. baking powder (preferably aluminum-free)
1 tsp. Xanthan gum
1 tsp. Himalayan salt
2/3 cup milk, at room temperature
1/4 cup salted butter, softened
*As an Amazon Associate and member of other affiliate programs, I earn from qualifying purchases. Please check out my sponsorship and disclosure policy page for more details
Instructions
Whisk together dry ingredients in a large bowl
Add milk and butter and using a dough hook mix until dough forms, about 1 minute
Transfer dough to a lightly floured surface and knead until smooth ball forms. About 1 minute
Using a rolling pin roll the dough between 2 sheets of parchment paper into a 12-inch circle. Using the parchment paper transfer the circle to prepared pizza pan and top with desired toppings
Bake for 15 - 17 minutes, until the crust is golden
Similar Recipes
Gluten Free Pizza Crust (Vegan)
A gluten-free pizza crust that is delicious and vegan. Folks who don't eat gluten need to avoid not only the apparent sources of wheat, rye, and barley but also more obscure items such as malt and modified food starch. Thanks to all these restrictions, it can be challenging to find a good pizza crust recipe […] Read More
Prep Time
20 Minutes
Difficulty
Moderate
Cook Time
17 Minutes
Serves
2x16-inch
Gluten-Free Alfredo & Spinach Buckwheat Pizza
Gluten-Free Alfredo & Spinach Buckwheat Pizza is a yeast-free pizza made with three toppings. This Alfredo sauce topped version complete with fresh spinach and cheddar topping is always a favourite at our house. The Alfredo sauce is a replacement for classic tomato pizza sauce, adding a delicious twist to a traditional pizza. ♥ Friday night […] Read More
Prep Time
10 Minutes
Difficulty
Easy
Cook Time
30 Minutes
Serves
10-inch
Gluten-Free Crispy Thin Pizza Crust
Today I will share with you my favourite gluten-free crispy thin pizza crust recipe. This cracker-like pizza crust is very versatile because you can also use it as flatbread or slice it into small squares and use it for appetizers with various toppings. For the pizza sauce, I included a simple recipe below. However, if […] Read More
Prep Time
15 Minutes
Difficulty
Easy
Cook Time
20 Minutes
Serves
14-inch pizza