Classic Thai Celery and Fennel Salad
Published on Mar 09, 2018
by
Kristina Stosek
Prep Time:

10 minutes
Cook Time:

minutes
Serves:

4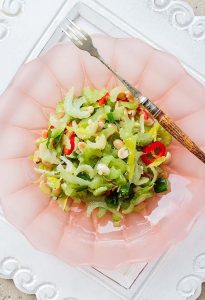 ​This post may contain affiliate links, please see our
privacy policy
for details
A healthy Classic Thai Celery and Fennel Salad. This salad is made simply with fresh ingredients such as celery, fennel, green onions, nuts, cilantro, fresh chilli peppers and a light Thai dressing.
The Thai dressing is made with sesame oil, fresh lime juice, and a splash of fish sauce. The dressing gives this celery and fennel salad the classic Thai flavour.
This salad has so much freshness and healthiness, making this a perfect salad for the warmer weather.
You can eat both celery and fennel fresh as in this Thai celery and fennel salad. Or enjoy in soups, stews and roasted with a splash of olive oil.
What may surprise you is that celery, fennel and cilantro are powerhouses of nutrients. So let's discuss the health benefits of the three main ingredients in this Thai celery and fennel salad.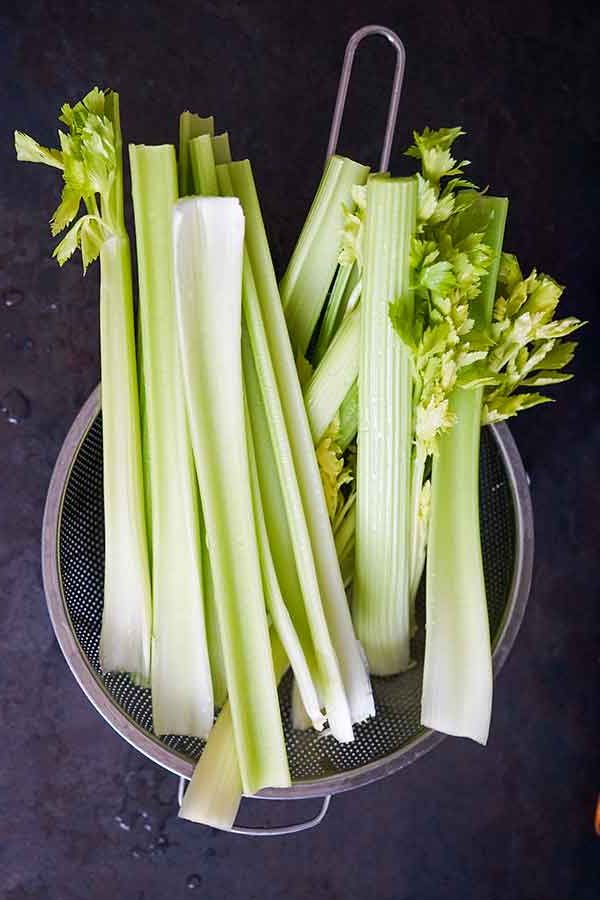 Does celery help with weight loss?
Celery is a low-calorie, high-fiber vegetable. This plant has a long fibrous stalk consisting primarily of water and provides a chock full of antioxidants.
Celery is rich in vitamins A, K, and C and minerals like potassium and folate. In addition, this low sodium plant is low on the glycemic index. This means a slow, steady effect on your blood sugar.
Because of the high water content and fiber, this is an excellent vegetable to add when you are following a well-balanced calorie restricted diet.
Some of our healthy recipes using celery are the Immune Boosting Turmeric Celery Soup, or our Best Vegan Coleslaw Recipe.
Why is fennel so good for you?
Fennel is a flowering plant, not a root vegetable, in the carrot family. This nutrient-packed plant can be used as a spice or a vegetable.
The spice comes from fennel seeds harvested from the fennel plant. They have a sweet, robust flavour that's similar to licorice. Fennel seeds are used in European, Middle Eastern, Indian and Chinese cuisines. They are ground into spice mixtures and added to various dishes, including desserts.
When fennel is cooked, it tastes a lot sweeter. Fennel tastes more like mild anise when raw and thinly sliced in salads. It has a unique exquisite flavour and adds depth to any salad.
Adding fennel to your diet is a good way to get vitamins like A and C and minerals such as potassium and magnesium.
Fennel is another plant that is an excellent source of fiber. One cup, about 87 grams, has 3 grams of dietary fiber. Which is 11% of your DRV (daily reference value).
Our best recipes using fennel are the Simply Roasted Fennel With Carrots, the Rustic Roasted Fennel Recipe
or the flavourful Cauliflower Fennel and Sweet Potato Chicken Tagine.
Eating fibre-rich vegetables such as celery and fennel can help you lose weight by keeping you fuller on fewer calories.
Celery and fennel both contain soluble fiber, which aids in slowing down your body's digestion process. This means you will stay fuller longer.
Is cilantro healthy?
This aromatic herb may surprise you! Cilantro leaves and stalks are a good source of vitamins A, C, E, K, calcium, iron, potassium, and magnesium. Just a ¼ cup of fresh cilantro provides 270 IU of Vitamin A and 16% of the daily value recommended of vitamin K.
Cilantro is often used in Mexican dishes such as this authentic Mexican salsa or the cilantro and lime chicken or, one of my favourites the Grilled Corn Salad With Cucumber & Minty Cilantro Vinaigrette.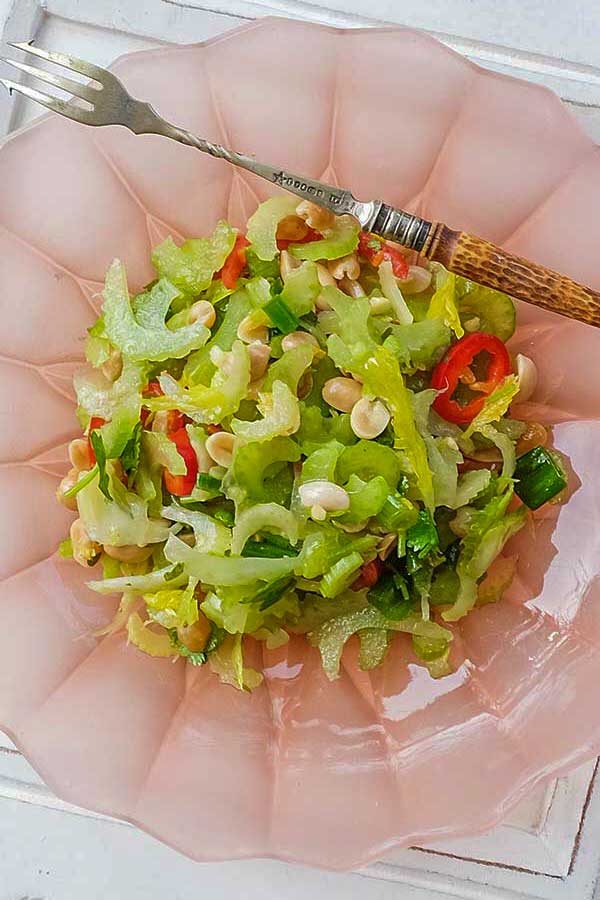 When following a well-balanced diet, adding a high fiber, nutrient-rich fresh salad will help build your immune system, thus keeping you healthier, and this Thai celery and fennel salad is also excellent for your waistline.
This fresh, flavourful salad goes exceptionally well as a side with chicken, fish or pork. Or, serve as a starter over a lettuce leaf. Enjoy!
Classic Thai Celery and Fennel Salad
Published on Mar 09, 2018
by
Kristina Stosek
Instructions
1.

For the dressing, whisk together olive oil, lime juice, fish sauce and sesame oil

2.

Toss the dressing with celery, fennel, green onions, cilantro, nuts and chilli peppers

3.

Set aside for 30 minutes. Toss just before serving
Leave a Comment
Kristina
one of my favorites in the summer, thank you
Refreshing nutritious salad… absolutely delicious! I garnished it with fresh mint leaves.
Ilove celery and especially celery leaves in salad. Whenever I find it, I buy Chinese celery which is used in Thai cooking. It has lots of leaves which are suitable for salads and garnishes. The ribs are more suited for cooking. Such a powerhouse of nutrition: celery, fennel, and cilantro. Thanks!