Best Authentic Salsa Recipe
Published on Aug 07, 2022
by
Kristina Stosek
Prep Time:

15 minutes
Cook Time:

minutes
Serves:

2 cups
​This post may contain affiliate links, please see our
privacy policy
for details
This is the best authentic salsa recipe by far! It is quick to make and is based on the classic salsa recipe from Mexico. You will need only seven fresh ingredients and salt for the insanely delicious salsa.
ingredients for authentic salsa recipe
To make this Mexican salsa recipe, you will need fresh tomatoes, onions, garlic, plenty of cilantro, jalapeno peppers, fresh lime juice and the secret ingredient – cumin powder. Sometimes I add a few fresh basil leaves.
Yes, cumin sets the flavour of this fresh tasting salsa apart from the rest. There are many versions of fresh salsa, but it is more than just mixing the ingredients. It is about quantities and cumin.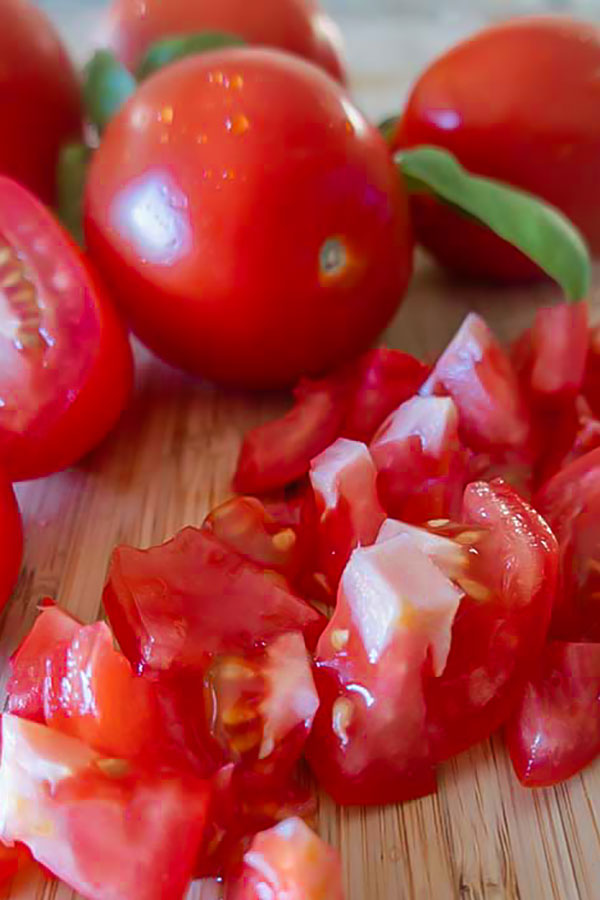 best tomatoes for a fresh salsa recipe
My favourite is the Roma tomatoes. They are plum and not too juicy.
Paste tomatoes are another kind of tomato that I highly recommend. This tomato is similar to Roma tomatoes, but they are sweeter.
I used a food processor to make this salsa recipe in under ten minutes. It just makes life easier, and everything is perfectly cut and mixed.
However, if you don't have a food processor, you will need a sharp knife and start chopping. It may take a little longer, but the authentic Mexican flavour will remain the same.
Why do we love salsa?
Salsa is one of our all-time favourite foods. It's flavorful, versatile, and perfect for casual and formal occasions. Plus, it's a great way to add extra nutrition to your diet.
Here are just a few of the reasons why we love salsa:
1. Salsa is a great source of vitamins and minerals.
2. Salsa is low in calories and fat, making it a healthy choice for snacks and meals.
3. Salsa is packed with antioxidants, which can help protect your body against disease.
4. Salsa is incredibly versatile – you can use it as a dip, a condiment, or even as an ingredient in recipes.
5. Salsa is easy to make at home, so that you can control the quality and ingredients.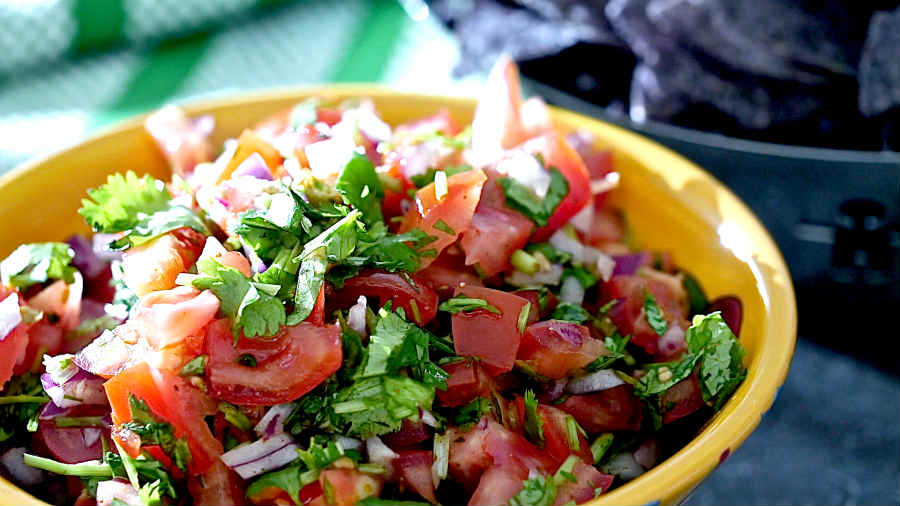 Is salsa Mexican?
Yes, salsa is a Mexican dish. It typically consists of tomatoes, onions, chili peppers, and cilantro. If you are into Mexican food you should check out our collection of gluten-free Mexican dishes…OMG so good! I especially love the 30 Minute Gluten-Free Crispy Carnitas Tacos with Avocado Yogurt Cream.
What to serve with salsa?
This easy Mexican salsa recipe is perfect for any occasion. Serve it with gluten-free corn chips as an appetizer. Or as a topping for your favourite Mexican dishes. Or as a condiment for tacos or try it with our One-Skillet Vegetarian Burrito dish.
I love to soak up my fish with fresh salsa…YUM!
How long will fresh salsa keep in the fridge?
When it comes to salsa, fresh is always best. But if you find yourself with leftovers, don't worry – your salsa will still be delicious. It might even taste better after a day or two in the fridge.
However, you'll want to make sure you eat it within a week. After that, the flavours will start to deteriorate, the salsa will become watery, and the onions will start to taste off.
So if you're looking to extend its life, freeze it in a freezer bag instead. Frozen salsa will last for months (make sure to thaw it out properly before serving).
Is salsa healthy?
Salsa is a healthy food option because it is made with fresh vegetables. In addition, it is naturally gluten-free, low in calories and has no saturated fats.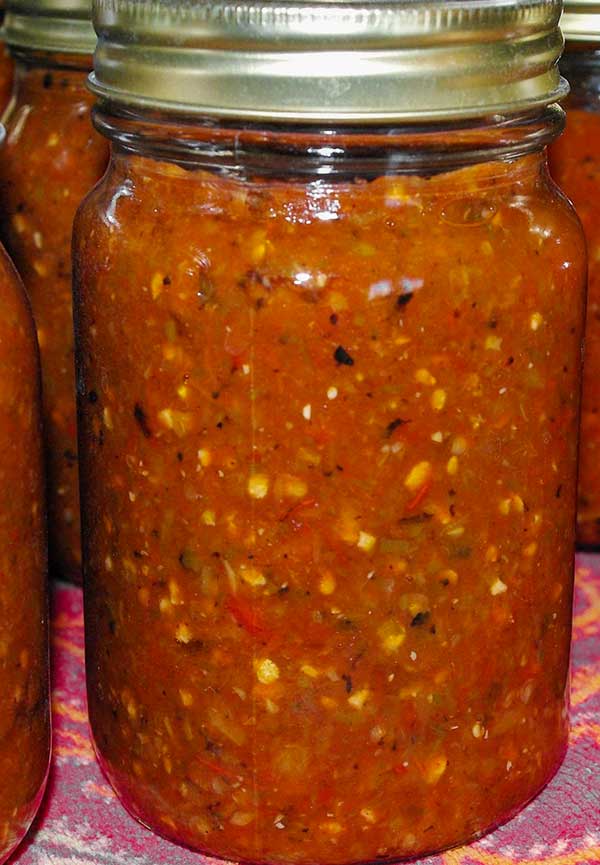 Can you use canned tomatoes to make salsa?
If you're looking for the best authentic salsa recipe, you may be wondering if you can use canned tomatoes. The answer is yes!
Canned tomatoes are a good option for making salsa because they're already diced, which saves you time in the kitchen.
Plus, they're usually more affordable when fresh tomatoes are not in season.
When choosing canned tomatoes for your salsa, look for ones labeled "fire-roasted." These tomatoes have been cooked over an open flame, which gives them a deeper flavor that's perfect for salsa.
Avoid cans of diced tomatoes that are labeled "packed in tomato juice." These tomatoes will be too watery and won't have enough flavor.
Once you've selected your canned tomatoes, the rest of the ingredients for this authentic salsa recipe remain the same. However, I often add corn for texture to my salsa when I use canned tomatoes.
Combine all the ingredients in a food processor and blend until chunky or smooth. Taste and adjust the seasonings as desired.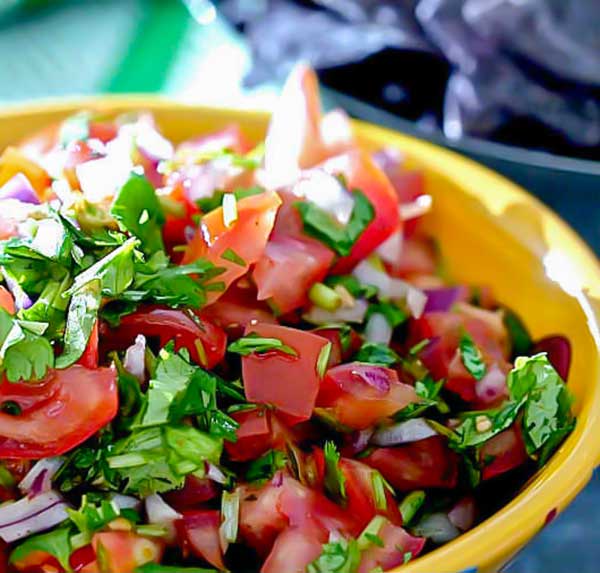 Whether you're looking for a healthy snack option or a flavour-packed addition to your meal, salsa is a great choice. I hope you enjoy the authentic salsa recipe I acquired in a small town in Mexico!
It has the perfect balance of flavors and is super easy to make. I highly recommend giving it a try!
Let's Connect!
Be sure to FOLLOW US on FACEBOOK and PINTEREST.
Many thanks!
Kristina xx
Best Authentic Salsa Recipe
Published on Aug 07, 2022
by
Kristina Stosek
Instructions
1.

Place onions into a food processor and pulse 4 - 5 times

2.

Add balance of ingredients and pulse to desired consistency about 5 - 6 times, do not over blend
Leave a Comment
Kristina
Rachel, please use 2 x 375 ml to replace the fresh tomatoes, thank you.
How much canned tomato do I use to substitute fresh tomatoes? I want to make this for a wedding so it will be cheaper than buying a ton of fresh tomatoes. If I wanted to multiple the recipe by 10, how much canned tomato do you recommend?
The salsa was amazing! Cumin def makes a difference.