30 Minute Gluten-Free Crispy Carnitas Tacos with Avocado Yogurt Cream
Published on Jan 21, 2021
by
Kristina Stosek
Prep Time:

10 minutes
Cook Time:

20 minutes
Serves:

8 tacos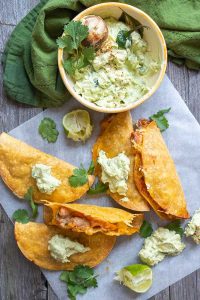 ​This post may contain affiliate links, please see our
privacy policy
for details
The very best 30 minute gluten-free carnitas tacos with avocado yogurt cream. Crunchy gluten-free tacos filled with spiced pork tenderloin, bell peppers, onions, jalapenos, lime juice, fresh tomatoes and gooey cheese.
Carnitas tacos with avocado yogurt cream is the best combo!
This Mexican inspired dish is easy to put together using only fresh ingredients. The avocado yogurt cream is made with avocado, yogurt, shallots, jalapenos, lime juice, garlic, cumin and if you like extra spiciness, sriracha sauce.
The avocado yogurt cream makes a perfect companion to the carnitas tacos. Adding a healthy creamy sauce to dip the tacos in for extra flavour, makes the gluten-free tacos extra delicious!
These crunchy carnitas (pork) tacos are probably one of our most popular taco recipes.
How to make gluten free tacos crispy?
To make the outside extra crunchy, the filled tacos are baked until you reach desired crunchiness.
Why is cheese so important in taco filling?
The cheese adds flavour, but it also holds everything together. You don't have to worry about the filling falling out after you take a bite. These crunchy gluten free tacos are perfect in every way.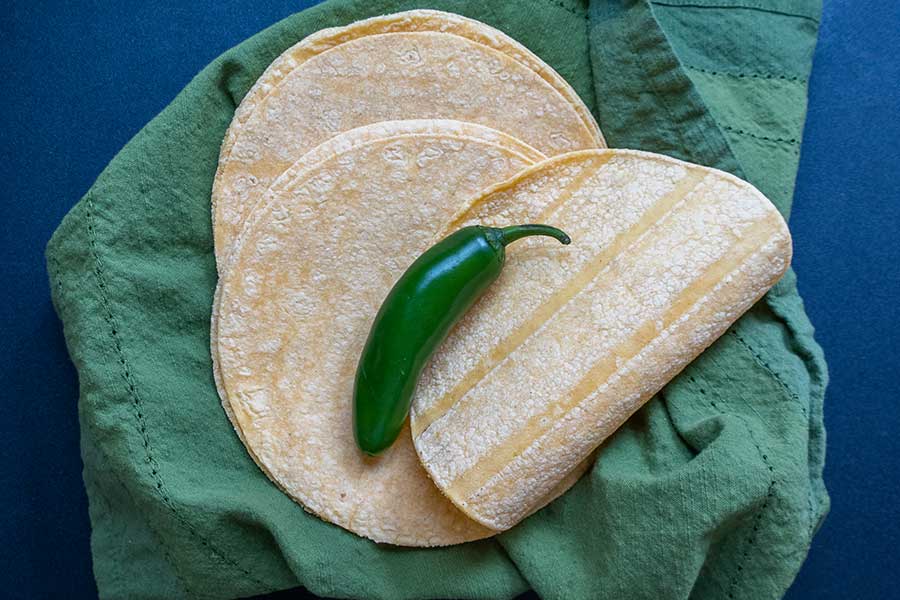 What I love about this Mexican inspired recipe is how easy everything comes together. You don't even need taco holders.
taco recipe overview
To start, the veggies are briefly cooked, then the pork, garlic and spices are added and cooked just until the pork is no longer pink and starts to brown on the outside.
Then the fresh tomatoes with lime juice are added, and everything is combined—nothing to it.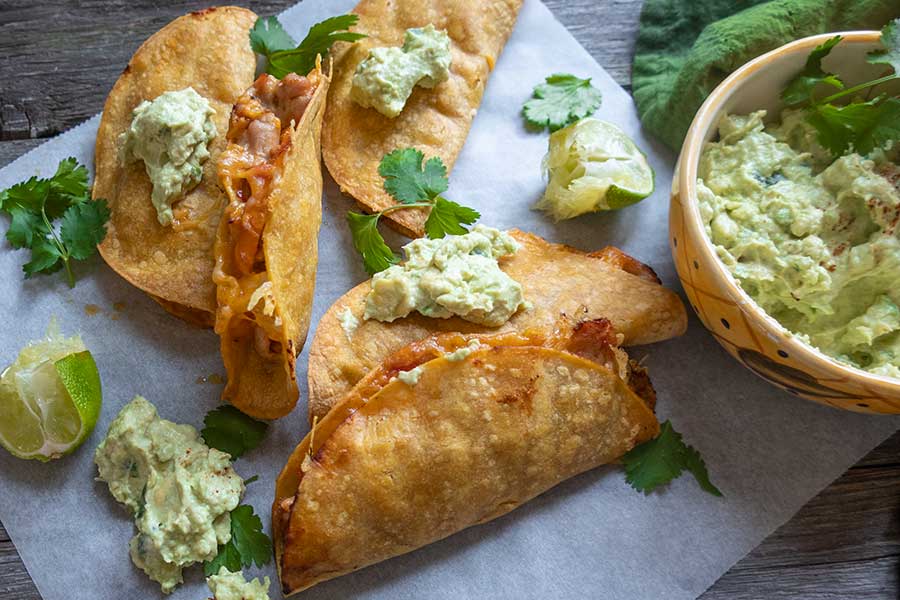 I used soft gluten-free corn tortillas and made them into crunchy tacos. The tortillas need to be briefly softened so that they are pliable. To do this, pop them into the microwave for a few seconds.
To get the crunchiness, one side of the tacos is lightly brushed with olive oil before they are baked.
When you have traditional tacos, the shells are already crispy and are often filled with ground beef mixture.
The tacos are then topped with various toppings, such as lettuce, cheese, salsa, sour cream, and guacamole. After the first bite, everything starts to fall apart. Needless to say, it is messy to eat.
Not with these crunchy carnitas tacos. The cheese is what holds everything together.
the avocado yogurt cream topping
I wanted to add one topping to the tacos that has it all. So, I made this light avocado yogurt cream. It tastes almost like guacamole, but it is on the lighter side.
With this avocado yogurt cream topping, you don't need any other toppings. The topping is exceptionally delicious.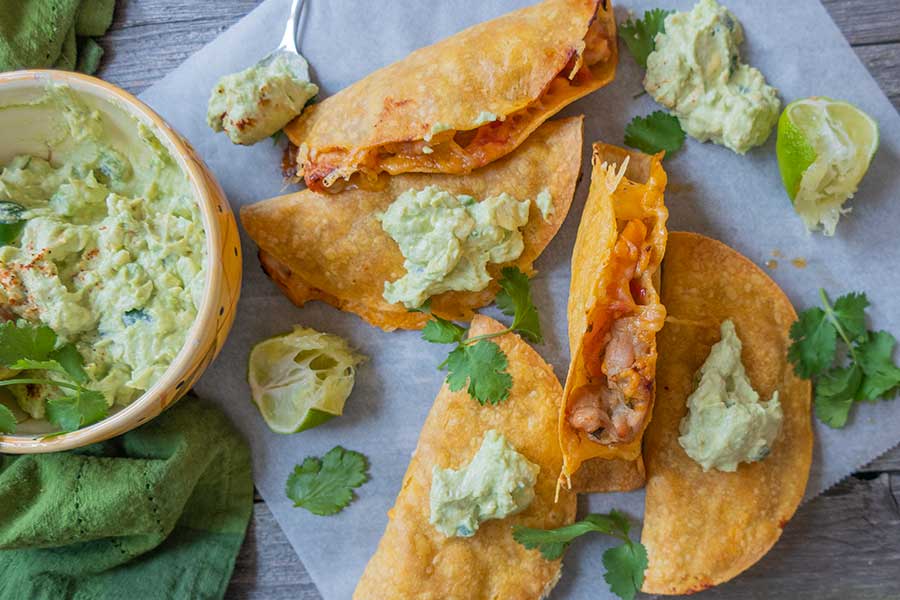 taco filling options
This is what is so great about these gluten-free tacos. The pork is interchangeable. A great way to spice up leftover chicken, turkey or beef is to use them in taco filling.
You will need 3 cups of cooked chopped meat for 8 tacos. Everything else remains the same in the recipe. And, if you want vegetarian tacos, no problem. You can use roughly chopped cauliflower, zucchini or mushrooms to replace the meat.
I hope you enjoy these gluten-free crispy carnitas tacos as much as my family does. If you love Mexican inspired recipes, you may enjoy the rotisserie chicken enchilada casserole or the Mexican street corn soup
Let's Connect!
Be sure to FOLLOW US on FACEBOOK and PINTEREST.
Many thanks!
Kristina xx
30 Minute Gluten-Free Crispy Carnitas Tacos with Avocado Yogurt Cream
Published on Jan 21, 2021
by
Kristina Stosek
Instructions
1.

Preheat oven to 425 F and line a large rimmed baking sheet with parchment paper

2.

Heat olive oil in a large skillet over medium-high heat. Add bell peppers and onions. Cook stirring occasionally until the onions start to soften. About 3 minutes

3.

Stir in garlic, pork slices, oregano and cumin. Cook until the pork starts to brown and is no longer pink on the inside. About 3 minutes, stirring as needed. Remove the skillet from the heat. Stir in tomatoes, lime juice and season with salt and pepper

4.

Warm tortillas for about 50 seconds in the microwave until pliable. Lightly brush one side of each tortilla with olive oil and place on the prepared baking sheet with the oiled side down. Sprinkle half of each tortilla with about 1 tablespoon of cheese, then top the cheese with a layer of carnitas filling and more cheese. There should be enough filling and cheese for 8 tacos. Fold the other half of the tortilla over the filling and transfer the baking sheet to the oven. Bake for 8 minutes, then flip the tacos and cook 6 more minutes, until the tortillas are crisp.

5.

Meanwhile, prepare the avocado yogurt cream. In a medium bowl, mash the avocado until smooth, then add remaining ingredients and, using a fork, whip to combine. Season with salt

6.

Serve tacos with avocado yogurt cream, fresh lime juice and chopped cilantro