One-Skillet Vegetarian Burrito – Gluten Free
Published on Apr 23, 2016
by
Kristina Stosek
Prep Time:

10 minutes
Cook Time:

45 minutes
Serves:

6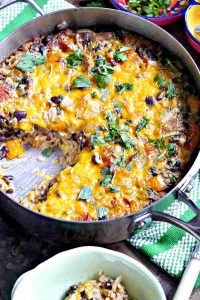 ​This post may contain affiliate links, please see our
privacy policy
for details
This gluten-free, vegetarian burrito has all the delicious ingredients of a burrito but without the tortilla. This Mexican dish is made with black beans, tomatoes, bell peppers, rice, cheese, and plenty of cilantro.
For the spices, I used the traditional chili powder, cumin and garlic. To serve, you can add salsa, fresh cilantro and or sour cream.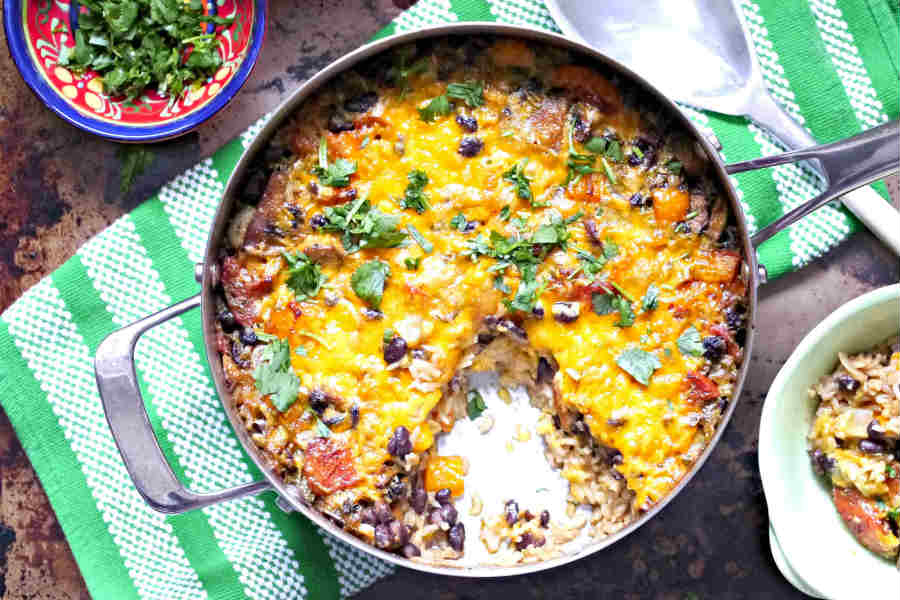 One-Skillet Vegetarian Burrito Recipe
What I love about this recipe is the simplicity because this entire gluten-free meal is made in one skillet. I can't tell how delicious this vegetarian burrito is, there is so much flavour going on.
I promise you, if you love burritos, you will enjoy this healthier vegetarian version. In addition, the entire dish is made without gluten. Enjoy! You can find more gluten-free Mexican recipes here->
Let's Connect!
Be sure to FOLLOW US on FACEBOOK and PINTEREST.
Many thanks!
Kristina xx
One-Skillet Vegetarian Burrito – Gluten Free
Published on Apr 23, 2016
by
Kristina Stosek
Instructions
1.

2.

Dice the onion, tomato, and bell pepper to bite size pieces. In a large skillet combine the onion, tomato, bell pepper, jalapeno, garlic, chili powder, cumin and olive oil. Bake for 25 minutes, stirring halfway through

3.

Add black beans, rice, broth, half the cilantro and half the cheese

4.

Stir everything together, cover the skillet and continue to cook for 18 - 20 minutes or until all the broth is absorbed by the rice

5.

Remove the foil and sprinkle with cheese. Set the heat to broil and cook for 2 – 3 minutes, until the cheese is bubbly

6.

Allow the burrito to cool for 10 minutes then top with fresh cilantro and serve