Cilantro Lime Chicken Recipe
Published on Jul 05, 2016
by
Kristina Stosek
Prep Time:

10 minutes
Cook Time:

30 minutes
Serves:

4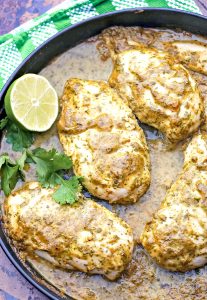 ​This post may contain affiliate links, please see our
privacy policy
for details
Cilantro and lime chicken is all about juicy, tender chicken breast marinated in a special sauce made with fresh cilantro, lime juice, dijon mustard and seasoning, then cooked to perfection.
This chicken dinner is a wonderful dish to prepare a day in advance, then pop in the oven for 30 minutes, and dinner is ready.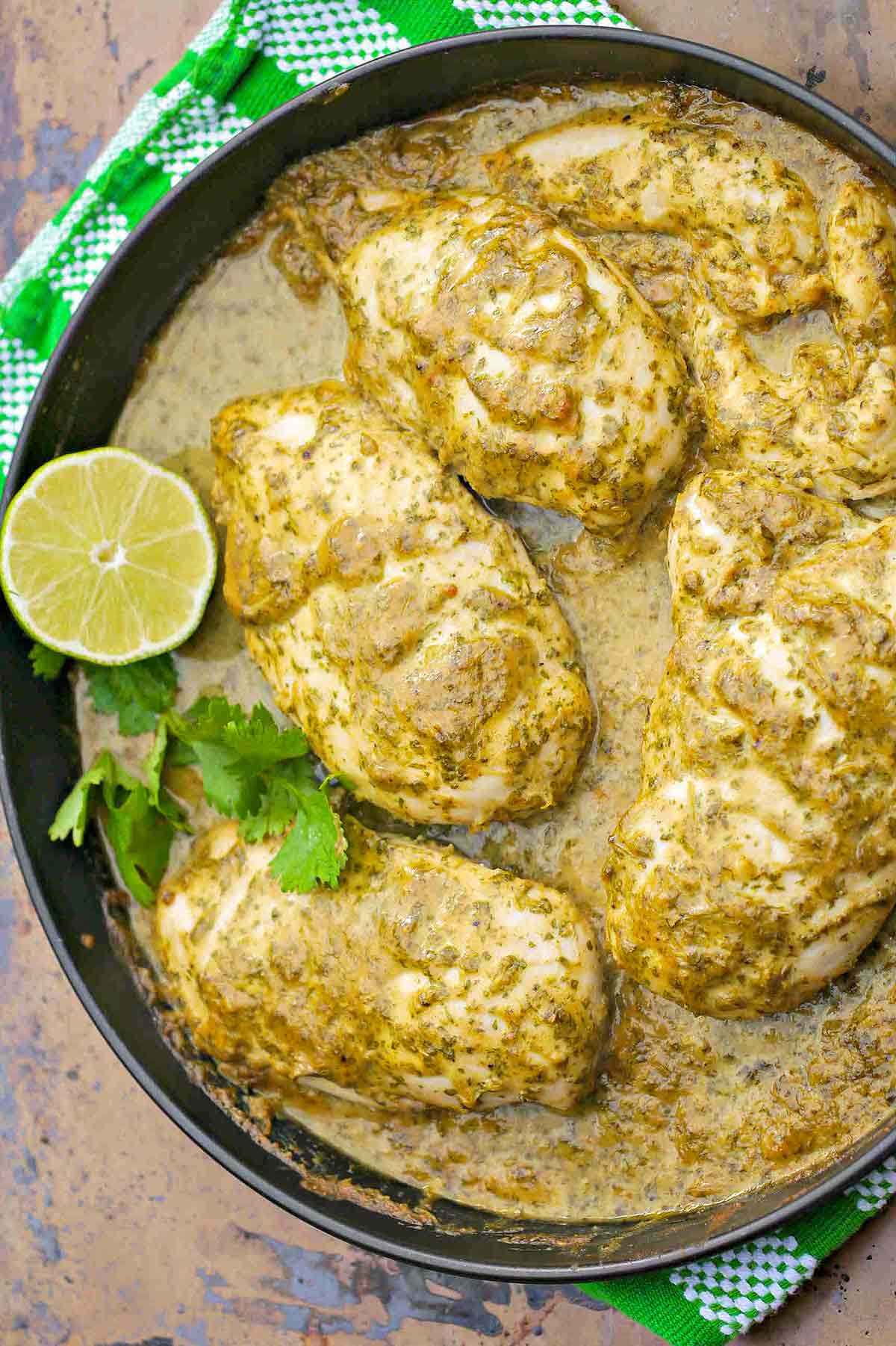 easy low-carb chicken dinner recipe
Are you looking for an easy low-carb chicken dinner recipe? This cilantro and lime chicken is both delicious and low-carb! This dish is made using only eight ingredients plus salt and pepper.
This chicken recipe is ideal for novice cooks, especially for busy weeknights, because you can prepare it a day in advance.
Cilantro and Lime Chicken Recipe Details
Making this cilantro and lime chicken is so easy it may become one of your weekly dinner recipes.
First, make the marinade. To do this, add everything except the chicken into a food processor. Pulse a few times to create a sauce. Done!
Next, place the chicken in a baking dish and pour the cilantro and lime sauce over the top. Cover the dish and refrigerate. The chicken should be marinated for at least two hours or overnight.
When ready, bake the chicken uncovered until cooked, about 30 minutes. Then spoon the sauce over the chicken just before serving. That is all there is to it!
Why marinating cilantro lime chicken is so important
Marinating the chicken is essential because it helps to tenderize the meat and infuse it with flavor. When chicken is cooked without being marinated, it can often be dry and bland, especially chicken breast.
Marinating the chicken before cooking allows the flavors of the marinade to penetrate the meat, resulting in a juicier, more flavorful chicken.
Can I use other cuts of chicken?
You can use any cut of chicken for this recipe, but we recommend using boneless, skinless chicken breasts or thighs.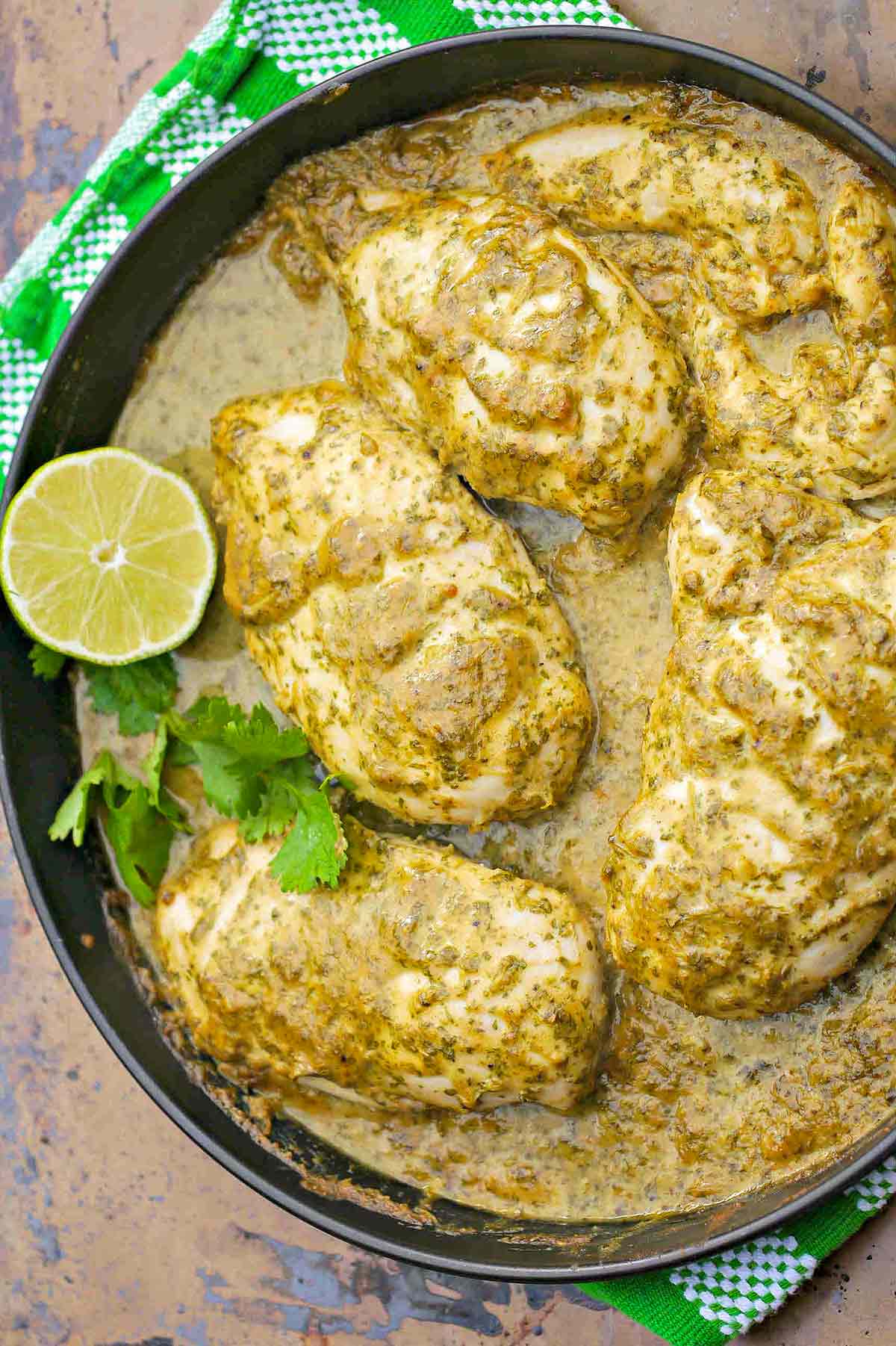 Serving
If you want to keep this chicken dinner low carb, serve it with fauxtatoes, zucchini noodles or roasted caulifllower.
Our favorite sides that go exceptionally well with cilantro lime chicken are:
Storing
If you have leftovers, store them in a closed container in the fridge for up to 3 days. The best way to reheat this chicken dish is in a saucepan over medium-low heat.
Cilantro Lime Chicken Recipe
Published on Jul 05, 2016
by
Kristina Stosek
Instructions
1.

Add all the ingredients except chicken into a food processor and pulse until almost smooth

2.

Place chicken breasts in a baking dish and pour the sauce over the chicken

3.

Cover and refrigerate for minimum of 2 hours or overnight

4.

Preheat oven to 375 F and bake for 30 minutes or until the chicken is fully cooked

5.

Spoon the sauce over the chicken just before serving. Serve with fresh cilantro and lime wedges