Cauliflower Steak with Cashew Sauce
Published on May 17, 2017
by
Kristina Stosek
Prep Time:

10 minutes
Cook Time:

20 minutes
Serves:

4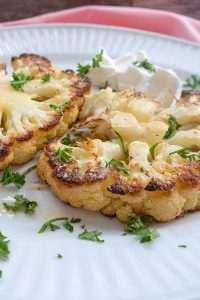 ​This post may contain affiliate links, please see our
privacy policy
for details
You must try this vegan cauliflower steak if you're looking for a hearty yet healthful, plant-based main dish! It's simply seasoned with salt and pepper and then roasted to perfection. The cashew sauce is creamy and flavorful without being overly heavy. Plus, it's all made in a blender, so cleanup is a breeze.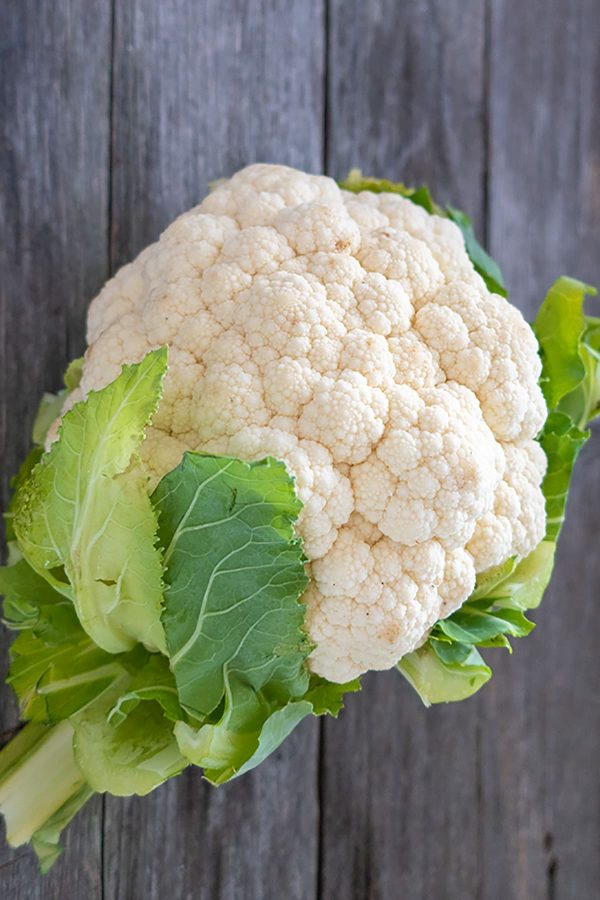 FAQs about cauliflower
What is cauliflower?
Cauliflower is a member of the cruciferous vegetable family, which also includes broccoli, Brussels sprouts, and kale. It's a white or cream-colored or even purple that grows in a tight head (or "curd") surrounded by green leaves. Though it's often considered a vegetable and used in savory recipes, cauliflower is a fruit.
What are the benefits of eating cauliflower?
Cauliflower is low in calories but high in nutrients, making it an excellent addition to any diet. It contains vitamins and minerals, including vitamin C, potassium, and folate. It's also a good source of fiber and antioxidants. These nutrients contribute to cauliflower's many health benefits, including improved digestion, reduced inflammation, and lowered risk of some chronic diseases.
How can I add cauliflower to my diet?
There are endless ways to enjoy this versatile veggie! You can eat it raw or cooked, roasted or steamed. You can even puree it into soups or smoothies.
In many recipes, you can also use cauliflower as a replacement for rice like our popular Low Carb Singapore Cauliflower Rice or faux potatoes. So get creative and experiment with different ways to enjoy this nutritious vegetable!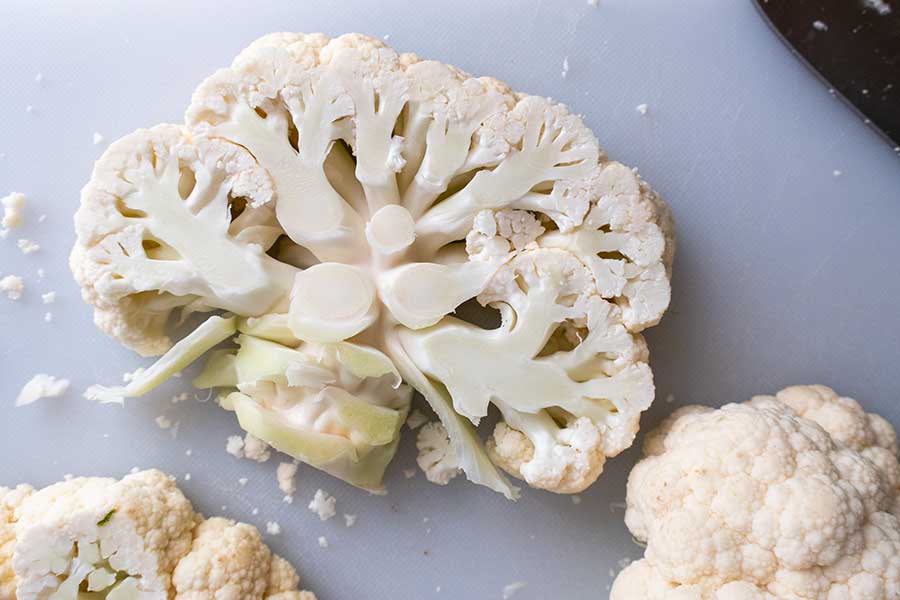 Best cauliflower to use for cauliflower steak recipe.
The best cauliflower to use is firm and fresh. Look for a white or off-white cauliflower with green leaves that are not wilted. Avoid any with brown spots or blemishes.
Vegan sauce for cauliflower steak
This cashew sauce recipe is one to try if you're looking for a delicious vegan sauce packed with protein to top your cauliflower steak.
It's rich and creamy, with a hint of tang from the lemon juice and flavored with cumin and garlic. And it's so easy to make! Just blend everything in a blender or food processor. Then pour it over your cooked cauliflower steak and enjoy.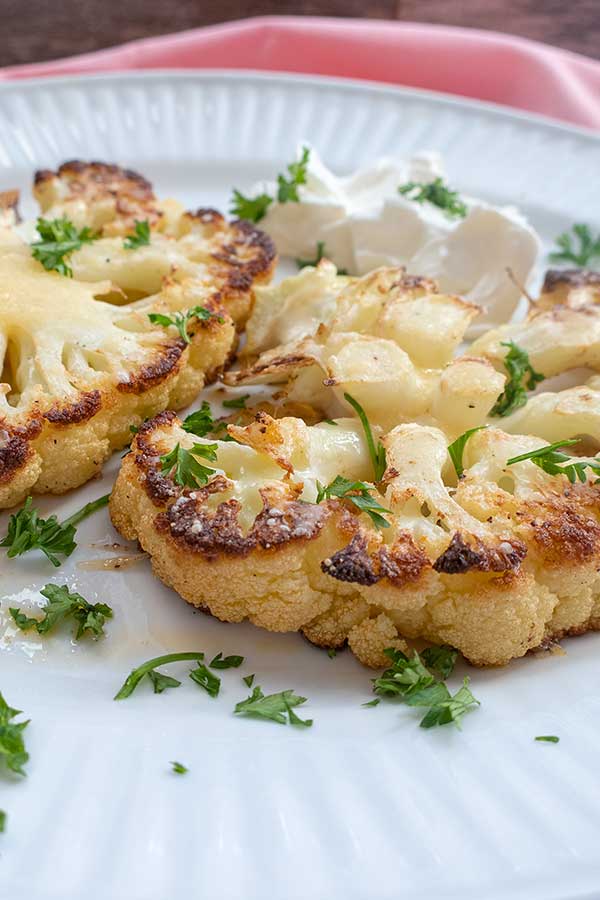 Sides to cauliflower steak
There are many delicious ways to make cauliflower steak into a meal. Here are a few of our favorites:
Homemade Gluten-Free Rice-A-Roni
Vegan Instant Pot Scalloped Potatoes
Salmon With Thai Coconut Cream Sauce
Why should we include cauliflower in our diet?
Cauliflower is an incredibly versatile and healthy vegetable. It is a low-calorie food that can help us reach or maintain a healthy weight.
It is nutrient-rich and naturally gluten free and will accommodate most diets.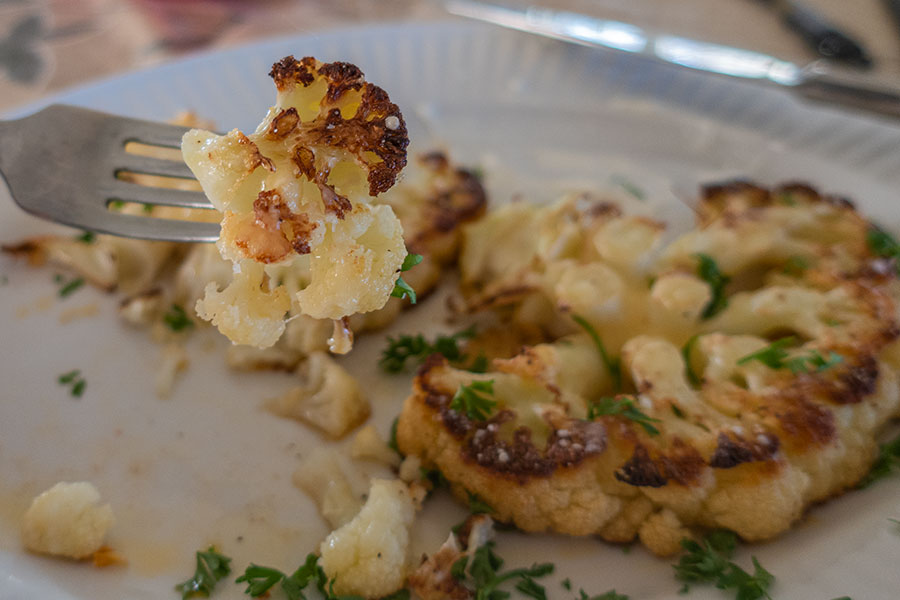 How to serve cauliflower steak?
When serving this vegan steak as a meal, it should be served hot with your favorite sides. However, you can also enjoy it at room temperature as a snack with your favorite dip.
storing cooked cauliflower
Regarding storing, there are a few things to keep in mind. First, make sure to let it cool completely before storing it. Cooling the cauliflower first will help to prevent any bacteria from growing on the surface of the steak.
Once cooled, you can wrap your steak in cling film, place it in an airtight container, and store it in the fridge for up to 3 days.
Can you freeze cauliflower steak?
Yes, simply wrap cooked and cooled steak in cling film or place it in an airtight freezer-safe container. When ready to eat, thaw the steak overnight in the fridge and reheat it on a baking sheet in an oven until warm.
What is a vegan diet?
Veganism is a way of living that seeks to minimize the exploitation of animals for food, clothing, or any other purpose. A vegan diet is plant-based and excludes all animal products, including honey, eggs, and dairy. Some vegans also avoid eating foods produced using animal products or by-products.
This vegan cauliflower recipe is a hearty plant-based dish and ideal for an easy, keto-friendly gluten free weeknight meal. Enjoy!
Cauliflower Steak with Cashew Sauce
Published on May 17, 2017
by
Kristina Stosek
Instructions
1.

Preheat oven to 425 F and line a rimmed baking sheet with parchment paper

2.

Remove the outer green leaves from the head of cauliflower and trim the stem if you wish. Place the cauliflower upright and cut into 1 1/2-inch thick steaks.

3.

Place cauliflower steaks on prepared baking sheet and brush each side with olive oil. Season with salt and pepper. Tightly cover the baking sheet with foil paper and bake for 5 minutes

4.

Remove the foil from the cauliflower and roast for 10 minutes. Carefully flip the cauliflower steaks and roast until golden brown, about 5 to 7 minutes.

5.

6.

While the cauliflower steak is roasting, soak the cashews in hot water for 15 minutes

7.

Drain the cashews and add to a blender. Add remaining ingredients and blend until smooth. Adjust seasoning if needed

8.

To serve, place steaks onto a serving plate and top with cashew sauce and fresh herbs if so desired
Leave a Comment
Kristina