Vegan Cauliflower Steak with Cashew Sauce
Prep Time
10 Minutes
Difficulty
Easy
Cook Time
20 Minutes
Serves
4
Average Rating: 5 | Rated By: 7 users
Most delicious vegan cauliflower steak with cashew sauce for an easy and healthy weeknight meal. When the cauliflower is roasted, this healthy vegetable turns into a lightly caramelized cauliflower steak. The wonderful creamy, slightly spicy cashew sauce compliments the cauliflower beautifully.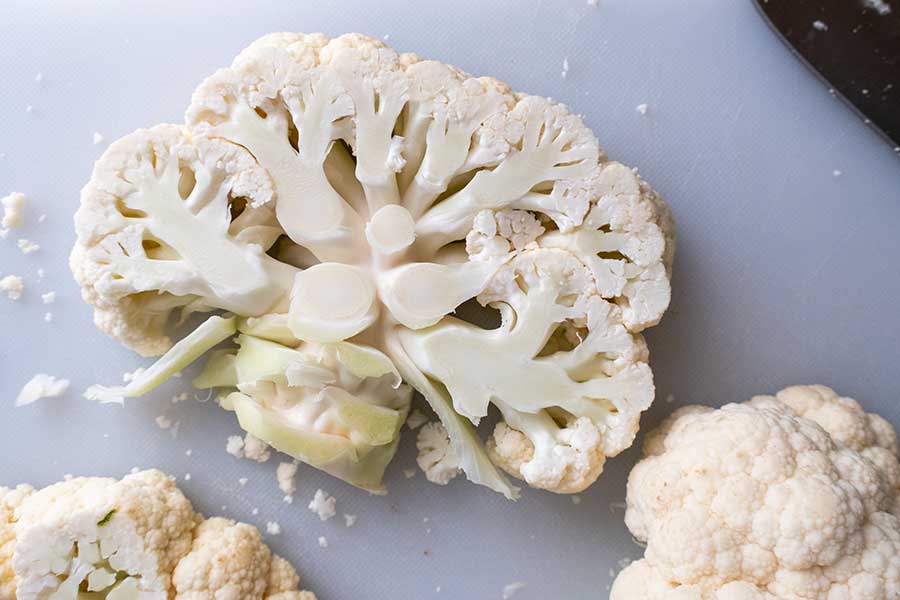 This vegan cauliflower recipe is a hearty gluten-free dish, and ideal when you are looking for an easy low-carb vegan dinner.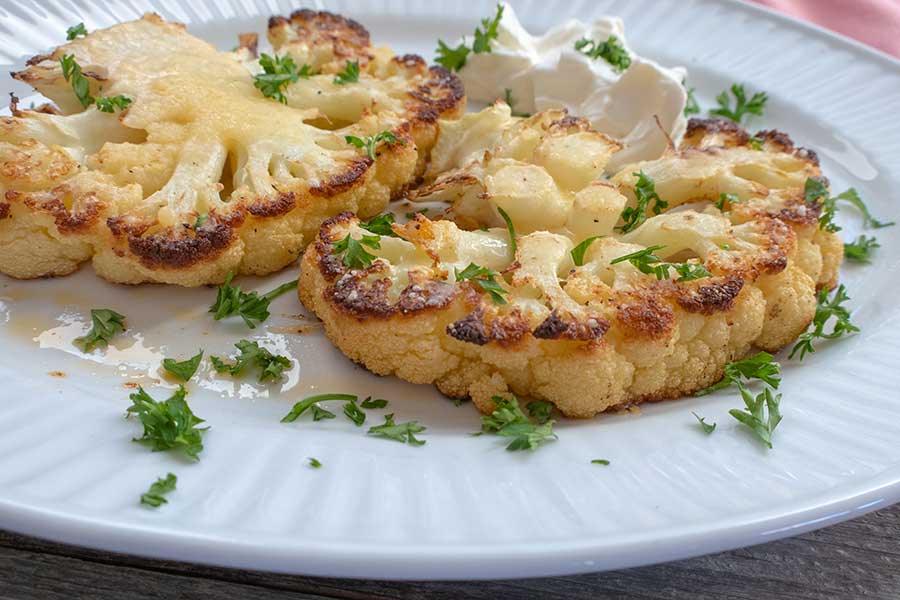 The protein-packed cashew sauce tastes just like creamy Parmesan garlic sauce. You will love it! This comforting, gluten-free vegan meal is healthy and super easy to make.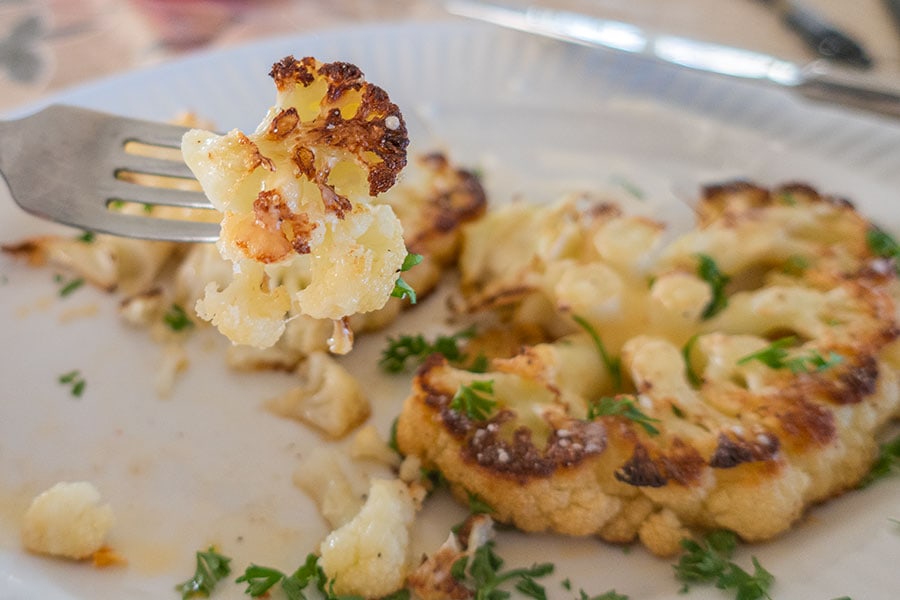 Ingredients
1 large solid cauliflower head (should make 4 x 1 1/2-inch wide steaks)
2 Tbsp. extra olive oil
Sea salt and freshly ground black pepper to taste
CASHEW SAUCE
½ cup raw unsalted cashews
3 Tbsp. extra virgin olive oil
1 Tbsp. fresh lemon juice
4 Tbsp. water
1 tsp. GF ground cumin
1 garlic clove, minced
Pinch of GF cayenne pepper (optional)
¼ tsp. sea salt
*As an Amazon Associate and member of other affiliate programs, I earn from qualifying purchases. Please check out my sponsorship and disclosure policy page for more details
Instructions
Preheat oven to 425 F and line a rimmed baking sheet with parchment paper
Remove the outer green leaves from the head of cauliflower and trim the stem if you wish. Place the cauliflower upright and cut into 1 1/2-inch thick steaks.
Place cauliflower steaks on prepared baking sheet and brush each side with olive oil. Season with salt and pepper. Tightly cover the baking sheet with foil paper and bake for 5 minutes
Remove the foil from the cauliflower and roast for 10 minutes. Carefully flip the cauliflower steaks and roast until golden brown, about 5 to 7 minutes.
FOR THE CASHEW SAUCE
While the cauliflower steak is roasting, soak the cashews in hot water for 15 minutes
Drain the cashews and add to a blender. Add remaining ingredients and blend until smooth. Adjust seasoning if needed
To serve, place steaks onto a serving plate and top with cashew sauce and fresh herbs if so desired
Similar Recipes
Baked Buffalo Cauliflower Tidbits – Gluten Free
Buffalo Cauliflower Tidbits coated in a light batter, baked and then tossed in spicy buffalo sauce. This gluten-free healthy cauliflower snack makes a tasty appetizer and is always a big hit at sports events. buffalo cauliflower tidbits made with only 7 ingredients… I love this vegan, gluten-free snack. There is no need for frying, no […] Read More
Prep Time
20 Minutes
Difficulty
Easy
Cook Time
35 Minutes
Serves
6
Gluten Free Cauliflower Quinoa Tidbits
Healthy Gluten Free Cauliflower Quinoa Tidbits… These melt in your mouth savoury morsels go especially well with Baked Spinach Ricotta Dip or a hot sauce. Just grab some cauliflower, cheddar cheese, quinoa, eggs, and some basic ingredients shape it into small balls and bake. If you are looking for a healthier snack, or a gluten […] Read More
Prep Time
15 Minutes
Difficulty
Easy
Cook Time
20 Minutes
Serves
16