Sweet Summer Quinoa Arugula Salad
Published on Jun 01, 2020
by
Kristina Stosek
Prep Time:

15 minutes
Cook Time:

15 minutes
Serves:

6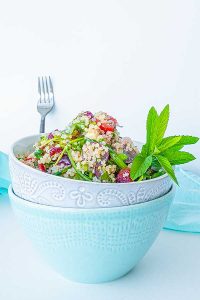 ​This post may contain affiliate links, please see our
privacy policy
for details
Sweet Summer Quinoa Arugula Salad ideal for summer barbecues or potlucks. The mildly sweetened rainbow quinoa salad is made with apples, grapes, cranberries, green onions, and various fresh herbs all tossed with baby arugula.
The dressing is simple → olive oil, fresh lemon juice, maple syrup and black pepper, as not to overpower the fresh flavours of fruit and herbs. This quinoa arugula salad screams summer!
Shades of quinoa.
Quinoa is a tiny seed, or some call it a grain often used in vegetarian cuisine. Quinoa comes in four different shades; from ivory, pale yellow, red and black. However, there are over 120 different varieties of quinoa, but only a few are grown commercially.
Is quinoa healthy?
First, the colour of quinoa is a good indicator of flavour. The lighter the colour, the milder the flavour. If you are looking for more of a nuttier flavour and chewier texture, choose red or black quinoa. This naturally gluten-free seed is packed with complete protein providing your body with all essential amino acids.
This is why this seed is an excellent choice for someone following a plant-based diet. Half a cup of cooked quinoa has 3 grams of protein and 2 grams of fiber making quinoa an excellent addition to salads, vegan meals and to gluten-free baking.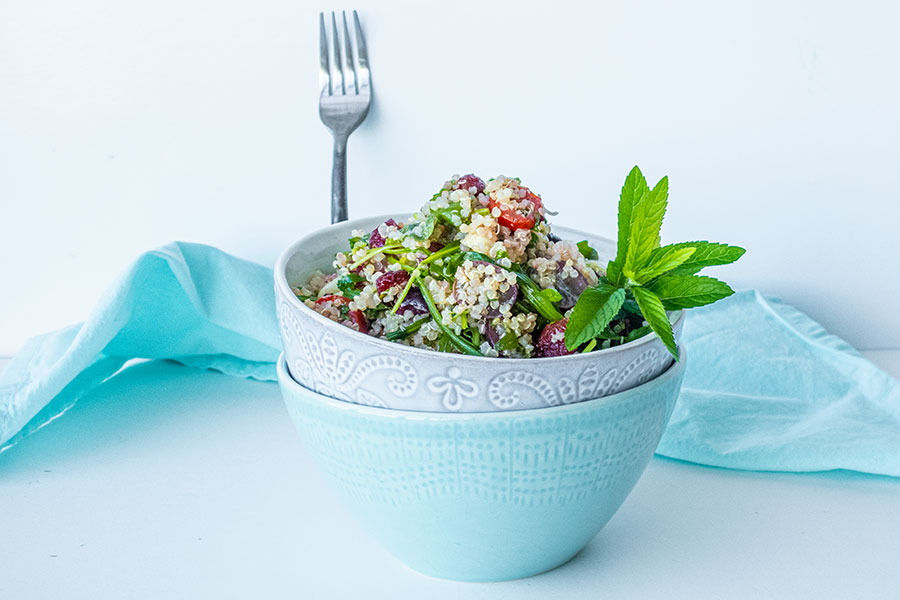 How to cook quinoa?
Have you ever eaten quinoa, and it was so bitter you have decided not ever to eat it again? Let me explain why the quinoa may taste bitter and how to remove the bitterness. The outer coating of quinoa is called saponin, and this is what makes the quinoa taste bitter. To remove the saponin, you must rinse quinoa thoroughly. I find using a fine mesh wire strainer under cold running water works best.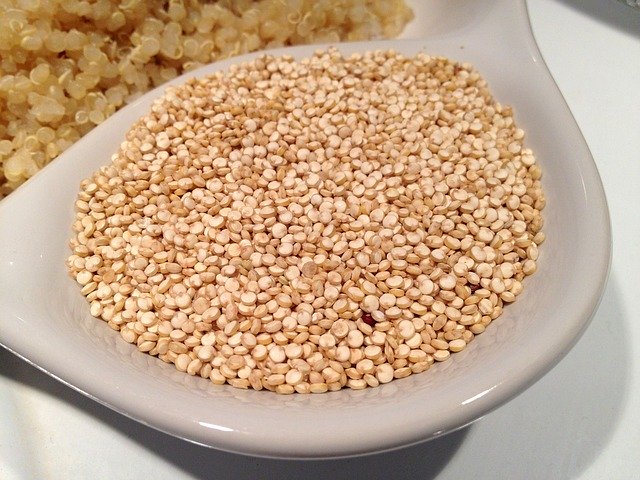 To cook quinoa, you will need a saucepan that is large enough so as not to overcrowd the quinoa, or it will be soggy. The quinoa can be cooked just in water or in various broths with herbs and spices.
Typically quinoa takes about 15 minutes to cook. Once cooked, fluff it with a fork and remove from the heat, keeping it covered for 10 minutes. This tiny seed is cooked when the grains are translucent, and all the liquid is absorbed.
The ratio of quinoa to liquid is usually 1 cup of dry quinoa and 2 cups of liquid. In salads, I use 1 cup of dry quinoa and 1 2/3 cups of liquid. I find chewier quinoa texture is better in salads. 1 cup of dry quinoa makes about 3 – 3 1/2 cups of cooked quinoa.
Why does some quinoa need to be cooked longer?
You will find that some packages have 8 – 10 minutes of cooking time, others, 15 – 20 minutes. The reason for this is, if the packaging states the lesser cooking time, it has been mechanically processed, removing more than just the outer layer called saponin. By doing this, some of the nutrients have been destroyed.
If you are looking for healthy, delicious quinoa recipes, you have come to the right place. We have recipes for salads, bread, muffins, healthy bars, desserts and more using quinoa. Enjoy!
Sweet Summer Quinoa Arugula Salad
Published on Jun 01, 2020
by
Kristina Stosek
Instructions
1.

2.

Place rinsed quinoa in a saucepan and add water, cinnamon and salt. Bring to a boil, cover and reduce heat to medium-low. Cook for 15 minutes. Fluff with a fork, remove from heat and let stand covered for 10 minutes. Cool

3.

For the dressing, in a large bowl whisk together olive oil, lemon juice, maple syrup and black pepper

4.

To the dressing, add the cooled quinoa, apples, grapes, cranberries, green onions, parsley, cilantro and mint. Gently stir to combine. Refrigerate for 2 hours or overnight

5.

To serve, gently toss with fresh arugula