Instant Pot Vegan Scalloped Potatoes
Prep Time
15 Minutes
Difficulty
Easy
Cook Time
25 Minutes
Serves
6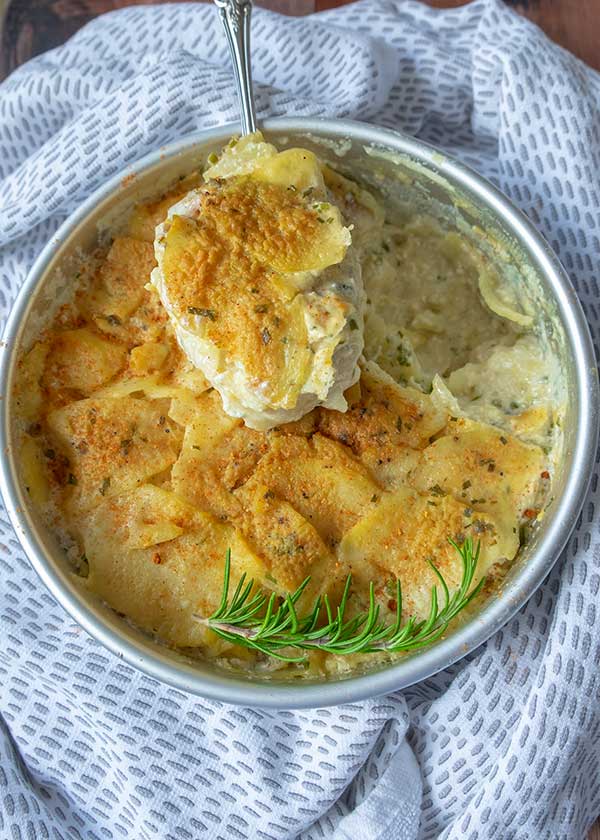 Average Rating: 4.5 | Rated By: 8 users
This is the best Instant Pot Vegan Scalloped Potatoes recipe…EVER! Extra creamy, cheesy, dairy-free, soy-free, gluten-free and so much healthier than traditional scalloped potatoes. But most importantly they are perfectly cooked and oh so delicious!
What's especially great about this recipe, besides the perfect balance of creamy sauce, herbs and tender potatoes is, you don't have to pre-cook the sauce, and you don't need an oven…YEY! The entire dish cooks in only 25 minutes. This recipe takes vegan scalloped potatoes to a whole new level 🙂 Enjoy! Check out our selection of gluten-free Instant Pot recipes here->
Ingredients
3 lb. russet potatoes
2 cups non-dairy milk
1 cup vegetable broth
3 garlic cloves, minced
2 Tbsp. Chopped fresh chives or thinly sliced green onions
1 Tbsp + 1 tsp. Arrowroot flour
2 tsp. Himalayan salt
1 tsp. Chopped fresh rosemary
1/2 tsp. GF ground black pepper
1/4 tsp. GF ground nutmeg
3 Tbsp. Vegan butter, (I used earth balance)
Instructions
Peel and thinly slice the potatoes. I used a food processor to do this, but you can use a mandolin or a sharp knife. Place potatoes in cold water and set aside for 5 minutes. Rinse and drain well. This removes a lot of the starch and keeps the potatoes from browning
Meanwhile, whisk together non-dairy milk, vegetable broth, garlic, chives, arrowroot flour, salt, rosemary black pepper and nutmeg
Layer half the potatoes in the pan, followed by half the liquid and sprinkle with 2 tablespoons of nutritional yeast. Repeat in the same order with the balance of ingredients, then using a small spoon drop chunks of vegan butter evenly over top
Pour 1 1/2 cups of water into the liner of your pressure cooker and place a trivet in the liner.
Cut out a strip of parchment paper about 20-inch long by 6-inch wide, and place under the pan. Or make a foil sling. Take a 24 inch length of foil and fold it over 3 times the long way. You will have a sling that is 3″x24″. Using the sides of the paper carefully lower the pan on the trivet. If your instant pot is large enough, you can omit the paper and use trivet handles instead
Close the lid and cook on high pressure for 25 minutes, followed by a quick release of the pressure. Carefully pull the pan out using the sling or trivet handles. Rest the potatoes for 10 minutes before serving. Sprinkle with fresh herbs or paprika if you wish. Enjoy!

Similar Recipes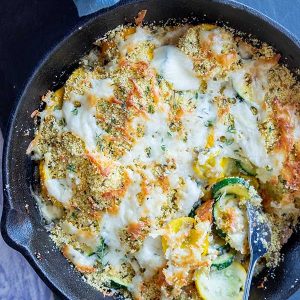 Gluten-Free Zucchini Gratin Recipe
Ditch the scalloped potatoes and bring on the gluten-free zucchini gratin. This tasty side dish makes a perfect addition to barbecues. The zucchini is seasoned with fresh basil and a hint of nutmeg baked in a light cheesy sauce and crispy topping. Even if you are not a fan of vegetables, you will love this […] Read More
Prep Time
15 Minutes
Difficulty
Easy
Cook Time
30 Minutes
Serves
4 - 6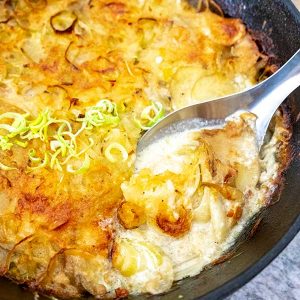 Cheesy Leek Potato Gratin
A gratin is a dish that is loved by even the pickiest eaters. The slowly baked dish with potatoes, fresh leeks and a hint of garlic smothered in a Gruyere cheese sauce with a crispy topping is heavenly. This French gluten-free dish is easy to prepare and always a favourite for dinner parties Read More
Prep Time
15 Minutes
Difficulty
Easy
Cook Time
90 Minutes
Serves
6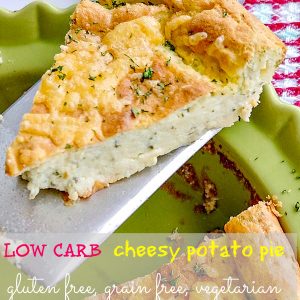 Low Carb Cheesy Potato Pie
Looking for life changing potatoes? You will love this easy cheesy potato pie recipe that has only 23 carbs per serving. This savoury pie is gluten free, grain free, vegetarian and deliciously flavoured with two types of cheeses. Whether entertaining or having a family dinner, this pie will always be a hit. Potatoes are considered […] Read More
Prep Time
15 Minutes
Difficulty
Easy
Cook Time
85 Minutes
Serves
6