Instant Pot Scalloped Potatoes – Vegan
Published on Jul 20, 2019
by
Kristina Stosek
Prep Time:

15 minutes
Cook Time:

25 minutes
Serves:

6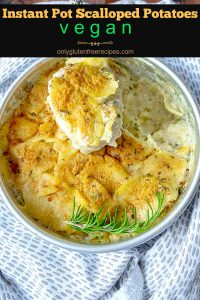 ​This post may contain affiliate links, please see our
privacy policy
for details
The very best Instant Pot Vegan Scalloped Potatoes recipe…EVER! Extra creamy, dairy-free, soy-free, gluten-free, and so much healthier than traditional scalloped potatoes. But most importantly, they are perfectly cooked and oh so delicious!
What are scalloped potatoes?
Scalloped potatoes are layers of thinly sliced potatoes baked with heavy cream, infused with garlic and herbs. Not to be confused with potatoes au gratin, which has cheese between the layers and often bread crumbs on top.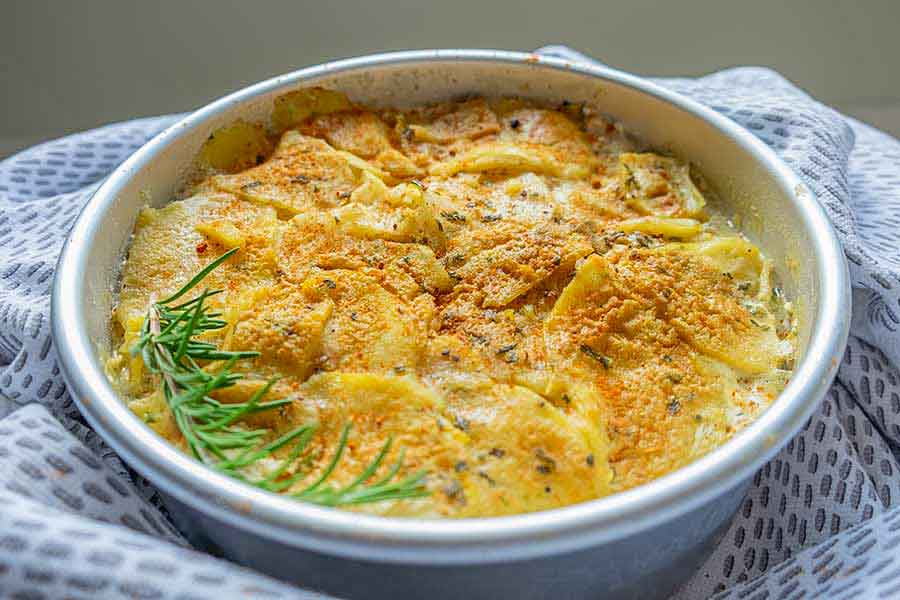 What's especially great about this potato recipe, besides the perfect balance of creamy sauce, herbs, and tender potatoes, is you don't have to pre-cook the sauce, and you don't need an oven…YEY!
This easy scalloped potato recipe takes 25 minutes to cook using the instant pot. This recipe is vegan and at a whole new level of deliciousness.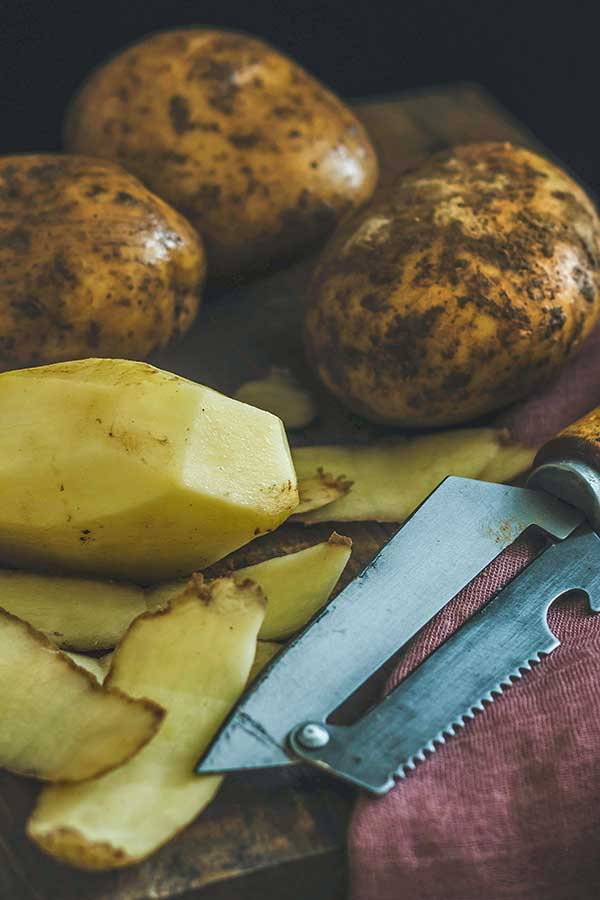 There are two important things to know for achieving the best results when making instant pot scalloped potatoes!
You must use Russet potatoes. The reason is, they have the most starch and make the creamiest sauce. Some of us shy away from potatoes because of the carbs. However, potatoes are rich in dietary fiber, vitamin C and potassium. Therefore potatoes are considered a healthy carb.
For best results, the potatoes have to be sliced super thin. The easiest way to do this is by using a food processor or a mandolin. Otherwise, you will end up with a thin milky sauce. They will still taste delicious but not as creamy as they could be.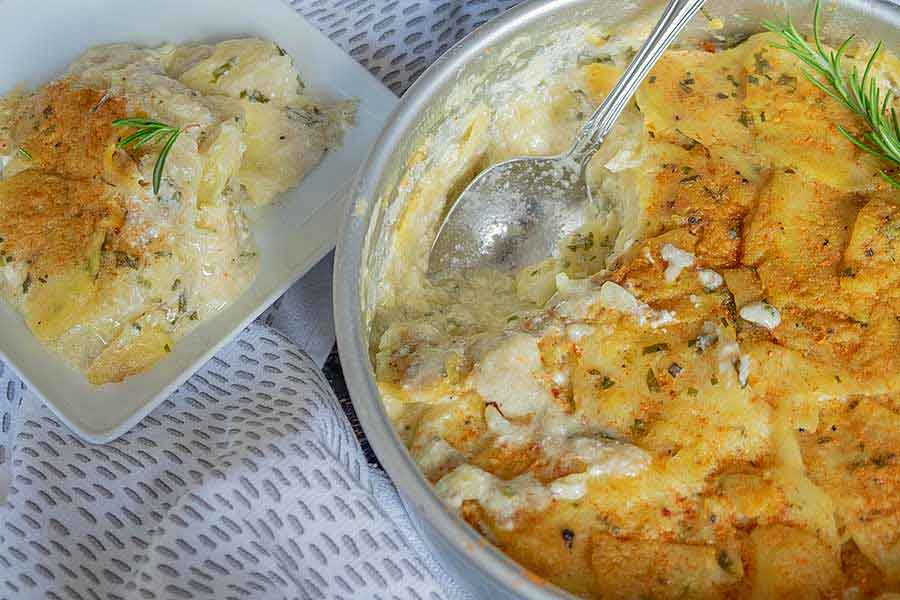 As the scalloped potatoes rest, the sauce thickens. And, they are even better the next day. I have served them for breakfast with a poached egg over the top. Or for brunch with ham or sausages and a light salad. There are many ways you can serve scalloped potatoes. Enjoy!
Need more instant pot recipes? Check out our gluten-free Instant Pot recipes, you may find something you will love ♥
Instant Pot Scalloped Potatoes – Vegan
Published on Jul 20, 2019
by
Kristina Stosek
Instructions
1.

Peel and thinly slice the potatoes. I used a food processor to do this, but you can use a mandolin or a sharp knife. Place potatoes in cold water and set aside for 5 minutes. Rinse and drain well. This keeps the potatoes from browning

2.

Meanwhile, whisk together milk, vegetable broth, garlic, chives, arrowroot flour, salt, rosemary, black pepper and nutmeg

3.

4.

Layer half the potatoes in the pan, followed by half the liquid and sprinkle with 2 tablespoons of nutritional yeast. Repeat in the same order with the remaining ingredients. Then, using a small spoon drop chunks of vegan butter evenly over top. (note; you may have to whisk the milk mixture just before you are ready to use it)

5.

Pour 1 1/2 cups of water into the liner of your pressure cooker and place a trivet in the liner.

6.

Cut out a strip of parchment paper about 20-inch long by 6-inch wide, and place under the pan. Or make a foil sling. Take a 24 inch length of foil and fold it over in length 3 times . You will have a sling that is 3″x24″. Using the sides of the paper carefully lower the pan on the trivet. If your instant pot is large enough, you can omit the paper and use trivet handles instead

7.

Close the lid and cook on high pressure for 25 minutes, followed by a quick release of the pressure. Carefully pull the pan out using the sling or trivet handles. Rest the potatoes for 10 minutes before serving. Sprinkle with fresh herbs or paprika if you wish. Enjoy!

Leave a Comment
Anyone have any input on what type of dairy free milk works best.
Kristina
thank you Bob, this is one of those recipe that you have to follow the instructions exactly, especially the slicing of the potatoes
I have made this recipe three times now, the potatoes turned out perfect every time. Thank you for this recipe!
Kristina
Thank you, yes, the potatoes have to be sliced thinly in order for the recipe to work. I am so happy to hear that you enjoyed them.
I made this recipe twice now. The first time the sauce wasn't very thick but the flavour was delicious and everyone enjoyed them. Unfortunately, I didn't slice the potatoes thinly hoping that wouldn't change the outcome...but it did. The second time I followed the recipe exactly and the potatoes turned out amazing. Thank you for sharing this easy and most delicious recipe!
Kristina
I am sorry to hear that. Did you use russet potatoes? It is important that they are super thinly sliced, the starch from the potatoes combined with arrowroot powder should thicken the sauce. I have made them many times and the sauce was always nice and thick. Again, I am sorry the sauce didn't thicken, the only thing that I can think of is the potatoes weren't starchy enough, sorry
I made this for dinner tonight and the milk/broth mixture didn't thicken at all even after sitting for 15 mins before dishing it out/ :-( Overall it had a nice flavour though.