One-Pot Creamy Potato and Cauliflower Soup
Published on Oct 06, 2020
by
Kristina Stosek
Prep Time:

15 minutes
Cook Time:

15 minutes
Serves:

4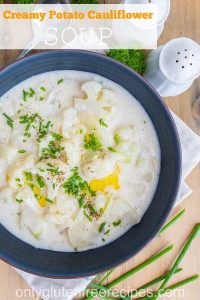 ​This post may contain affiliate links, please see our
privacy policy
for details
As we move into cooler days, comforting Creamy Potato and Cauliflower Soup is just what is needed. Nothing is better than a creamy hot bowl or a mug of soup to come home to. This potato and cauliflower soup is simply made using basic ingredients such as onions, garlic, potatoes, and cauliflower.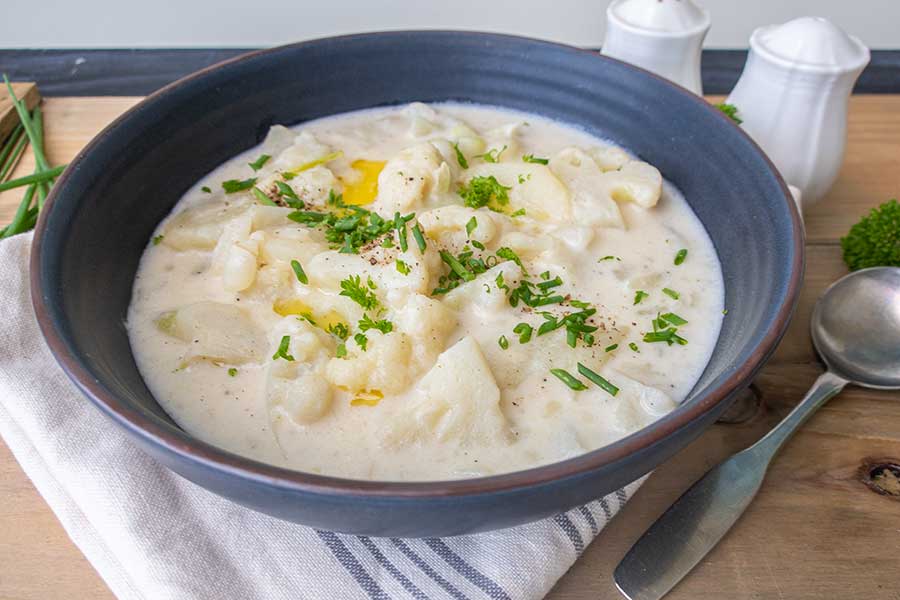 I used chicken broth for the soup base, or you can use our homemade gluten free vegetable broth or our 4-ingredient homemade mushroom broth. I kept the seasoning light, using only a bay leaf and salt and pepper.
The cauliflower adds a delicate flavour to the soup, which I did not want to overpower with spices. I also used cream and sour cream, giving the potato and cauliflower soup rich and creamy flavour and texture.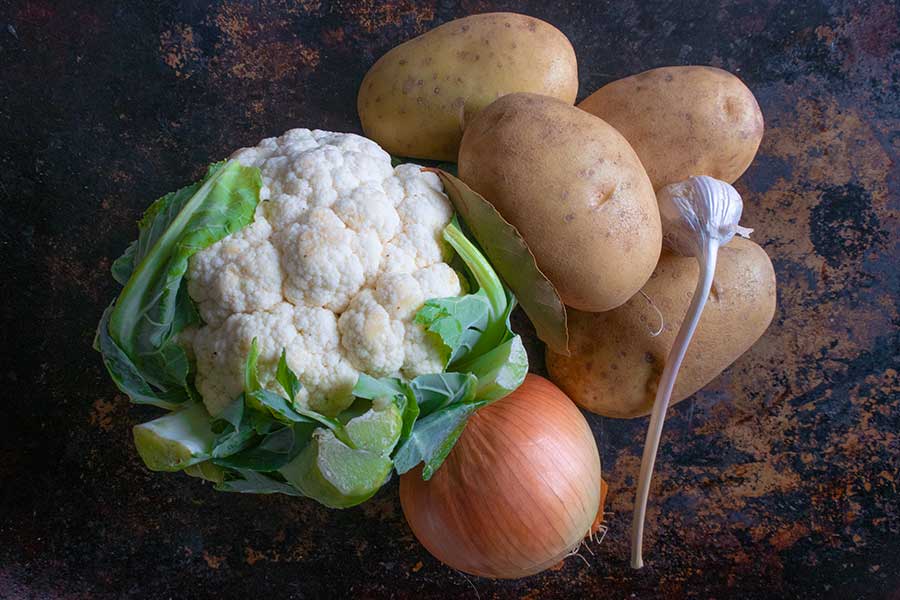 One-Pot Creamy Potato and Cauliflower Soup Recipe Detaills
One of the things that I love about this Creamy Potato and Cauliflower Soup is the simplicity and it is naturally gluten-free. You will only need one pot, fifteen minutes hands-on and fifteen minutes cooking time. The total time is 30 minutes from start to finish.
The recipe starts like many classic soup recipes. Sauté the onions, add garlic and bay leaf. Now add the stock, I used gluten-free chicken stock, but you can also use vegetable or mushroom stock.
next step,
Add the potatoes and cauliflower. The veggies cook very quickly because of their size. The potatoes are cut into 1/4-inch thick rounds, and the cauliflower is roughly chopped.
Once the potatoes are tender, add remaining ingredients and cook until the Cream of Potato and Cauliflower Soup start to thicken. Don't worry about the cauliflower. The cauliflower can be al dente and do not boil the soup after you add the cream. Done…nothing to it!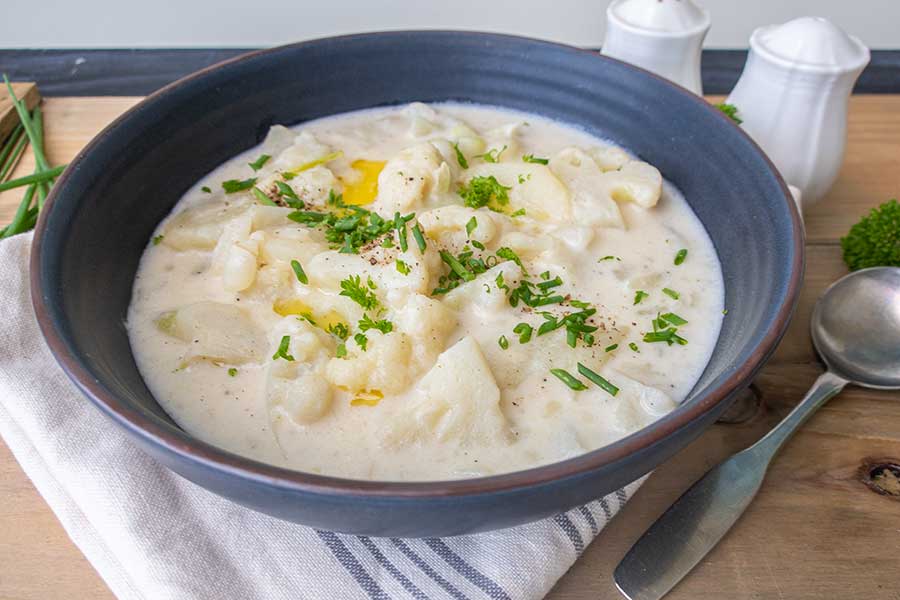 How to clean cauliflower?
The salt water method;
First, rinse the cauliflower. Then, remove the outer layer of leaves, and cut off the hard part of the stalk. Cut into florets and immerse them in a bowl of warm salted water. Add about 2 Tbsp. of salt per quart. The florets will float, so add a plate on top of the florets to keep them submerged.
Leave the cauliflower in the water for ten minutes. If there are any bugs or worms, the salty water will kill them, and you will be able to rinse them off. After ten minutes, place the cauliflower in a colander and rinse.
The vinegar method;
Follow the same steps as the salt water method until you cut the cauliflower into florets. Then immerse the cauliflower in a solution of 1 part vinegar 3 parts water for 1 minute. Rinse using a colander.
If, after soaking, there is soil still clinging to the cauliflower, gently scrub the cauliflower with a brush and rinse well. When using the cauliflower for stir-frying, baking or deep-frying, first dry the cauliflower with paper towels.
By soaking the conventionally grown cauliflower in salt or vinegar solution and then rinsing it with cold water, you will remove most pesticide residue.
You may have tried my recipes for Cheesy Cauliflower Soup and the Cauliflower Sage and Asiago Soup, both of which became our reader's favourite soups.
Now that we are officially into the fall, I wanted to add another hearty and comforting soup, such as this Creamy Potato and Cauliflower Soup. This is the type of soup you just can't stop eating…literally.
To make this soup into a meal, I would add a freshly baked Healthy Gluten-Free Flax Bread or the Gluten-Free Butter Rolls. It's time to snuggle up on a couch with a cozy blanket and a good book, or… watch a good movie, don't you think? Enjoy!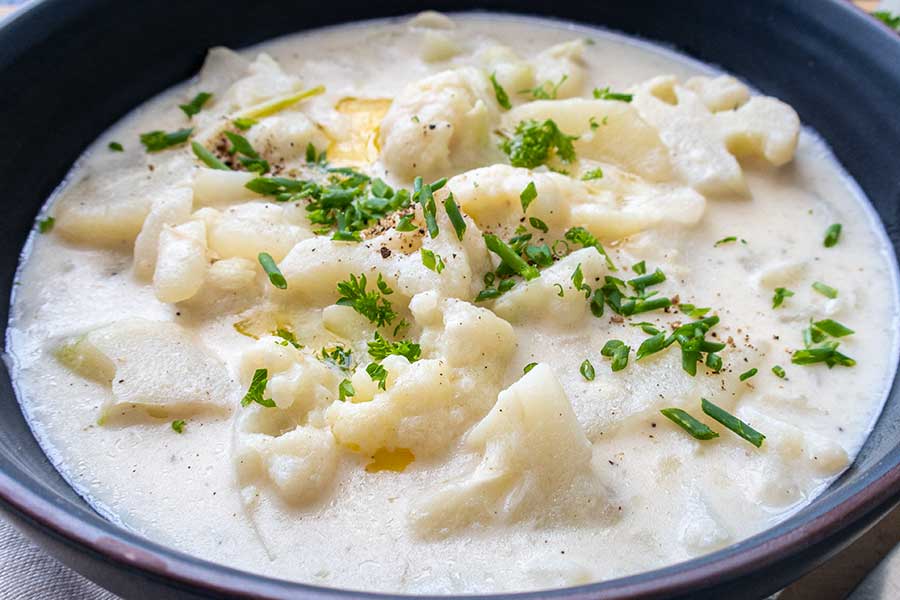 Let's Connect!
Be sure to FOLLOW US on FACEBOOK and PINTEREST. And don't forget to sign up for our newsletter. We always have something new and exciting for you!
Many thanks!
Kristina xx
One-Pot Creamy Potato and Cauliflower Soup
Published on Oct 06, 2020
by
Kristina Stosek
Instructions
1.

Sauté onions in butter/olive oil until they begin to soften, about 4 - 5 minutes. Stir in garlic and bay leaf until fragrant, about 30 seconds

2.

Add the stock, potatoes, cauliflower and generously season with salt and pepper. Bring to a boil, cover and reduce to medium heat. Cook for 8 - 10 minutes until the potatoes are tender but not falling apart. Discard the bay leaf

3.

Whisk together cream, sour cream and arrowroot/tapioca and stir it into the soup. Cook over medium heat until the soup starts to thicken. Stirring as needed, do not boil the soup

4.

Add desired toppings and enjoy!
Leave a Comment
Kristina
I just made this soup, it was delicious. I also added a cup of sliced mushrooms, thank you, I love ❤️ all your recipes.