Easy Gluten-Free Butter Rolls
Published on Apr 26, 2020
by
Kristina Stosek
Prep Time:

10 minutes
Cook Time:

20 minutes
Serves:

12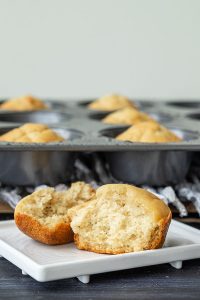 ​This post may contain affiliate links, please see our
privacy policy
for details
Gluten Free Butter Rolls – buttery, easy, yeast-free and made in 30 minutes. A delicious roll perfect for serving alongside a bowl of soup or stew. But, my favourite way of serving the butter rolls is for brunch. Add a poached egg, cream cheese or your favourite marmalade. YUM!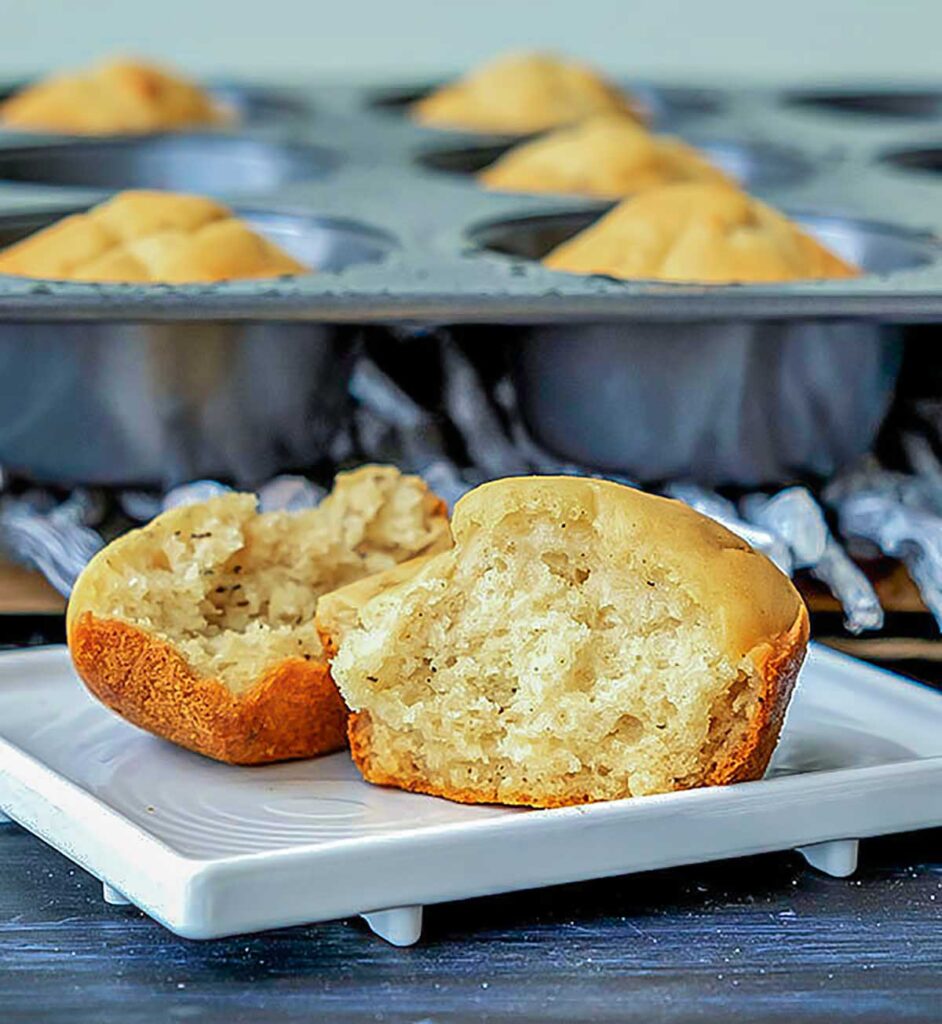 Who doesn't love soft buttery rolls? This recipe is probably the easiest yeast-free, gluten-free roll recipe you will find. To prepare the dough, first mix dry ingredients, and then add the wet ingredients. Combine until smooth and bake in a muffin pan – simple!
What are butter rolls?
The rolls are smaller and are made with butter, making them pillowy and tender. In these gluten-free butter rolls, there is no added yeast, making this a quick bread recipe.
I love making quick bread dough because you don't have to wait for the dough to rise. So a great recipe when you are short on time.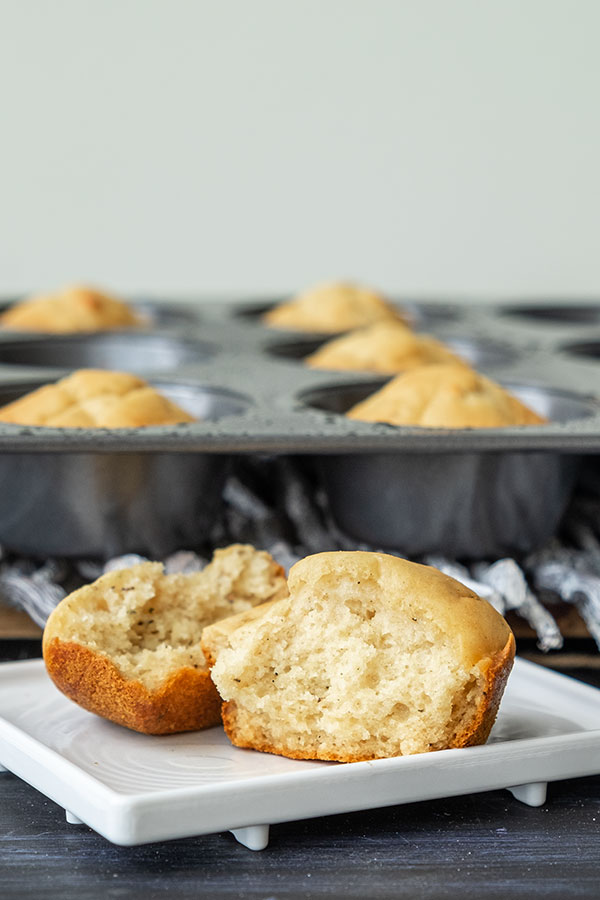 How to make easy gluten free butter rolls
When I decided to create a recipe for gluten-free butter rolls, I wanted them to be soft, without yeast and with a good dose of butter flavour. I thought it would be super easy to create the recipe, but I must confess it took me many many tries before they rolls came out perfect.
To keep the texture of the rolls soft and moist, I had to add something else besides butter. It was the addition of sour cream that made these rolls perfect.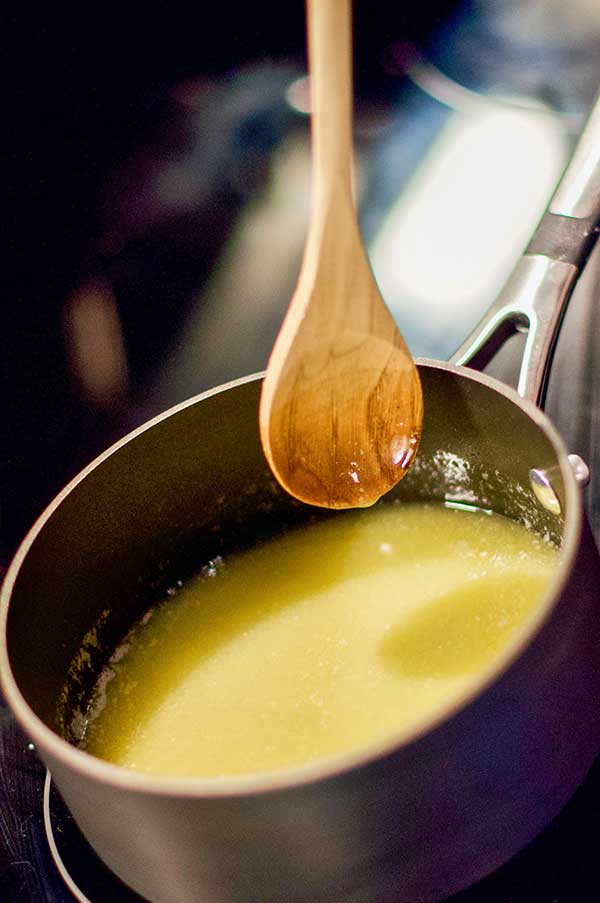 best gluten-free flour blend for butter rolls
To keep the recipe simple, I used a gluten-free flour blend. First, not all gluten free flour blends are created equal. I tried five different blends, and only two gave me the results with the perfect tender crumb. The two flours were better batter and cup4cup flour.
The other three blends worked but didn't give me the tender crumb a roll should have. One recommendation, never use a flour blend that includes bean flour. This blend did not work at all. Instead, it made the gluten free butter rolls dense and heavy.
How to measure flour without a scale
For measuring the flour, ALWAYS use a scoop to fill the measuring cup. Never dip the measuring cup into the flour. By dipping the measuring cup into the flour, you will end up with more flour than the recipe calls for, making the rolls dry.
For the yeast-free dough, do not overwork it, or the rolls will become heavy. And finally, you must bake it immediately.
In summary:
The right flour blend
Use a scoop to fill the measuring cup
Do not overwork the dough
Bake as soon as the dough comes together
If you have extra time for a soft roll recipe that uses yeast, you must try the gluten-free pull-apart soft rolls. It is our most popular gluten free soft roll recipe that uses east.
Let's Connect!
Be sure to FOLLOW US on FACEBOOK and PINTEREST. And don't forget to sign up for our newsletter, the form is at the bottom of this page. We always have something new and exciting for you!
Many thanks!
Kristina xx
Easy Gluten-Free Butter Rolls
Published on Apr 26, 2020
by
Kristina Stosek
Instructions
1.

Preheat oven to 400 F and spray a muffin pan with cooking oil

2.

Combine flour, baking powder, baking soda and salt

3.

Add in sour cream, butter, milk, egg and sweetener and mix briefly until combined. (if you are using granulated sugar mix it with dry ingredients)

4.

Spoon batter evenly into muffin pan. I used a large cookie scoop, it makes it easier to fill the muffin cups

5.

Bake for 18 - 20 minutes, until golden. Store at room temperature.
Leave a Comment
Kristina
Excellent, I am so happy you enjoyed the rolls. They are my go to whenever I need rolls in a hurry.
These were perfect! I made them for Thanksgiving since my daughter is allergic to wheat. The texture was soft and the flavor was great. I'm so happy I found this recipe. Everyone loved these, and they will be a repeat for us!
Kristina these gf butter rolls are the best I've tried in 30 plus years. They are moist and delicious. I used a jumbo muffin pan and are pleased with the results. Thank you so much for creating this recipe.
Kristina
Hi Kristina - Thank you so much for your hard work in creating this recipe. I cannot wait to bake this today. Butter rolls are the best especially it's gluten free and no yeast. Raquel
These are wonderful! They are easy to make and don't have the slightly off taste that some other gluten-free rolls can have. I used Bob's Egg Replacer due to an egg allergy, and it doesn't seem to have harmed the bake. Thanks for an option that is so much easier than the yeast rolls.
Kristina
I am so happy to hear that the butter rolls were a big hit Cindy, thank you for sharing
These rolls are awesome!!! I made them for my family for a pitch in dinner and everybody loved them especially my finicky granddaughter. Thank you SO much!!!
Kristina
Lorelai, to answer your question I don't know since I have not made it into a butter cake. These are rolls, so probably you could make it into a butter bread using a bread pan. If you do try it, please let us know how the recipe turned out.
This might be a really silly question, but could I bake this in an 8x8 pan and possibly bake it as a butter cake? haha
Kristina
I am so happy to her that Cindy, thank you for sharing.
These were awesome!!! They're so tender and delicious! I will make these time and time again! No one would ever know they are gluten free unless you told them. Thank you so much!!!:o)
Kristina
That's great to hear Janet, thank you!
easy recipe, the texture was what I wanted. Thank you, I love all your recipes!!
Kristina
Thank you Janet, I am so glad you enjoyed them!
These were delicious and so easy to make. Luckily, I had everything on hand to make them. They don't even need butter to top them because they are so flavorful.
Kristina
I am happy to hear that you enjoyed them, thank you!
These are so good!! Tried not to over-mix. They were like a cross between a dinner roll and I muffin.