Salmon With Thai Coconut Cream Sauce
Published on Jan 23, 2020
by
Kristina Stosek
Prep Time:

15 minutes
Cook Time:

15 minutes
Serves:

4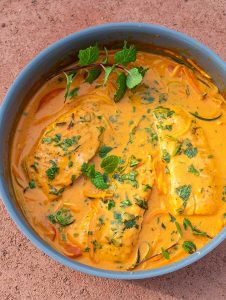 ​This post may contain affiliate links, please see our
privacy policy
for details
Looking for something fancy and delicious, try this Salmon With Thai Coconut Cream Sauce – a healthy fish dinner made under 30 minutes. This one-skillet salmon dish is made with Thai spices, onions, garlic, ginger, julienned bell peppers, carrots, zucchini and coconut milk.
To finish this most flavourful creamy sauce, add some fresh lime juice and fresh herbs such as cilantro, Thai basil and or fresh mint.
You can use just one of these herbs or all three, which is what I did. I always have fresh herbs growing in my kitchen or garden, so I like to add as many as I can to my recipes.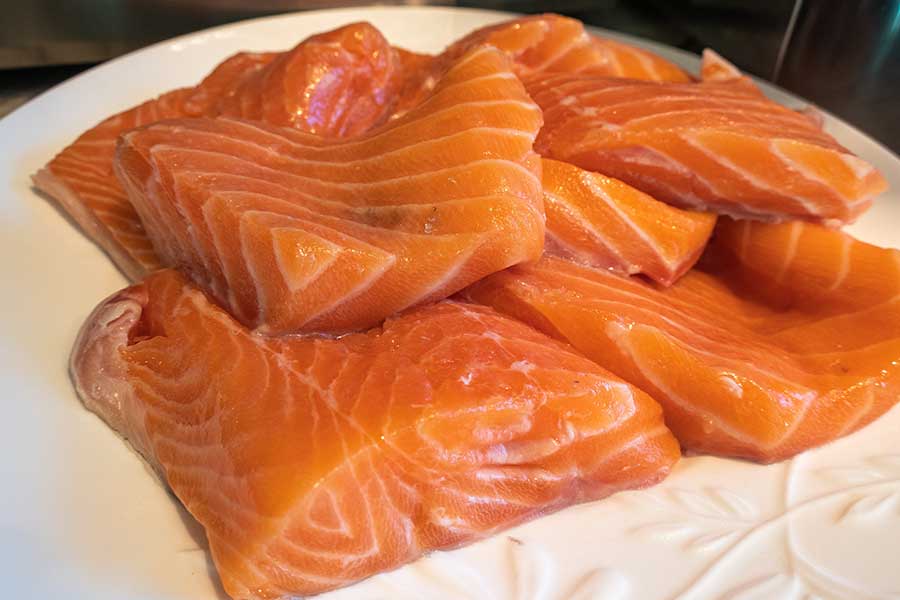 Salmon with Thai coconut cream sauce — recipe overview
First, sear the salmon on both sides, creating a crisp coating. I like to keep the skin on the salmon for two reasons. Most of the omega-3 fatty acids are located in the salmon skin. By removing the skin, you will strip away most of the nutritional benefits. In addition, the skin adds more flavour.
Once you seared the salmon, it's time to make the delicious Thai coconut cream sauce.
easy Thai coconut cream sauce
Using the same skillet add onions, garlic and bell peppers and cook until just tender. Then add the remaining ingredients and cook the sauce for a few more minutes. This allows the flavours to meld together.
Next, return the crispy salmon to the skillet and cook for about two more minutes or until the salmon is fully cooked. That is it. How simple is that?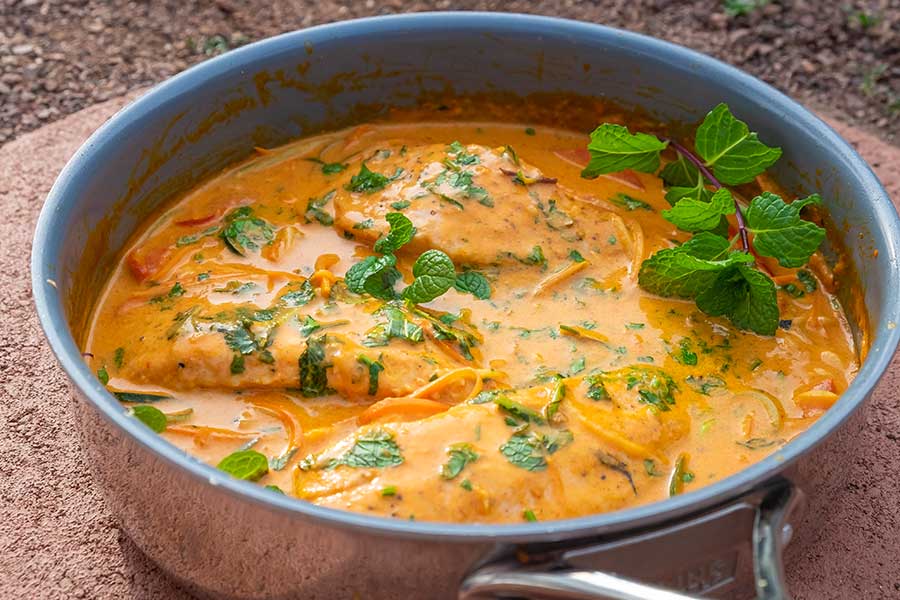 Wild Salmon vs Farmed Salmon
As per Cleveland Clinic, contaminants in farmed salmon were generally higher than in wild salmon. … The bottom line: Both wild and farmed salmon contain contaminants. Still, wildsalmon has lower levels and is considered safer overall.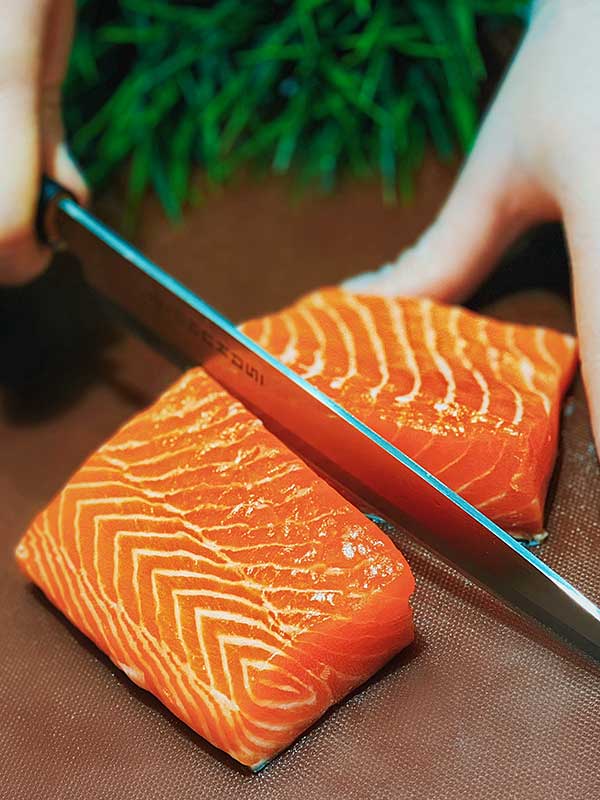 Does wild salmon have fewer calories than farmed salmon?
A small fillet of wild salmon has 131 fewer calories and half the fat content of the same amount of farmed salmon.
Can you tell the difference between wild salmon and farmed salmon?
Farmed salmon is lighter in colour and has more fatty marbling in its flesh. This is because farmed salmon doesn't fight against upstream currents like wild salmon.
As a result, wild salmon has a deeper orange colour and a more pronounced fish flavour.
Which salmon is the least fishy tasting?
Most chefs and some home cooks prefer the fresh-tasting fish flavour. However, if you prefer a mild, subtle fish flavour, then Coho (Silver) salmon is your better choice.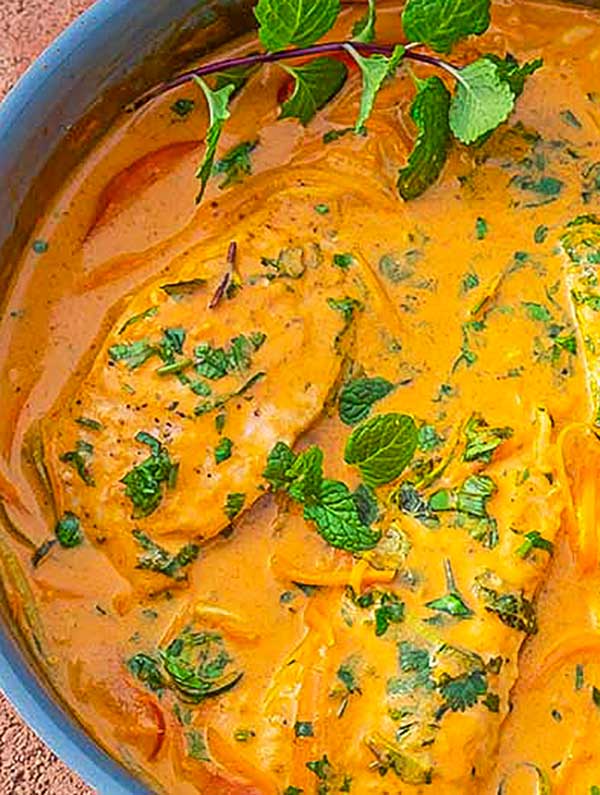 salmon dinner under 30 minutes
The total time to make this healthy fish dinner is less than 30 minutes. Because the salmon is cooked in Thai coconut sauce, I like to serve this salmon dish with rice. But you can also serve the salmon over gluten-free pasta or simple parsley potatoes.
For any leftover sauce, add a Healthy Gluten-Free Flax Bread because the bread is great for soaking up the Thai coconut cream sauce. Enjoy!
Let's Connect!
Be sure to FOLLOW US on FACEBOOK and PINTEREST.
Many thanks!
Kristina xx
Salmon With Thai Coconut Cream Sauce
Published on Jan 23, 2020
by
Kristina Stosek
Instructions
1.

Season salmon with salt and pepper

2.

Heat butter/coconut oil in a large skillet over medium-high heat. Sear salmon for 2 minutes per side, starting with a skinless side. Transfer salmon to a plate and set aside

3.

Reduce heat to medium-low, using the same skillet add onions, garlic, and bell peppers. Cook for 3 - 5 minutes while stirring, allowing the vegetables to soften. Add ginger and stir to combine

4.

Add curry paste, coconut milk, fish sauce, carrots, zucchini and lime juice. Bring to boil, reduce heat to simmer and cover. Cook for 2 minutes

5.

Return salmon to the skillet, cover and cook over medium heat for 2 - 3 more minutes or until the salmon is cooked through. The length of cooking time depends on the thickness of the salmon. The internal temperature should read 145 F (63 C) Do not overcook the salmon.

6.
Leave a Comment
I absolutely love this dish. I have made it many times for company and it is so dependable for a great meal.
Kristina
the best salmon recipe ever!