Smashed Crispy Potatoes with Garlic Herb Lemon Butter & Parmesan Cheese
Published on Nov 01, 2018
by
Kristina Stosek
Prep Time:

10 minutes
Cook Time:

30 minutes
Serves:

4-6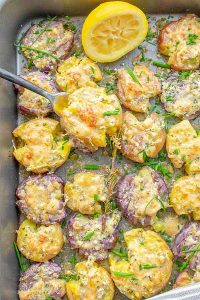 ​This post may contain affiliate links, please see our
privacy policy
for details
If I were going to make a potato side dish to impress my family and guests, it would definitely be this one. Although this potato dish is simple to make, the flavour of the garlic herb lemon butter makes them addictively delicious.
Using fresh parsley and fresh rosemary for flavour, because both herbs go hand in hand when it comes to roasted potatoes. The splash of fresh lemon juice adds a little tartness balancing the saltiness and herbs to perfection.
To add even more flavour, I topped the potatoes with Parmesan cheese making them extra crispy. I feel that Parmesan cheese makes everything taste so much better, don't you agree? All of these flavours combined are just the best when it comes to potatoes.
And there is nothing better than a gourmet pork rib roast and stewed red cabbage with apples to go with these tasty smashed crispy potatoes.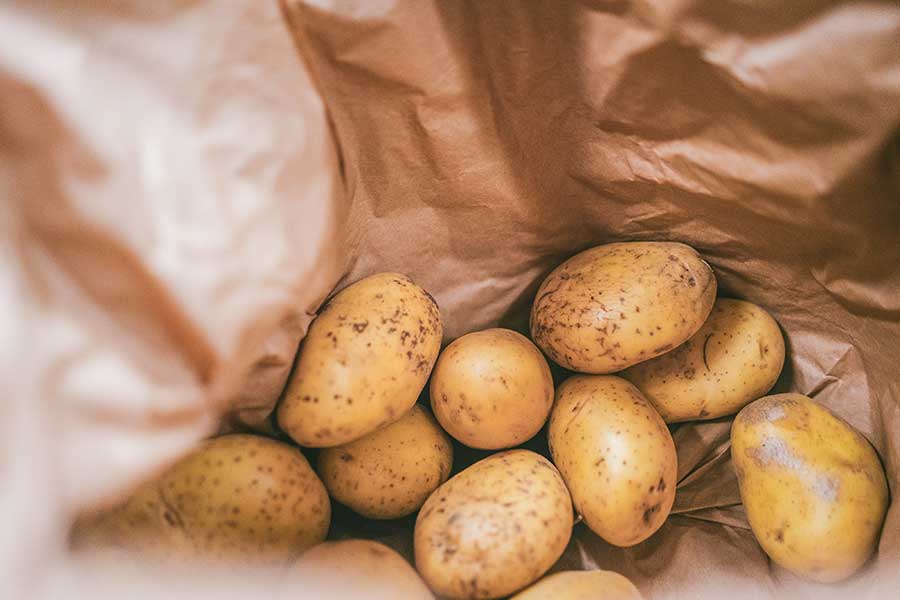 I used small creamer potatoes in this recipe, because they hold their shape and taste better than any other potato when roasted. And as a bonus you don't have to peel them, making this potato recipe my favourite side dish.
But don't stop there, these smashed crispy potatoes make for a wonderful snack especially during sports events. They are tastier than fries, you don't have to serve them hot, and they make perfect finger food. You don't even have to add a dip, they are that good!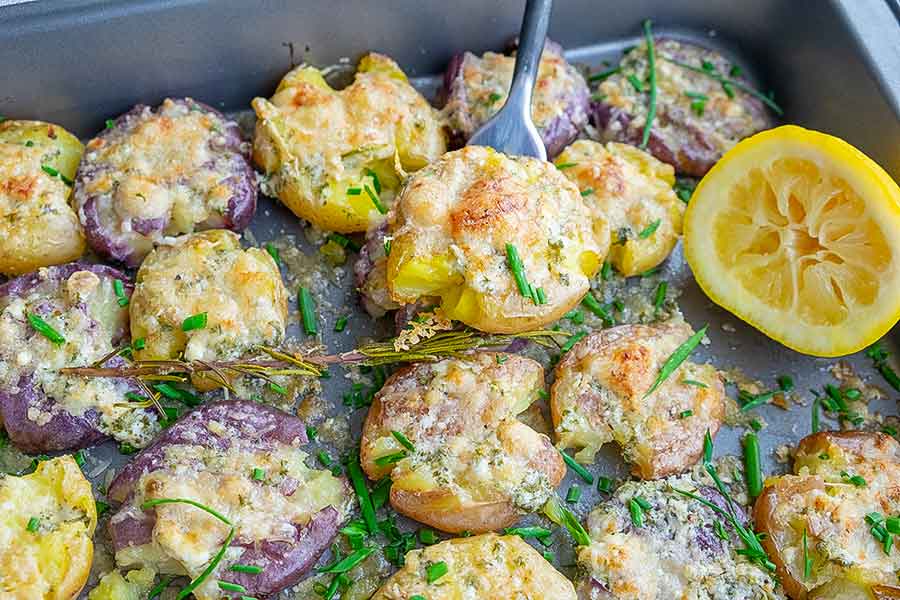 Potatoes are probably one of the most versatile vegetables out there. They can be boiled, steamed, stuffed, roasted or used in soups, stews and casseroles.
The nutritional content of potatoes can vary depending on the variety. Potatoes are packed with vitamins, minerals, fiber and antioxidants. They contain zero fat and are naturally gluten-free. Did you know that potatoes have more protein, fibre and iron than broccoli?
what I love about this potato recipe,
The best part, you can make these Smashed Crispy Potatoes with Garlic Herb Lemon Butter & Parmesan Cheese in advance. Just roast them, smash them and set aside until you are ready to serve them. When ready, finish cooking them with Parmesan cheese. Now that is an easy, amazing potato recipe. Enjoy!
Smashed Crispy Potatoes with Garlic Herb Lemon Butter & Parmesan Cheese
Published on Nov 01, 2018
by
Kristina Stosek
Instructions
1.

2.

Toss potatoes with salt, butter, garlic, parsley, rosemary, black pepper and lemon juice

3.

Scatter on a baking pan or rimmed lined baking sheet without touching and bake for 20 minutes until tender

4.

Smash the potatoes with a fork until they start breaking

5.

Sprinkle with Parmesan cheese and bake for 8 - 10 more minutes until the potatoes are crispy and the cheese is golden