Best Gourmet Pork Rib Roast Recipe
Published on Aug 04, 2014
by
Kristina Stosek
Prep Time:

10 minutes
Cook Time:

80 minutes
Serves:

6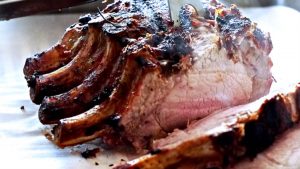 ​This post may contain affiliate links, please see our
privacy policy
for details
The pork rib roast is truly one of the most magnificent entrees. It is juicy, tender and succulent. However, there is more to roasting a Pork Rib Roast than just placing it in the oven and hoping it will be perfect.
There are a few steps to follow for this pork rib roast to achieve the most succulent and flavourful roast.
To prepare the roast first, you must make the rub. The rub is a mixture of herbs and spices that compliment the pork.
Once you have the mix ready, rub the entire roast with the spices, wrap the roast tightly in a plastic wrap, and place the roast in the fridge for four hours. The spices will infuse the meat with delicious flavours.
Now bring the roast to room temperature, and you are ready to either barbeque the roast or roast it in the oven. The roast is cooked at a temperature of 350 F – 20 minutes per pound.
the internal temperature,
The internal temperature of the rib roast should be 150 F. It is important to place the roast rib side down for both methods.
And finally, it is imperative to rest the roast covered for 20 before carving. Then, the meat will be juicier and more flavourful.
The pork rib roast pairs beautifully with sweet potato acorn squash mash and stewed red cabbage with apples.
Best Gourmet Pork Rib Roast Recipe
Published on Aug 04, 2014
by
Kristina Stosek
Instructions
1.

For the rub ~ mix all the spices together

2.

For the pork ~ rub the entire roast with the rub and wrap in plastic wrap. Refrigerate for 2 hours, then bring to room temperature

3.

Barbecue option ~ Heat barbecue to 350 F and place the roast rib side down on the barbecue, close the lid and cook for 20 minutes per pound or until the meat temperature is 150 F

4.

Oven option ~ Preheat oven to 350 F, place roast on a baking pan rib side down and bake 20 minutes per pound or until meat temperature is 150 F.

5.

For both options, rest the meat covered with foil paper for 20 minutes before carving.