Green Beans with Maple Bacon & Ginger
Prep Time
10 Minutes
Difficulty
Easy
Cook Time
10 Minutes
Serves
4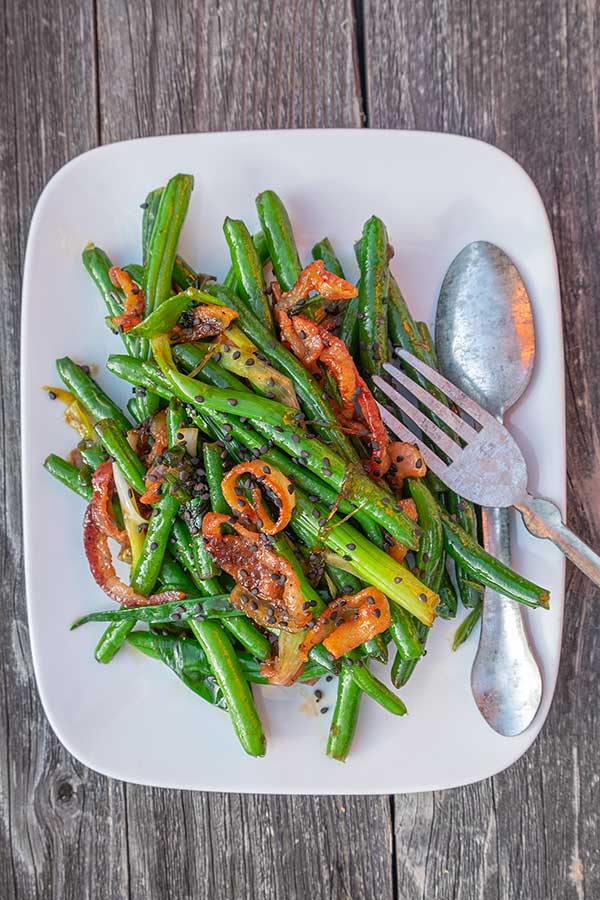 Average Rating: 5 | Rated By: 5 users
These Green Beans with Maple Bacon and Ginger will be a huge hit at your next dinner party. The bright green beans are tender crisp, glazed with a tamari ginger sauce, and the bacon is sweetened with maple syrup. For added flavour, I paired the beans with young green onions and sesame seeds. This healthy side dish is prepared simply, and cooked under 10 minutes
How to cook green beans, so they stay tender crisp?
We love green beans, but overcooked beans are not only unattractive, but they don't taste as delicious as perfectly cooked beans. To avoid mushy beans, you first need to blanch them. This means, cook them briefly in boiling water, then drain and shock them in a bowl of ice water. But, one of the most important steps is to cook them in well salted water. Vegetables that are blanched should always be cooked in salty water because this adds flavour. Otherwise, the vegetables will taste bland and watery. You will need one tablespoon of salt per one litre of water. Once the beans are blanched and shocked with ice water, drain them and set aside until ready to add your sauces, seasonings or use them in casseroles.
What to serve with green beans?
First, let me say that green beans, if appropriately cooked, are crunchy, low-calorie, high fiber vegetable, and only about 3.6 net carbs per one cup. This is an excellent vegetable if you are following a low calorie or keto diet. Also, they provide many key nutrients. Young, tender beans are a good source of vitamin C, folate, vitamin K and silicon (needed for healthy bones, skin, and hair) Green beans are often served as a side to a protein such as chicken, beef, pork or fish. The best part, they go with everything. Here are my 5 favourite gluten-free entrees to serve with green beans
♥ Dates Apples & Sage Pork Chops
♥ Instant Pot best Sticky Ribs
♥ Chilli Lime Chicken with Chorizo Rice
Ingredients
1 lb. fresh young green beans, ends trimmed
3 pieces of GF bacon, halved and cut into thin strips
3 green onions, mostly white part, cut into match sticks
2 tsp. Minced ginger
1 Tbsp. Pure maple syrup
1/4 tsp. GF ground black pepper
1 Tbsp. Black or white sesame seeds
Himalayan salt and GF ground black pepper to taste
*As an Amazon Associate and member of other affiliate programs, I earn from qualifying purchases. Please check out my sponsorship and disclosure policy page for more details
Instructions
Blanch green beans in well-salted boiling water until tender crisp. About 2 - 3 minutes. Drain and place in a bowl of ice water until beans are cooled. Drain well. If the beans are older you may have to cook them a little longer
Heat a large skillet over medium heat. Add the bacon and cook until crispy. Drain most of the fat
Add green onions and ginger and cook for 1 minute coating the onions with the bacon, and ginger
Add maple syrup, tamari sauce and black pepper and cook over medium heat until the sauce starts to thicken. Roughly 1 - 2 minutes
Add the beans and coat well with the bacon ginger mixture. Remove from the stove and sprinkle with sesame seeds
Similar Recipes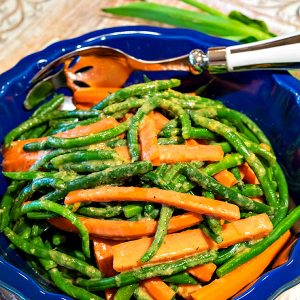 Green Beans And Carrots in Miso Dressing
Savour this green bean and carrot dish deliciously flavoured with light miso dressing. The miso dressing seasoned with ginger and garlic adds mouthwatering flavour to simple green beans and carrots. This recipe is healthy, diet-friendly and quick and easy to prepare with gourmet flavour Read More
Prep Time
10 Minutes
Difficulty
Beginner
Cook Time
5 Minutes
Serves
4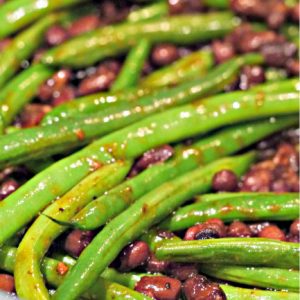 Spicy Szechuan Beans Recipe
This tasty vegan dish is a combination of green and black beans lightly spiced with garlic and ginger. The simple bean recipe is packed with a lot of flavours and takes only minutes to prepare. It is also naturally gluten free. Serve as a main over quinoa or rice, or as a side to chicken […] Read More
Prep Time
15 Minutes
Difficulty
Easy
Cook Time
10 Minutes
Serves
4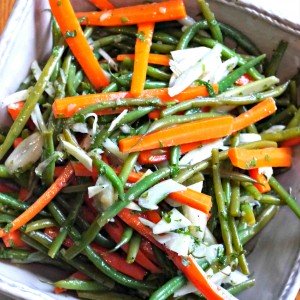 Deluxe Green Bean Salad
Bring this beautiful green bean salad to a potluck or serve as a side instead of steamed vegetables Read More
Prep Time
10 Minutes
Difficulty
Easy
Cook Time
5 Minutes
Serves
4