Gluten-Free Asian Meatballs Recipe
Published on Feb 21, 2022
by
Kristina Stosek
Prep Time:

15 minutes
Cook Time:

35 minutes
Serves:

24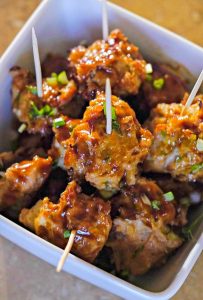 ​This post may contain affiliate links, please see our
privacy policy
for details
Gluten-Free Asian Meatballs Recipe just like take out – made with lean chicken, water chestnuts, sesame oil, ginger, green onions, tamari and coriander and then smothered in an Asian-inspired tasty sauce.
So much goodness in these gluten-free meatballs. I especially love the crunchy texture of the chestnuts. And no eggs!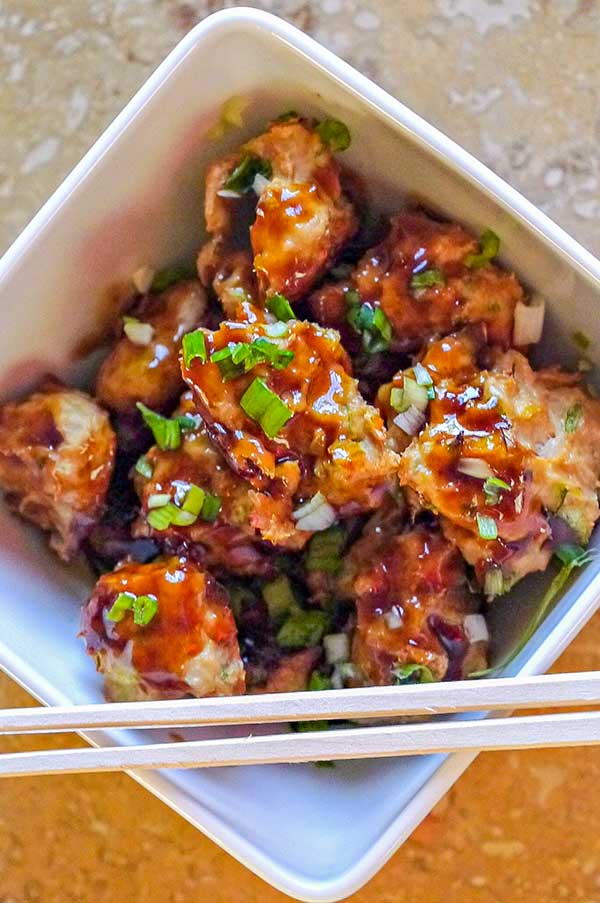 The easiest gluten-free Asian meatball recipe!
the meatballs,
To make the meatballs, all you do is, place all the ingredients into a food processor and mix. Then, form the mixture into small balls and bake for 35 minutes. While the meatballs are in the oven, prepare the sauce.
the Asian sauce,
Again, super easy! Place sauce ingredients into a large saucepan and cook until the sauce thickens, merely two minutes. The sesame oil, garlic, tamari sauce and sriracha add superb flavour to this Asian sauce.
The baked meatballs are then coated with the sauce, adding Asian-inspired flavour to the tender meatballs. That's it, the recipe is simple, and the gluten-free meatballs are sooo good!
This is one of the easiest meatball recipes by far. I want to add that this is an egg-free recipe. I know some people are intolerant to eggs, so this would be a good meatballs recipe to try.
How to serve Asian meatballs?
The best way to serve these gluten-free Asian meatballs is as a hot appetizer. Then, add toothpicks, scatter some sliced green onions over the top and you are done.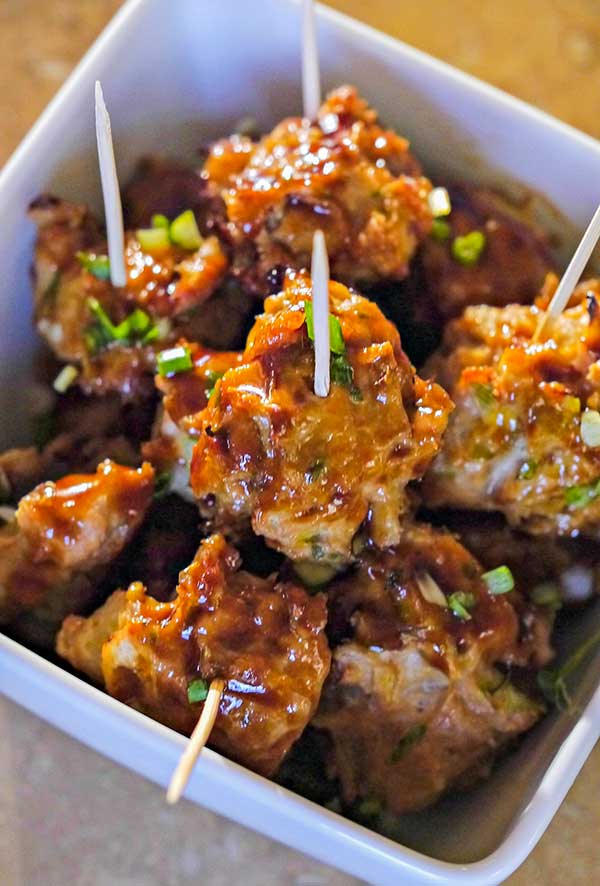 I also like to serve these delicious meaty morsels over rice or steamed veggies. They make a wonderful casual meal for any night of the week, especially Friday nights.
Love take-out food? Check out the Monday Night Spicy Soba Noodles or Gluten-Free Sticky Garlic Noodles
Gluten-Free Asian Meatballs Recipe
Published on Feb 21, 2022
by
Kristina Stosek
Instructions
1.

Preheat oven to 375 F and line a rimmed baking sheet with parchment paper

2.

For the meatballs, place all the ingredients into a food processor and pulse until combined. Do not overmix, the chestnuts should be chopped into small chunks

3.

Roll the meat mixture into balls about the size of walnuts and place on the prepared baking sheet. Bake for 35 minutes

4.

While the meatballs are cooking, add all the sauce ingredients into a large saucepan and cook while whisking over medium heat until the sauce starts to thicken. Add the meatballs to the saucepan and coat with the sauce. Serve hot
Leave a Comment
Kristina
that is wonderful, thank you for sharing Terry!
These were really good! I made them for dinner with friends, one who is vegetarian, and one who is gluten sensitive, so I substituted Beyond Meat for the ground turkey. Everyone loved them, including my meat eating husband.