Monday Night Spicy Soba Noodles – Gluten Free
Published on Aug 15, 2018
by
Kristina Stosek
Prep Time:

10 minutes
Cook Time:

15 minutes
Serves:

4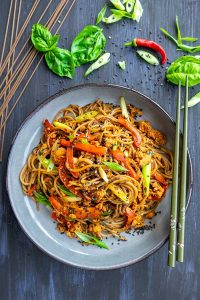 ​This post may contain affiliate links, please see our
privacy policy
for details
This Spicy Soba Noodles recipe is the simplest of simple. This noodles dish is made with soba noodles, chicken, miso, garlic, nut butter, veggies, herbs and spices and sesame seeds. This lovely and mildly spicy noodle dish takes just minutes to prepare.
What are soba noodles?
Soba is a Japanese noodle typically made from buckwheat flour and water. Sometimes you will find soba made from wheat, so be careful to read the ingredients. Buckwheat is naturally gluten-free, higher in protein and fiber than most noodles.
The noodles have an earthy nutty flavour and are firmer than most noodles. The good thing about the soba, you can serve them cold in salads or hot soups and stir-fries.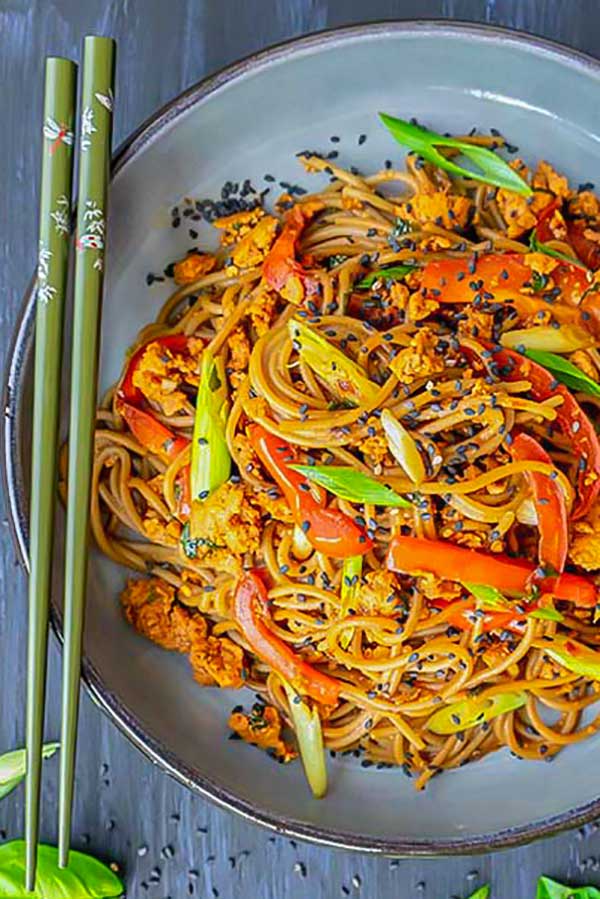 Easy gluten-free weeknight meal!
I love noodle dishes! They are satisfying and almost everyone loves them. This is a flavourful soba noodle dish made with a sauce that will make you drool. Yes, it is all about the sauce coating the noodles making them incredibly tasty.
The sauce is made with ginger, garlic, green onions, gluten-free miso paste, cinnamon, nut butter, maple syrup and if you like some spiciness add some hot chilli peppers. All good and healthy things.
To serve, place into bowls and top with fresh thinly sliced green onions, fresh basil leaves and sesame seeds. This dish is so GOOD!
Make the soba noodles vegan!
This is simple, substitute the chopped vegan burgers or firm tofu cubes for the chicken. Everything else in this recipe is already vegan.
I named this recipe Monday night dinner! Why? Because you can have a hearty noodle dish that everyone will enjoy on the table in less than 30 minutes. What a wonderful way to start the week!
For more recipes made with soba, check out our selection of gluten-free soba recipes,
Monday Night Spicy Soba Noodles – Gluten Free
Published on Aug 15, 2018
by
Kristina Stosek
Instructions
1.

In a small bowl whisk together tamari sauce, rice vinegar, miso paste, cashew butter, maple syrup, garlic and cinnamon

2.

Heat a large wok or skillet over medium heat. Add sesame oil and the chicken. Cook until no longer pink. About 5 minutes. If making vegan option, stir-fry tofu or vegan burger until golden. Continue to the next step

3.

Add bell pepper, ginger and hot chili pepper and stir-fry for 5 more minutes. Add sauce mixture and basil and cook until the sauce starts to thicken. About 2 minutes. Gently stir in green onions and cooked noodles making sure the noodles are well coated with the sauce

4.

To serve; top with sesame seeds, more green onions and fresh basil
Leave a Comment
A delicious and easy to prepare noodle dish. My family love it, I will definitely make this recipe again!