Gluten-Free Sticky Garlic Noodles Recipe
Published on Dec 02, 2015
by
Kristina Stosek
Prep Time:

5 minutes
Cook Time:

15 minutes
Serves:

4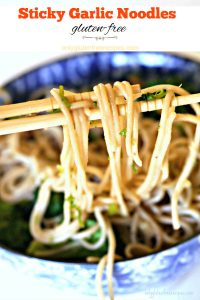 ​This post may contain affiliate links, please see our
privacy policy
for details
Gluten-Free Sticky Garlic Noodles is a subtle noodle dish lightly sweetened and flavoured with fresh garlic. This gluten-free noodle recipe is all about simple ingredients, simply prepared yet delivering oodles of flavour. This is one of the all-time favourites, a take on a classic Asian noodle dish.
more than just noodles,
For extra textures and healthiness, I added fresh broccoli and mushrooms, making every bite delicious.
I find that both of these vegetables complement the noodles beautifully. To prepare this dish, once the noodles are cooked, everything else takes just minutes to put together.
The noodles and veggies are coated with a lightly sweetened garlic sauce, making this Asian dish outstanding.
I know you already love the gluten-free saucy Thai noodles recipe and the gluten-free spicy Chinese noodles, so give this recipe a try.
Who knows, this gluten-free sticky garlic noodle dish may become your favourite noodle recipe yet!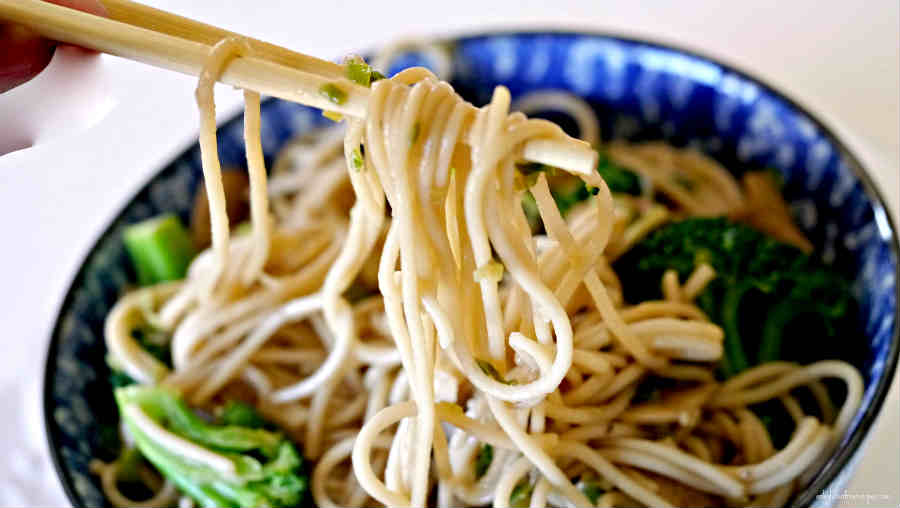 When to serve this delicious noodle dish?
Traditionally the sticky garlic noodles are served as a starter or a snack. However, you can also serve them as a side to your favourite entrée.
This gluten-free noodle dish is an excellent choice for someone new to a gluten-free diet. In addition, the recipe is simple enough for a novice chef, making this a no-fail glute-free recipe!
The best part, the sticky garlic noodles are deliciously addictive!
Gluten-Free Sticky Garlic Noodles Recipe
Published on Dec 02, 2015
by
Kristina Stosek
Instructions
1.

Cook noodles per package directions. Just before you drain the noodles, add broccoli for 30 seconds (long enough for broccoli to be heated through). Drain and rinse with cool water. Set aside

2.

Heat butter/coconut oil in a large non-stick pan or a wok over medium heat. Add green onions and garlic. Stir-fry for 1 minute

3.

Add agave, tamari sauce and mushrooms. Stir-fry for 1 more minute. Add noodles with broccoli and stir until all the noodles are well coated with the sauce and heated through

4.

Garnish with sliced green onions. Enjoy