Gluten-Free Saucy Thai Noodles
Published on Aug 16, 2019
by
Kristina Stosek
Prep Time:

15 minutes
Cook Time:

15 minutes
Serves:

4 - 6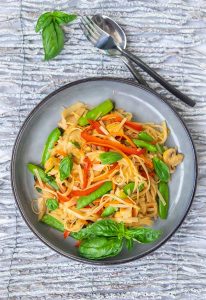 ​This post may contain affiliate links, please see our
privacy policy
for details
This gluten-free Saucy Thai Noodles dish tastes just like takeout Thai food. The rice noodles and fresh vegetables are coated in the most delicious sweet and spicy Thai sauce made from scratch.
spicy Thai noodles with protein,
You can add tofu or chicken, but it is not needed. This Thai noodle recipe is super easy and speedy, making it a perfect mid-week meal.
noodles and veggies,
What I love about this Thai recipe is that I get to use plenty of fresh garden vegetables, such as carrots, peppers, snap peas, green onions and mushrooms making this a healthy meal.
serving Thai noodles,
This noodle dish can be served for lunch and is hearty enough for dinner. For me, I like a small bowl as a healthy snack.
This Thai noodle dish is big on flavour, you will love it! If you love Thai food, check out our gluten-free Thai recipes section 🙂
Gluten-Free Saucy Thai Noodles
Published on Aug 16, 2019
by
Kristina Stosek
Instructions
1.

Prepare the rice noodles according to package directions. Drain and set aside

2.

Whisk together broth, tamari sauce, fish sauce, maple syrup and arrowroot starch. Set aside

3.

Heat sesame oil in a large skillet or a wok over medium-high heat. Add the tofu/chicken and stir-fry for 3 minutes. Add bell pepper, green onions, garlic, and jalapeno pepper. Stir-fry for 3 minutes. Add sugar snap peas, mushrooms and carrots. Pour in the sauce and cook on high heat coating all the vegetables for 3 - 5 minutes until the sauce thickens

4.

Reduce heat to medium-low and stir in noodles with basil. Toss to combine and cook until the noodles are heated through. About 3 minutes

5.

Serve warm with fresh basil