Chilli Lime Chicken With Chorizo Rice (Gluten-Free)
Published on Aug 05, 2018
by
Kristina Stosek
Prep Time:

10 minutes
Cook Time:

35 minutes
Serves:

4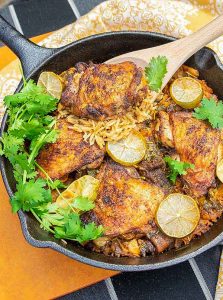 ​This post may contain affiliate links, please see our
privacy policy
for details
Chilli Lime Chicken with Chorizo Rice is a delicious hearty weeknight meal. One of my favourite gluten-free chicken dinners is one that uses only one skillet.
Weeknights tend to be super busy, so the last thing you need is a complicated dinner. Keeping it simple when making weeknight meals is always appreciated, especially when the meal is hearty and healthy!
In this recipe, the rice is flavoured with chilli powder, cumin, paprika and garlic. For more flavour, I added a splash of fresh lime juice and flavourful chorizo sausage.
The chicken that tops the rice is crispy and well seasoned, making everything taste so so good! For the finish, add fresh cilantro and more lime juice. An easy weeknight gluten-free chicken dinner, the entire family will enjoy!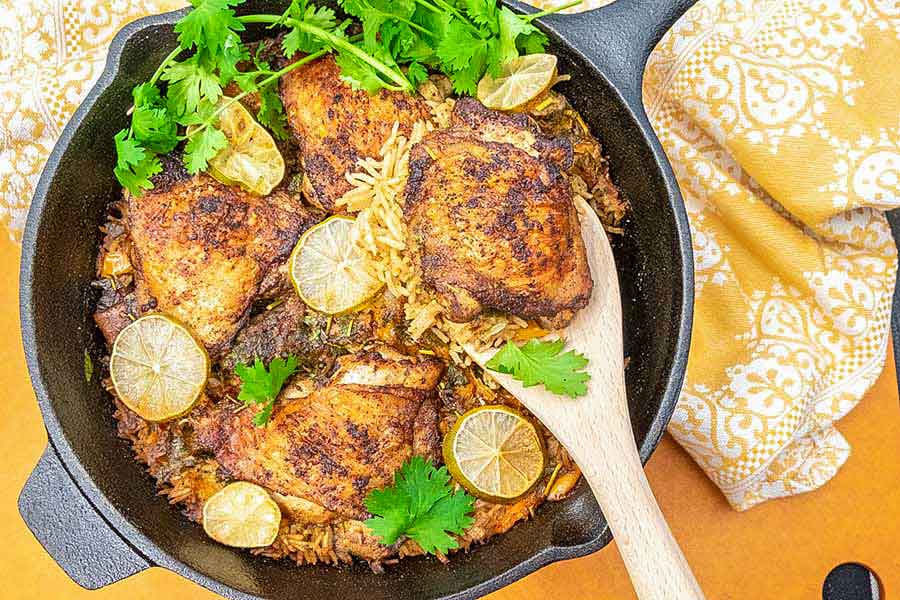 Why is this an easy weeknight gluten-free chicken dinner recipe?
You will need a large skillet. I love my cast iron skillet, they are the easiest to clean up, and they cook everything evenly. First, you mix the spices. You will use half of the spice mixture to season the chicken. Once the chicken is seasoned, quickly sear the chicken on all sides and set on a plate for later.
To the same skillet, add onions, peppers and chorizo sausage. Cook just long enough so the sausage is no longer pink, about three minutes.
Next, add remaining ingredients, except the chicken and bring to a boil. Remove from the heat, top with already seared chicken and bake until the chicken is fully cooked.
That's it… how simple is that? An trust me on this, the chicken dinner is outstanding, forget about take out 🙂 The entire chilli lime chicken dinner with chorizo rice is made well under an hour. The cleanup…5 minutes. Now that is a perfect hearty weeknight meal!
What to serve with chilli lime chicken with chorizo rice?
Here are my 3 favourite salads!
Avocado and black bean kale salad
Corn and black beans cucumber salad
Chilli Lime Chicken With Chorizo Rice (Gluten-Free)
Published on Aug 05, 2018
by
Kristina Stosek
Instructions
1.

In a small bowl mix chili powder, garlic powder, paprika, cumin and salt

2.

Season chicken with half the seasoning and set aside

3.

Heat coconut oil in a large skillet over medium-high heat. Add chicken and brown on all sides. Transfer chicken onto a plate and set aside

4.

To the same skillet, add onions and peppers and cook for 5 minutes, stirring frequently. Add chorizo and stir-fry until no longer pink, about 3 minutes

5.

Add rice, remaining spices, chicken stock, parsley and lime juice. Bring to boil and remove from the heat. Top with chicken pieces skin facing up and some lime slices. Bake at 375 F for 20 minutes until chicken is fully cooked

6.

Serve with fresh cilantro and squeezed lime juice