Corn and Black Beans Cucumber Salad
Prep Time
15 Minutes
Difficulty
Beginner
Serves
6
Be the first to rate this recipe.
With barbecue season just around the corner, we think of salads. Sometimes the best way to create impressive salad is to keep things simple. This corn and black bean cucumber salad is especially popular because it feeds a large group and does not have to be refrigerated. Serve at room temperature
Ingredients
2 English cucumbers
1/4 cup extra-virgin olive oil
2 Tbsp. Fresh lime juice
2 tsp. Agave nectar
3 garlic cloves, minced
1/2 tsp. GF ground cumin
1 red onion, halved and thinly sliced
1 1/2 cups cooked corn kernels
13.5 oz. can black beans, drain and rinse
1 bunch fresh cilantro, stems removed
Pure sea salt and GF cracked black pepper to taste
8 oz. cherry tomatoes, halved
Instructions
Peel and cut the cucumbers in half lengthwise. Using a teaspoon remove the seeds and dice Season with salt and set aside for 15 minutes. The cucumber will release some of the water.
In a large bowl whisk together, lime juice, olive oil, agave, garlic and cumin
Gently squeeze the cucumbers draining some of the water and place in the large bowl with vinaigrette
Add onions, corn, black beans and cilantro and gently stir. Season with salt and pepper
Place salad on a large platter and garnish with cherry tomatoes
Similar Recipes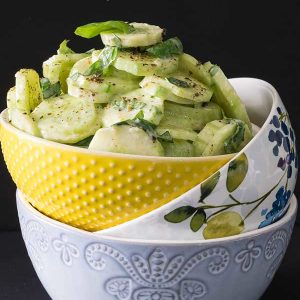 Creamy Cucumber Salad With Garlic And Basil
Cucumber salad is refreshing and hydrating. In this sumptuous salad, the cucumber is flavoured with a light sour cream dressing that is infused with garlic and basil. As per Dr. Mercola, cucumber is a low-calorie vegetable packed with antioxidants may help with inflammation and is an excellent source of vitamin K. When cucumber is in […] Read More
Prep Time
10 Minutes
Difficulty
Beginner
Serves
4
Cucumber Salad In A Light Vinaigrette
The crispy cucumbers are flavoured with a light vinaigrette, making this simple salad refreshingly delicious Read More
Prep Time
10 Minutes
Difficulty
Beginner
Serves
4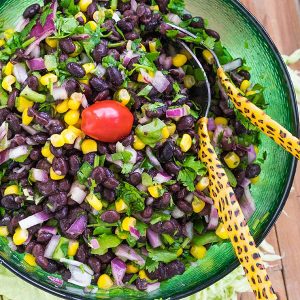 Black Beans And Corn Salad
This black bean and corn salad is simple, satisfying and has a delicious combination of flavours. Beans are an excellent source of protein and fiber and provide folic acid. This delicious salad is hearty and low in fat. Black beans and corn salad is a big hit at barbecues Read More
Prep Time
10 Minutes
Difficulty
Easy
Cook Time
120 Minutes
Serves
8