Grilled Corn Salad With Cucumber & Minty Cilantro Vinaigrette
Published on Aug 24, 2019
by
Kristina Stosek
Prep Time:

10 minutes
Cook Time:

16 minutes
Serves:

4 - 6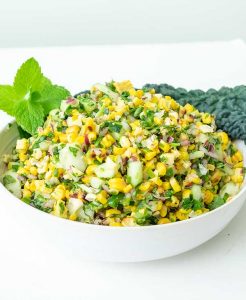 ​This post may contain affiliate links, please see our
privacy policy
for details
Grilled Corn Salad With Cucumber And Minty Cilantro Vinaigrette is innovative and delicious. This salad boasts punchy flavours such as fresh cilantro, fresh mint, cumin, garlic, red onion and jalapeno. The imparting sweet and spicy flavours combined with the charred corn tie everything beautifully together.
The cucumber adds freshness keeping this corn salad light and refreshing.
What I love about this salad is, you can bring it to cookouts without keeping it refrigerated. This grilled corn salad goes exceptionally well with barbecues.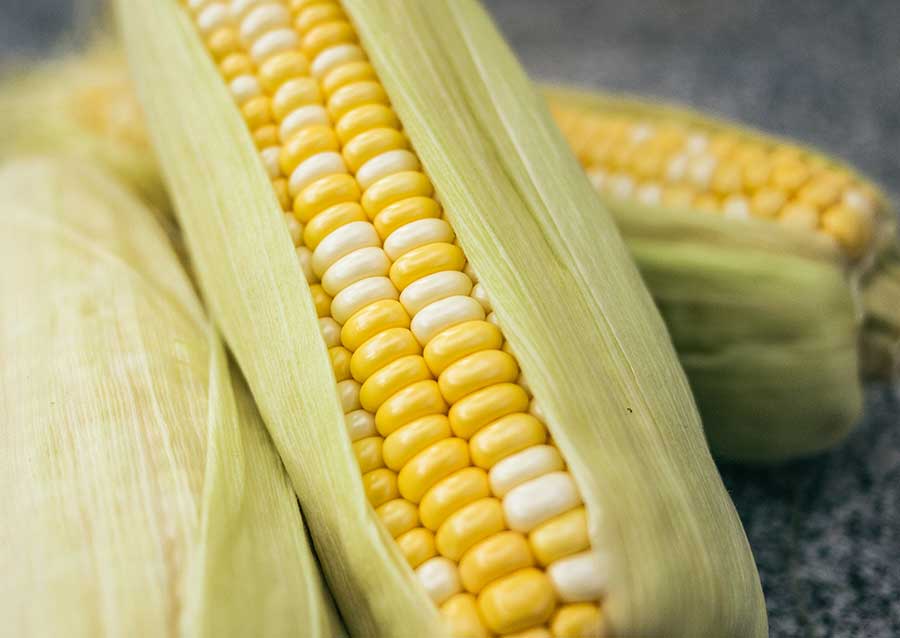 How to make grilled corn?
To make grilled corn is super easy. First, place the corn on a medium-high temperature of your grill. You can use a barbecue or stovetop grill. Cook for about 4 minutes per side until most of the corn is charred. Cool, then cut the corn off the cobs. Easy peasy!
When is corn season?
To have the best and freshest corn, use corn when in season. The corn is typically harvested end of August or early September. Early fall is the season when corn is tender and sweet, and the ears are at the peak of perfection.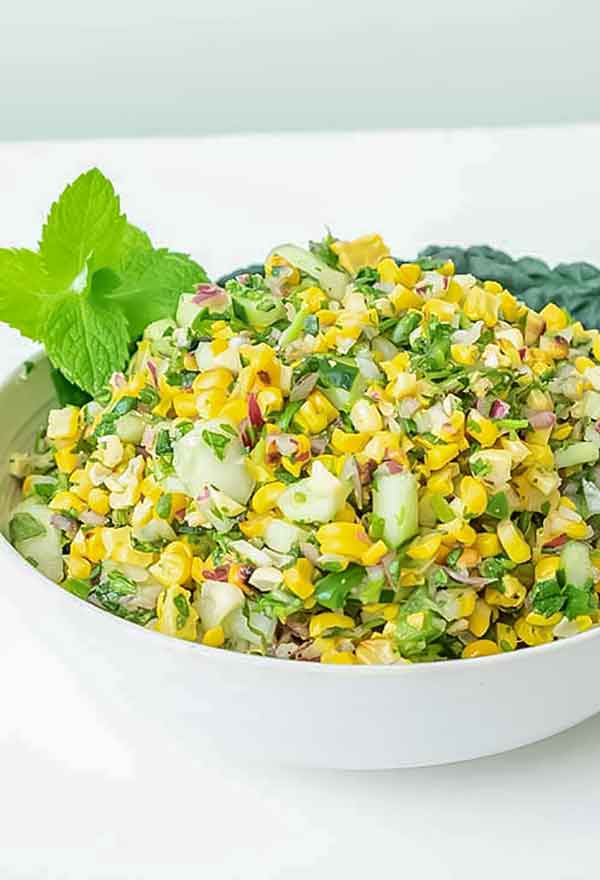 I made this salad from corn that I bought at our fresh local market, and it made a big difference in the flavour of this salad.
I hope you can visit your local market for some freshly picked corn. I promise you, if you love corn, this salad will become a staple in your home. Enjoy!
For our selection of healthy and innovative salads here->
Grilled Corn Salad With Cucumber & Minty Cilantro Vinaigrette
Published on Aug 24, 2019
by
Kristina Stosek
Instructions
1.

Set barbecue grill or stovetop grill on medium-high heat. Place corn on the grill and grill about 4 minutes per side, until charred

2.

Once the corn is cool enough to handle cut the kernels off the cobb and place in a large bowl

3.

Add garlic, cilantro, mint, liquid honey, lime juice and zest, olive oil and cumin into a food processor or blender. Process just enough to combine, leaving leaves in small pieces. Do not liquify. 

4.

Add vinaigrette, cucumber, red onion, and jalapeno to corn and season with salt and pepper. Toss to combine