Very Best Texas-Style Potato Salad
Published on Feb 26, 2022
by
Kristina Stosek
Prep Time:

20 minutes
Cook Time:

15 minutes
Serves:

8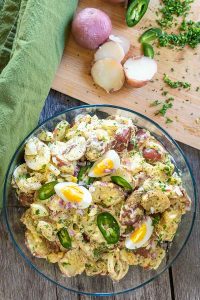 ​This post may contain affiliate links, please see our
privacy policy
for details
This Texas-Style Potato Salad is the creamiest, tastiest potato salad with eggs and a mayo-style dressing with mustard, red onions, pickles, and fresh parsley. This simple to make flavour-packed potato salad makes a delicious side to your favourite protein.
To jazz up this Texas-style potato salad, I added thinly sliced jalapenos. The jalapenos are optional. However, they add spiciness and freshness to the creamy potato salad.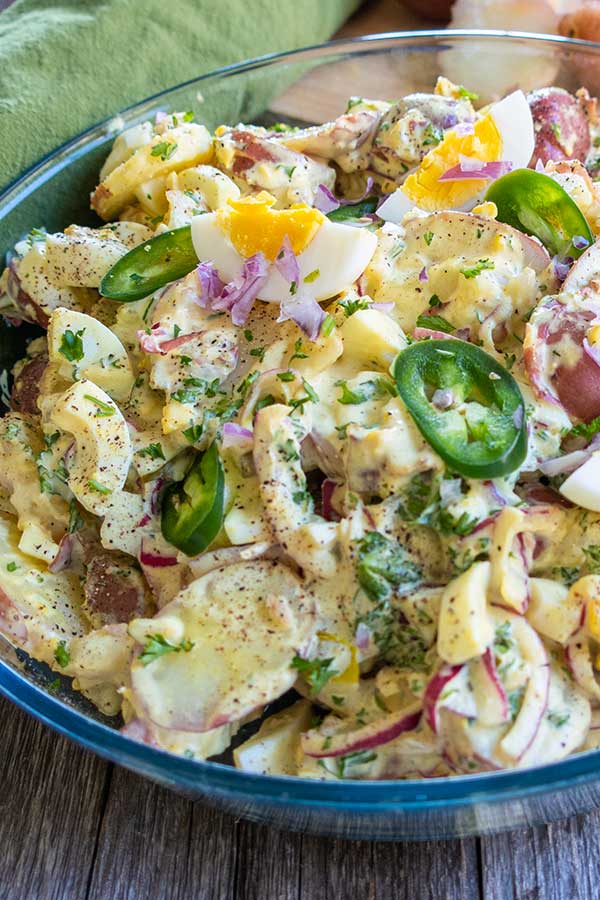 You may remember our Vegan German Potato Salad or the Potato Salad with Yogurt Dill Dressing. Both of these salads have been extremely popular, and this is why I wanted to add yet another potato salad with a Texas flair.
Most often asked questions when making potato salad.
What kind of potatoes are best for potato salad?
The best potatoes to use are starchy potatoes such as red bliss potatoes or Yukon gold. I prefer new potatoes or fingerling because they have the best flavour and texture. These potatoes are ideal for rich, delicious potato salad.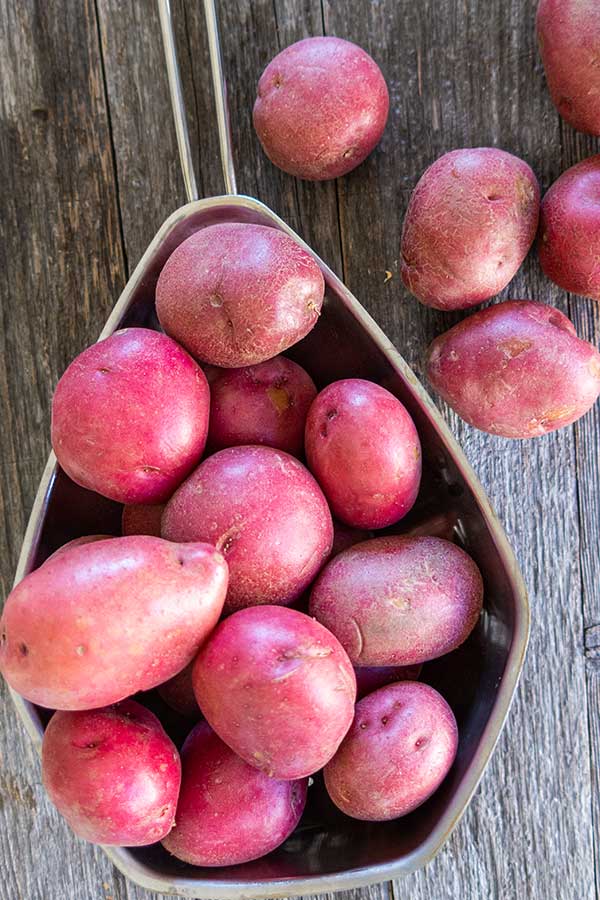 Are red potatoes healthy?
Red potatoes are high in potassium, more than any other vegetable or fruit. And they help maintain healthy blood pressure. In addition, red potatoes are packed with fiber which comes mainly from the skin and are high in vitamin C.
Boil the potatoes cut up vs whole for potato salad?
For the best texture, it is best to boil them whole. And if you don't mind the skin, you will add fiber and colour to the salad. Always scrub them thoroughly with a vegetable brush before boiling if you leave the skin on.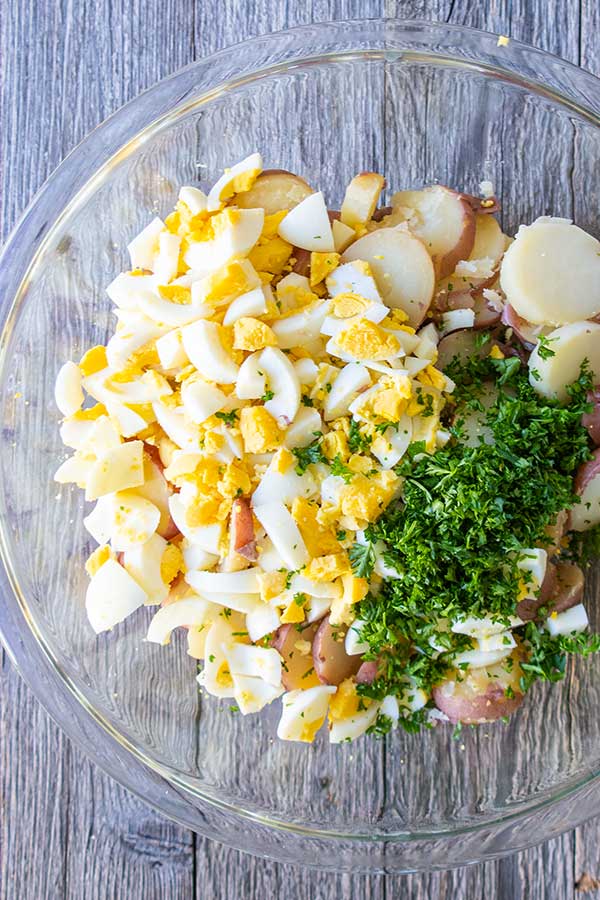 If you prefer them without the skin, cook them whole and peel them after.
If you cook the potatoes peeled and cut up, rinse the potatoes under cold water after draining them. The cold water will stop them from further cooking and becoming mushy.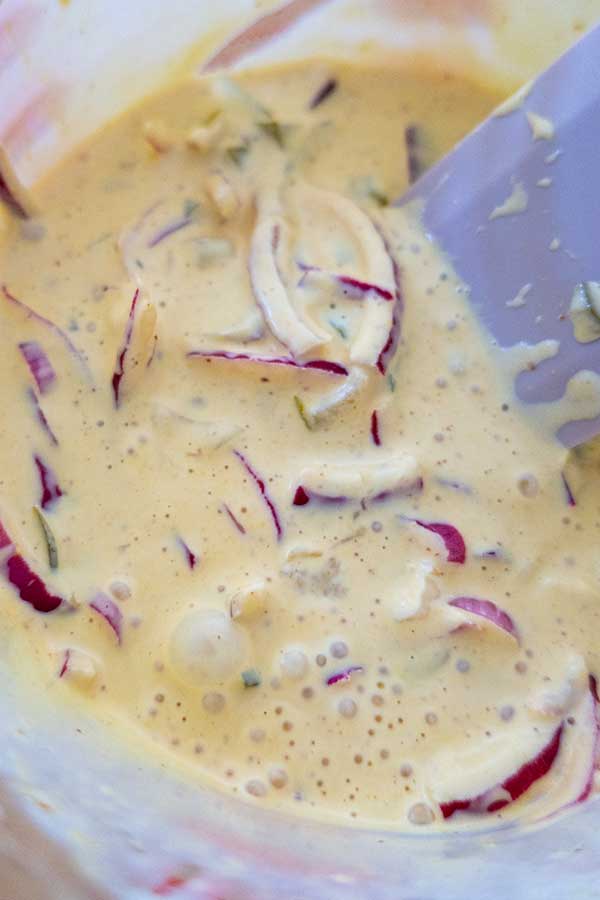 Texas potato salad dressing
The dressing is made with only five ingredients; mayonnaise, mustard, chopped pickles, pickle juice and red onions. It is made simply by whisking everything together in a bowl.
Can you cook the potatoes the night before?
Yes, you can boil unpeeled potatoes the night before and keep them at room temperature before making the salad. However, the potato salad must be refrigerated once you add the dressing.
Why does my potato salad have liquid the next day?
This happens when you add the dressing to the salad while the potatoes are still too hot. Or the dressing has too much liquid.
Why are my potatoes sometimes gluey?
Do not soak the potatoes in water. Potatoes are porous, and they will soak up the water they are in. Once the potatoes are cooked, immediately drain the water. This will avoid the gluey texture that may happen to some potatoes.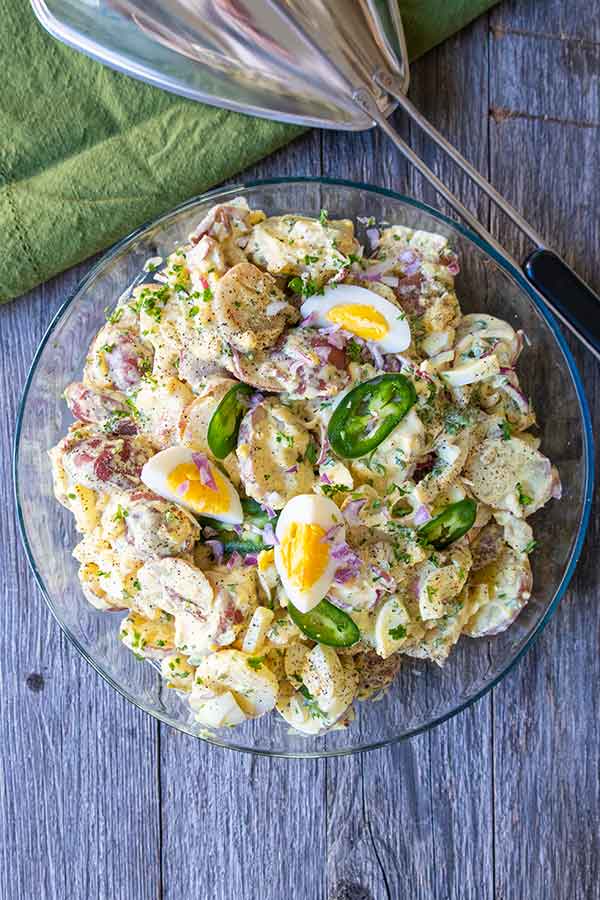 How long will potato salad keep in the refrigerator?
Store the salad in an airtight container, and it will keep up to 5 days when refrigerated.
Can you freeze potato salad?
No, you can't freeze potato salad, especially when using mayonnaise-based dressing. Once frozen, the dressing will separate, and the texture and flavour will be off. Although you can freeze potato soups such as this Vegan Potato and Spinach Curry Soup or mashed potatoes.
What to serve with Texas potato salad?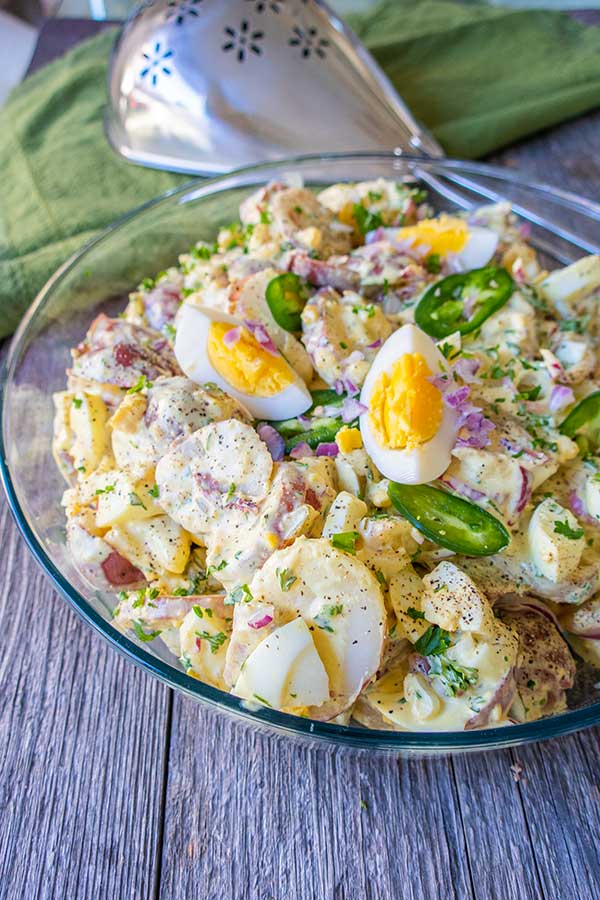 You can serve this creamy Texas potato salad with just about anything. Your favourite proteins such as pork, chicken, beef or fish. This naturally gluten-free zesty salad is always a huge hit at BBQs or large gatherings.
Let's Connect!
Be sure to FOLLOW US on FACEBOOK and PINTEREST.
Many thanks!
Kristina xx
Very Best Texas-Style Potato Salad
Published on Feb 26, 2022
by
Kristina Stosek
Instructions
1.

Place potatoes in a large pot. Cover with water by 1 inch and 1 tablespoon of salt. Cover the pot and bring to boil. Cook over medium heat until a toothpick is inserted in the potatoes without resistance. Depending on the size of the potatoes, about 12 - 15 minutes. Do not overcook the potatoes

2.

Meanwhile, whisk together mayonnaise, mustard, pickle juice, pickles and red onions. Set aside.

3.

Once the potatoes are cooked, drain the potatoes and slightly cool them. Slice into 1/2-inch thick slices. No need not peel the potatoes unless you prefer them peeled

4.

Place slightly warm potatoes and eggs into a serving bowl. Add fresh parsley and dressing. Gently combine and season with salt and pepper to taste

5.

Cover the bowl with plastic wrap and refrigerate for a minimum of 3 hours or overnight. 

6.

Serve chilled or at room temperature
Leave a Comment
Kristina
Thank you Navy, it is always nice to hear
Best potato salad ever! It's a huge hit at my house! I'm from Texas and it reminds me of of old fashioned potato salad I had as a kid.