Vegan Potato and Spinach Curry Soup
Published on Jan 10, 2021
by
Kristina Stosek
Prep Time:

15 minutes
Cook Time:

25 minutes
Serves:

6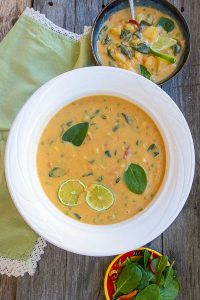 ​This post may contain affiliate links, please see our
privacy policy
for details
A soothing vegan potato and spinach curry soup for any day of the week. Tender potatoes, fresh spinach and peas simmered in a thick creamy soup mildly flavoured with curry and fresh lime juice.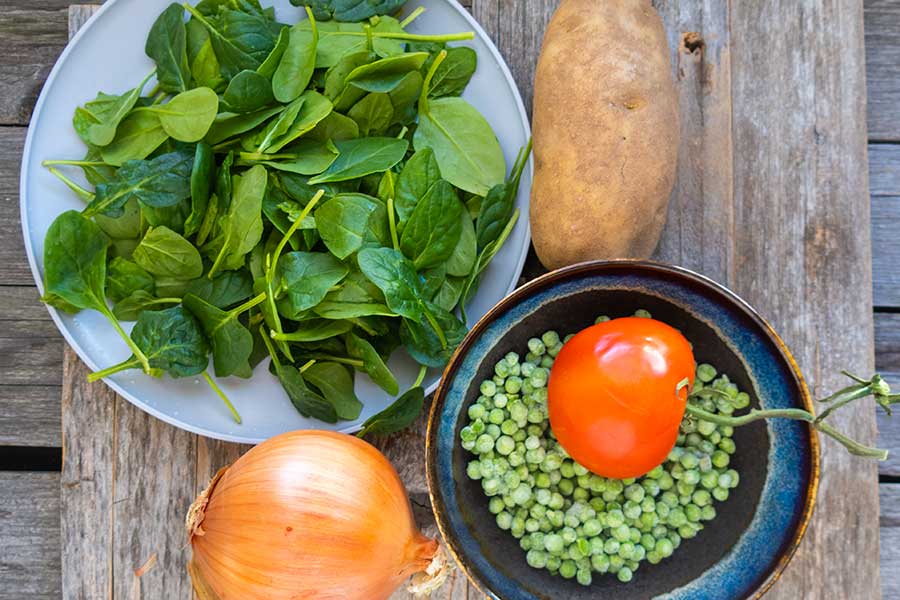 There is more to this vegan soup than just potatoes and spinach. This Indian inspired hearty soup is made with potatoes, tomatoes, peas, onions, garlic and spinach. The creaminess comes from coconut milk and the extra flavours from curry powder and a hint of cinnamon.
For a light zesty taste, a squirt of fresh lime juice tying everything together perfectly. If you like a bit of spice, a pinch of cayenne pepper will do the trick.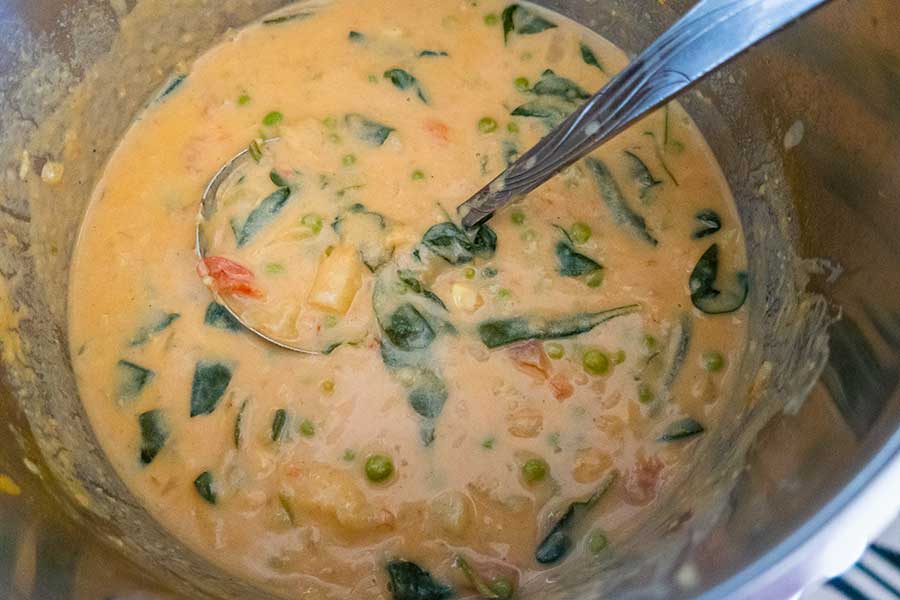 Soups are probably one of the easiest meals to digest. They are typically lower in calories than a full-on meal and pack an array of nutrients.
This vegan potato and spinach curry soup is very satisfying and can replace a heavy stew or a casserole, even for big appetites.
spinach and vitamin K
The spinach in this vegan soup is not fully cooked but rather stirred into the hot soup at the very end, just long enough for the spinach to wilt to keep the texture just right. Spinach is an excellent source of vitamin K, which is essential for maintaining bone health.
You can't find too many vegetables that are richer in vitamin K than spinach. Also, lightly cooking spinach increases vitamins A and E, protein, fiber, zinc, thiamin, calcium, and iron as per vegetarian times.
peas and protein,
To add protein to this healthy vegan soup, I included peas. Peas are an excellent way to add plant-based protein to your diet. One cup of green peas has 8 grams of protein. They also pack a punch of dietary fiber, 7 grams per 1 cup. Peas are also nutritionally packed with vitamins C and E, zinc, and other antioxidants that strengthen your immune system.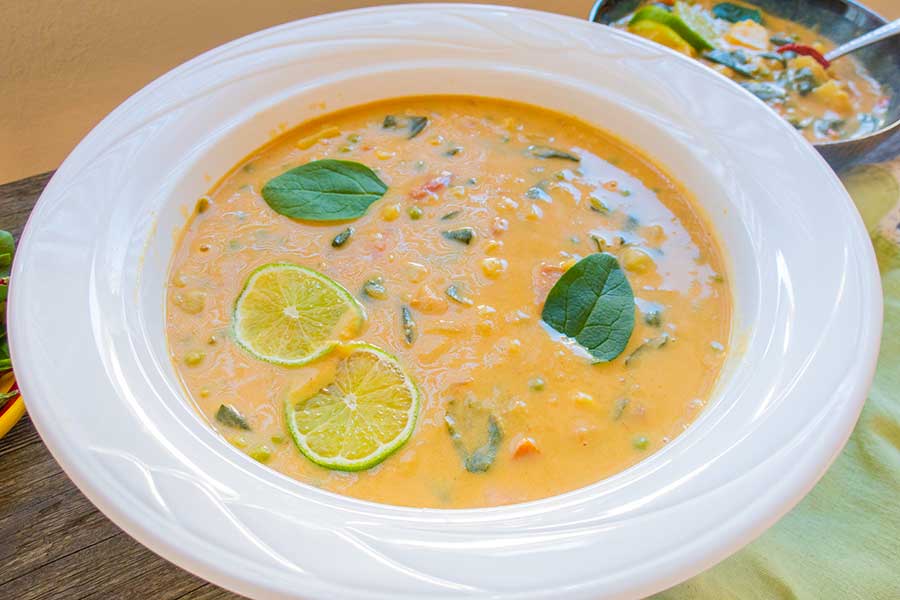 potato and spinach curry soup – the details
I love making this soup, especially when I feel burned out or tired because this is such an easy vegan soup recipe and a real reviver. Once you clean the potatoes and chop up the veggies, there isn't much left to do.
To start, you saute the onions, and then everything else takes just minutes. At the very end, stir in the spinach and fresh lime juice, and the soup is ready.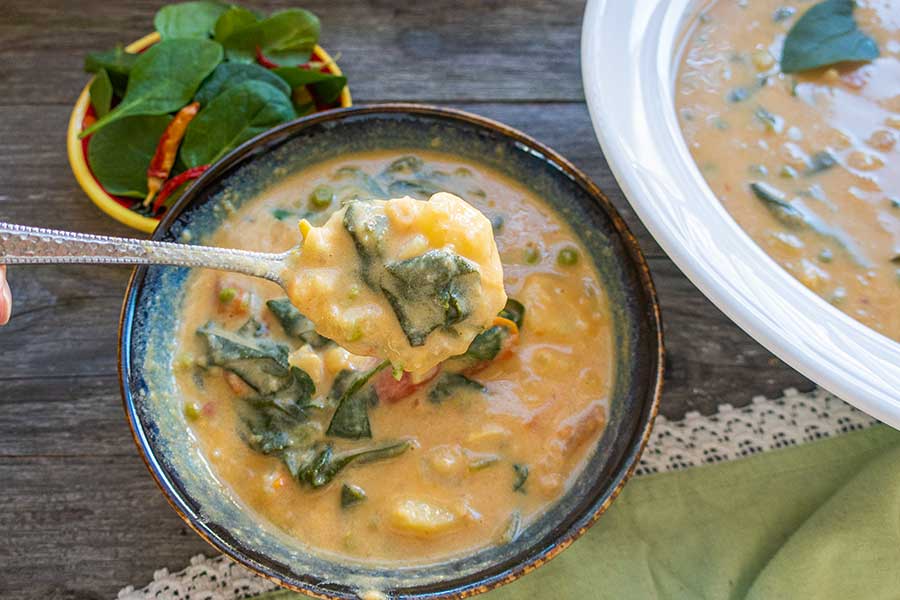 Now that we know that this soup is healthy, delicious, flavourful, and satisfying, why not grab a bowl or a cup of hot potato and spinach curry soup.
Add a slice of gluten-free healthy vegan low carb bread or gluten-free vegan high fiber bread, put your feet up, cuttle up with a blanket, read a good book or watch your favourite TV show. Enjoy!
Vegan Potato and Spinach Curry Soup
Published on Jan 10, 2021
by
Kristina Stosek
Instructions
1.

Saute onions in oil until translucent. About 5 minutes. Stir in garlic, ginger, curry powder, cinnamon, bay leaf and if using cayenne pepper. Cook until fragrant, about 30 seconds

2.

Add tomatoes and cook stirring occasionally for 2 - 3 minutes. Pressing them down to release their juices. Stir in tomato paste

3.

Add potatoes and vegetable broth and season with salt. Cover and bring to simmer. Cook for 10 minutes

4.

Whisk coconut milk with rice flour and add to the soup with the peas. Cook until the soup starts to thicken and the potatoes are tender, about 5 more minutes

5.

Remove the soup from the heat, discard bay leaf and stir in spinach and fresh lime juice. Serve lime wedges and enjoy!