Maple Ginger Roasted Carrots
Published on May 23, 2020
by
Kristina Stosek
Prep Time:

5 minutes
Cook Time:

20 minutes
Serves:

6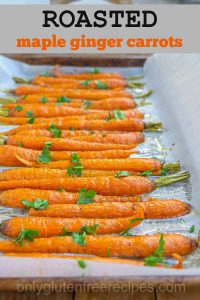 ​This post may contain affiliate links, please see our
privacy policy
for details
Roasted Maple Ginger Carrots is a delicious side dish. Just imagine, tender young carrots roasted in a tasty maple ginger sauce to perfection. This carrot side dish is not your typical recipe. The tasty sauce is made with maple syrup, olive oil, Tamari sauce, fresh ginger and rice vinegar, enhancing the sweetness of the carrots.
Carrot is a simple root vegetable that can be prepared in many ways. Carrots are super healthy with powerful antioxidant properties and are probably the most economical vegetable.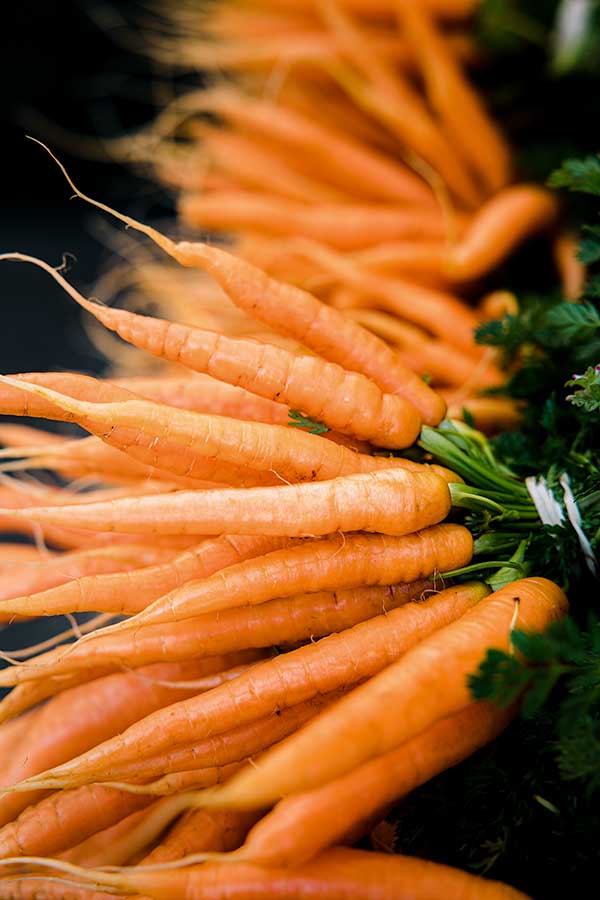 a delicious carrot side for any occasion,
I believe you can never have enough delicious carrot side recipes. Starting from simply steamed carrots tossed in butter to something exceptional like these maple ginger roasted carrots. Carrots can be served with any protein, making them a very versatile side dish.
In this carrot side dish, I wanted them to have a sweet and gingery flavour with slight saltiness. This is why I used pure maple syrup and fresh ginger, and for the saltiness, I used gluten-free Tamari sauce.
To make the flavours stand out, it needed something more than just maple syrup and ginger. So I added a splash of rice vinegar, making the roasted carrots so delicious!
What I love about this maple ginger roasted carrot recipe is the simplicity. The carrots are placed on a baking tray, then drizzled with the tasty maple ginger sauce and roasted to perfection.
If you are entertaining and need extra time for other things, you can prepare the carrots in advance and just pop them in the oven before dinner. Nothing to it, and you will have a veggie side that most chefs would be inspired by.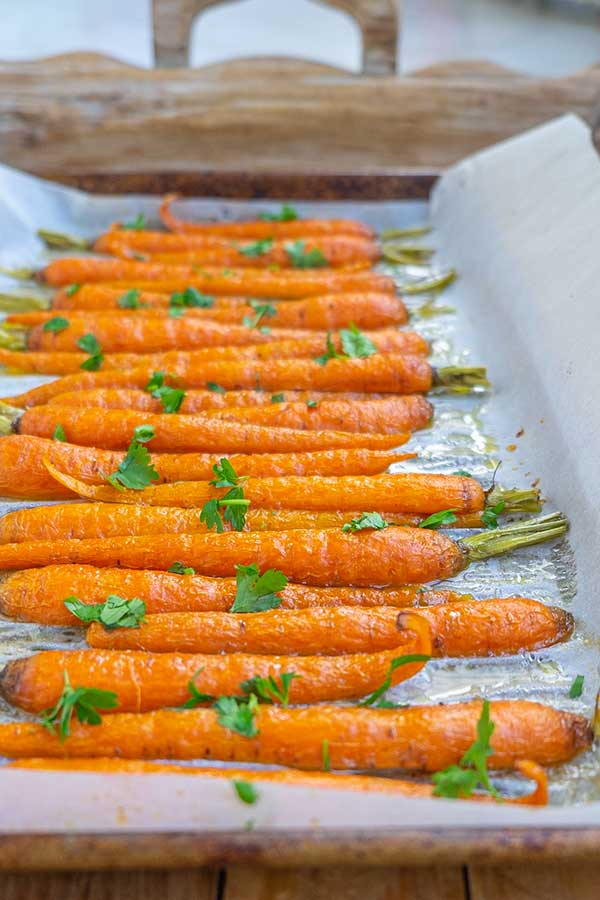 How to make the best roasted carrots!
When it comes to roasting as with most vegetables, especially carrots, they should be fresh, beautiful colour and young. Young carrots are thinner, and they are softer, allowing them to cook very quickly. This is especially important when you are roasting them.
The oven temperature should be high, and you don't want to be handling the carrots too much after they start cooking, or they may fall apart. This is why using a parchment paper in the pan will stop them from sticking, so all you have to do is shake the pan, allowing them to cook evenly.
And lastly, if you want the carrots to keep their beautiful shape, serve them straight out of the oven sprinkled with fresh parsley or fresh cilantro.
What to serve with maple ginger roasted carrots?
Stuffed Pork Tenderloin with Spinach and Goat Cheese ♥
Sticky Ginger Garlic Asian Ribs♥
Orange Spiced Pork Tenderloin♥
Maple Ginger Roasted Carrots
Published on May 23, 2020
by
Kristina Stosek
Instructions
1.

Preheat oven to 400 F and line a large baking tray with parchment paper

2.

Arrange carrots in a single layer on the tray

3.

Whisk together sauce ingredients and evenly pour over the carrots. Bake for 18 - 20 minutes, shaking the pan halfway, allowing the carrots to cook evenly. After 20 minutes check for tenderness, if the carrots are not tender enough, cook them a little longer until you reach desired tenderness.

4.

Sprinkle with fresh parsley or cilantro